If an escape to the desert has ever called your name, allow me to introduce you to your next destination: Catavina. With an expanse of rugged terrain, exceptional stargazing, and an opportunity to disconnect from technology, this is exactly the remote reset you've been craving. 
Don't let the secluded nature of this destination dissuade you- our comprehensive travel guide makes planning a trip to Catavina easy peasy. From a full breakdown of how to get there and when to go to a roundup of top hotels and restaurants- this quick read will leave you feeling like a Catavina expert.
Table of Contents
When to Visit
The general rule of thumb for Baja is to visit between the months of November and April, with a few minor exceptions. This is when there will be the least amount of rainfall and the most comfortable temperatures. 
Though it can be tempting to book for the summer months for that hot Mexican sun, trust me when I say it can get a bit TOO HOT and humid which means you need to avoid spending long hours outdoors. Since Catavina is a landlocked desert destination, you don't need to worry about making any adaptations to account for water temperatures and calmness. 
Getting There
No matter what your plans entail, a fair amount of driving will be necessary to reach Catavina. If you'd like to explore the quickest way to get there, it's likely to fly into the San Felipe International Airport, hop in a rental car, and approach the city from there. This route will take just a little over three hours. 
That said, this remote destination is well-suited to be a stop on a longer road trip through Baja. In this case, you could cross the Mexicali land border from the United States and carry on to several destinations along the way to Catavina and beyond. This route takes a little over five hours without stops. 
You could also come down the opposite coast by crossing the Tijuana land border, which clocks in at about seven hours and fifteen minutes. 
Top Things to Do in Catavina
Crafting your Catavina trip itinerary is one of the best ways to get hyped prior to departure. Take a break from working through the boring logistics and get a look at this list of cultural heritage landmarks and ecotourism attractions.
Hike to Oasis Santa Maria
With a reputation as one of the best hikes in Baja, the trek to Oasis Santa Maria is a must for any hiking enthusiast. It's even considered one of the top draws for tourism in Catavina. 
That said, this isn't an easy route. Spanning 54 km and taking an average of 13 hours, this is not suitable for total beginners. When you do reach the oasis, though, you'll find yourself totally flabbergasted by its natural beauty. With smooth-stoned canyons, turquoise freshwater pools, and lush palms in the middle of the desert, you'll feel like you've stepped into a painting of paradise. 
Catavina Cave Paintings
If you don't have the time or the experience to visit Oasis Santa Maria, you're in luck, because there's still a super-impressive (and more accessible) hike for you. Hiking to the Catavina cave paintings typically takes less than an hour, and grants access to 3000-year-old stone artwork. It's also one of the top things to do in all of Baja!
These paintings are almost never crowded since they are so remote, but they can be tricky to locate so visiting with a guide is required. Along the way, they'll be sure to point out local flora and fauna and give you the lowdown on local lore and history. A mix of adventure and education makes this the perfect two-for-one, especially for the eternally curious traveler. 
Scenic Drive through Valle of the Cirios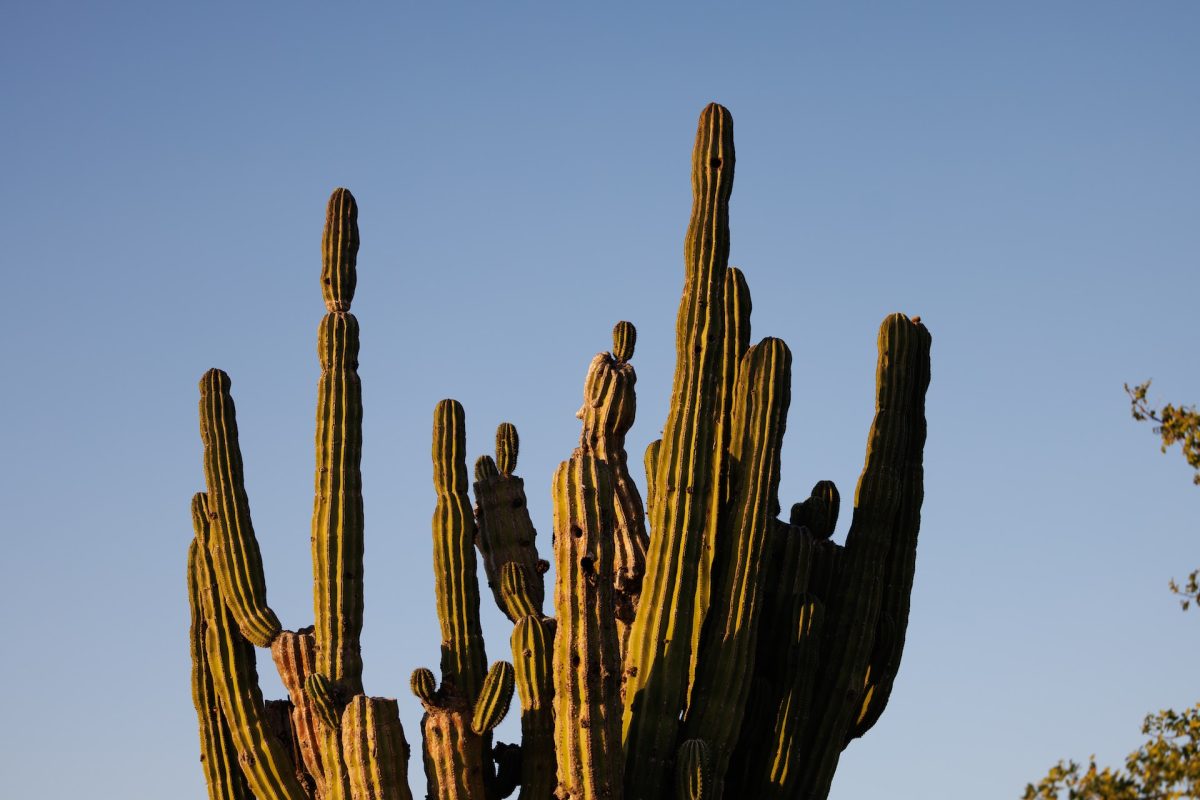 Valle of the Cirios, also known as "Valley of the Candles" and "Cactus Road", is a scenic route through a stretch of desert known for its population of Ciro trees and Cardón cactuses. The region gets its nickname from the cactus's resemblance to candelabras, but their most impressive feature is their height– in some cases reaching 60 feet tall! 
Visit Playa de San Louis Gonzaga
The drive to Bahia San Louis Gonzaga takes about an hour and twenty minutes, but if you have the inkling to head out on a little road trip, this is the one to take. The beaches in Bahia San Luis Gonzaga are absolutely pristine and scantly populated since they are so far off the beaten path. Earning yourself a serene beach day of powdered sand, crystal clear water, and total peace and quiet, this destination is a beach bum's dream. 
Santa Maria Mission
At almost exactly the halfway point between Cataniva and Bahia San Louis Gonzaga, this is the perfect pitstop when planning your day trip. You could also make it a separate excursion within a shorter timeframe. This Jesuit mission is popular with history buffs, with plenty of stone ruins and interpretive signage to tell the story of The Franciscans in Baja. 
Mountain Biking/ 4×4 Tour through Parque El Palmerito
If a little bit of outdoor adventure is calling your name, heading to Parque El Palmerito for a mountain biking or 4×4 tour promises a rugged sightseeing excursion. Cataviñá is an excellent location for exploring trails, caves, boulder fields, dirt roads, and desert landscapes, and Parque El Palmerito is the best of the best. 
Where to Eat 
Catavina is not a city overflowing with dining options, but you'll certainly have no trouble finding a good meal. The handful of restaurants Catavina does have are tried-and-true, with a great reputation amongst locals and tourists alike. 
Restaurant Mi Cabaña
Looking for a lunch spot with humble, honest food?  Pull up a spotted chair or tree trunk stool at Restaurant Mi Cabaña. This homestyle Mexican diner has a charming patio with a rustic, western undertone. Believe it or not, their specialty is fresh coconuts served with a straw so be sure to order one to wash down your meal. 
📍Where to find it:  22965 Baja California, Mexico
La Enramada
A little more elevated, La Enramada offers a museum and meal in one with dozens of artifacts housed in an adjoining room. In fact, many tourists come to check out the artwork alone. The overall vibe could definitely be described as "Desert-chic", with an effortless blend of old and new. The menu is largely comprised of Mexican dishes but their excellent coffee and cake is a big draw to the cafe in the morning. All that, and they have high-speed wifi, so digital nomads, this one's for you. 
📍Where to find it:  22965 Baja California, Mexico
San Ignacito Restaurant 191 km
San Ignacito Restaurant is a popular road trip stop, perched at the edge of the highway and maintaining a stellar reputation amongst the adventure-tourism crowd. The food and prices are great, but its atmosphere might be even better. 
This diner is set further back from the town center, backing onto a remote spread of the Catavina desert with mountain views, cacti, and horses. To take it all in, you'll want to target one of the Boho chairs on the patio but indoors is equally beautiful with mosaic walls and a wood stove. 
📍Where to find it:  México 1, Santa Ynés, B.C., Mexico
Where to Stay at Catavina Hotels
Hotel Mision Catavina/Desert Inn Catavina
With wagon wheels, barrels, and cactus motifs, Hotel Mision certainly gives off a Wild West vibe, but none of it is kitschy or in your face. Paired with colonial terracotta shingles and archways, plus a courtyard waterfounded surrounded by thick-trunked pams, it's a very beautiful place to be. 
A slew of double rooms that comfortably sleep four, making this a good choice for families- especially since there's so much to do on-site. There are two outdoor pools (one for kids), tennis courts, a garden, BBQ/picnic areas, billiards tables, and a restaurant. Whew! 
❤️Why We Love It
Pet friendly (including cats)
Add on daily made-to-order breakfast to make things simple. 
Located in a conservation reserve- perfect for ecotourism! 
RV parking available for long-haulers
Catavina Travel Guide FAQ
Is there cell phone service or wifi in Catavina Mexico?
There is no reliable cell phone reception in Catavina, and wifi is ALMOST nonexistent. You can pay for access to the internet at the local hotels, but it's spotty and relatively costly if you're planning to do anything besides send a quick "we made it" email back home. 
How far is Catavina from other Baja Destinations?
Since Catavina is quite remote, you will be signing up for a drive no matter which way you slice it. You have to come to Catavina via somewhere else, but this presents an excellent opportunity to take a road trip. 
Whether you want to pair Catavina with just one destination or string together an extensive multi-stop adventure, you'll have plenty of options. Here are the distances to some of the top choices: 
San Quintin-3 hours
Guerrero Negro- 2 hours, 58 minutes
San Felipe- 3 hours, 14 minutes
Bahia de Los Angeles- 2 hours, 9 minutes
El Rosario- 2 hours, 5 minutes
Ensenada- 5 hours, 55 minutes
Is Catavina located in a National Park? 
Catavina is located roughly on the border of the Parque el Palmerito. This is not a national park, but a privately owned conservation area spanning over 5,000 acres. You won't need to pay admission when you're entering into town, but if you plan to roam the trails and explore the park, you'll need to pay a $10 fee that covers day use and/or camping.
Is it safe to drive in Catavina Baja?  
Yes, it's generally considered safe to drive in/through Catavina but there are some things to keep in mind. 
For starters, you'll want to protect yourself by brushing up on driving tips for Mexico to help with safe navigation. You'll also want to ensure you take out a Mexican Car Insurance policy with a company like Baja Bound to cover yourself in the case of an accident, car theft, and other driving-related risks. Thankfully, we have in-depth guides to both to keep you well informed. 
The last thing to keep in mind is that these areas are remote and the roads are not always well maintained. In some cases, this means ultra-bumpy dirt roads that feel almost like off-roading. Ensure you're traveling in a sturdy vehicle that can handle these conditions, ideally with 4×4 clearance, to avoid issues.