If you're someone who has thought about taking a road-trip to one of the greatest countries, you may be wondering what exactly is required in order to travel to Mexico by vehicle.
Required Documents To Travel To Mexico By Car
Driving to Mexico from the U.S. is quite simple however, there are a few things you need to make sure you have before crossing the border by land. Make sure you have these essentials or you won't be crossing the border anytime soon.
Valid Passport Card or Book (passport card is more convenient)
Entry Permit (FMM)
Mexican Vehicle Insurance (if your current policy doesn't cover you in Mexico)
Valid Proof Of Vehicle Registration
Temporary Vehicle Importation Permit (purchase

online

at

Banjercito.com

or at the border)
Crossing The Border
Upon arrival at the U.S. – Mexico border, you will need choose the appropriate lane for your situation. If you have more than $75 worth of merchandise, but no more than $1,000 per person, then you must proceed to the "Declaration Lane". Here you will fill out a declaration form regarding the merchandise you are bringing across the border.
If you have nothing to declare besides your personal items, then choose the "Nothing To Declare" lane.
Regardless of which lane you choose, if you get a green light, you are good to proceed. However, get a red light and you will need to head over to the secondary inspection area.
Here, CBP will inspect your vehicle and most likely ask a few more questions about your travel plans. No need to panic here, they are just doing their jobs and you will be on your way within a few minutes as long as you have nothing to hide.
If CBP finds something in your vehicle that should have been declared but wasn't, you risk a fine or even jail time. So don't risk it.
Do You Need A Passport To Go To Mexico By Car
U.S. citizens must present a valid passport book or card, as well as your Entry Permit (FMM) upon entry into Mexico.
A passport card is more convenient due to its RFID chip technology. If you have one of these cards, then you are able to drive through a designated Ready Lane at the border and save some time.
Source
How To Use The Ready Lane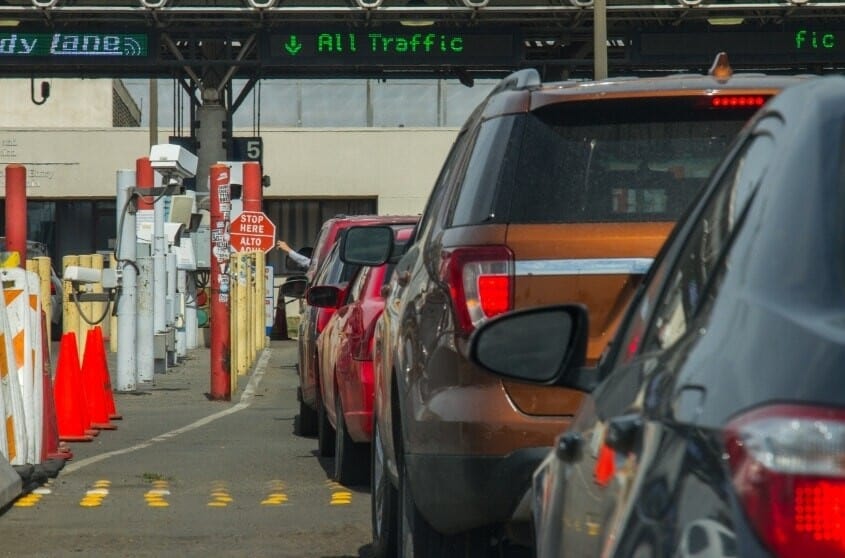 Once you have located the Ready Lane, get out your passport card and get ready to scan. When you pull up, display each card to the "Point Cards Here" sign located on the in-lane reader.
Once you are finished, proceed forward as directed by a CBP officer and wait for further instruction.
Entry Permit (FMM)
In addition to your passport, you will need your entry permit otherwise known as Forma Migratoria Multiple. Although they may not check for this form at the time of your border crossing, it is still the legal requirement to have this form on you when visiting Mexico as a foreigner.
You can get your Entry Permit at the Mexican Immigration office at the border usually within minutes, and only requires a valid passport to receive. If you prefer being ready ahead of time, you may fill a form out online instead here.
Valid Proof Of Vehicle Registration
It is important that you make sure the vehicle you're driving to Mexico with has a valid registration. If you are caught in Mexico without a registration, or even expired tags, you risk having your vehicle confiscated by Mexican authorities. Furthermore, you may end up with additional fines and potentially incarceration.
Why even risk the hassle of any of these potential outcomes? Confirm your registration is good, and you will be good. Simple.
When Is A Temporary Vehicle Importation Permit Required
A temporary vehicle permit is not required if you are traveling within the "Free Zone" (no further than 25 miles past the border or 60 miles in Sonora) or, when driving in the Baja Peninsula. A TIP is good for up to 6 months on a foreign vehicle for private use.
If you plan on traveling outside of the Free Zone, a Temporary Vehicle Permit is required.
Where To Get A Temporary Vehicle Importation Permit
You may request a temporary vehicle permit online or in person at Banjercito. When requesting your permit online, I recommend you do this 7 to 14 days in advance of your planned trip.
If you prefer to get your temporary vehicle permit in person, you may do so at a Banjercito office at the Mexico border, or you can schedule an appointment at certain Mexican Consulates in the U.S.
Click HERE to schedule an appointment at your nearest consulate.
Documents Required To Receive a Temporary Vehicle Importation Permit
If you decide you need a TIP, make sure you have the required documents to prove legal ownership of the vehicle that is being temporarily imported.
Required Documents For Foreign Citizens To Receive Your
Temporary Vehicle Importation Permit
Valid Passport Book or Card
Entry Permit (FMM)
Vehicle Title
License Plate Registration
Credit Contract (no older than 3 months)
Valid Leasing Contract
Mexicans with legal residency outside of Mexico must have the following documents to receive their Temporary Vehicle Permit:
Permanent Resident Card
Passport (Not Mexican)
Passport Card
Requirements For A Financed Vehicle To Receive Your TIP
If your vehicle is still financed and you do not have the title in hand, you will need to request a letter of permission from your lender. Generally, the lender will need a copy of your Mexican insurance policy for your vehicle. Your policy will need to show coverage for the entire time you plan on being in Mexico with your vehicle.
Note that if you owe more on your vehicle than it is actually worth, your lender may require a more expensive insurance policy be purchased in order to cover the total loan amount.
Cost Of A Temporary Vehicle Importation Permit
| Permit Type | Cost MXN |
| --- | --- |
| American Vehicle | 1,076.36 |
| Boat/Vessels | 1,076.36 |
| Motor Home | 1,076.36 |
| Sonora Only | 1,076.36 |
IN ORDER TO RECEIVE YOUR REFUND OF THE WARRANTY DEPOSIT, YOUR PERMIT MUST BE CANCELLED BEFORE THE MAXIMUM DATE
Do You Need Mexico Car Insurance To Drive In Mexico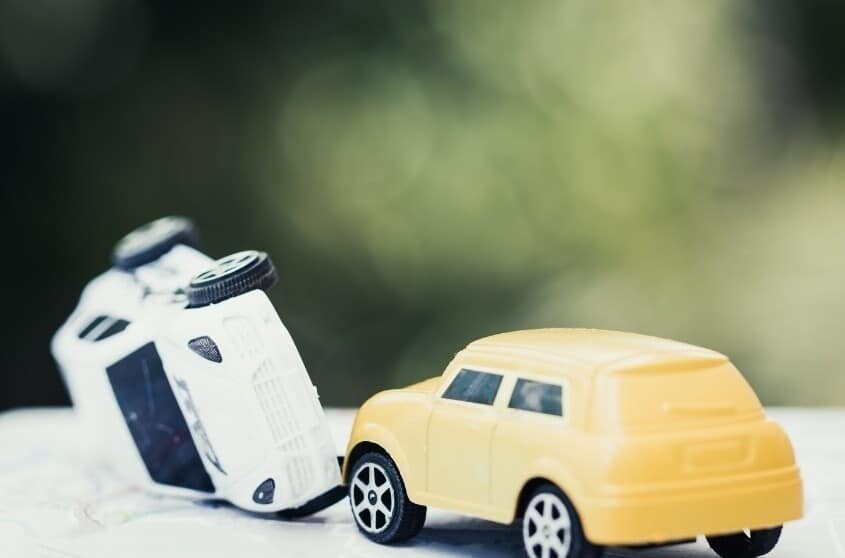 Only third party liability (TPL) insurance is required by law in Mexico when operating any vehicle on a federal roadway, any other insurance is optional. If you are pulled over without proper insurance coverage, or if you are involved in an accident, you may be fined up to $500,000! Not only that, but you may be thrown in jail.
Most U.S. insurance policies will not cover you or your vehicle while you are in Mexico, so make sure to check with your current insurance provider.
Where To Buy Mexico Vehicle Insurance
You may purchase a Mexican insurance policy at the border, or conveniently online at BajaBound.com. I highly recommend you purchase your Mexico insurance policy before leaving on your trip so there is no hassle at the border, and you are stress free.
SO PLEASE, make sure to get a dang insurance policy so you are covered in Mexico. I don't care where you get your policy, just make sure you have a policy in order to avoid any potential fines or imprisonment. It's not something worth risking; at least not in my opinion.
You will need to purchase a Mexican insurance policy for the amount of time you will be traveling in Mexico. I don't want you to worry though, getting a Mexican insurance policy is generally quick and easy. You can even ask your current insurer if they have a policy you can purchase for use in Mexico.
Otherwise, I would personally get insurance through BajaBound Mexican Insurance. The reason being is they are the easiest way to get Mexican auto insurance, and you can have a quote supplied instantly after submitting the required information.
They have been in business for over 20 years, and are also Better Business Bureau (BBB) rated A+ the last time I checked. As well, they offer 24/7 customer service, and have some of the best rates you will find, even for the budget traveler. I took these screenshots to show you just how simple getting insurance on BajaBound actually is.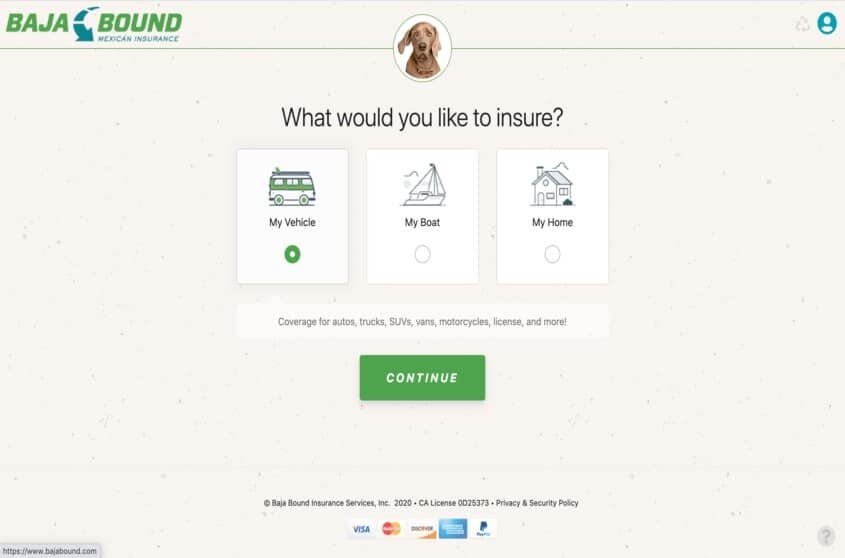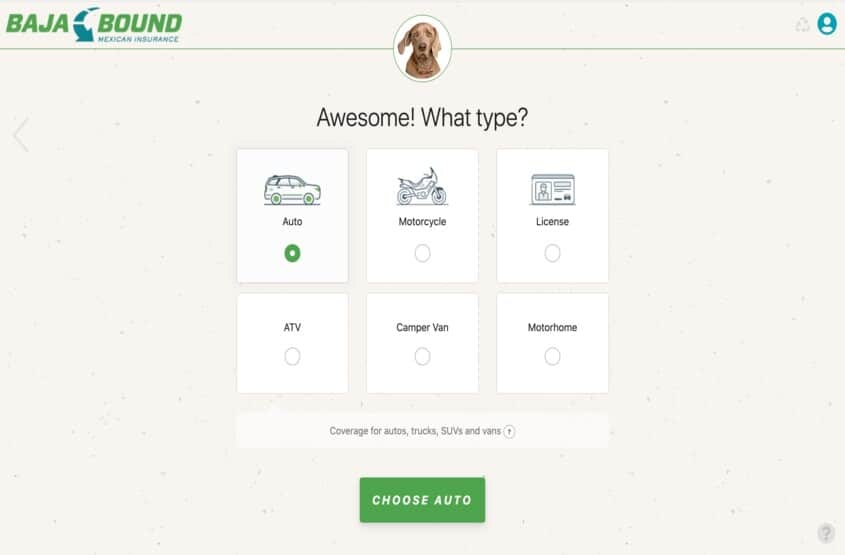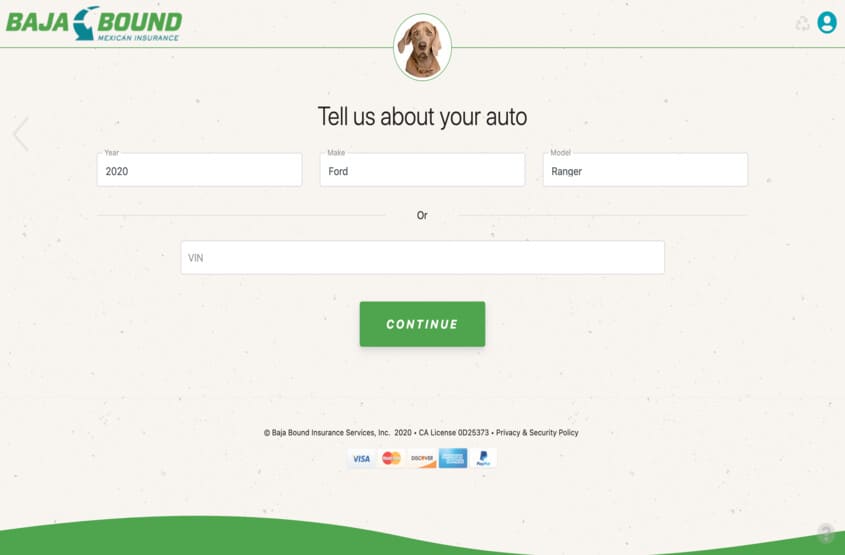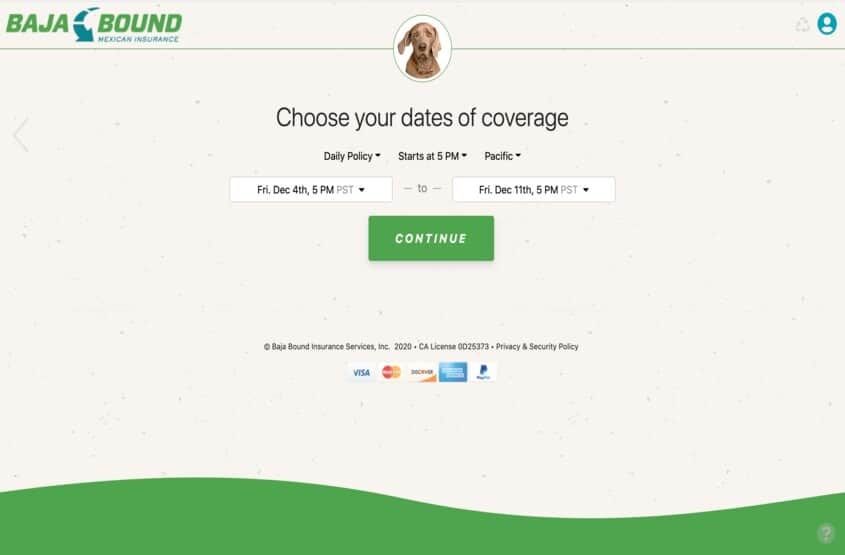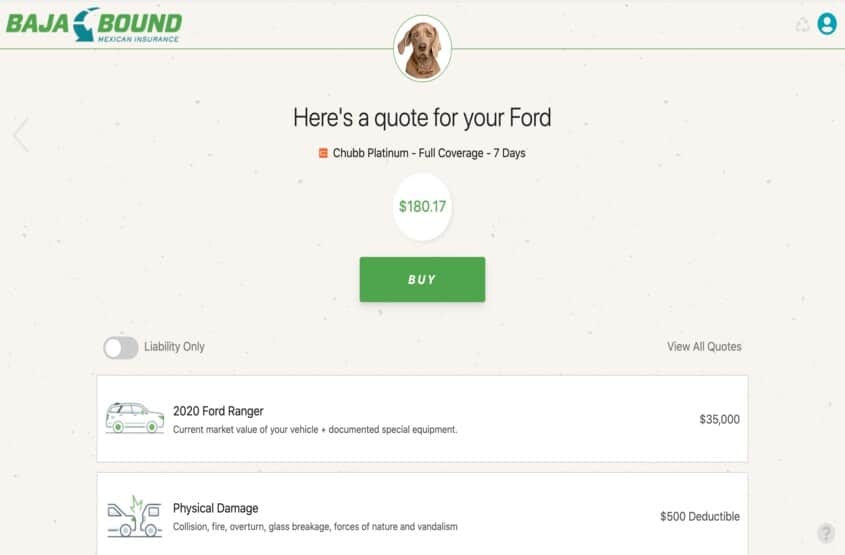 If you don't get your insurance through BajaBound, at least check out their site, they have some excellent information regarding traveling to Mexico as well.
Driving A Rental Vehicle To Mexico
If you plan on taking a rental vehicle to Mexico, you will first need to find a rental company who allows their vehicles to travel out of country to Mexico. As well, you will need to the rental company to provide a letter of permission stating you are able to drive the vehicle to Mexico.
There are only a few rental car companies that will even consider allowing you to take their vehicle out of country, and into Mexico. Budget rental car company will allow you to take their vehicle into Mexico but you must sign up for a corporate account; so if you're not traveling for work, good luck.
Enterprise however, will let anyone drive their vehicles to Mexico, the only catch is that only certain branches will offer this service. Make sure to contact whichever branch you are renting from to confirm they allow travel to Mexico.
If you can't find a branch locally that offers this, you may have better luck contacting a branch that is closer to the U.S. – Mexico border. Moreover, you will have to purchase Mexican auto insurance through them as part of the fee.
Is There A Fee To Enter Mexico By Land
The fee to enter into Mexico by land or air is approximately $25.00. When you purchase your Entry Permit (FMM), this is the entry form you are paying for that allows you entry into Mexico, and is valid for up to 180 days once it is stamped. If you are staying in Mexico for 7 days or less, there is no fee.
Is It Safe To Travel To Mexico By Car
Generally, traveling to Mexico by car is considered safe. However, I recommend you avoid driving at night if you can in order to avoid potential crime, animal crossings, as well as large pot holes in the roadway.
When driving in Mexico, it's important you keep some pesos on you for toll fees. As well, carry some extra pesos in case you need to stop somewhere to purchase anything. If you stop in a smaller town, they may have out-of-date ATM's, or even no ATM at all, so it's best to be prepared and have some extra cash on you.
Prohibited And Restricted Items Not To Bring Back To The U.S.
The items that CBP prevents you from bringing back into the U.S. are items that may injure community health, public safety, American workers, children, domestic plant and animal life, or those that would defeat our national interests.
If an item is prohibited, it is something that is forbidden by law to enter into the U.S. Some examples of prohibited items are dangerous toys, bush meat, or a vehicle without proper safety standards.
If an item is restricted then you need proper licenses or permits from a federal agency before the item is allowed into the U.S. Some examples of restricted items would be certain fruits and vegetables, animal by products, and firearms.
| Prohibited Items | Restricted Items |
| --- | --- |
| Absinthe (Alcohol) | Alcoholic Beverages |
| Dog and Cat Fur | Automobiles |
| Drug Paraphernalia | Biologicals |
| Haitian Animal Hide Drums | Firearms |
| | Fruits and Vegetables |
| | Game and Hunting Trophies |
Source
Overall, driving to Mexico can be quite an experience, especially if it is your first time. Being prepared ahead of time, and knowing what to expect will save you a lot of time and hassle when you get to the border.
It's not as bad as you may think though. Over 19 million people travel to Mexico by land every single year. So there is no reason to feel alone or even crazy for thinking about driving to Mexico, because it's actually very common.