Beloved for its soft shorelines, abundance of marine life, and mountain backdrop, Baja California Sur is a varied region that draws tourists seeking vastly different "vibes" for their vacation. Want to learn to Scuba dive? Check. "Find yourself" on a grueling hike? Check. Kick back, relax, and celebrate happy hour? Check, check, and check. 
Combing through lists of top attractions and hidden gems all throughout the peninsula can also be super helpful when deciding where to vacation in Baja California. Can't choose? Take a road trip down the coast and experience it all. 
Ready to create the ultimate vacation itinerary? This roundup of the best places to visit in Baja California and what to do while you're there is sure to give you a case of unquenchable wanderlust. 
Table of Contents
Best Baja California Things to Do
Swim in the Sea of Cortez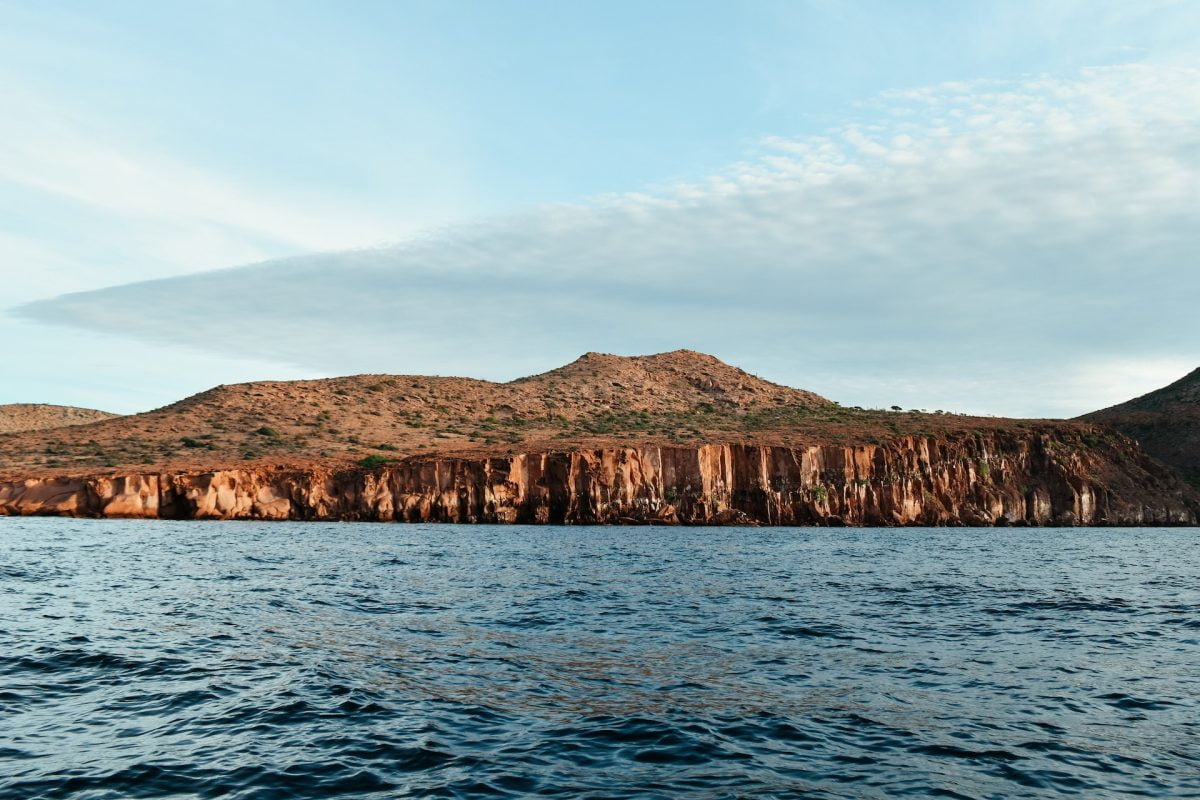 If you're a total ocean lover, the Sea of Cortez is one of the most intriguing places in Baja California. Trust me when I say that swimming in these cyan shallows is an event worthy of your master bucket list. In addition to crystal clear visibility and an abundance of reef life, the high salinity in the Sea of Cortez makes floating peacefully totally effortless.
Hike the Sierra de la Laguna Mountains 
Prefer to wander off the beaten path in Baja California? Lace-up those hiking boots and hit the trails! We've got a huge roundup of the best hikes around Baja, for the serious backpackers, but there's also a stellar 20-minute hike to Cañon de la Zorra in the Sierra de la Laguna Mountains fit for even a total beginner. You'll start by making your way through the desert admiring the local cactus population and be rewarded at the end of the trail with a refreshing swimming hole fed by a waterfall.
Go Whale Watching
Did you know that Baja is a hotspot for whale watching? From January to April, the peninsula's Pacific waters serve as a calving lagoon for some incredible species, allowing you to get closer than ever before to mamas and their beautiful babies. Humpbacks, minke, orca, fin, gray and sperm whales all frequent the region, plus you can target encounters with endangered species like Bue whales at certain times of the year.
Live the life of a Baja Rancher
Embrace your wild west fantasies at a desert ranch like Rancho Cacachilas. This holistic livestock farm, situated in an old mining town, is now an all-inclusive adventure resort. At night, you'll settle into luxury glamping casitas or cabin-inspired ranch suites, and during the day you'll have access to all the authentic, ranch-hand activities you can imagine. Beekeeping and cheesemaking workshops and mule riding through the mountains (plus a few extras like guided hikes and mountain biking) are all included in your stay. 
Cruise Along the Coast
If every single one of these top attractions catches your eye, why not plan a Baja road trip? By driving from one end of the state to the other, you can take your time navigating this scenic region and see it all. If you're not traveling with your own vehicle, you could even rent a classic convertible or a kombi and live the #vanlife. Need a few ideas for additional destinations to add to your road trip itinerary? Pescadero, Cerrito, Santiago, and San Felipe all make frequent appearances on lists of the best places to visit Baja California. 
Wine Tasting
Did you know that this state is home to Mexico's wine country? That's right, the Valle de Guadalupe is famous locally and abroad for its incredible production of reds, whites, and rosé. You can easily explore the region's best vineyards in a day with a wine tour based out of Ensenada but you could also book a hotel right in the valley for a more immersive, wine-focused vacation. 
Cabo is considered one of the best places in Baja California for a good time. From gorgeous stretches of shoreline to an exciting nightlife scene, Cabo has it all. One of their top attractions? El Arco. In fact, this stunning rock formation is one of the most photographed geological landmarks in Baja. On this particular tour, you'll head out on glass-bottomed kayaks to venture under the archway and view its resident sea lion colony up close. Then, you'll snorkel at nearby Pelican Rock on the way back and come face-to-face with a rainbow of tropical fish. 
Wader the Streets of Loreto
Sometimes you just want to spend a day walking around at your leisure and exploring local shops and cafes, soaking in the "vibe" of a new destination. When deciding where to go in Baja California for this kind of laid-back day trip, Loreto is the top choice. With stunning colonial architecture abound, you're sure to come back with a camera full of photos and a renewed sense of appreciation for the aesthetic of Mexican cities. 
When history buffs are deciding where to go in Baja California, the Misión San Francisco Javier de Viggé-Biaundó is the obvious choice. Nestled into the Sierra de la Giganta mountains, this stunning stone church (and museum) is steeped in 17th-century charm and is the source of much local lore. It's also home to a twisted 300-year-old olive tree that's rumored to be the first one to grow in Baja. You can still attend weekend services at the church if you're interested in a quiet moment for prayer. 
Sail Around the Islands
If you came to Baja because it's an ocean paradise, you cannot pass up the opportunity to explore some of these seabound natural landmarks and protected marine reserves. Take a boat tour to Bahia Conception, Isla Danzante, Isla Corondoro, or Isla Espíritu Santo, all of which are considered top Baja California attractions. Can you think of a more relaxing way to spend a summer afternoon? 
Go Beach-Bummin' at Baja's Best Beaches
While we're on the topic, those secluded islands are home to some remarkable, unspoiled beaches. If you're looking for shimmering seas as far as the eye can see, travel influencer-worthy photos, and total peace and quiet, camp out in the powdered sand while you're there. Balandra Beach, in particular, is worth a special mention! Need some recommendations for mainland shorelines sure to impress? Our guide to Baja's best beaches is the perfect place to start your search.
San Borjitas Cave Paintings
One of the most wanderlust-worthy hidden gems in Baja California is the San Borjitas Cave Paintings. This collection of ancient art is one of the oldest (and most significant) in the Americas, with vibrant visual accounts of hunting and local rituals. These caves are difficult to find, so do not attempt without the assistance of a local guide. Want to pack in more cultural tourism? Some other cave paintings to visit include El Vallecito and Cataviña. 
Lush Oasis of Mulege
One of the best places to visit in Baja California that somehow still flies under the radar is Mulege. This historic city is surrounded by dense forest and towering palms and lies next to a winding, turquoise river. Talk about a big surprise in the middle of a desert mountain region! Here, you can take a hike to bird-eye-view overlooks, fish at the river's edge, or visit the Mision Santa Rosalia de Mulege. 
Get Up Close to the Local Wildlife in La Paz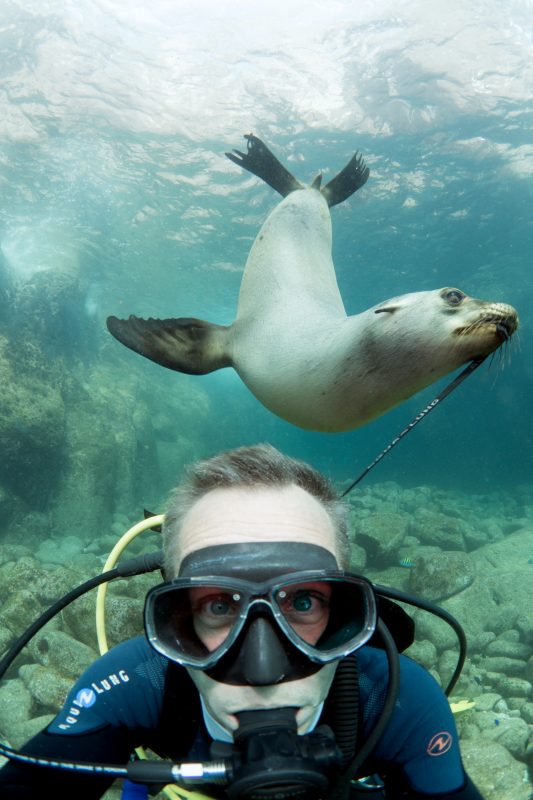 One of the most popular things to do in La Paz is jump into the oceanic playground and get acquainted with its array of marine life. Just a quick sampling of the water-bound adventures you could take are snorkeling with whale sharks alongside a local marine biologist, swimming with sea lions, or a SUP tour through the mangroves where you'll discover seabirds, turtles, rays, crabs, and more. 
Hang Ten in Todos Santos
If you've always wanted to learn to surf, you're in luck. At the top of wave-seekers' list of Baja California places to visit, Todos Santos is a paradise for both beginners and pros. Cerritos Beach, in particular, is known for its various surf breaks. Just a quick search around town and you'll find dozens of surf shops and school offering lessons, board rentals, or surf guides with photography services. 
Head to One of the Region's Best Festivals
For an experience that's a little more unique to you, why not add one of Baja's best festivals to your itinerary? This ever-changing selection of events is sure to add a little bit of variety to your plans. Plus, you can totally tailor your festival to your likes and interests with everything from car racing and music festivals to whale conservation conferences. 
Street Food Tour in Tijuana
Are you a bonafide foodie? If so, you can't skip a food tour of Tijuana. From traveling food trucks to street food vendors slinging mean tacos, this city is full of exotic flavors and culinary prowess. Don't forget to try THE original Caesar salad, since this is where the first one was ever made. For a more in-depth look at Tijuana's must-try food, you can visit our article here.
Check Into an Eco Wellness Retreat
You deserve to truly unwind and recharge on your Baja holiday. Invest in self-care and choose one of Baja's best wellness retreats as your hotel stay. Both Rancho Pescadero and The White Lodge are top-rated, award-winning choices that are sure to leave you feeling like a whole new you. For information on more of Baja's best hotels, check out our top recommendations.
Things To Do in Baja California FAQ
Is traveling through Baja California safe? 
Generally, Baja California is a safe state for tourists, but it's important to remember it's a big region! That means you'll see some variation in safety stats and concerns from destination to destination, especially between city/rural areas. We recommend familiarizing yourself with tips for staying safe in Baja, as well as the up-to-date crime rates and advisories for any localities you plan to visit.
What do I need for a road trip through Baja?
Besides a reliable vehicle and Mexican car insurance, there are a few things you will need when road-tripping Baja. Especially if crossing the border by land with your own vehicle, you will need a passport, FMM Entry Permit, proof of vehicle registration, and a temporary Vehicle Importation Permit. You can find our guide to traveling Mexico by car here, with all our best tips, tricks, and advice for a smooth ride. 
What is the best way to get to Baja California?
If you don't plan to cross the land border and road trip your way around Baja, you might be wondering how the heck should get there. There are three international airports you could reasonably fly into: La Paz, Loreto, and Los Cabos.