A marine reserve on the sparkling Sea of Cortez, Bahia de los Angeles might be Baja's most underrated destination. Due to its remote location, it manages to escape the majority of the state's tourist crowds, but its secluded nature makes its shores all the more appealing. 
With an impressive marine life display (that's even won the heart of the world's most famous marine biologist), a luxurious beach club, and casita-style accommodations, Bahia de los Angeles is a destination that every ocean lover will adore. 
Is the Sea of Cortez calling your name? From how to get there to where to stay and everything in between, this comprehensive guide to Bahia de los Angeles covers everything you'll need to know. 
Table of Contents
Getting There
Unless you're coming in by boat, land transportation is going to be time-consuming (and a little bumpy), but it's still the most common way for tourists to arrive in Bahía de los Ángeles. The closest land border and international airport are 8 hours away in Tijuana, making this the ultimate road trip destination. You can sometimes get small charter flights from there to the BHL airstrip just outside of town, but this can be limiting in terms of having transportation within the area.
Whether you are renting a car from a midway point or bringing your own vehicle across the border, this is generally the best plan of action. Be sure to protect yourself with valid Mexican travel insurance and a solid knowledge of driving in Mexico before departing to keep everything running smoothly. 
The Best Time to Visit Bahía de los Ángeles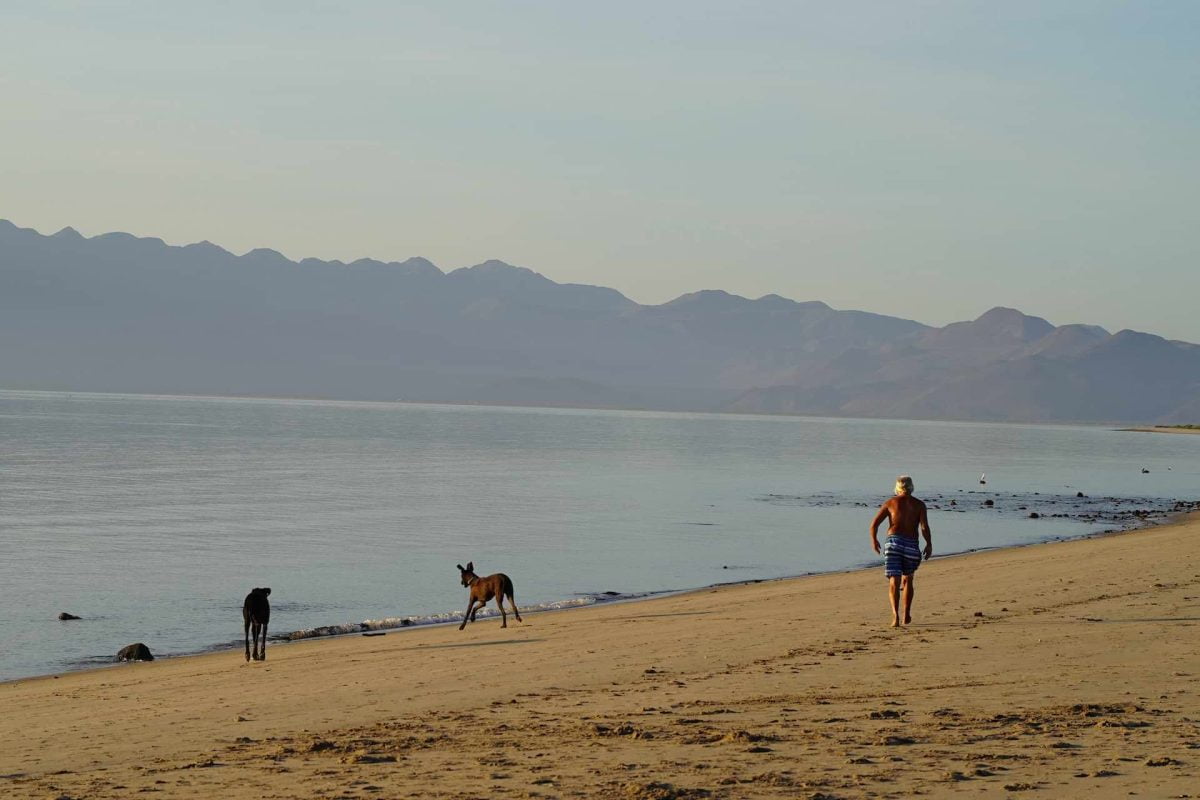 When choosing when to book your trip, you'll want to take a look at the average weather in Bahía de los Ángeles for each month. July-November boasts the best temperatures (both on land and in the water) for those who want to explore this ocean paradise, with less rain in the fall months. 
This is also considered high tourist season so it will inflate rates and foot traffic. If you'd rather save a bit of money and have a bit more breathing room, a trip between December and June is still perfectly pleasant. Ultimately, you can't go wrong either way. 
Top Things to Do in Bahia de los Angeles
When crafting your Bahia de los Angeles itinerary, the ocean will certainly be your most frequent venue, with wildlife watching and watersports at the heart of its tourism scene. There's certainly no shortage of ways to explore, but here are a few ideas that will help you add some diversity to your day plans (plus a few on-land activities that are worth a try): 
Swim with Whale Sharks
This activity is one that is on lots of adventurers' bucket lists and is especially popular with tourists in Mexico. Since Bahía de los Ángeles is one of the most reliable spotting sites (after all, it's an extremely plentiful feeding ground) it's a big staple in the region's tourism. Swimming alongside these toothless sharks, which can reach up to 60 ft. in length will certainly test your bravery, even if they pose no real danger. 
To ensure you get to participate in this opportunity, you'll need to plan your trip between August and November and book a tour with one of the local guides or dive shops. Your hotel might even be able to help coordinate this in advance. Spots will be limited as one of the top things to do in Baja. 
Pro Tip: Since whale sharks are a protected species, there are lots of regulations regarding how close you can get and how many swimmers can be in the water at any one time. For your safety and theirs, it's best not to jump in unless you're with an experienced guide, even if you do spot these gentle giants when out on your own. 
Punta Arenas Lighthouse
Tourism in Bahia de los Angeles can feel action-packed even if it is a lazy beach town. When you need a quieter afternoon activity, head on over to the Punta Arenas. This makes for a lovely stroll and photo op, plus it sits on the edge of an estuary that makes for excellent birdwatching. Don't forget your binoculars! 
Kayak around the Bay
Want to get close to the local marine life without having to get wet? Kayaking your way around the bay is a great way to observe the ocean world below on colder days or when your toes start to prune from too many aquatic adventures. You can easily rent from most local outlets/hotels (some stays will even provide them for free) or you could bring an inflatable kayak with you if you expect this to be your favorite pastime. 
Top Tip: Kayaking in Bahia de los Angeles is most enjoyable (and safest) before noon when the winds tend to pick up and the water is rougher. 
Sea Lion Sightings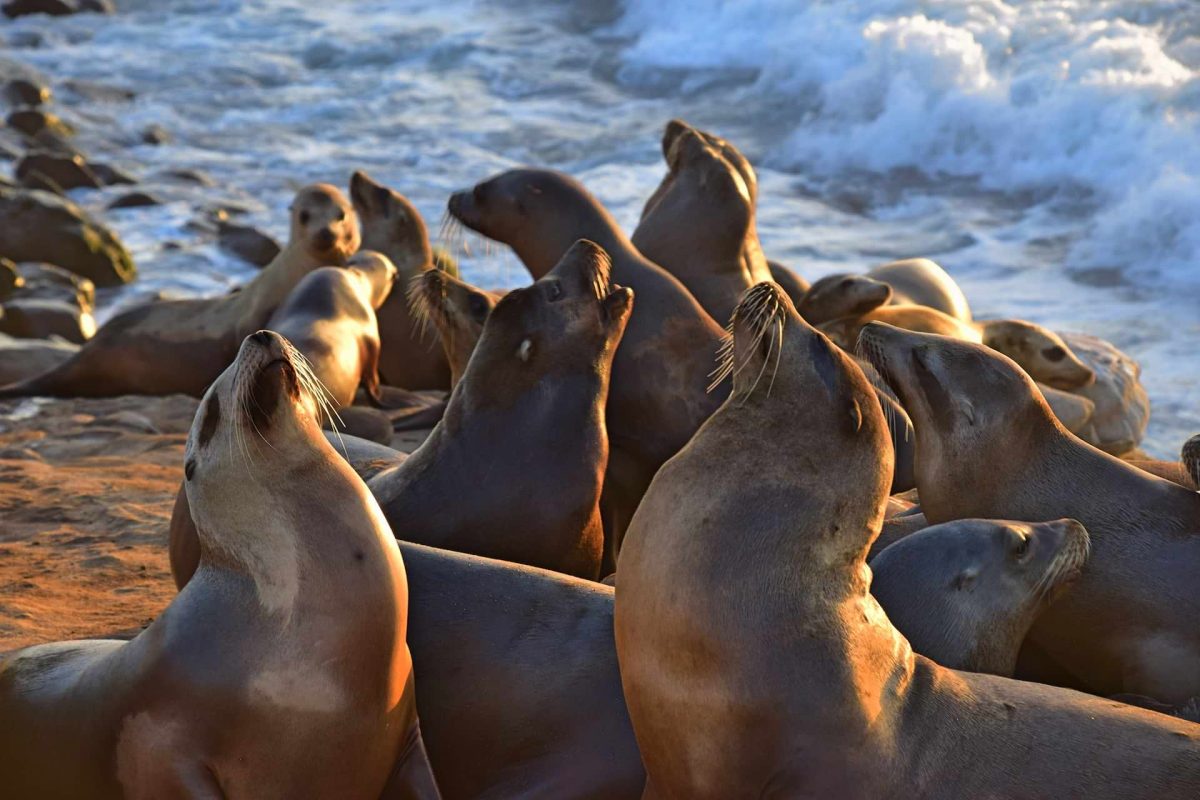 To get acquainted with the local pinniped population, there are two main areas to target: Isla Ventana and Isla La Calavera (also known as Skull Island). You might be able to find these friendly locals on your own, but snorkel guides will certainly be able to get you there and be able to lead you in a safe and fun interaction. With supervision, it's usually fine to dive in and play with them in the water. 
San Borja Mission
This overland adventure is the ultimate 2-for-1 (3 if you count the scenic drive to get there)! The Misión San Francisco Borja de Adac is a historical and architectural marvel, and you can stop to see pre-hispanic cave paintings in the Valle Montevideo along the way. 
Just a heads up, you won't want to attempt this in your own vehicle if you don't have 4×4 clearance. But don't worry, you can always arrange an ATV tour instead of taking a DIY approach. 
Museum of Nature and Culture
Whether you'd like a little deep-dive into local history or a rainy day activity, a trip to the Museo de Naturaleza y Cultura is always a good idea. You'll find artifacts from the local aboriginal populations, mining industry relics, and even dinosaur skeletons. Perhaps the most underrated exhibit is the shell collection, which features over 500 species! 
Hike to the Top of Punta la Gringa
Whether you're an avid hiker, or you'd like to gain some perspective, a hike up Punta la Gringa is a worthwhile endeavor. The loop is a little over 3km in length and is fairly easy- meaning even beginners should consider lacing up their hiking boots and scrambling up this rocky hill. I'd highly recommend timing your hike during golden hour because there's nothing better than watching the sunset over the sea. 
Beach Day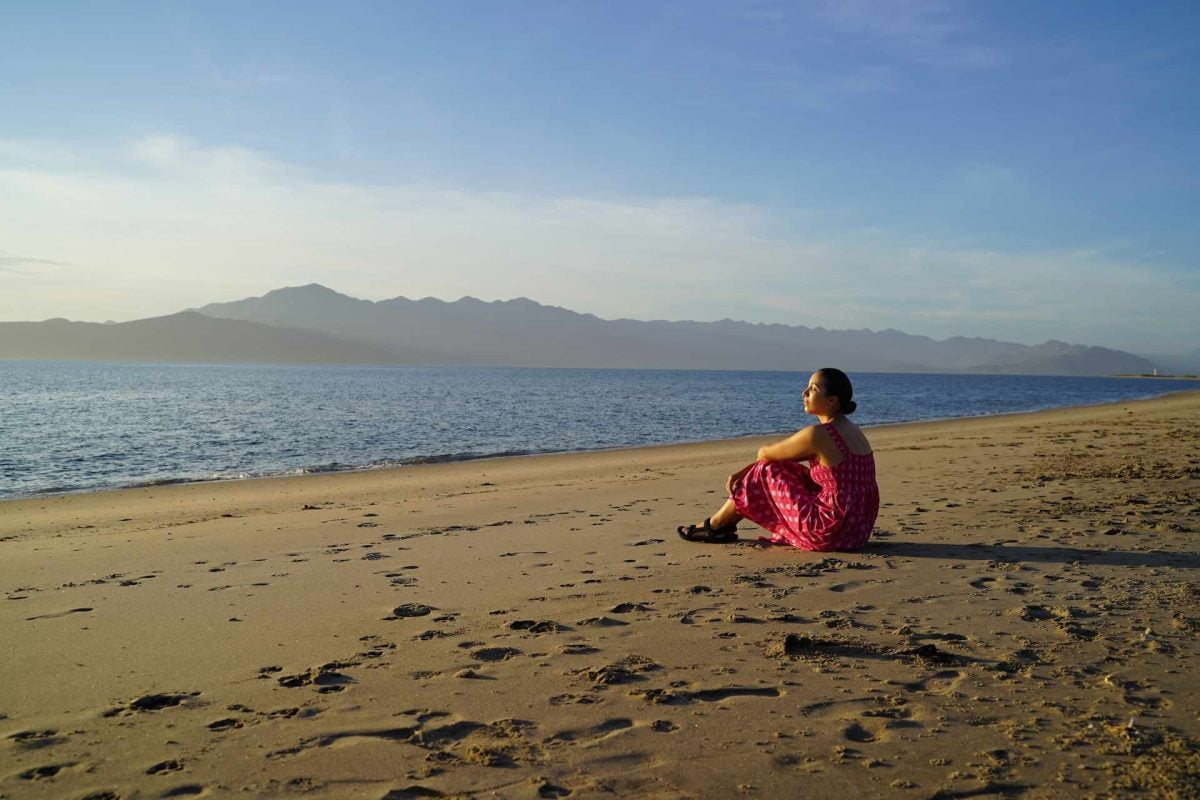 When you're not splashing around in the ocean, an afternoon of laying in the sand is a must. Now, many of the accommodations options (especially campsites) in the Bahia de Los Angeles Marine Park will be located on a private beachfront for you to access, there are also plenty of "public" beaches that are worth their salt. The two beaches that are most popular with the tourist crowd are Playa La Gringa and Playa La Mona; both offer shallows with fine sandy bottoms perfect for wading in. 
Sportfishing Charter
It's not every day that a protected marine park allows fishing, so if a charter is something you've always wanted to take on- now's the time. There are several "pangueros" in town (a.k.a. Sportfishing specialists) who will be happy to tailor a tour to your preferred species. 
So what can you catch in Bahía de los Ángeles? Yellowtail, grouper, and white sea bass are among the prize species that can be caught year-round, but summer fishermen might be able to snag a marlin or sailfish too! 
Where to Eat 
Now, there aren't too many restaurants in town, but the ones that do grace the Bahía de los Ángeles shoreline have primo reputations. From simple seafood and lowkey Mexican cuisine to splurge-worthy beach clubs- the variety is surprising! 
Alexandrinas Restaurant
Located right by the Museo de Naturaleza y Cultura, Alexandrinas Restaurant makes the perfect lunch spot, especially if you're craving good ol' Mexican cuisine. Fully indoors, this is also a great option for rainy days or when you just need a break from the heat. With enchiladas, tamales, steak tampiquena, frijoles, chilaquiles, and more to choose from, you might just find yourself coming back for a second (or third) meal. 
📍 Where to find it: 22980 Bahía de los Ángeles, Baja California, Mexico
Liz's Restaurant
For a casual bar and grill experience, Liz's Restaurant is the way to go. Not only do they have tons of authentic local recipes on the menu, but you can also get American and International staples like BBQ burgers, two-handed sandwiches, and sashimi. 
📍 Where to find it: 22980 Bahía de los Ángeles, Baja California, Mexico
Nautilus
Nautilus might be Bahía de los Ángeles' best-kept secret. You could stumble right past this little tepee by Chef Annabelle without even knowing about it, but with this unique approach to fine dining and a reputation for the best seafood in town, don't let its humble appearance fool you. 
You'll need to book for your group ahead of time, so plan a preemptive stroll past. Then, Ched Annabelle will create a personalized menu for you and host you for a private dinner on the beach. This is a high-luxury experience at a modest price that you really cannot pass up. 
📍 Where to find it: XF83+8C, 22980 Bahía de los Ángeles, BC, Mexico
Roca Vela Restaurant • Beach Club
Wondering where all the influencers hang out in Bahía de los Ángeles? Not only is this a luxurious place to spend a beach day, but it's also full of iconic photo opportunities and good grub. 
After snapping a shot in the "most famous tunnel in Baja" and on the velvet couch under the neon sign, head to your luxurious daybed and place an order. The stunning seafood dishes are the star of the show but don't forget to add a few craft cocktails to the mix. 
📍 Where to find it: 22985 Bahía de los Ángeles, Baja California, Mexico
Where to Stay at Bahia de los Angeles Hotels 
Baja Spirit Eco Lodges
Looking for the perfect balance of romance and adventure? Baja Spirit Eco Lodges has got you covered. Owned by one of the area's premier tour companies, there's plenty to do here, like taking sailing and SUP lessons or hiking through the desert. An ocean-to-table approach is taken for all meals, and you might even have the chance to catch your own dinner on a fishing or snorkeling excursion. 
Now, perhaps the biggest benefit of escaping to your own secluded, romantic cove is the untouched beauty. Not only will you have the chance to hang out on unspoiled beaches without a crowd tagging along, but you'll also be able to observe hundreds of species off the shore. In fact, 6 different whale species call this cove home and it's said you can often observe them pass by as you sip your morning coffee! 
Why We Love It
Boat-in secluded location
Unspoiled beachfront on a private island  
Glamping yurts with skylight roof 
Los Vientos Hotel
Los Vientos Hotel offers guests a bit of a hybrid experience, with everything from single queen hotel rooms to full vacation homes. All units maintain a tropical, yet modern feel with Mexican furniture and upgraded bathrooms. Just a word to the wise, Los Vientos is also known for serving the best Margarita around! 
Why We Love It
Outdoor pool
Balconies with ocean view 
Kayaks and paddleboard rentals onsite 
Villa Bahia
Villa Bahia, on the other hand, is a marvel of historic stonework and local textiles. It's located Further away from the town center for added privacy and offers free, gated parking for an added layer of security. Traveling with a foodie? Mexican chefs are available for personal catering. 
Why We Love It
Private, white sand beachfront with cool lounge spaces and palapas (with daybeds and hammocks) at the water's edge
Bonfire pits and BBQ areas (with propane AND charcoal grills) 
Hotel-owned tour company 
Bahia de los Angeles Camping
Campo Archelon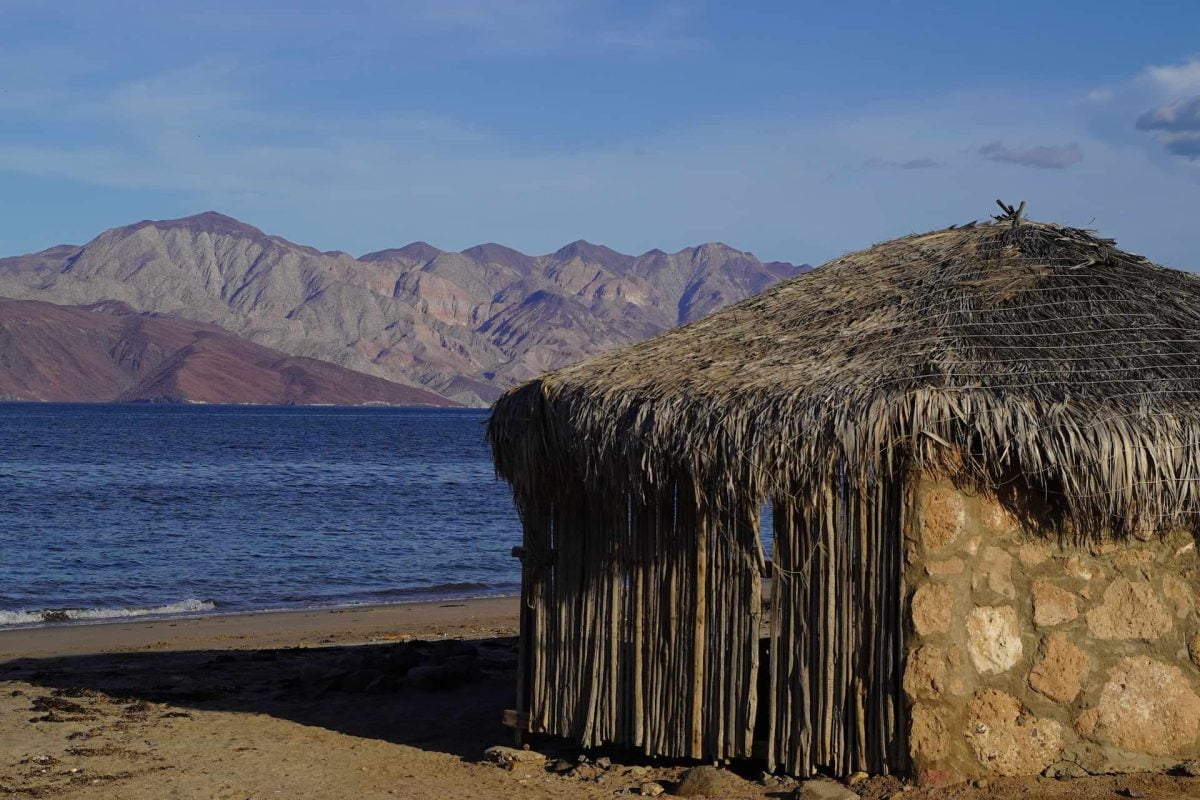 What used to be the reserve's premier sea turtle research and rescue center, Campo Archelon offers a unique camping opportunity for travelers who want to play in this ocean playground as much as possible. There are a handful of tiny homes to accommodate groups and "glampers", but the best way to experience this stay is by tenting on a palapa site. With a stone and thatched roof barrier between you and the elements, you can step straight from your sleeping bag into the sand and just a few more paces to the shoreline. 
Why We Love It
Artisanal coffee shop on-site
Pet Friendly 
Follows sustainable tourism guidelines
Incredible night sky stargazing (with views of the Milky Way!)
Bahia de los Angeles Travel Guide FAQ
Is fishing allowed in Bahía de los Ángeles?
Yes- Bahía de los Ángeles fishing is permitted with some limitations. A few quick rules to get you started include: 
– Fishing on land does not require a license but you will need one if you fish from a boat
– Only one rod is permitted per person
– Ten fish (only 5 of the same species) can be caught and kept per person each day, with separate limits for the following species: Billfish, Shark, Giant Seabass, Bluefin Tuna, Shad, Dorado, Roosterfish, and Gulf Grouper. 
It is always recommended that you check for up-to-date fishing guidelines and license requirements before setting out as these laws are strictly enforced within biosphere reserves. Fishing with a reputable tour company/charter is also a good way to ensure you remain compliant. 
What is Baja California Bahía de los Ángeles known for?
The Bahía de los Ángeles Biosphere Reserve is located on the Sea of Cortez, which iconic marine biologist Jaques Cousteau famously referred to as "The World's Aquarium".
When is the best time to see whale sharks in Bahía de los Ángeles?
If one of the top reasons you've chosen to travel to Bahía de los Ángeles is to swim with whale sharks, you'll need to get the timing right. You'll have no trouble arranging a swim between August and November, but keep in mind that as the winter months approach, the water temperatures will drop. It's nothing a good wetsuit can't fix, but many tourists prefer to visit during the summer months for the best of both worlds. 
What designation does the Bahía de los Ángeles have?
The Bahía de los Ángeles Biosphere Reserve (Reserva de la biosfera Bahía de los Ángeles) is an official UNESCO World Heritage Site, protecting both its wildlife and its cultural heritage.
Is there mobile phone service in Bahía de los Ángeles Baja California? 
Nope, not really. You won't find high-speed wifi either since it's so far off the beaten path. Most hotels and campsites, plus some stores in town will have satellite wifi though so you can get in touch with the outside world in the case of an emergency, or to update them on your whereabouts. Certainly don't expect to be scrolling through your socials, though.