Welcome to San Felipe, a picturesque Mexican fishing town with desert landscapes and postcard-perfect beaches. Known as the "Gateway to the Sea of Cortez", this coastal town in Baja California is a popular tourist destination that attracts about 250,000 visitors a year.
Whether you wish to swim in the crystal-clear waters, enjoy activities like kayaking and boating, or try local seafood delicacies, there is plenty to look forward to when visiting this beautiful seaside town on the upper Baja Peninsula.
Looking for a place to stay? There is no shortage of fabulous hotels in San Felipe, Mexico. From beachfront bungalows and campgrounds to boutique hotels, San Felipe offers a wide range of accommodation options to choose from.
To help you decide where to stay, we've put together a list of our favorite San Felipe Mexico hotels.
Table of Contents
San Felipe Mexico Hotels
Hotel Las Palmas
Nestled on a hill above the village, Hotel Las Palmas is a family-run hotel known for its rustic hacienda vibes, beautiful cactus gardens, and tastefully decorated rooms. You will be staying just a short walk away from the lovely Playa San Felipe, one of the best beaches in Baja, California.  The center of San Felipe is also easily reachable.
Guests can go for a dip in the swimming pool, enjoy artisan cocktails at the on-site bar, or work out in the fitness center.  For a memorable dining experience, enjoy a meal at the hotel's on-site restaurant.
Hotel Las Palmas also offers free parking, fast Wi-Fi, and a beautiful terrace. Accommodation options here are plentiful and range from double and triple to quad rooms.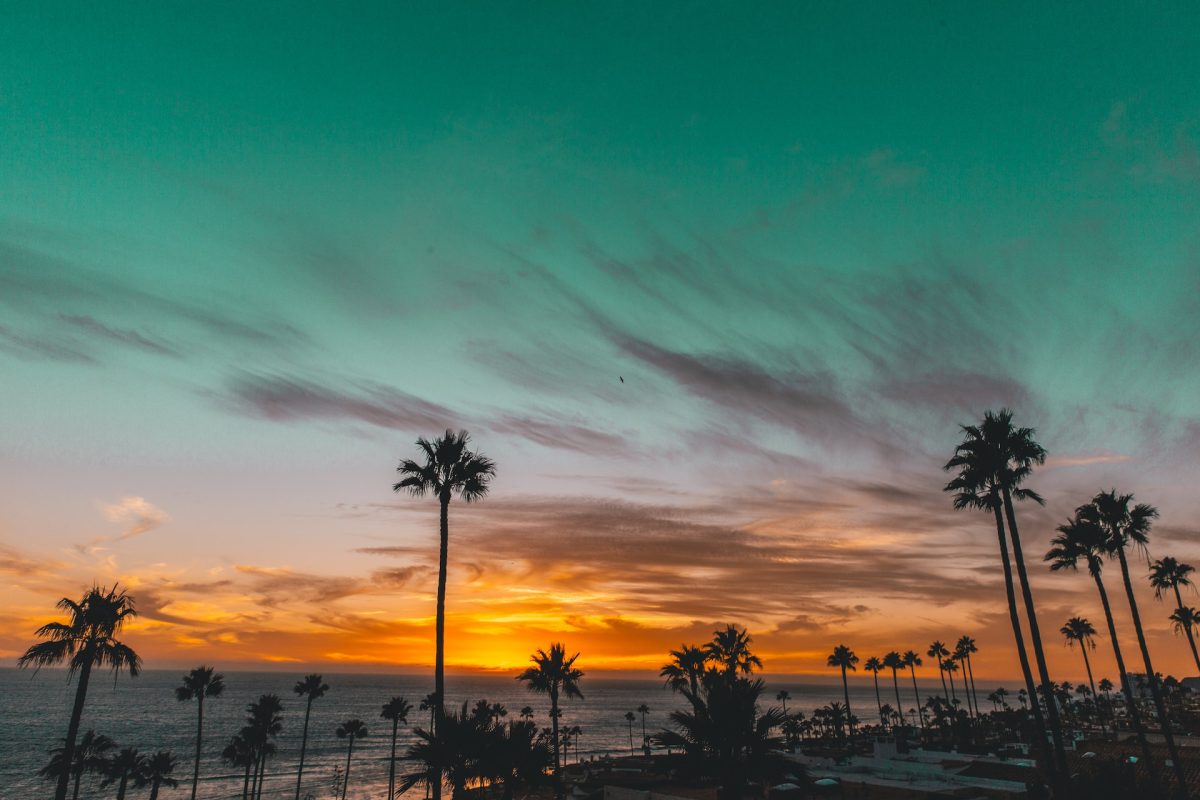 Stella de Mar
Searching for a beachfront hotel in San Felipe, Mexico? Look no further than Stella de Mar, a charming boutique hotel located right on the beach. With just 14 beachfront bungalows and a private beach area, Stella de Mar is a great place to stay for travelers who wish to have some privacy while vacationing in San Felipe.
The hotel itself looks seriously awesome. You can chill at the beachfront restaurant and bar called Matilde, enjoy live music performances, and visit popular nearby tourist attractions like the Gallery in LaPlazita and San Felipe Lighthouse.
Each bungalow comes with a flat-screen TV, air conditioning, and a private bathroom with a shower and complimentary toiletries. Certain bungalows offer sea views.
#36 Bungalow Seaside Hotel & Victors RV Park
Located just a stone's throw from Playa San Felipe, #36 Bungalow Seaside Hotel & Victors RV Park offers a 1-bedroom beachfront apartment fitted with everything needed for a memorable vacation in this lovely seaside town.
The apartment has air-conditioning, a private bathroom, comfortable beds, and a flat-screen TV.  The sea views from this tastefully decorated apartment are simply amazing. Step outside and you will find a lovely beachfront bar where you can unwind with a drink or two.
Guests have access to a lovely garden. In case you get hungry, the property has a restaurant and bar. Breakfast is served daily and you can choose from continental, a la carte, and American options.
La Hacienda De La Langosta Roja
Book your stay at the La Hacienda De La Langosta Roja, a family-run hotel located on the town's main avenue and just 2 blocks from the beach.
Offering free parking and fast Wi-Fi, this hotel features a wide range of accommodation options. You will be staying minutes away from the center of the town and its restaurants, bars, and souvenir shops.
All rooms at La Hacienda De La Langosta Roja are nicely decorated and fitted with cable TV, air-conditioning, and en-suite bathrooms. The on-site restaurant serves tasty Italian cuisine with tasty dishes like lasagna, pizza, and spaghetti. The hotel also has a full bar with plenty of wine, beer, and specialty drinks offerings.
San Felipe Place to stay B&B
No list of the best hotels in San Felipe would be complete without mentioning the charming San Felipe Place to stay B&B. Located within walking distance from the beach, this property offers 3 individually decorated guestrooms.
Each guestroom is equipped with necessities like a fully equipped kitchen with a fridge and an oven, cable flat-screen TV, seating area, terrace, and a private bathroom.
Guests can swim in the private swimming pools, enjoy views from their privately furnished patios, and book on-site massages for ultimate relaxation.
Some of the other facilities at San Felipe Place to stay B&B include a picnic area with BBQ grills and a beautiful garden.  
Casa La Vida
If you are searching for more than just a hotel room and want to have a home away from home accommodation while visiting San Felipe, book one of these Casa La Vida vacation rental suites.  
Located just two miles from downtown San Felipe and one block from the beach, Casa La Vida sits atop a hill and offers panoramic views of the Sea of Cortez.
All suites are located on the lower level of the property. Each of these extremely spacious suites boasts large open-plan living and dining areas, a full kitchen complete with a bar area, and private bathrooms with complimentary toiletries. Guests love the rooftop deck and say how the swimming pool is spacious.
Kikis RV Camping Hotel
Kikis is definitely not your average hotel. If you wish to have a unique San Felipe beach camping experience, this amazing campground is where you want to spend your vacation days. Located right on the beach, Kikis RV Camping Hotel is a great place to spend a few days.
You can either park your RV here or book one of the rooms. Travelers who bring their RV to the campground have access to electricity, shared bathrooms, and showers. We should also mention that camper spaces are available for rent weekly or monthly.
As for the rooms, they are pretty much basic but come with everything you need really including comfy beds and clean bathrooms.
Blue Ride by CGglamping
San Felipe offers a few unique accommodation options and the Blue Ride by CGglamping is definitely one of them. With old city buses transformed into cozy picturesque homes, Blue Ride by CGglamping is the most unique property on this list of the best hotels in San Felipe. There are 5-6 creative and different themed units here.
The host, Gabby is super friendly and always more than happy to recommend cool places worth visiting in this fishing town. She also greets her guests with a delicious cheeseboard upon arrival.
The remodeled buses look spectacular. Each home has a lovely shower, a toilet, a sofa bed, two sinks, a coffee machine, a full fridge and stove, and kitchen supplies. There's also a private outdoor patio where you can unwind with a drink or two. The common area is spectacular and includes everything from a firepit and pool to a sauna, bar, and game area.
San Felipe Beach Hotel
You will find San Felipe Beach Hotel in Verdugo, a colorful neighborhood well-known for its wide range of vacation rentals.
Located right on the beach, this charming hotel offers about 30 rooms equipped with everything from air-conditioning, 32-inch plasma TVs with premium channels, and comfy beds to perks like fast Wi-Fi and complimentary bottled water.
Wish to stay in shape? There is an on-site volleyball court here, as well as a spacious outdoor pool. Dry cleaning/laundry services are also available here at the San Felipe Beach Hotel.
Sandollar Hotel
Last on the list of the best hotels in San Felipe is the legendary Sandollar Hotel. This is, without a doubt, one of our favorite hotels in the coastal town of San Felipe. Why? It's located directly on a private beach, has a bunch of cool common spaces, and is reasonably priced.
The hotel boasts a swimming pool and jacuzzi, billiard table, gym, kayaks, and paddleboards.  Rooms are spacious and even come with a small kitchenette. Guests can relax on their own patio and admire breathtaking sea views.
Although the hotel doesn't have its own restaurant, you will find plenty of dining options in the area. The owner of the hotel is a real legend. John E. Trinkle is an accomplished golfer and pilot who decided to move here together with his wife Claire back in 1995. He built this beautiful beach complex. Also, John can arrange a bunch of cool activities in Baja, California like golf outings, air flights, off-road trips, fishing, sailing, and kayaking on the Sea of Cortez.
Best San Felipe Hotels FAQ
Are there any luxury 5-star resorts in San Felipe, Mexico?
You won't find any 5-star resorts in San Felipe. This beautiful seaside village offers boutique hotels, guesthouses, villas, and campsites. 
What's the best beachfront hotel in San Filipe, Mexico?
We would probably have to say that Sandollar Hotel is the best beachfront accommodation in San Felipe.
How much money does it cost to stay in hotels in San Felipe, Mexico?
Staying in a hotel in San Felipe during the high season will set you back around $150-180 per night.
Final Thoughts
To sum it all up, San Felipe is a great place to spend your vacation days. Maybe you won't find those huge 5-star resorts here, but this picturesque coastal town in Mexico is home to many small family-run boutique hotels and campsites where the owners/hosts actually care about their guests.