The jewel of the Sea of Cortez, San Felipe is a charming seaside town located on the upper Baja Peninsula. In addition to majestic desert landscapes and delicious seafood, this paradise destination in Mexico is also known for its picturesque beaches with crystal-clear waters. It 
What makes beaches in San Felipe Mexico stand out from other beautiful beaches in Baja? With year-round pleasant temperatures, low tides, little or no waves, and shallow waters, the beaches in San Felipe are simply amazing.
We should also mention how the locals here heavily rely on the recourses that the Sea of Cortez offers. For instance, fishing is extremely popular with the residents of San Felipe, as seafood and fish caught in the sea is served in many restaurants across the town.
Beachgoers will also find many beach bars, mobile trucks where you can purchase freshly-made seafood and cold beverages, and souvenir shops that sell everything from arts and crafts to jewelry and ceramics.
Beach essentials like sunscreen, towels, and toys can be found at one of the many small shops along the beaches in San Felipe, Mexico.
Table of Contents
Best Beaches in San Felipe
Whether you wish to swim in the blue waters,  sunbathe on the coast, unwind with a cocktail or two, or enjoy a wide range of water activities, there is plenty to look forward to when spending your vacation days on the beach in San Felipe.
Private Beach in San Felipe
Travelers staying at the iconic El Dorado Ranch Resort will be pleased to hear that this stylish resort has its own private beach.
Besides staying in a fully-furnished and tastefully dedicated rental home at the El Dorado Ranch Resort, you will also have access to a private beach with fewer crowds of fellow tourists.
This private beach is known for its shallow waters with little to no waves. It's a perfect place to spend a day, especially for people visiting San Felipe with children.
San Felipe Public Beach
The main public beach in San Felipe is located down by the boardwalk, also known as the Malecon. Here, the Sea of Cortez waters are crystal-clear and shallow and the sand is soft and white. This public beach is, without a doubt, the most popular stretch of sand in San Felipe among locals and tourists alike.
You will probably come across seaweed and sea shells, but the waters here are comfortable for swimming most of the time. Since the beach by Malecon is a popular place for vacationers, it is common to see many street vendors selling souvenirs. If you wish to purchase something, get ready to haggle a bit. You can pay in dollars and pesos.
Wish to grab a drink or something to eat while soaking in the sun on this spectacular beach in San Felipe, Mexico? The good news is that the beach is home to many cool beach bars that offer a variety of drinks and light meals.
You should keep in mind that it is not permitted to consume alcohol from open containers on state land which is located half a block from the shore. The shore itself is federal land and here you can drink your booze from open containers.
San Felipe Beach Activities
There is no shortage of fun and cool activities to enjoy on the beach in San Felipe, Mexico. From swimming in the shallow blue waters and sunbathing on the shore to activities like kayaking and snorkeling, there is so much to do here.
You can go on a light plane ride and admire the beauty of the sea of Cortez from a totally different perspective.
Tourists also like the colorful mobile food trucks that sell everything from artisan cocktails and beer to seafood tacos and other local food delicacies.
The Best Time to Visit San Felipe Beaches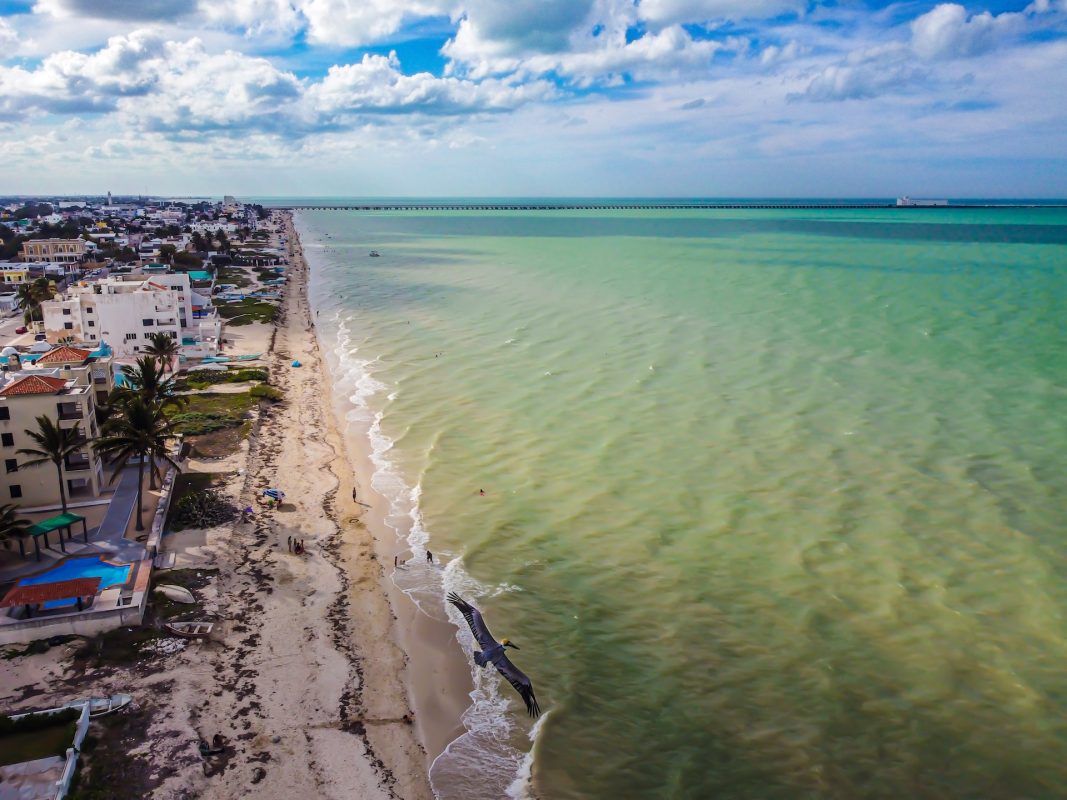 San Felipe is a year-round destination that attracts about 250,000 visitors a year. Being a desert climate, the town is warm and dry throughout the year. However, the best time to visit this fishing village is from November to April.
Depending on the time of year you go, the beach in San Felipe can be either very busy or quite calm. During events like the San Felipe Shrimp Festival (beginning of November) and Spring Break (March), the beaches in San Felipe, Mexico tend to get crowded with tourists.
Wish to swim in the sea in San Felipe, but not sure if the water is pleasant for swimming. Below, you will find sea water temperature by month in San Felipe, based on the average temperatures recorded in previous years.
San Felipe Sea Temperature
January 15.7°C (min: 14.5°C/max: 17.1°C)             
February 15.5°C (min: 14°C/max: 17.2°C)              
March 17.5°C (min: 15.1°C/max: 19.7°C) 
April 20°C (min: 18.3°C/max: 22°C)           
May 22.6°C (min: 20.5°C/max: 24.9°C)    
June 25.8°C (min: 23.2°C/max: 28.5°C)   
July 29.3°C (min: 27.4°C/max: 31°C)         
August 30.8°C (min: 29.7°C/max: 31.8°C)              
September 30.4°C (min: 28.6°C/max: 32.1°C)      
October 26.8°C (min: 24.4°C/max: 29.4°C)            
November 22°C (min: 19.4°C/max: 24.9°C)          
December 17.8°C (min: 15.7°C/max: 19.8°C)
Beaches in San Felipe FAQ
Can you swim in San Felipe, Mexico?
Yes! Thanks to the clear and shallow waters, swimming on San Felipe beaches is one of the most popular activities.
What is the hottest month in San Felipe?
The hottest month of the year here in San Felipe is August, with an average temperature of 32.5 °C | 90.4 °F.
Are there any cool beach day trips from San Felipe?
Hop on a boat tour and visit the beautiful Konsag Island. It will take you about 45 minutes by boat to reach this paradise island which is known for its colonies of sea birds, sea lions, and seals.
What are the most popular Beach snacks in San Felipe?
Final Thoughts
If you are searching for a low-key tropical destination with unspoiled beaches in Mexico, look no further than San Felipe. Instead of splashing out on posh 5-star resorts in Mexico, stay at boutique hotels and campsites in San Felipe and have a peaceful vacation. With fine white sand and calm and shallow waters, the beaches in San Felipe are ideal for enjoying water activities.