My first time traveling to Mexico, I had a difficult time deciding between two of the most popular destinations in Mexico, Cancun or Puerto Vallarta?
Cancun is the perfect destination for anyone looking to stay in a top-notch, all inclusive beach resort-party town, or someone apprehensive about visiting Mexico for the first time. Puerto Vallarta is great for anyone looking for a relaxed beach vibe, and looking to embrace the Mexican lifestyle. PV offers great hole-the-wall restaurants, and some real staples in the community, all surrounded by luscious green mountains and the beautiful ocean.
Cancun vs Puerto Vallarta
| Cancun | Puerto Vallarta |
| --- | --- |
| Luxurious Hotels and All-Inclusive Resorts | Vast and beautiful city surrounded by luscious green mountains |
| Long picturesque beach with great restaurants, serving up delicious food and excellent views | Beachfront boardwalk featuring local vendors, performers, and restaurants |
| High-end shopping malls, local markets, and eateries | Local markets and authentic hole-in-the-wall restaurants |
| Friendly english speaking locals, excellent night clubs popular with spring breakers | Some of the friendliest locals in Mexico, relaxed beach vibe |
| Good for Mexico first-timers | Great for people looking to embrace the Mexican culture |
Cancun is known for it's long 14 mile stretch of glistening white beaches, crystal clear turquoise-tinted water, and ritzy all-inclusive resorts.
Beaches In Cancun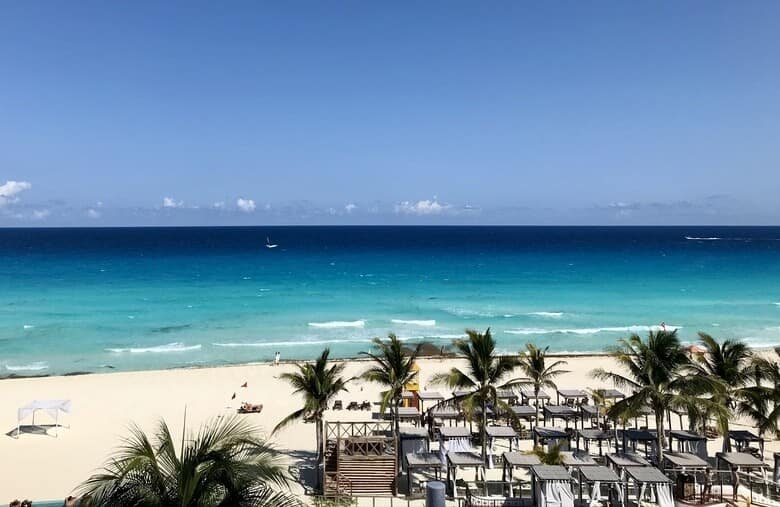 The beaches in Cancun are covered with soft white sand that never gets too hot due to its 70% coral makeup. Beaches stretch all across Cancun's hotel zone guaranteeing a great view no matter which resort you stay at. Along the beach you will find an unlimited supply of classy resorts and restaurants, additionally vendors will be walking the beach asking if you'd like to purchase anything from food, to hand-made goods.
The water is usually perfect for swimming, but not so great for snorkeling due to some choppy waves, at least in the Hotel Zone. However, the water in Cancun is crystal clear, and extremely warm, making any beach the perfect swim spot.
Activities In Cancun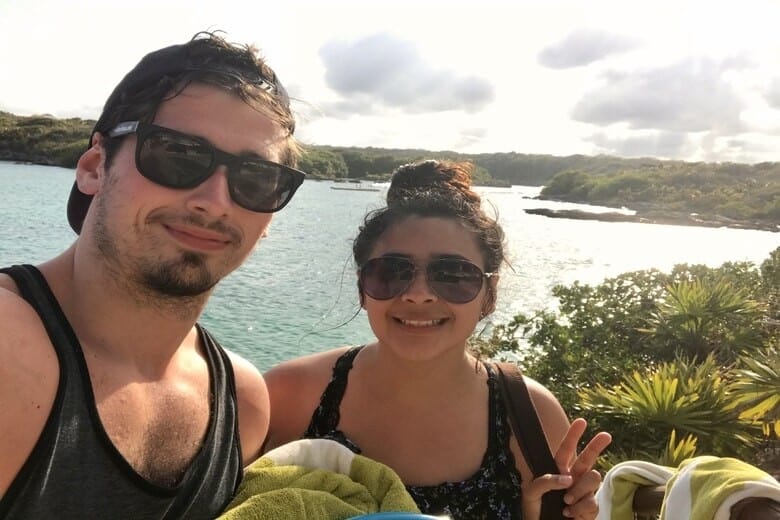 There are plenty of activities you will find all up-and-down the beach. From snorkeling tours, to parasailing, jet skis to jet boats, on Cancun's beaches there is always something extremely thrilling to try.
If you feel like getting out and exploring more, Cancun has some amazing nearby towns offering awesome excursions and tours. Excursions in Cancun consist of cenotes, snorkeling, atvs, and even aquatic theme parks. To see some of my favorite excursions just check out the Cancun Complete Excursion Guide.
Food In Cancun
If you happen to get hungry anywhere or anytime while at the beach, more than likely you will be right next to a restaurant offering delicious and well prepared food.
The food in Cancun is great, and is usually up-to-par with a fine dining establishment found in the U.S. but at a much cheaper price. The restaurants on the beach and in the resorts are modern, and will usually allow you to wear your beach clothes upon arrival.
If you are looking for a more authentic food experience in Cancun, you will need to travel away from the Hotel Zone, and head downtown. Here you will find some more traditional cooking, and hole-in-the wall restaurants.
Shopping In Cancun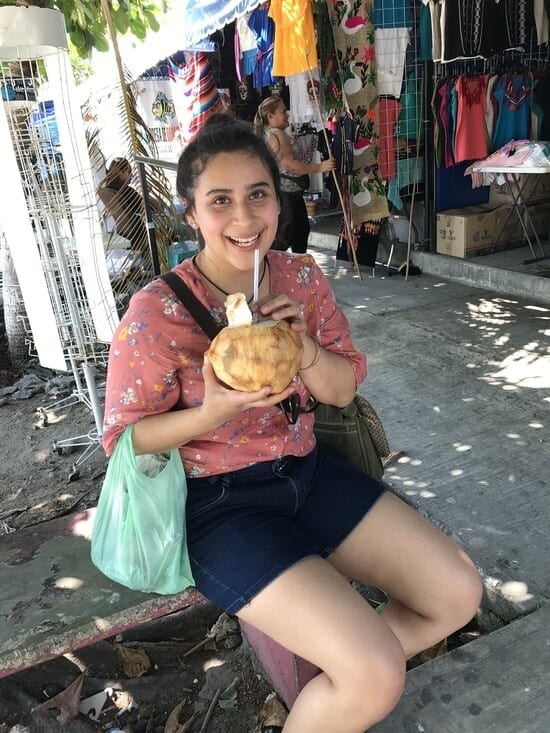 If you feel a shopping spree coming on, Cancun has you covered. Cancun offers various malls containing high-end and brand name clothing, as well as jewelry stores. Most of the malls will have a food court full of different restaurant options to choose from as well.
If you're looking for more of an authentic shopping experience, then you will have to visit some of the local markets scattered throughout Cancun. Mercado 28 is one of the most popular markets offering traditional eats and souvenirs, at an inexpensive price. If you want to see what all Cancun offers in terms of shopping, make sure check out The Best Places To Shop In Cancun to find out all the best places people love shopping while staying in Cancun, and even some spots popular with the locals.
Cancun Vibe and People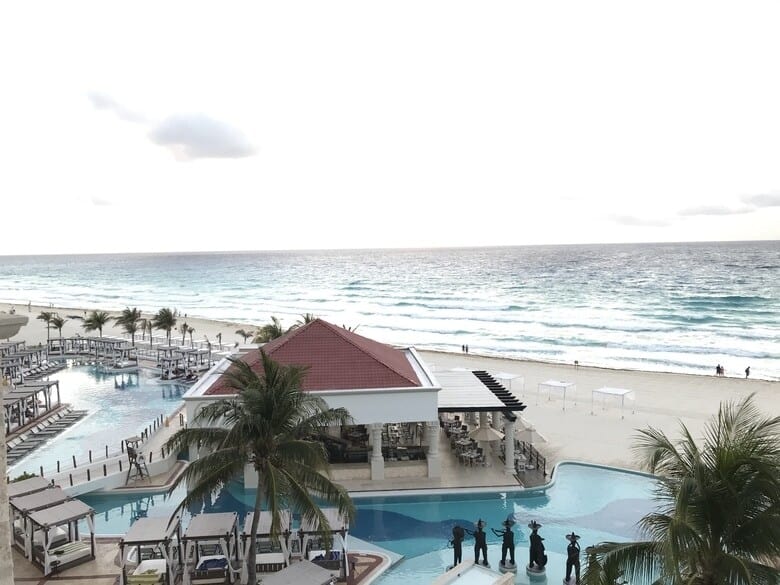 What I imagine other people think when they hear mention of Cancun is, spring break and partying. I can't say that I blame them either. The drinking age in Cancun is only 18 years old, so no doubt you will see tons of party seekers out and about tearing up the clubs until the early morning hours. Cancun is also one of the top destinations in the world for spring breakers, there is no denying that Cancun is the perfect party central for anyone looking to unwind and have a good time.
Since Cancun is an extremely popular tourist destination, best believe that most of the locals working in the resorts and at the restaurants are going to know a decent amount of English. Making Cancun the perfect destination for someone who doesn't know how to speak Spanish, or who may not be comfortable in a setting where Spanish is the dominant language used.
Overall, Cancun is the perfect vacation destination for anyone who desires luxurious resorts with an oceanfront view, top-notch staff and service, going out clubbing and dancing, or anyone who just wants to have a blast, and may not want to travel to far from their resort to do so.
Cancun is also great for anyone who enjoys taking pictures, or anyone who may be Planning Your Perfect Wedding In Mexico. On the otherhand Cacun is a popular honeymoon destination as well. If you are hesitant about traveling to Mexico for your first time, give Cancun a try, you'll be craving more by time your trip is over.
Puerto Vallarta is a touristy beach town featuring a relaxed and friendly vibe. Known for their food, there are hundreds of superb and authentic restaurants all around Vallarta. Food ranges from Traditional Mexican, Italian, Asian, American, and anything else you could ever want.
Beaches In Puerto Vallarta
The beaches in Puerto Vallarta are more of a golden yellow color, and do tend to get very hot. The water although warm, is not quite as clear as the Caribbean Sea Cancun offers. That being said, I still love the ocean in PV and I've spent a whole day at the beach in Vallarta.
Puerto Vallarta's Malecón Boardwalk stretches 12 blocks (1 mile) along the beach and is filled with local vendors serving up everything from handmade dolls to freshly cracked coconuts, or even cheesecake and crepes. Performers setup and will perform all day to make their living, you will see statue people, stone stackers, and even acting performances put on at the Los Arcos Amphitheater, day and night.
Continue to walk along the boardwalk and you will discover an assortment of restaurants and stores, and one of my favorite spots near the boardwalk, Los Muertos Pier. This is an awesome spot you can walk out on, and is perfect for observing and taking pictures.
Activities In Puerto Vallarta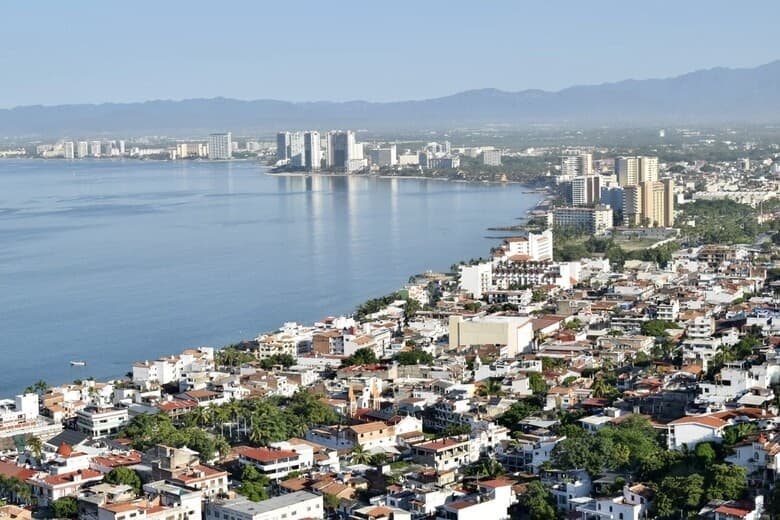 Puerto Vallarta's beaches offer similar things that you may find in Cancun. Parasailing, jet skiing, riding on huge tubes being pulled by a boat, they've got it all.
When your done enjoying the beach there is plenty to do around town. You can venture around the streets, and check out all the local paintings canvased across the buildings. Or one of my all-time favorite things to do in Puerto Vallarta is hiking up the mountainside to Cerro De La Cruz. From this lookout, you can see the whole town of Puerto Vallarta below, it's simply stunning.
Moreover, the workout you get from this hike is intense. But don't worry, you can stop as often as needed to catch your breath, or just take in the view.
Food In Puerto Vallarta
Mine and my wife's first time visiting Puerto Vallarta was amazing. We had gathered a list of all the restaurants we wanted to try months in advance. When we arrived in Puerto Vallarta, the quest for food began. I could say that we were overwhelmed with a cornucopious amount of food and dining options, but honestly we were in food heaven.
Puerto Vallarta offers over 200 restaurants, there is not one restaurant that I have tried here, that hasn't exceeded my expectations. Not only is the food delicious and traditional, but it is so CHEAP. Forget the $5 footlong, in PV it's all about the food, and they do it the right way.
Shopping In Puerto Vallarta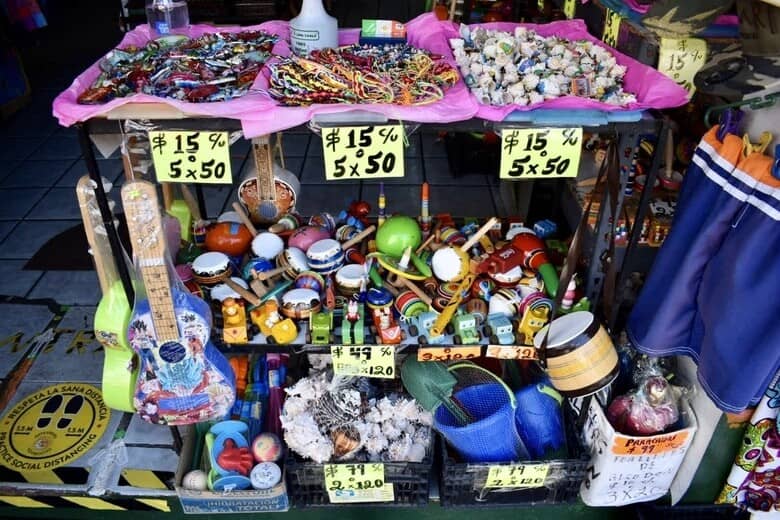 As far as shopping goes in Puerto Vallarta, you will find locals markets all around the city. My personal favorite being the Old Town Market Viejo Vallarta. This market has multiple shops inside, as well as local restaurants if you head upstairs. However, one of my favorites place to eat in all of Vallarta sits near the entrance of the market called Loncheria Don Jorge. If you are looking for some authentic Mexican dishes, this is where you want to be.
Once you're finished exploring the interior of the market, head outside and cross over the drunkard bridge (it sways back-and-forth) to the outdoor market. Here, you can get lost for hours exploring all the shops, make sure you bring your pesos here to buy all your souvenirs.
Puerto Vallarta Vibe And People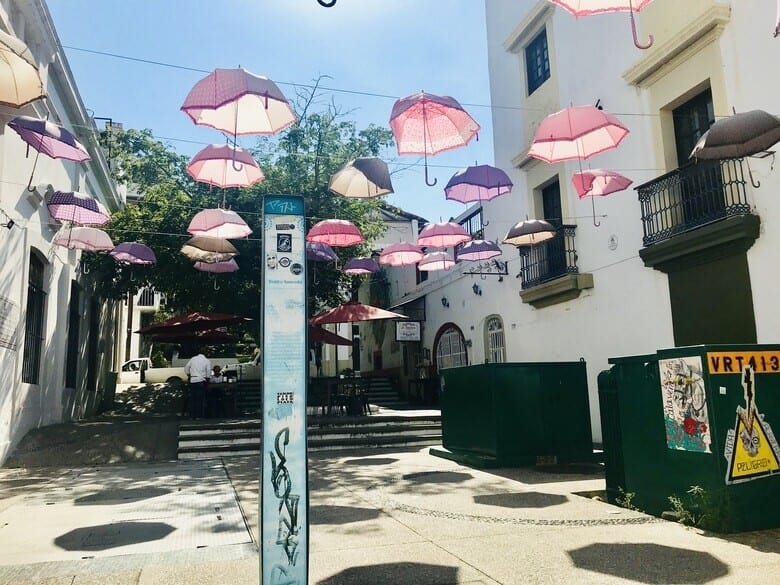 Wherever you decide to stay in Puerto Vallarta, whether it be right on the boardwalk (I highly recommend), or deep in the city, you will be surrounded by beautiful and luscious green mountainsides, amazing art, statues, and some of the friendliest people in Mexico. The overall relaxed vibe of Puerto Vallarta, makes this town feel so welcoming and will have you wanting to stay even longer.
Although not everyone will speak English here, a good amount of people will be able to understand little bits of English, enough for you to get around without any major issues. If you are someone who is in the process of learning Spanish, PV is the perfect place to practice and put to test everything you have learned without the fear of being judge or discriminated.
If you're looking to PAR-TAY, then just head to the Romantic Zone around sunset, the music will be bumping, and the people will definitely be jumping. If you are staying near the boardwalk, expect to hear the clubs until around 3 am. Puerto Vallarta is chill during the day time, but a true party animal's paradise at night.
There is no doubt in my mind that Puerto Vallarta is perfect for anyone who likes adventures, terrific food, and friendly people. The people who live in Puerto Vallarta love where they live, and it shows in their attitude and sheer knowledge of this beloved beach town.
Don't forget that Puerto Vallarta is also a great honeymoon destination.
Is Cancun or Puerto Vallarta Safer
If the only thing holding you back from choosing your next Mexican vacation to either Cancun or Puerto Vallarta, is the safety aspect, allow me to shed some light.
Cancun and Puerto Vallarta are both considered safe tourist towns. Tourist towns generate all their money from; you guessed it, tourists. If the tourists don't feel safe, then the towns lose money, so understand that these towns do everything in their power to keep the streets, and the tourists wandering them safe.
Cancun vs. Puerto Vallarta Crime Index
| Crime | Cancun Crime Index | Puerto Vallarta Crime Index |
| --- | --- | --- |
| Corruption and Bribery | High | High |
| Homes Broken and Items Stolen | High | Moderate |
| Worries of Being Insulted or Discriminated | Low | Very Low |
| Violent Crimes Such as Assault and Armed Robbery | Moderate | Low |
| People Using and Dealing Drugs | Moderate | Low |
Source
From this chart you can see in general, Cancun has a higher crime rate index. This is due to its location on the Caribbean, but also because Cancun is home to three times as many people when compared to Puerto Vallarta.
We all know that more people generally equals more crime. This in not to say that Cancun is unsafe, but I recommend you stay aware of your personal belongings and surroundings, and make sure you use common sense when vacationing anywhere in any city, whether it's considered safe or not.
In my personal experience, I have not had any problems with crime in either Cancun or Puerto Vallarta. If you aren't looking for trouble, you probably won't find it.
Is Puerto Vallarta Cheaper Than Cancun
My first time planning a trip to Mexico I was looking for the best place that fit my needs, but also somewhere I could afford since I didn't have a ton of cash at my disposal. It came down to two locations, so after some research I found out which was cheaper, Puerto Vallarta or Cancun?
Puerto Vallarta is cheaper with an average trip costing between $1,000 to $1,500 per person including airfare, lodging, food, plus excursions and shopping money. Cancun is generally more expensive with the average trip costing between $1,700 to $2,000 per person. This price can quickly double or even triple if you are booking an all-inclusive resort.
Cancun vs. Puerto Vallarta Cost Per Person
| Expense | Cancun | Puerto Vallarta |
| --- | --- | --- |
| Airfare | $320 to $600 | $300 to $600 |
| Lodging | $80 to $1100 per night | $40 to $400 per night |
| Transportation | $50 to $100 | $20 to $50 |
| Excursions and Activities | $100 to $200 per excursion | $30 to $150 per excursion |
| Food | $10 to $50 per day | $10 to $15 per day |
Source
Puerto Vallarta is the clear winner in my book when it comes down to overall cost for a vacation. The cost for flights to both Cancun and Puerto Vallarta may be considerably close, but when it comes to lodging and food, I would say PV takes the cake. My wife and I stayed on the boardwalk for only $80 per night, and our meals averaged only $5 per person, and we like to eat!
Cancun is more expensive due to its general location, and the location of all the resorts. If you want to stay on the beach in Cancun (most people do), then you will end up forking over a minimum of $180 per night. Although the food offered in Cancun is great, its usually priced higher if you are eating anywhere near the resorts or on the beach.
Ultimately, in my experience it comes down to what type of vacation you want to have. If you want to stay in an all-inclusive resort being catered to and not have to worry about a thing, then go to Cancun. If you prefer to figure things out on your own, like to venture out and explore, and enjoy delicious food, I say go to Puerto Vallarta. It's that simple.