If you have been searching far and wide for the best honeymoon spot for you and your significant other, the search ends here. Puerto Vallarta offers a romantic beach vibe, an endless amount of honeymoon activities you can enjoy together, and some amazing all-inclusive resort options.
Is Puerto Vallarta A Good Honeymoon Spot
Before my wife Lucy and I got married, we knew we wanted our honeymoon to be somewhere in Mexico, but we just couldn't decide where. I had been researching for months on end and kept coming across Puerto Vallarta.
I was instantly attracted to the relaxed beach town vibe, and there seemed to be a lot of activities we could enjoy together as newlyweds. So I decided to dig a little deeper to find out once and for all; is Puerto Vallarta a good honeymoon spot?
Puerto Vallarta is the perfect honeymoon destination. Sit back, relax and enjoy the ocean view, go for a romantic morning stroll on the boardwalk, indulge at some of the most spectacular restaurants and cafes, and enjoy many adventurous activities this wonderful beach town offers, all at a very affordable price.
Best known for its relaxed beach vibe and beautiful blue ocean, Puerto Vallarta is occupied by some of the most friendliest people on the planet, as well as some of the best food in all of Mexico. The combination of these great qualities, makes for the perfect honeymooner recipe.
Puerto Vallarta is generally a safe place, one of the safest towns in Mexico in fact. Me and my wife have explored the whole town at night without any issues, and there is so much to see and do.
Whether you are exploring the boardwalk, enjoying a day at the beach, or hiking up to Cerro de la Cruz to enjoy a romantic sunset together, Puerto Vallarta offers something special for every honeymooning couple.
If you are torn between which honeymoon destination is right for you and your loved one, I am here to help you decide why Puerto Vallarta is the best honeymoon destination, and what all you should expect when visiting this wonderful town.
How Much Does A Puerto Vallarta Honeymoon Cost
One of my main concerns when I was searching for the perfect honeymoon spot was the cost. The wedding alone can cost a pretty penny, so finding an affordable yet exciting destination can be a challenging task. I had no choice but to find out exactly how much a honeymoon in Puerto Vallarta costs, and here is your answer.
A Puerto Vallarta honeymoon costs roughly $2300 total, for 7 nights. This includes your round-trip flight ($400 per person), Airbnb or hotel stay ($600), plus food, activities, shopping, and transportation ($450 per person). $2300 is more than enough to ensure a fantastic PV honeymoon.
That being said, we like to eat, A LOT. Our honeymoon week consisted of eating out at least 3 times per day, that doesn't include all the food stands we visited while exploring the Malecon, or the city for that matter. The average meal for two people cost less than $10 at most hole-in-the-wall restaurants, or roughly $18 if you decide to eat at a fancier restaurant. This includes appetizer, main course, and yes even dessert.
As far as where we stayed, we enjoyed an Airbnb situated right on the boardwalk which included an ocean view. Basically one of the best views in Puerto Vallarta, and it only cost us $608.35. What a deal!
If you book an all-inclusive resort however, you are looking to spend about twice as much as an Airbnb. You have to think though, if you stay at an all-inclusive resort, your food and drinks are paid for, so you're already spending less money in that aspect.
The reason we chose to stay in an Airbnb is not only because how inexpensive it is, but even more so because we like to get out and explore, plus try new things. The all-inclusive resorts are great don't get me wrong, the food is also delicious at the resorts, but with over 200 restaurants spread throughout the city, we wanted to taste as many as we could.
I can talk about food forever, but that's not why you're here. My point being, if you want to go out and eat at all the amazing places available in Puerto Vallarta but don't want to spend a lot of money, stay at an Airbnb. If you don't mind eating at an all-inclusive resort for 7 days, then stay there. It ultimately comes down to your own personal budget and preference.
The cost of transportation is extremely cheap in Puerto Vallarta. An Uber ride only cost approximately $1.32 per mile, the city bus only cost 15 pesos, and a taxi ride depending on the zone, averages between $7-$25.
However, we tend to get around the entire city using the best means of transportation in Puerto Vallarta, our legs.
The entire city is very walkable, the only thing I suggest when walking is make sure to wear comfortable shoes with decent sole cushioning. The streets are made of stone and can be quite uneven in some places, your feet will fatigue quickly without the proper shoes.
Overall, the cost to experience an unforgettable Puerto Vallarta honeymoon is very affordable. I've created a simple table for your viewing pleasure, this way you can easily remember what you will need to budget for when traveling to Puerto Vallarta for your special week as newlyweds.
| Expenses | Cost Per Couple For a 7 Night Honeymoon in Puerto Vallarta |
| --- | --- |
| Airline Tickets | $700-$900 |
| Airbnb or Resort | $500-$1300 |
| Food | $300-$450 |
| Excursions | $200-$500 |
| Transportation | $10-$50 |
| Shopping/ Souvenirs | $100-$300 |
| TOTAL: | $1810-$3500 |
Your trip to Puerto Vallarta can be as expensive, or inexpensive as you desire. These are averages based on past trips I have taken to Puerto Vallarta. You will have plenty of fun with $2300, any more than that and you're living like royalty for a week.
What Are Some Good Puerto Vallarta Honeymoon Activities
Puerto Vallarta seems like a terrific vacation destination, but what are some good activities to enjoy during your honeymoon? Let me tell you.
Some good Puerto Vallarta honeymoon activities include exploring the Malecón, hiking to Cerro de la Cruz, watching the breathtaking sunrise, and sharing every single moment together, whether you're out exploring or just sitting back and relaxing, Puerto Vallarta is truly a honeymooners paradise.
1. Explore The Malecón Together
First and foremost, you and your lover need to explore the Malecón boardwalk. The boardwalk is one of the main attractions in Puerto Vallarta. I recommend walking the entire boardwalk as the sun begins to set. Not only is the view phenomenal, but all the vendors and even some of the performers will be up and operating at these hours.
The vendors offer everything from indulgent desserts like cheesecake and ice cream, too tasty treats including Mexican classics and even hotdogs. Otherwise, there are many vendors selling handmade goods and crafts such as jewelry, paintings, dolls and other toys, really anything imaginable you can probably find it being sold along the boardwalk.
If you prefer to explore the boardwalk during the day, one thing you have to do as newlyweds is have your caricature drawn. You can find the caricature artist usually mid-day, somewhere near the "Puerto Vallarta" big letters located on the Malecon. It only takes about 10 minutes for the artist to create your rendered picture, but the drawing will last a lifetime.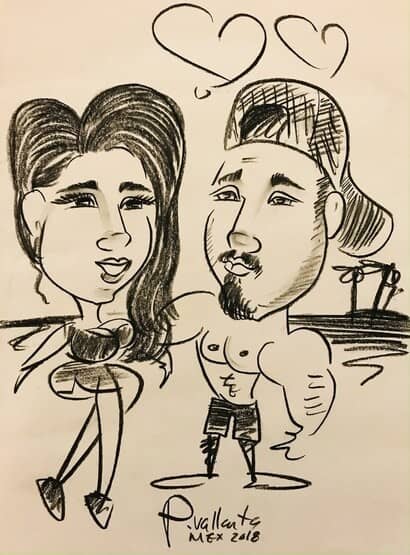 2. Hike To Cerro de la Cruz
If you aren't afraid of a little exercise, hiking up to Cerro de la Cruz is one of the most romantic things you can do in Puerto Vallarta. Cerro de la Cruz is located high above the city in the hills, there are many steps you'll have to climb, but once you reach the top, it all becomes worth it.
The hike up isn't really that bad however, I don't recommend hiking mid-day during the hot season (July-August) as the sun can be very intense. Once you reach the top, it feels like you are in a dream come true. It is so peaceful and quiet, nothing but you and the love of your life, enjoying the breathtaking view of the entire city and the beautiful blue ocean.
For an even more romantic time, bring some beverages and snacks and make a picnic date out of the experience, you won't regret it; but you will surely remember the moment forever because I'm telling you, it is simply amazing once you are at the top.
3. Enjoy The Early Morning Sunrise Together
Just about everything in Puerto Vallarta is gorgeous, the ocean, the buildings, the flowers, and even all the friendly people. But the most beautiful thing in Puerto Vallarta, is sharing a moment with your loved one and watching the sunrise together.
I know, it may not sound all that exciting, but just wait until you experience it with your own eyes. The sunrise is Puerto Vallarta is not only picture worthy, but it's a time where you and your spouse can sit back and enjoy each other's company, while living in the moment. There's really something special about sharing such a simple moment together, and I couldn't recommend anything less.
4. Watch The Sunset From The Beach
Of course the sunset in Puerto Vallarta is equally as stunning as the sunrise. To make it even more romantic, head down to the beach and listen to the sounds of the waves crashing in, as you both take it all in, nothing else seems to matter except for you and the burning passion you have for one another.
What more can I say, a picture is worth a thousand words, and this picture is no exception.
5. Relax And Enjoy Your New Life Together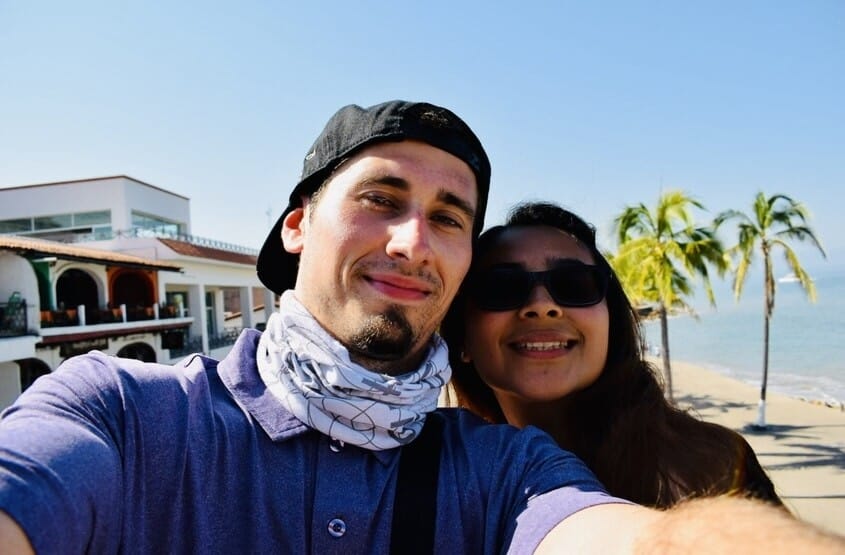 Really, there is an endless amount of things you can do in Puerto Vallarta to celebrate your honeymoon, in fact if you want to see some more of what Puerto Vallarta offers, just check out this article "Top 20 Free Things To Do In Puerto Vallarta", this is an extensive list I put together of some awesome things you can do while visiting PV, and they're all free.
Even if you plan nothing for the day, you are guaranteed to have a delightful time together. Whether you are walking around exploring the town, eating at some of the best restaurants and stands, or relaxing on the beach after swimming in the waves, the most important thing is that you are experiencing it all with the love of your life. When you do this, everything becomes enjoyable, and for that reason I feel truly blessed that my wife and I were able to call Puerto Vallarta home for a week, especially because we were celebrating our new life together.
The memories made will be treasured forever, and we have continued to return to PV at least every other year to create more lasting memories together.
That being said, if you have any doubt in your mind if Puerto Vallarta is the right honeymoon destination for you, I want to assure you that it's the perfect destination to celebrate your new life together, and it will be an experience you will never forget. Sometimes it's the simple things in life that seem to make the most unforgettable moments, and that is exactly what you will learn when you celebrate your honeymoon in Puerto Vallarta.