I have been looking for the best sport fishing charters available in Cancun for my upcoming vacation, after days of research, I have found some of the top fishing charters offered in Cancun, and now I'm getting excited.
Sponsored
Is There Good Fishing In Cancun?
Cancun provides the ultimate fishing experience for anyone. Whether you're an avid fisher, or it's your first time casting a line, Cancun is perfect for a day full of fishing. The most popular fish you may hook consists of Mahi Mahi, Marlin, King Mackerel, Sailfish, and many others.
Not only does Cancun host the best fish around, but the view experienced while out on the water is phenomenal. It's just you, the crew, and the great blue Caribbean. Tell me what's better than that?
If you are looking for the best Cancun sport fishing charters available in Cancun, look no further. Here are the top fishing charters offered in Cancun.
Jump to the best Cancun fishing charters:
What Are the Best Sport Fishing Charters in Cancun?
Hop aboard a fully-equipped fishing vessel and enjoy a day out on the water fishing. With a crew that has over 20 years of combined experience, you are guaranteed to have a blast and catch more fish than you can handle.
Sponsored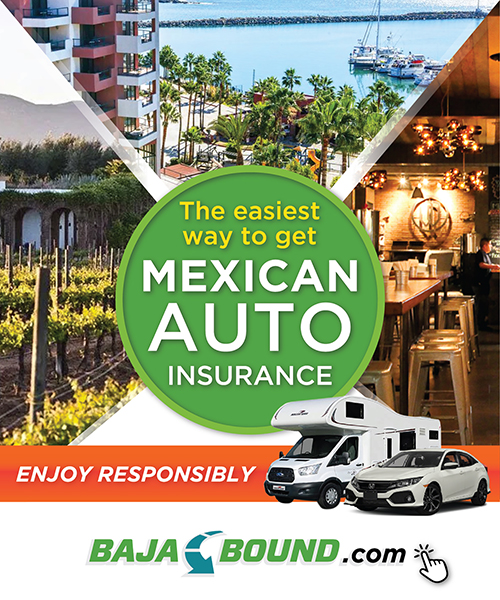 You have the chance to catch many kinds of fish such as Mahi Mahi, Marlin, Wahoo, and even Sailfish. The vessel departs from Aquaworld at 7 am, you will be out on the water for about 6 hours to ensure you have time to catch plenty of fish.
Aboard the vessel and enjoy your choice of refreshments, offering beer and water. Snacks are not provided on this charter, so make sure you bring your own. You will be provided with your fishing license, bait, and lures, ensuring you have everything needed for an amazing day of fishing.
When your private fishing trip is finished, you will arrive back at Aquaworld. They will not pick up or drop off where you are staying, so make sure you have transportation scheduled ahead of time.
Enjoy a scenic coastal boat ride on a 29-foot Mako vessel to Punta Sur, where you will experience some superb fishing.
Punta Sur is an ecological park located at the southern tip of Isla Mujeres. Here, you will find some of the best fishing with water depths reaching anywhere from 300-800 feet. The surrounding area is full of cliffs, and perfectly clear turquoise water.
As far as the vessel goes, it's well-equipped with 4-6 lines including downriggers and outriggers, which are all provided for you on this private fishing trip. The bait used is generally ballyhoos and plastics.
While casting a line you can sit back, relax and enjoy some music, and snacks, plus ice-cold beers, water, soda, or even some rum and tequila. Don't be surprised if you catch Barracuda, Dorado, Marlin, Tuna, Wahoo, and many other types of fish.
This charter is offered at varied lengths of time, depending on what you want to do. The charter ranges anywhere from 4-8 hours and departs at 7-8 AM from Marina Fonatur Cozumel.
The cool thing about this deep-sea fishing charter is that you will be fishing with a "First Lady" tournament-winning crew. The crew placed 3rd at the 2017 International Fishing Tournament, 1st place at the Wahoo International Tournament, as well as 1st place at Xpu-Ha Tournament, and have placed in other fishing tournaments, so you know you are fishing with one of the best crews in Cancun.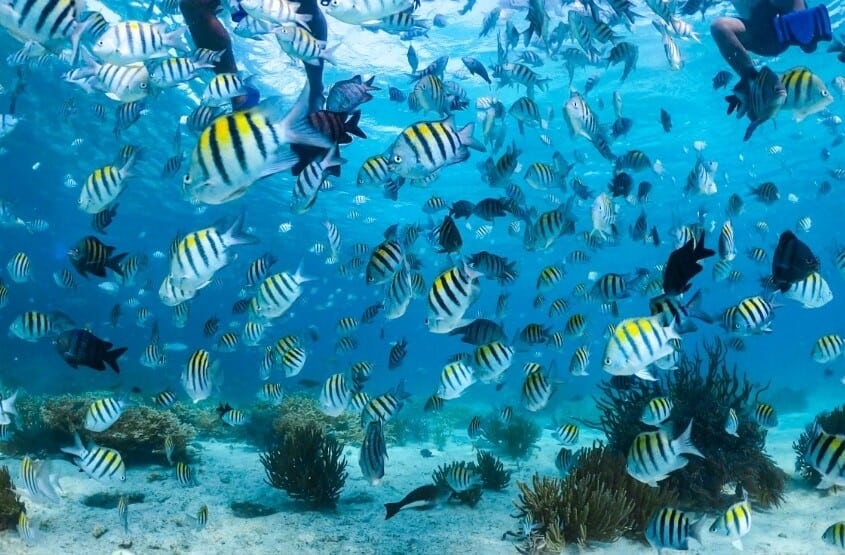 Encounter life out on (and in) the sea with family or friends on this 4-hour Isla Mujeres Fishing and Snorkeling charter.
Roundtrip transportation from your hotel in Cancun is included with this charter, making it that much easier to enjoy a relaxing day of fishing and snorkeling in the crystal clear waters, right off the island of Isla Mujeres.
You will depart from the Punta Sam ferry terminal at 8 AM, making your way towards Isla Mujeres where you will cast some lines and catch some native fish. After fishing for a while, throw on the provided snorkeling gear and plunge into the water for an experience of a lifetime.
You'll see many colorful tropical fish and amazing coral formations when snorkeling in the clear water. Beverages and all the necessary fishing and snorkeling equipment are provided for everyone on board. However, the $5.00 dock fee is not included in the price of this private charter.
This fishing and snorkeling charter is a perfect excursion for the whole family, it's not too long, and there's more to enjoy than just fishing. Moreover, you have your own captain who is really your personal private tour guide, ready to assist you with anything you may need.
Don't miss out on this family fun adventure!
Experience the rush of reeling in this predator of the Caribbean, the mighty Barracuda! Barracudas make for a thrilling time when trying to reel one in, they grow up to 5 feet in length and can weigh more than 100 lbs. Just imagine catching one of these things! Well, now is your chance with this Barracuda Fishing charter.
Hotel and even AirBnB pickup is offered when you book this charter. You will be transported in an air-conditioned van to either Puerto Juarez or Punta Sam. Make sure to wake up early because your adventure begins at 6 AM sharp!
You will be on the water fishing by 7:30 AM, and around 1:30 PM you will visit the amazing Isla Blanca, and be back at your hotel or Airbnb by 3:00 PM.
Everything is included in this day trips such as beverages, snacks, fishing equipment, and all taxes and fees. If you are looking for a thrilling and challenging fishing charter, you need to try your hands at this barracuda fishing charter.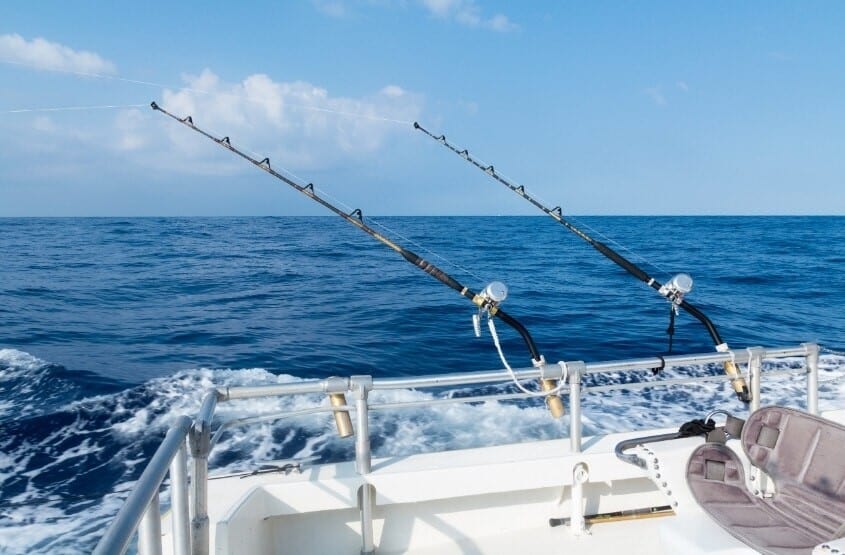 All aboard your own sleek and private fishing vessel for a day full of fishing adventure. Choose from 4, 6, or 8 hours of fishing in the waters near Isla Mujeres year round.
You will catch some BIG fish including blue and white Marlin, Barracuda, Dorado, Sailfish, Shark, and Tuna. Try out some classic fishing methods such as trolling and bottom fishing for the ultimate catch experience.
Catching big-beautiful fish is not the only thing you will enjoy on this private fishing charter. Enjoy the fantastic scenery of abundant tropical marine life and vibrant coral reefs, all through the crystal-clear depths of the Caribbean sea.
Just about everything you need is included in your private fishing charter, from drinks to fishing equipment. However, you will have to pay for your fishing license ($10), as well as the dock fee ($10). This isn't a big deal because you pay for this with any charter you book, whether it's included in the total price or is separate.
Pickup is offered, and your trip begins bright and early at 7 AM at Cancun Sunset Marina next to the restaurant Caminos. This is also where you will return when finishing up your exciting day of fishing.
When you book this private fishing charter, you should expect nothing less than private. It's just you, your group, and of course, a couple of crew members to help you out and keep your lines baited.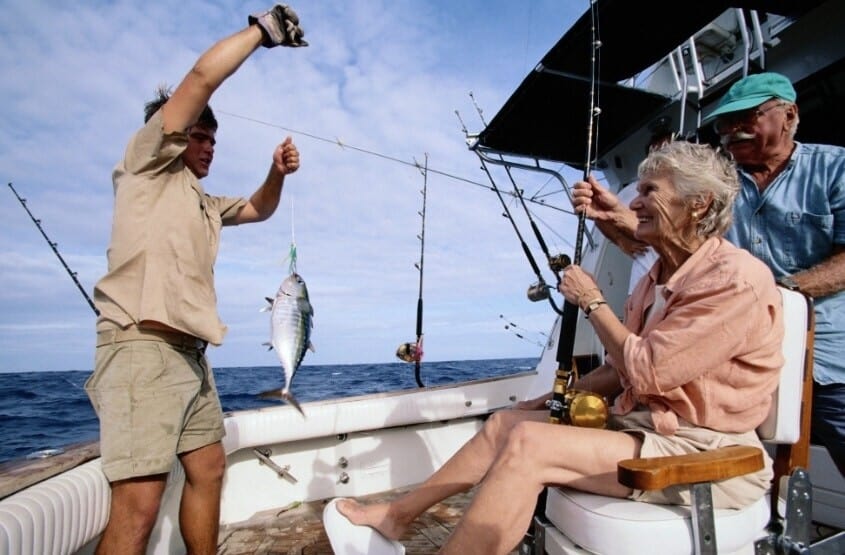 Partake in some tremendous fishing near the authentic local fishing town of Puerto Morelos. Located between Cancun and Riviera Maya, enjoy the simplicity this bohemian town offers.
Fishing in this area of the Yucatan is perfect for the sport fishermen looking to make a big trophy catch of Dorado, Marlin, Tuna, and Sailfish. The waters in this area aren't as explored as others, many of these fish have never even seen a lure.
Practice your trolling and deep-sea fishing with the help of your experienced crew, out in the deep blue waters of the Caribbean. Enjoy the water, soda, or a few beers while out soaking up the sun and catching some big-time fish. In addition to your beverages, taste what you've been catching and let the crew cook up the catch of the day for a nice treat.
Transportation is not included in this charter so you will need to schedule your own. You will depart at 7 AM, from El Cid Hotel Marina Riviera Maya which is the same spot you will return to. When you return, the crew will take pictures of all that you caught, and for an additional price, you can purchase these pictures if you desire.
This Caribbean Sport Fishing Charter is the ultimate sport fishing experience available in Cancun. If your goal is to do nothing but fish and relax on the water, this is the charter for you.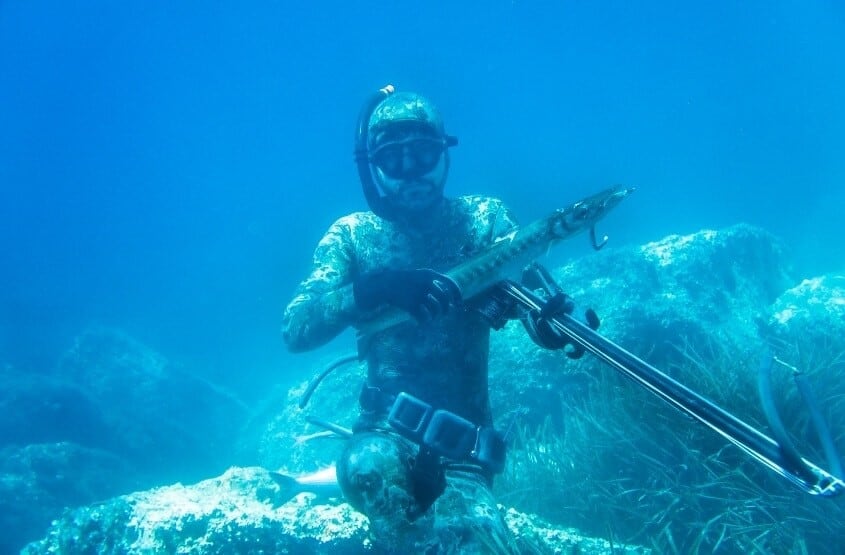 Give spearfishing a shot in this underwater fishing adventure. Experience the shared passion of spearfishing with this skilled crew. Learn all the secrets, tips, and tricks that this crew has learned while spearfishing.
Whether you are an advanced spearfisher, or even if it's your first time, you are bound to learn something new from years of knowledgeable spearfishermen.
You will receive all the proper training and equipment needed for your underwater hunt before heading to the shallow and clear water that is found in Cancun. If you have spearfished before, it probably doesn't compare to the crystal clear and warm waters of the Caribbean. That is why Cancun is perfect for anyone looking to try spearfishing.
Expect to receive complimentary beverages (including alcoholic beverages), the required equipment, and snorkeling gear as well. This excursion is perfect for family, or anyone who is looking to have a great time and get in the water.
You will depart on your adventure from Puerto Morelos where you will enjoy 5 hours of spearfishing and swimming. If you are hesitant about this underwater spearfishing charter don't be. You will be with a very knowledgeable and professional crew that will assist you with everything! So go ahead and give spearfishing a shot, literally.
What To Bring With You On Your Fishing Charter
So you've decided which fishing charter you are going to book, but don't forget to bring some essential items with you, otherwise, your whole trip could potentially be ruined, let me explain.
If you're not used to being out on the water such as the sea, it's very likely you will get seasick. When I was out on a boat for 30 minutes parasailing, I was seasick almost instantly. It ended up ruining the whole experience because I was so focused on trying not to vomit… I know too much info. But, I'm only telling you this so you can learn from my mistake.
Also remember when you're on a boat in the middle of the sea there isn't a lot of shade, except for the shade that the boat provides. It's best to wear some sort of hat that provides shade for your face and make sure to apply a ton of sunscreen, as well, a pair of polarized sunglasses are a must.
Here are my top recommended items you should take with you if you are enjoying a day out on the sea fishing for hours on end, all of which are conveniently found on Amazon:
If you are looking for more information on what exactly you need to legally fish in Mexico, especially if you want to use your own boat, make sure to check out What You Need To Legally Fish In Mexico: A Complete Guide.
When you have gathered everything you need for your fishing charter, there is nothing that is going to stop you from having the best time of your life, and surely one of your most memorable days while visiting Cancun.