Cancun is known for having some of the best beaches in Mexico. In this article, we will not only cover the best beaches in Cancun but also take a look at some considerations around swimming and sharks!
Here's What We Cover
What is the Best Beach In Cancun?
Cancun's best beach is Playa Delfines (located in the Hotel Zone). This beach screams paradise. It has a lot going on for it such as an observation deck, perfect turquoise water, dolphins, and soft white sand, and the beach is large enough to fit a lot of people without being overcrowded. Playa Delfines is public so it's no cost to you, plus there are no hotels or building structures on this beach giving it a more secluded feeling. There are some small waves, but very swimmable nonetheless.
Another reason Playa Delfines is the best beach in Cancun is its location. It's conveniently located in the Hotel Zone. This means you don't have to travel so far just to take a dive into the sea, or to get your tan on.
Playa Delfines is located at kilometer 20 in the southern part of the Hotel Zone. You need to visit this beach if you are visiting Cancun, otherwise, you will be missing out on the best beach in Cancun, and perhaps one of the best beaches in the world.
Does Cancun Have Nice Beaches?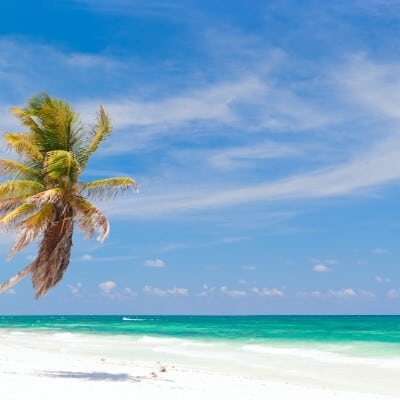 Cancun offers an array of tropical beaches, and surely they aren't all the same. But are Cancun's beaches actually nice?
From Playa Delfines in the Hotel Zone, all the way to Paradise Beach in Tulum, Cancun has some amazing beaches you don't want to miss out on. The color and the perfect temperature of the Caribbean water is hard to beat, it has a perfect blue-green hue that is stunning. The water in most areas is calm, making the beaches perfect for swimming and relaxing.
I will note that in my experience, it is worth traveling to other parts of Quintana Roo and exploring all the different beaches. Tulum Beach, Playa Norte (Isla Mujeres), Playa "El Cielo" (Cozumel), and Akumal Beach (Riviera Maya) are just some of the beaches around Cancun that are highly recommended.
Swimming At The Beaches In Cancun
If you are traveling to a destination like Cancun, most likely you plan on enjoying a beach day and swimming in the Sea.
All of Cancun's beaches are considered safe to swim at. Most beaches, including the ones outside of hotels, will have a lifeguard on duty. Beaches along the Northside of Cancun are generally less intense, and better suited for a novice swimmer. Beaches on the Eastside carry a stronger undertow, larger waves, and can pull you out to sea quickly, so I recommend being a good swimmer and wearing a life jacket.
If there is an area that is not recommended for swimming, usually there will be a sign posted warning you of any dangers. If you are in a remote area, however, these beaches may not have warnings posted, so always make sure to swim with extra caution and observe the water conditions before diving in.
Best Beaches For Swimming In Cancun
Most of Cancun's beaches are swimmable, but which beaches are the best for swimming?
In general, the best beaches for swimming in Cancun will be located on the Northside of the 7-shaped part of the Hotel Zone. There are three beaches on the Northside, Caracol Beach, Playa Cancun, and Playa Tortugas. All of these beaches are open to the public and perfect for swimming with calm water and minimal waves. You can't go wrong choosing any one of these beaches for a relaxing day spent swimming.
Playa Cancun is my favorite of these three beaches on the Northside of Cancun. It's a good size, and well maintained, the water is perfectly calm and clear, and it seems this beach never gets overcrowded. There are a lot of jet skis that are floating right offshore which can be annoying at times, but what do you expect? You're in Cancun!
Playa Tortugas is a popular beach as well, my only complaint is it could be kept a bit cleaner. There is garbage laying around sometimes, and the water is slightly cloudy in comparison to other beaches. Overall, it is a great beach for swimming though.
Caracol Beach is a great beach, the sand is soft and clean, and the water is clear and has that beautiful blue color, but the beach itself is small. Part of this is due to the hotels owning parts of the beach. So if you plan on relaxing in one of those conveniently placed beach chairs, think again. You will have to pay if you want to use the hotel's property. Because the water is so calm at this beach, there will be a lot of children running around and swimming. You have been warned!
While you're here do check out my useful article on The Ultimate Cancun Packing List + What NOT To Bring
Sharks At Cancun Beaches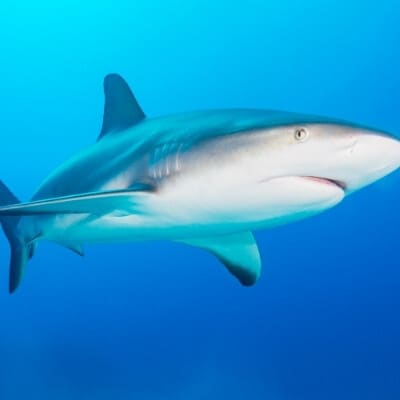 Many people have a fear of swimming in large bodies of water due to the possibility of sharks being present. Well let me tell you something, sharks are everywhere! In most all the oceans and seas, including the Caribbean. Being attacked by a shark is very rare, especially in Cancun.
There have only been a few attacks ever recorded in Cancun, and none of them were deadly. There have only been about 40 shark attacks in all of Mexico, over 450 years. So if you have any fear of shark attacks while swimming in Cancun, don't. It's very unlikely.
Cancun VS Playa Del Carmen: Which Beach Is Better
A lot goes into deciding which beaches are better and will depend on your preferences. In general, Cancun has larger beaches and more options. While Playa Del Carmen has a decent selection of beaches, they are smaller and are generally pretty busy. The water is darker than the beaches in Cancun as well. You will find a lot of beach clubs in Playa Del Carmen, so if you are into dinner and a drink on the beach, then Playa Del Carmen may be the spot for you. These beach clubs do come with a cost though.
Overall, if I were to choose between Cancun and Playa Del Carmen for a beach day. Cancun is the clear winner every time. If you find a beach you don't like in Cancun, well you have 14 miles of beaches to explore and find the perfect one for you. The water is always nice in Cancun, and the beaches are large and spacious.
Best Beaches In Cancun: Conclusion
There are so many beautiful beaches in Cancun, you are bound to find the perfect one for you and your needs. If you are looking for the best beach in all of Cancun, make sure you check out Playa Delfines. If you are looking for a good beach for swimming, and perhaps for the kids, then head north to Playa Cancun. If you want something that is super unique and equally stunning, take a trip to Tulum and relax at Paradise Beach.
Regardless of what exotic beach you choose in Cancun, you will find your own favorite. So why not explore them all and see what each one really has to offer?
If you don't want to explore, then just go to Playa Delfines, you won't be disappointed.