Renting a car in a foreign city such as Cancun may seem like a daunting task, but it is rather inexpensive and simple to do.
Table of Contents
The Cost To Rent A Car In Cancun
In order to rent a vehicle in Mexico, you must be at least 21 years old and have had your license for a minimum of 2 years. Your average economy car will cost approximately $5.00 USD per day, while a standard SUV will cost about $14.00 USD per day. This does not include the $30-$50 cost of insurance you are required to purchase.
Car Rental Prices

In

Cancun

Vehicle Type

$5 per day

Economy, Compact, Intermediate, Full-Size Cars

$11 per day

SUV

$15 per day

Minivan

$18 per day

Pickup Truck

$22 per day

Full-Size SUV

$36 per day

Luxury Car

$43 per day

Convertible
Best Rates Found By Kayak Users
Generally, your US auto insurance policy will not cover you in Mexico. You may be able to purchase a plan through your insurance, just for the time you are staying in Mexico. For a full week of rental, you are looking to spend around $350.00 USD in total.
Buying Auto Insurance In Cancun
As of September 23, 2014, Mexico law requires you to have Mexico Liability Auto Insurance for all vehicles driving on federal roads. Only Third Party Liability (TPL) insurance is required and any other insurance is optional. If you believe your credit card company includes car rental coverage for Mexico, verify this by calling them and asking what the exact procedure would be if you had a claim in Mexico. Also, ask them what kind of vehicles are covered under their policy before renting a car. There will be many types of insurance options to choose from when renting a vehicle.
Third-Party Liability
Third-party liability insurance, also known as liability-only insurance pays for injuries to other people and/or damage to their property as a result of an accident you cause. TPL is required by law on all vehicles driving on the roadway in Mexico. The only way to avoid this is to provide proof that your insurance policy currently covers you in Mexico. TPL is the only insurance you are required by law to have, any other insurance options will be purchased at your own discretion.
Additional Liability Insurance
ALI is an additional liability insurance policy that provides additional liability coverage in addition to the limits provided in the agreement up to a specific amount.
Collision Damage Waiver/ Loss Damage Waiver
Collision damage waiver (CDW), also known as loss damage waiver (LDW), is optional insurance coverage that is available to you when you rent a car. CDW provides coverage for your rental vehicle if you have been involved in an accident. LDW is similar to CDW but provides you additional coverage for theft if your rental vehicle is stolen.
Personal Accident Insurance
PAI provides the renter as well as the passenger's coverage for accidental death, accidental medical expenses and ambulance. Usually, this is capped out at a certain amount which is set by the rental agency.
Using Your Own Insurance
Most US auto insurance policies will not cover you while driving in Mexico. However, your US insurance company may offer tourist temporary coverage while in Mexico. Allstate, Geico, Liberty Mutual, and Progressive all offer coverage for you in Mexico. If your insurer does not have this option, you may go through a Mexico insurer such as Baja Bound.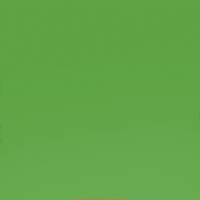 Credit Card and Charge Card Coverage
If your credit or charge card offers you insurance, generally it will only cover collision damage. This means it does not cover the required liability insurance. Check with your credit card company to see if you are covered for collision damage in Mexico. If so, this is one less thing you will need to worry about purchasing when renting a vehicle abroad.
The Cost Of Mexico Car Insurance
The cost to rent a vehicle in Cancun is very cheap. The insurance on the other hand is where they get you. The average price of insurance on a rental vehicle in Cancun will range from $30.00 to $50.00 USD per day depending on the policies you choose. First, you need to figure out if third-party liability insurance is included in the rental car price. If so, no additional insurance policies are required by law, but that doesn't mean you don't want to take advantage of other policies offered.
You will need to use a credit card to rent your vehicle, a hold will be placed on your card and is often based on the value of the vehicle. It may take a few weeks for the hold to be removed from your account after returning the vehicle. This is normal.
For a more in-depth look at Car Insurance in Mexico, check this article.
Should You Rent A Car In Cancun?
Renting a car in Cancun comes down to personal preference. If you feel like you need the freedom of your own car, then renting a car may be the right choice for you. If you are planning on visiting a few places and don't mind public transportation, then I recommend catching a bus, even to places such as Tulum or Xel-Ha (over a 2-hour drive one way).
There are plenty of buses and shuttles you can ride, such as ADO (one of the largest Mexican bus companies). They charge $18.00 USD for a one-way ticket from Cancun to Tulum, as well as $18.00 USD to return back to Cancun, for a total round trip price of $36.00 USD. Taking a bus could still be cheaper than renting a vehicle, considering the insurance for a rental car alone cost $30.00 to $50.00 USD per day.
Benefits Of Renting A Car In Cancun
Public transportation may not suit everyone. If you want to be in complete control of where and when you are going somewhere, then renting a vehicle is your best option. You don't have to worry about missing your bus or waiting around. Those traveling with a large family may benefit more from renting a vehicle, for you are on your own time. If you are planning a road trip around Cancun, then renting a vehicle will be a good option as well.
Rental Car Safety
The freedom you can enjoy with your own rental car in Cancun may come with an even larger cost than expected. Some travelers that rent their own vehicles have become victims of corruption and bribery. A common practice amongst dirty cops in Cancun is to pull you over, confiscate your Driver's License, and tell you that you must go down to the police station to pay a ticket in order to get your ID back. What they really mean is, if you give THEM money THEY will give you your license back. This has been known to happen multiple times in one rental period.
This doesn't happen to everyone, but you need to be aware that it is possible and even more likely to happen if you don't speak Spanish. Other than corrupt officers, renting a vehicle in Cancun is considered safe, and many tourist rent cars every day.
Where To Find A Car Rental Company In Cancun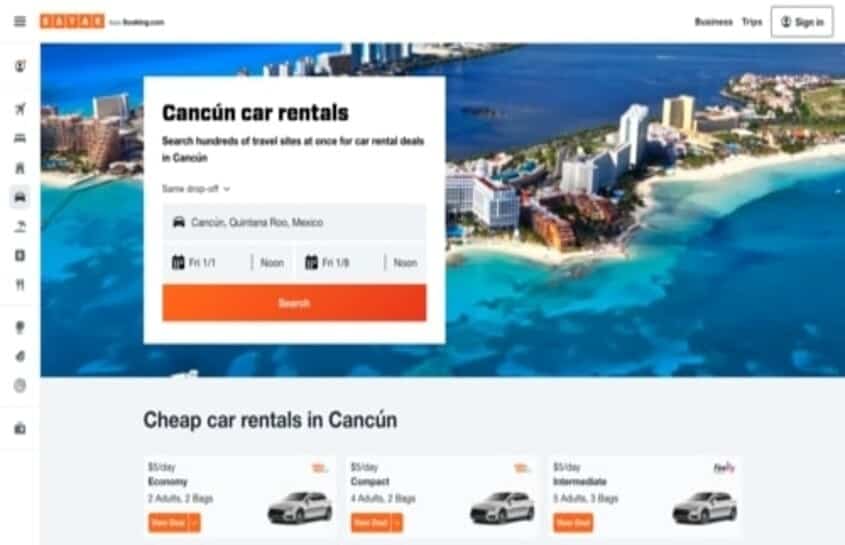 If you are looking to rent a car in Cancun, the best place to search is online at Kayak.com. Kayak offers all the major car rental companies available in Cancun. There are 125 rental car locations throughout Cancun, and 36 of those are located in the airport. Find which car you need on Kayak and book it online, then go into the airport with your reservation information and conveniently pick up your rental vehicle.
The Cheapest Rental Car Company in Cancun
With 125 rental car locations in Cancun, it may be tough to decide which company to choose. However, if you are looking solely for the cheapest rental car company, America Car Rental on average is the cheapest agency with rentals starting as low as $5.00 USD per day. Mex Rent a Car is a runner with prices starting at $7.00 USD per day for an economy car. You can find the lowest-priced rentals by searching all of the companies via Kayak.com.
The Best Rental Car Company in Cancun
If you are looking for the best of the best when it comes to car rental companies, choose Enterprise. Enterprise Rent-A-Car is the largest rental car company in the world with over 9,000 city locations, and 419 airport locations. Enterprise is generally less expensive than other well-known rental companies, as well they are known to return your deposit within a few days, as opposed to other companies that may take up to a couple of weeks. You can trust Enterprise and expect a professional, hassle-free experience if you choose to book with them.
The Best Way To Rent a Car In Cancun
Renting a car in Cancun is quite simple. The best way to shop for rates is by using an Online Travel Agency like Kayak. Kayak will show you all the cheapest rates around all of Cancun. You can do this before you even arrive in Cancun. Enter the dates you are needing to book a vehicle, then confirm your reservation. It's easiest to book your rental car for pickup at the Cancun airport, that way you are ready to go when you land.
Thoughts On Booking A Vehicle In Cancun
Overall, booking a rental vehicle in Cancun is just as easy as booking a car locally. There may be a few extra add-ons like the Third Party Liability, but convenience comes with a price. If you have your heart set on renting a vehicle, do it. If you are just considering if renting a car is worth it, in my opinion, it's not.
There are plenty of other means of transportation in Cancun that I would choose over renting a car. Busses and shuttles are abundant and will be cheaper, plus you don't have to pay for gas or worry about being pulled over and harassed. In most places around the tourist areas, you will get around fine just walking. Only rent a car if it makes sense for your personal situation.