If you are planning your next trip to Puerto Vallarta, make sure to check out all the awesome things there are to do around town. You can spend a whole week in PV simply enjoying all the free activities and events that are available.
Whether you're an adventurous hiker, aspiring photographer, or you just enjoy site-seeing and people watching, Puerto Vallarta has something for everyone. The greatest thing is that you can experience the best of Puerto Vallarta for free!
Here is my list of the top free things you need to do in Puerto Vallarta, enjoy.
1) Hike To Mirador Cerro De La Cruz
Striking number one on the list, a hike to Mirador Cerro de la Cruz is the ultimate free thing you need to do when you visit Puerto Vallarta.
Mirador de la Cruz (Viewpoint of the Cross) is an observation deck located at the top of a hill towering high over the city. You start off in a neighborhood on Abasolo Street which takes you to a steep staircase that ultimately leads you to the viewpoint.
The hike can be challenging if you are heading out when the sun is its hottest and most intense (anytime after noon). I recommend you make this either an early morning or dawn hike to avoid the heat.
Not only is the view spectacular, but the workout is great! You can stop and rest whenever you feel like you may need it. Also, wear some good walking shoes and don't forget to bring a water bottle because by time you reach the top, you'll need it.
Once you arrive at the top of the hill, you realize that it's all worth the hike. You can see most of Puerto Vallarta and Banderas Bay. The sight is breathtaking, the wind is breezy, and the sounds of the city are nonexistent. Sit back, relax, and enjoy the calmness that is experienced when you are atop Cerro de la Cruz.
2) Walk The Malecon
When you visit Puerto Vallarta one of the first things you should do is walk the whole 12-block, mile-long Malecón.
While walking the Malecón you will pass by multiple bars, restaurants and shops as well as locals selling various handmade goods, toys, drinks, and delicious food.
I highly recommend purchasing from at least a couple vendors, not only for your own sake, but for the sake of the people who make a living and depend on us as tourists to consume all these goods.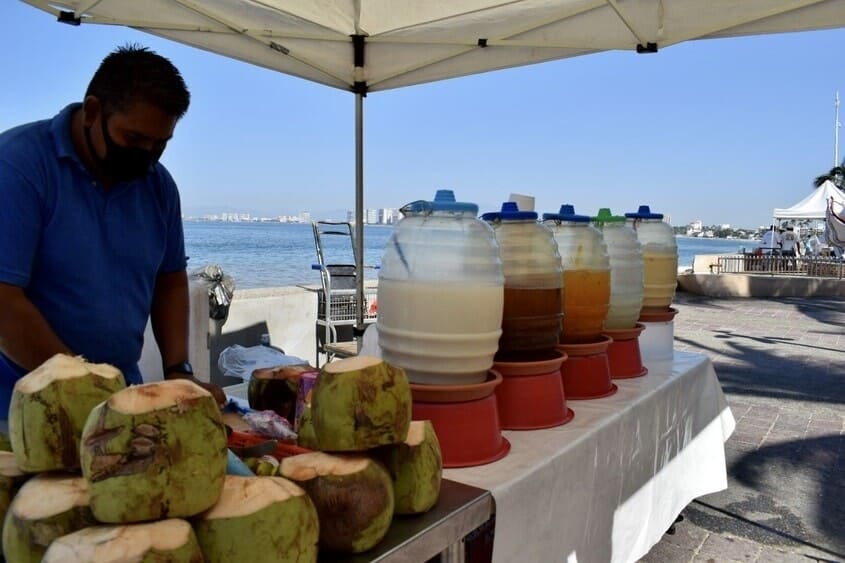 My wife is coo-coo for coconuts, so we stop by the coconut stand at least once per day. However, it's not uncommon to catch us there a couple times throughout the day enjoying a fresh, cold coconut.
If you don't like coconuts there are several other stands serving everything from crepes and cheesecake, to hotdogs and tacos.
In addition to all the great food and vendors along the boardwalk, you will see some live performers. You will have the viewing pleasure of things like amazing rock-stackers, the floating man, and live statues.
You can explore the entire Malecón in less than a day, and you will get to see it all! I recommend walking the Malecón later in the evening. Not only will all the vendors be open for business, but it will be a lot cooler and easier to take your time experiencing everything that is offered.
The Malecón is open 24/7, but the vendors are there from morning, late into the evening.
3) Checkout Los Muertos Pier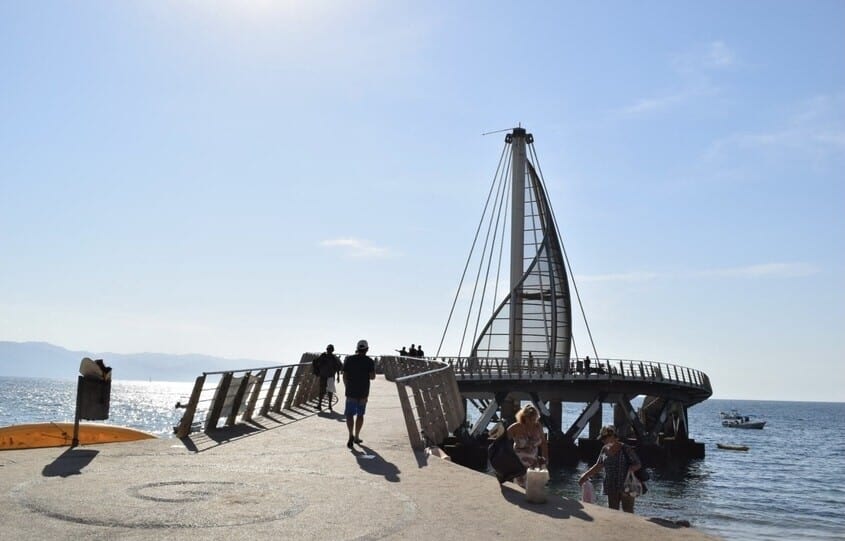 Los Muertos pier is located at the very southern end of the Malecón boardwalk.
From here, you can take a water taxi to specific destinations, or you can hire a private boat that will take you wherever you want to go. Also, there are some tours and excursions that depart from this pier, but be aware the excursions do not usually drop you off back at the pier.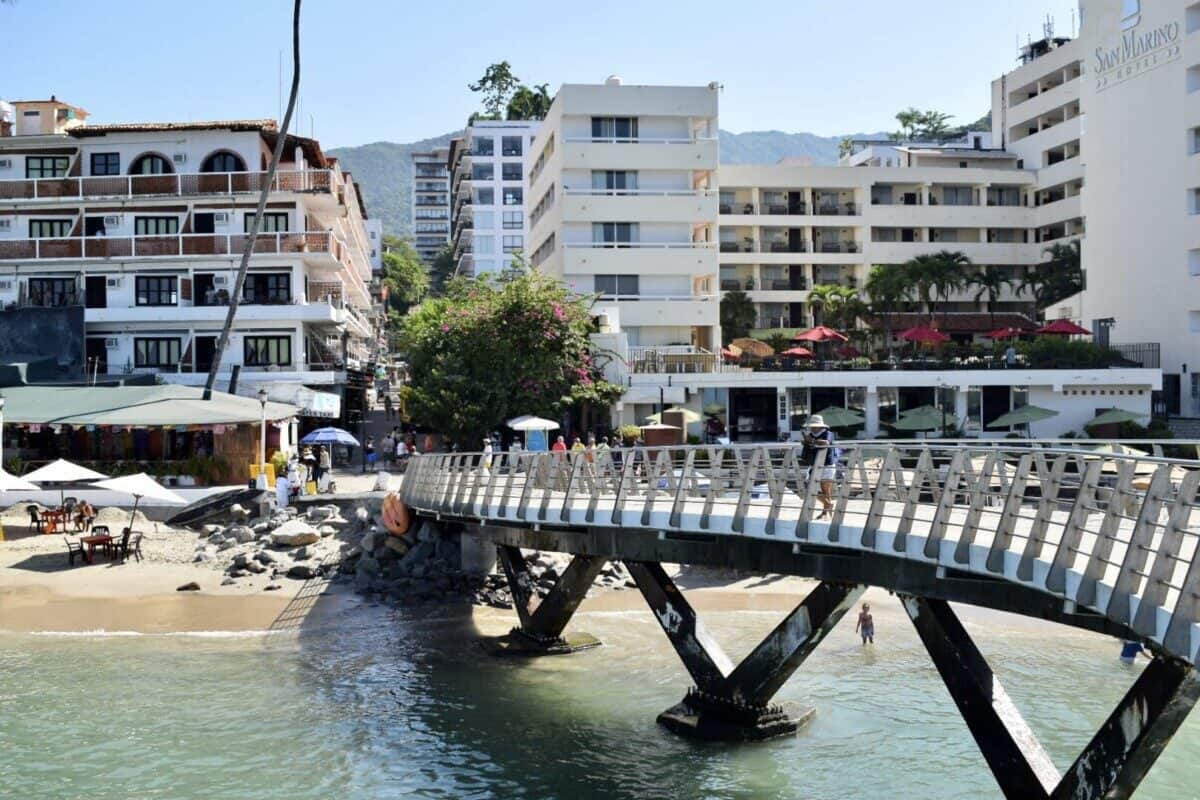 You don't have to go anywhere on a boat to enjoy the pier though. You can walk out to the pier just to admire the view and the listen to the calming sound of the waves crashing in. It's the perfect spot to take pictures, or eat some vendor food.
4) Take Pictures With The Statues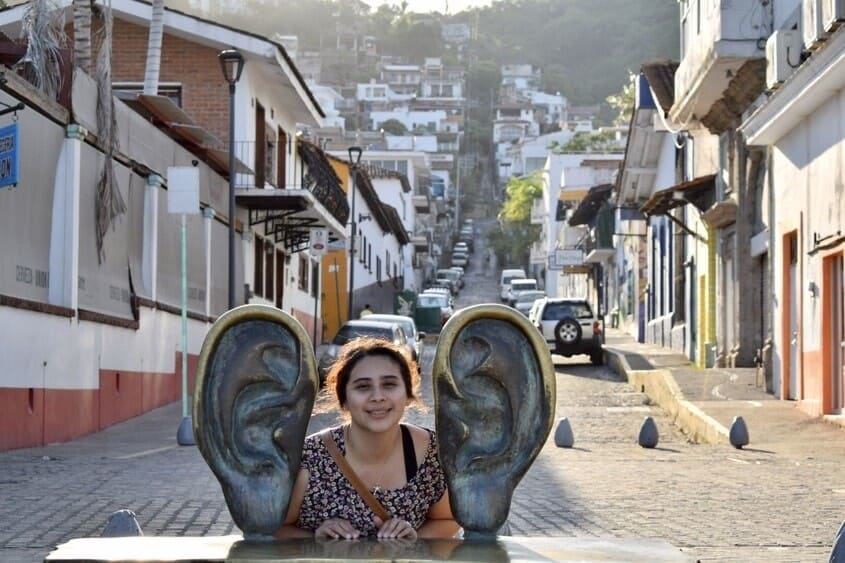 Puerto Vallarta is a beautiful city full of green and luscious vegetation, a perfectly blue sky, and of course the ocean to top it all off. However, Puerto Vallarta is also known to have some amazing statues placed throughout the city.
Many of the statues can be found along the boardwalk. Some of the best known statues such as "The Boy on the Seahorse"(found between the Puerto Vallarta letters) and "The Roundabout of the Sea", are a great spot to pose and take pictures. It's cool to think that you are taking pictures with pieces of Puerto Vallarta's history.
My wife and I always stop and take a minute just to snap a few photos that we may share and remember forever.
Viewing the statues is also a fun activity for the kids, they love climbing and jumping all around the statues like it's a playground, and I don't blame them.
5) Spot The Local Murals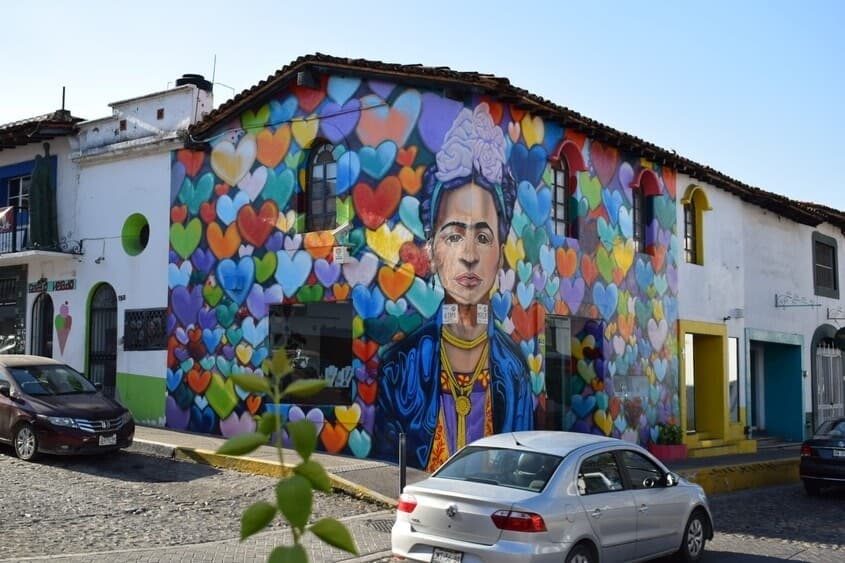 Walking the streets of Puerto Vallarta you will find gorgeous murals covering many of the buildings. These murals are found all over town and are hard to miss when you come across one.
I enjoy taking pictures of the murals in their natural beauty however, there are some smaller murals that make for a good photo companion such as the wings of an angel; which is found hiking up towards Cerro de la Cruz.
There are countless numbers of murals and street art that you will find scattered about Puerto Vallarta. You can easily find all of them by going to PVStreetArt.com, where they have identified each mural on Google Maps and also have turn-by-turn directions to get to each one. Or better yet, you can venture out on a quest of your own and find them all yourself (that's how we do it).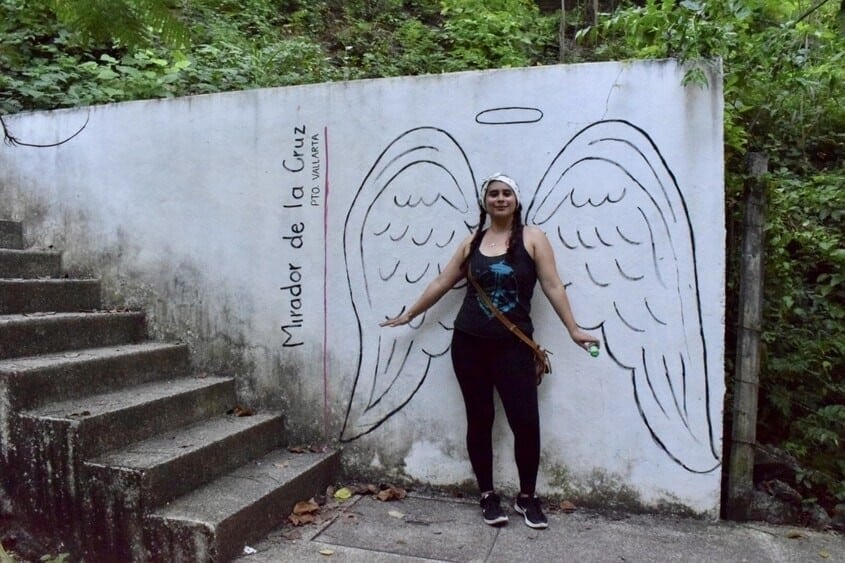 Regardless of how you come across these murals, don't miss out on seeing some amazing works of art, get out there and explore!
6) Visit Parish Of Our Lady Guadalupe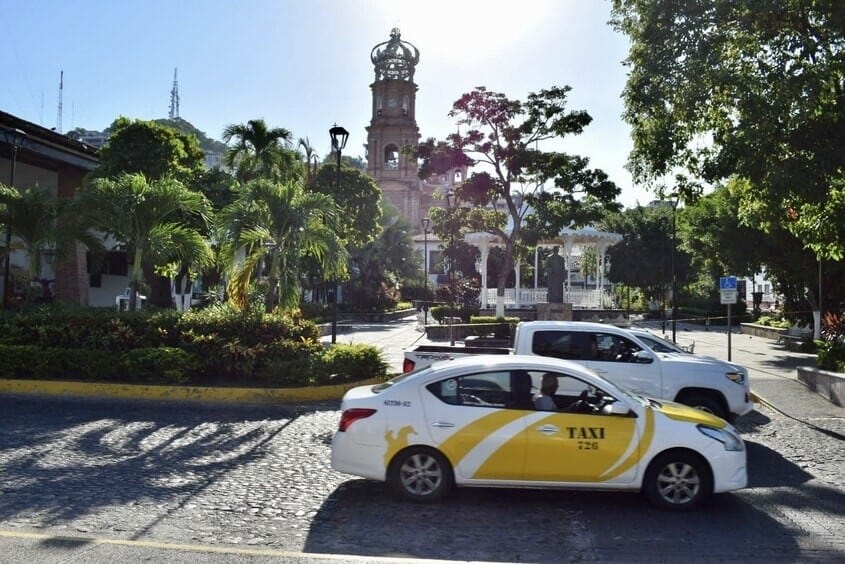 One of the most beautiful structures (in my opinion) is the Parish of Our Lady Guadalupe. This city icon isn't only for Catholics, but rather anyone who admires history and uniqueness.
This parish is very popular amongst locals and tourist alike. If you want to check out this one-of-a-kind structure, they are open daily. If you are interested in attending mass here, services in English are available Saturday, or enjoy mass in both English and Spanish on Sunday.
You don't have to be catholic to stop by and see all the beauty this wonderful parish offers. It makes for some great pictures if anything, and there is some amazing food right across the street at El Companario restaurant.
Even if you don't stop by, you will probably have a decent view of the church no matter where you are in town with its crown-top towering high above the rest of the city.
If you want the full experience though, make sure to check this place out, even the interior of this church is nothing less than stunning.
7) Enjoy A Local Show At Los Arcos Amphitheater
There are so many things to do on the boardwalk including catching a live show at the open-air Los Arcos Amphitheater.
At the theatre you will experience free concerts, cultural performances, and other shows such as comedy acts. It can be difficult to know exactly when a show will be put on as there is no schedule posted. One way you can check is to grab a local newspaper, or ask some nearby restaurants when the next performance will be.
Shows will be put on here both day and night however, I recommend an evening show if at all possible, as the temperature is scorching midday.
If you don't see any performances happening, the space may be occupied by local artist instead. It's worth walking by and seeing the large paintings that are often painted and sold here. Or you can grab a bite to eat, sit down on the steps, and enjoy the fantastic oceanic view.
8) Window Shop At Cuale Island Flea Market
In the mood for some window shopping? Then you need to visit Cuale Island Flea Market. This market located outside is not only one of the best markets to shop at, but is just as enjoyable to walk. Surrounded by two rivers and luscious green tropical plants, this market really pops with vibrant colors from all the goods that are sold here.
In order to get to the market you must cross the Cuale bridge. This bridge hanging loosely over the river will test your balance, and anyone else's who is on it at the same time.
My wife calls this the "Barracho Bridge" (drunken bridge) because whenever you walk across it, it's as if you had a bit too many drinks. I found that running as fast as you can across it can make it a tad easier to cross, but not so much for others who are on it at the same time.
Once you cross the bridge (it's really not difficult), you arrive at the market. Here you will find anything and everything you could ask for when shopping in Mexico. Souvenirs of all kinds fill the market; from handmade bags and blankets, to art and clothes for everyone. If you can't find it here, you probably wont find it anywhere.
You don't need to purchase anything to enjoy this market, it's a beautiful little area to enjoy a nice walk and the company of others.
9) Watch Papantla Flying Men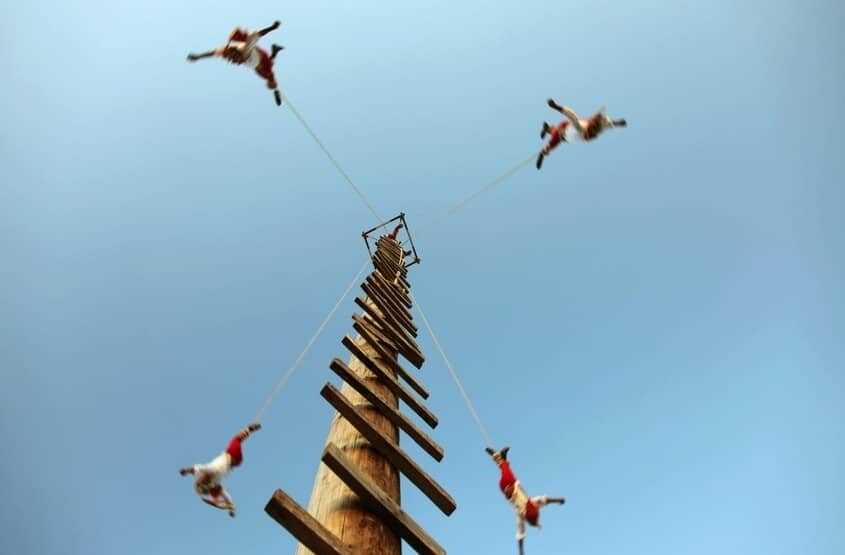 If you want to watch a traditional and nail-biting event, make sure you don't miss the Papantla Flying Men aka (Pole Flyers).
Every day on the Malecón the flying men perform what is considered the most ancient ritual dance in Mexico. Watch as they climb high onto the pole, wind themselves up, then make there way back down gradually swinging around the pole from their feet, until touching back down to the Earth.
The fact that they hang upside-down from their feet unraveling is nothing short of amazing. But that's not the only amazing thing, they also play drums and flutes simultaneously.
Ultimately, they rotate around the pole 13 times, taking a little over one minute to touchdown.
10) Explore The Whole Town
One of the best things to do in Puerto Vallarta for free is to walk around and explore the entire town. There is an endless amount of site-seeing to experience, and so many gorgeous areas that you may never know exist if you don't get out there and venture a bit.
The streets burst with different colors, jumping at you from all angles. The sky is as blue as the ocean, the buildings are majestic, and the vegetation is flourishing with flowers all along the streets.
I have been to Puerto Vallarta a few times now, and I have yet to explore everything this astonishing beach town offers. One thing worth noting is that even if you are doing absolutely nothing in Puerto Vallarta, you are still going to enjoy being in such a wonderful and tranquil place.
All the stress and worries you carry on your shoulders seem to dissipate, as you realize that true beauty and happiness is found in some of the most simple things in life.
11) Have A Beach Day
Grab your swimsuit, some sunglasses, and a towel and head down to the beach to enjoy a free day of swimming and relaxing. Puerto Vallarta may not be known specifically for its beaches however, there are still some awesome beaches you don't want to miss out on.
The beaches in Puerto Vallarta during the day become extremely hot, so I recommend you bring some chanclas or water shoes to wear. When you swim in the ocean you will notice the water is warm and salty, moreover you will find pleasure in the small waves that the Pacific produces.
Vendors wander the beaches selling all sorts of things, from sunglasses and handicrafts to fresh seafood and fruit. If you do happen to have some spare pesos with you (I don't recommend bringing more than 100 MXN) you can buy in a fresh and juicy mango on a stick, or even some freshly grilled shrimp and fish. The shrimp and fish are excellent, but the fresh mango is so refreshing when you've been at the beach all day.
I'll usually spend anywhere from 2-3 hours at the beach before I realize I'm turning into a lobster. Wear a lot of sunscreen and make sure you reapply it at least every hour; or better yet, whenever you get out of the water for a break.
12) Climb The Malecón Lighthouse
Alright I had to put this cool little lighthouse on the list. The Malecón lighthouse is located near Los Arcos Amphitheater. There is a ladder on one side where you can climb up and enjoy an undisturbed view of the Malecón.
The ladder is easy to climb, just be aware and check that it's not too hot before you hop on and start climbing. Make sure to snap a few pictures while you have the great view, or better yet have someone take a few photos of you while you're up there.
13) See The Sunrise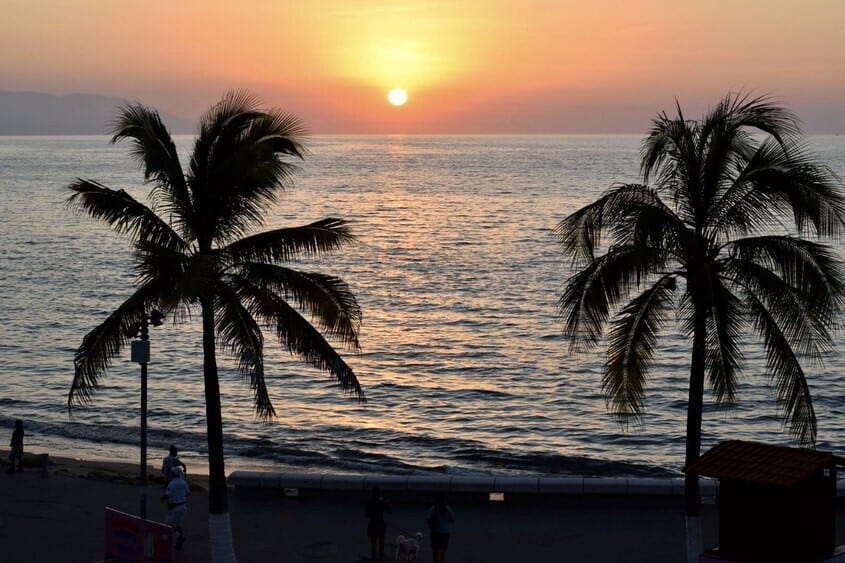 We all know that sunsets in Mexico are magnificent, but don't forget about the early morning sunrise.
The sunrise in Puerto Vallarta is quite the view to see. The sun glows white and bright, engulfed by red and yellow rays that span across the ocean until reaching the edge of the boardwalk.
Everything else appears to be a dark shadow. As the sun rises, everything begins to come to life, the palm trees start dancing with help of the ocean breeze, and people are out walking their dogs and enjoying a nice jog.
I wakeup early every single day when in Puerto Vallarta just to catch the sunrise, because it truly is spectacular.
14) Catch Site Of The Fireworks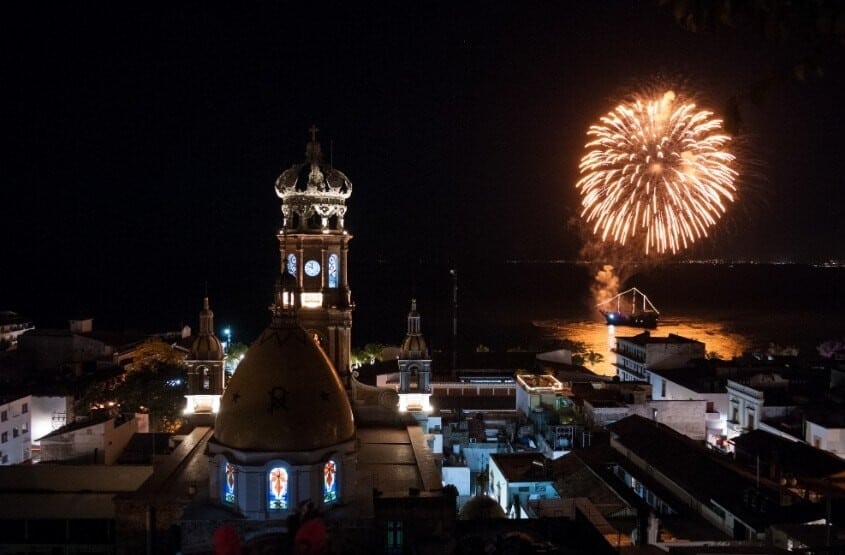 Finish your night off with an exploding array of colorful fireworks.
Every night on the Malecón, enjoy a free firework show that lights up the night sky. Around 9-9:30PM, a pirate ship always cruises around the bay and puts on a firework show that can be seen from virtually anywhere in Puerto Vallarta.
The best spot to view the fireworks in my experience is right on the boardwalk near the Puerto Vallarta letters, or anywhere close by for that matter. If you want a really good view, climb the Malecón lighthouse and sit back for a great show.
15) Participate In The Turtle Release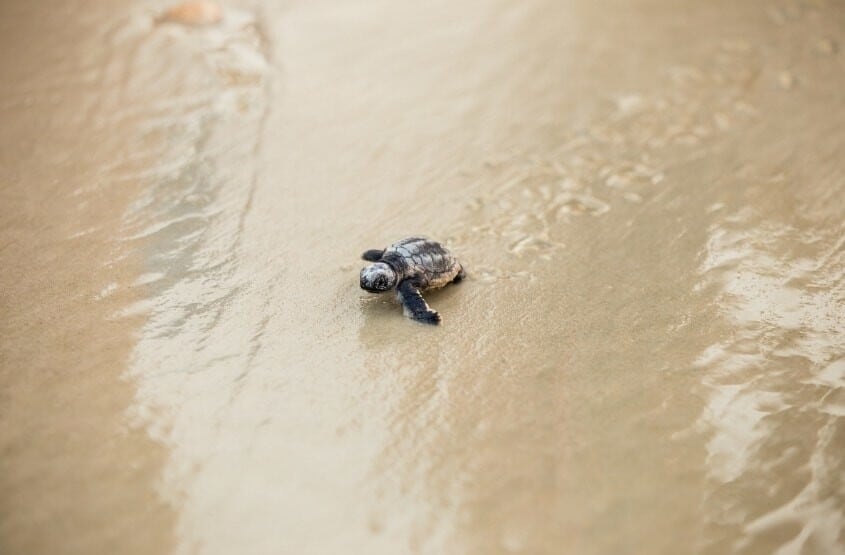 Here's something I bet you have never done before, especially for free; participate in the release of a freshly hatched baby turtle.
Anytime between July and December is when sea turtle hatching begins in Puerto Vallarta, and these little guys need your help to release them to their new homes.
Head over to Campamento Tortuguero Boca de Tomates, where you will hike along the beach to a secluded camp. Here, you will learn a little more about your turtle before naming it, and then eventually releasing your turtle to its new home.
The release of the turtles are free, but any donation amount you can afford to give will assist in keeping the conservation efforts going. If you are traveling to Puerto Vallarta between July and December, do not miss out on this once in a lifetime opportunity.
16) Dance At La Bodeguita Del Medio
Get ready to dance your pants off at La Bodieguita Del Medio where they offer free salsa dancing lessons.
Located right on the Malecon, La Bodeguita Del Medio offers free salsa lessons early in the evening around 8:30PM. If you already know how to dance then skip the lessons and dance all night at no charge however, if you are there for a while dancing I'd recommend you at least buy a drink or some cuban food.
Most nights this place gets very crowded, locals and tourist all gather here to either dance, or watch others dance. Listen to live bands play bachata, cumbia, and meringue. If their music doesn't get you dancing, I'm confident nothing will.
If you are at all hesitant about visiting this Cuban inspired restaurant-bar dance club, don't be. La Bodeguita del Medio holds quite the reputation for providing a great atmosphere for both younger and older crowds. In fact, celebrities such as Muhammad Ali, Kevin Spacey, Naomi Cambell, and even Sting have all played a role in helping form this fun and inviting atmosphere.
If you aren't much of a dancer no problem, you can relax while sipping on their famous mojitos, smoke a cigar, and enjoy some cuban fare and fresh seafood pulled straight from the ocean.
17) Sample Chocolate At The ChocoMuseo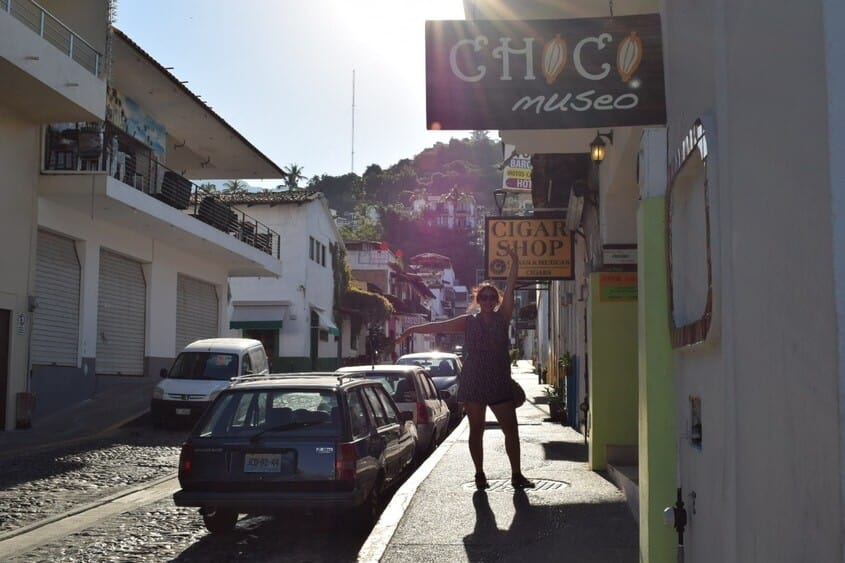 If you are a chocolate lover like myself, then you will love the ChocoMuseo found right on the boardwalk.
Inside the chocolate museum you will find and endless supply of chocolate infused products. Truffles, chocolate bars, and coffee are just some of the things you will find, freshly made "from bean to bar" and available to purchase.
On the first floor you can sample some of the cacao nibs before deciding if you want to buy anything. Otherwise, head upstairs to the chocolate museum and learn how they harvest the cacao beans, and create delicious chocolate products. You can even try your hands at rolling the cacao beans.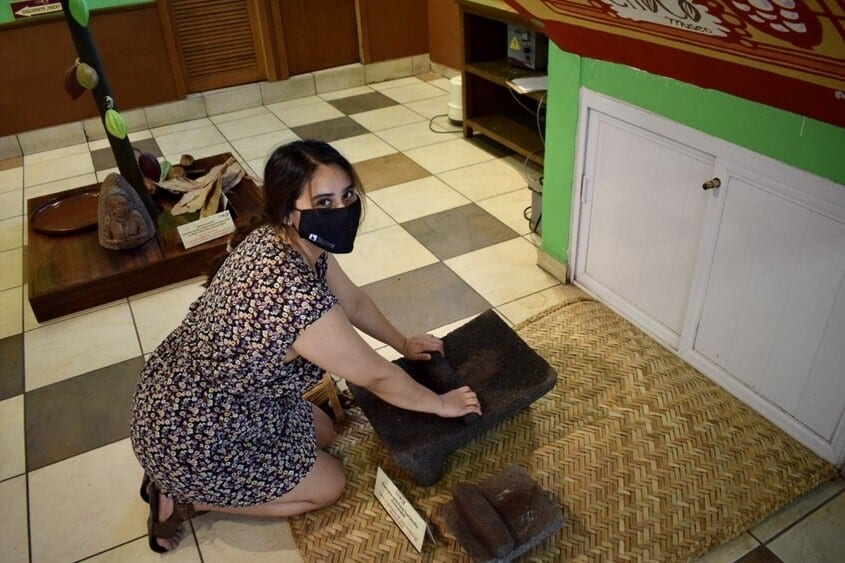 The museum is free of charge however, if you dare indulge in some chocolate goodies, there is a chocolate restaurant upstairs as well, serving up chocolate shakes, cakes, and crepes, plus a bunch of other mouth-watering chocolate options. If you get the chance to try the chocolate cake, do it. Although I must warn you; if you try this chocolate cake you may never find another that is quite as tasty.
Hours of operation are Monday to Thursday 10:30AM to 5:30PM, Friday and Saturday 10:30AM to 7:30PM.
18) Discover The Naval History Museum
Learn about the history of Puerto Vallarta and the role the Navy has played in helping shape Mexico as we know it today in this free Naval museum located right next to Los Arcos on the Malecon.
The museum contains five exhibition rooms displaying artifacts like maps, photos, paintings, and old naval uniforms. As well, you will enjoy an interactive five screen ship navigation simulator where you act as the captain and experience what it may have been like to maneuver through different environmental conditions.
The museum is open Tuesday-Sunday, from 10AM to 5PM. Entry isn't exactly free, but it's only 45 MXN for general admission or 30 MXN for children, teachers, and senior citizens.
19) Ride The City Bus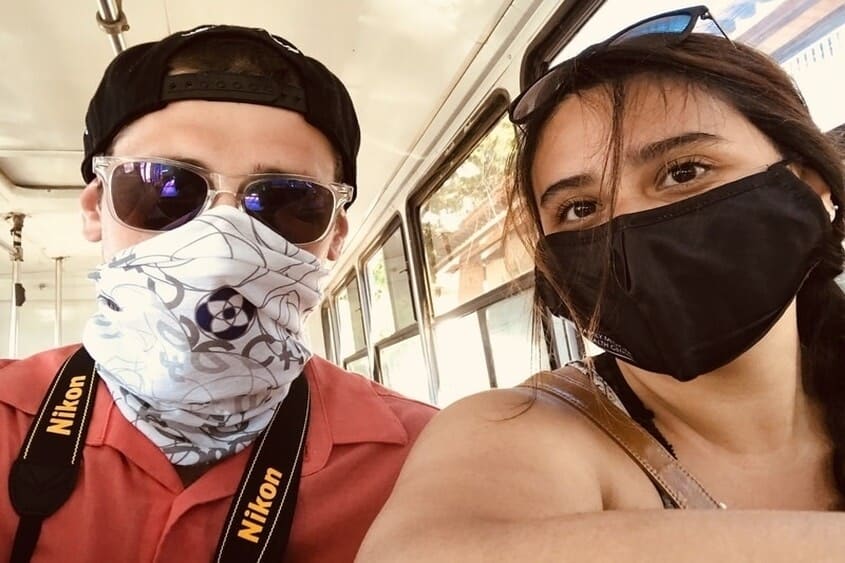 If you want to experience Puerto Vallarta like a local, then you have to ride the city bus at least one time. No, it's not free however, it is extremely inexpensive setting you back only 15 MXN.
You can take the city bus to just about anywhere in Puerto Vallarta, or take an adventure and head to Sayulita for an awesome and inexpensive day trip.
It's a good idea to ride a city bus in Puerto Vallarta so you know how to use the bus system, you never know when you may need to take the bus to get somewhere quick, or if you run low on money and can't afford a cab or Uber.
My wife and I will take the bus every once in a while, even if we are only heading a few miles away. It's convenient, cheap, and rather enjoyable, especially if you have been walking everywhere.
20) Relax At El Parque De Los Azulejos
El Parque de los Azulezos (polished stone or tiles) is a mosaic tile park which contains 66 benches, all covered in beautifully painted tin-glazed ceramic tiles. Not only are all the benches covered with these tiles, but so are the columns, gazebo, and the planters.
Previously known as Lazaro Cardenas Park, there was not a lot to see. The location is excellent (in the center of Old Town) but the park itself was not so welcoming. Natasha Moraga, a locally known Puerto Vallarta artist decided the park could use an extreme makeover, so that's exactly what she did.
Nowadays this park jumps out and grabs your attention, there's no way you can miss it if you are nearby. The tiles glisten in the sunlight, almost as if they are calling you over.
There was so much effort that was put forth to make this park a dream come true, and that's one reason it is federally protected and can never be demolished. There are hidden messages and signs that were strategically placed throughout the park, making it even more interesting than you could have imagined.
If you are planning your next getaway to Puerto Vallarta and you just don't know what you are going to do, or maybe you don't want to spend a lot of money, try a few things on this list and prepare yourself to be amazed with how awesome these top free things you can do in Puerto Vallarta are. You won't regret it.