Knowing how much to tip when you travel to Puerto Vallarta is important. Not only is tipping the right thing to do, but you don't want to make yourself or your party look bad either. After living in Vallarta for a couple of months, I learned exactly how much you should tip for each type of service.
The average tip in Puerto Vallarta is 10 to 20% of the bill or service charge. If there is no bill, then a good standard is 20 to 40 pesos (or about 1-$2). If you receive excellent service, tip on the high end of the scale. Likewise, if the service was poor, tip less.
Below you'll learn how to properly tip for various services in Puerto Vallarta, and whether to use USD or pesos, along with other helpful tips and tricks.
How to Tip In Puerto Vallarta
Different services call for different tip amounts. Likewise, the level of service you receive ultimately determines how much of a tip you should leave. Or at least, want to leave.
Below is a chart to properly tip in Puerto Vallarta based on the service you receive.
| Service Provided | Proper Tip Amount |
| --- | --- |
| Waiter | 10-20% of the bill |
| All-inclusive waiter | 20-$40 MXN per person |
| Bartender | 10-15% of the bill |
| All-inclusive bartender | 10-$20 MXN per drink |
| Hotel luggage carrier (bellboy) | 10-$20 MXN per bag |
| Hotel doorman (for calling you a cab) | $10 MXN |
| Hotel maid | 40-$80 MXN per day |
| Spa service provider | 10-20% of the service price |
| Hairdresser | 10-20% of the service price |
| Tour guide  | 10% of the tour cost |
| Taxi driver (not customary to tip) | 20-$40 MXN if they help with bags |
| Uber driver (not customary to tip) | 20-$40 MXN if the experience is good |
| Grocery baggers (they solely rely on tips) | 10-$20 MXN |
| Restroom attendant (generally a set fee) | 5-$10 MXN |
| Gasoline attendant | 10-$20 MXN |
| Mariachi band or singer (not requested) | 20-$40 MXN |
| Mariachi band or singer (requested) | $90 MXN per song |
| Street performers | 20-$40 MXN |
| Random helper on the street | 10-$20 MXN |
Proper tip amounts in Puerto Vallarta, Mexico
As you can see, the standard tip is generally 10 to 20% of the bill or 20 to $40 MXN (if there's no bill, such as at an all-inclusive resort). Although tipping at an all-inclusive resort isn't a must, it's surely recommended and much appreciated by the locals.
For small favors such as carrying your bags, pumping your gas, packing your bags at the grocery store, or helping you load up groceries into your taxi, 10 to $20 MXN is fine.
And if you receive terrible service, then you don't have to tip at all. Tips aren't free, they're earned. So if you believe that someone didn't earn a tip, you have the right to not leave one.
That said, be prepared to hear about it. 
The first day my family and I got to Vallarta, we visited a restaurant right on the Malecon. To put it kindly, the service was terrible.
It took 20 minutes for someone to take our order, then it took another hour to receive our food, and all because the employees were hanging out doing nothing (it was literally only us in the restaurant).
So what did I do? I was feeling generous and left $10 MXN. I probably should have left nothing, considering the manager chased me down after I had left the restaurant to complain about the poor tip I left.
I was kind about it, but I ended up getting my $10 MXN back. The moral of the story is sometimes people will expect you to tip just because you're a tourist. Guess what? You don't have to if you don't want to.
Now, don't get me wrong. You should always leave a tip no matter what the service is. Locals in Puerto Vallarta only make on average 60 to 130 MXN (3-$6.50) per hour. Hence when you leave a couple of bucks, you're really helping someone out.
Is It Customary to Tip In Vallarta?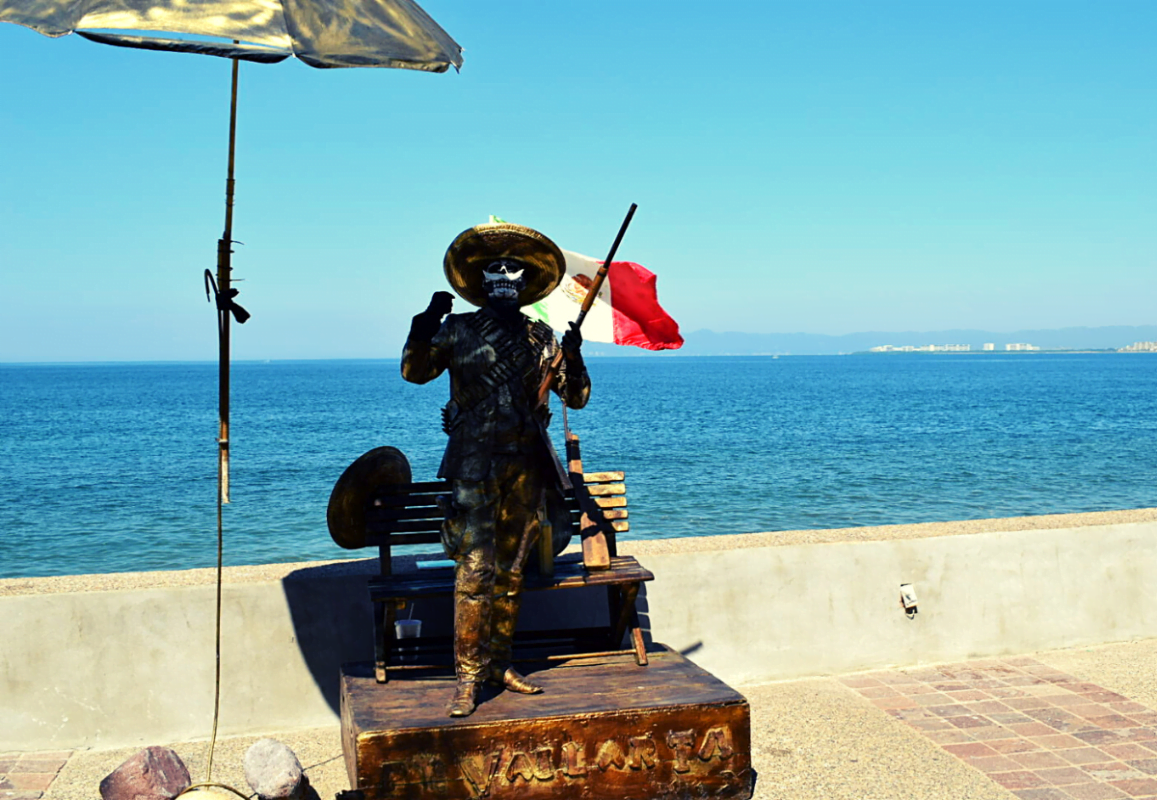 It's customary to tip in Puerto Vallarta whether you're a tourist or a local. Locals generally tip the same 10-20% that tourists are accustomed to if they receive good service. That said, it's not customary to tip taxi or Uber drivers, but it's still appreciated.
Basically, a tip is expected with any service that's provided to you; whether someone helps you with your bags, cleans your windshield, or sings you a song a tip is always customary.
As I said before, even locals are expected to tip. And the worst part is that locals are generally served last since tourists are thought to give better tips. 
What's Considered a "Good" Tip?
A good tip is at least 10% of the bill or no less than $20 MXN. Any amount is always better than no tip. If you're feeling extra charitable, anything over 20% of the bill or service charge is considered extremely generous.
But, not everyone can be as charitable as others. I live by the rule that I give what I can afford, and then some—if the service is good that is.
Is It Better to Tip In USD or Pesos in Puerto Vallarta?
It's best to tip using pesos in Puerto Vallarta. However, USD is also widely accepted and won't be turned away. If you do tip in USD, be sure to only tip using bills as US coins are not accepted in Mexico. 1's, 5's, 10's, and $20 bills are the most preferred way to tip in USD.
As for how Mexicans actually prefer to be tipped, it really depends on the person. Since the US dollar is thought to be more stable than the peso, many Vallarta locals don't mind receiving USD as a tip.
Plus, they can save their money until the peso is worth more before exchanging it to receive even more pesos. Nonetheless, this process involves an exchange fee and a potentially long line at the bank, hence why some locals prefer pesos over dollars.
What Are Some Other Tips and Tricks?
In Puerto Vallarta, there can actually be some pros to tipping especially well—besides just being a good person. Below are some other tricks you can use to enhance your experience in Vallarta using the power of generous tipping.
Tip well, drink well
Whether you're out on the town or sitting in your resort, tipping the bartender or club server well will almost always result in stronger drinks. It doesn't have to be a whole lot more, and an extra 10 to $20 MXN per drink can go a long way.
Tip at the door, get in quicker
If you find yourself waiting to get into a hoppin club or restaurant, tipping the doorman might just speed up how quickly they let you in. Of course, if you have a large group everyone is expected to pitch in.
Tip your waiter, get waited better
It's true. The better you tip, the better your experience will be. But wait, how's that possible if you don't tip until the end of your meal? Well if you plan on coming back then tipping well on the first visit can go a long way, especially if you're dealing directly with the manager. And don't worry, they'll remember you the second, third, and fourth time you come in.