If you're looking to golf in Mexico, then you're probably wondering if it's any good, and if so, what are some of the best courses? In this article, we take a look at how good golfing in Mexico really is as well as some of the best golf courses the country has to offer. Let's get into it!
Is Golfing In Mexico Good
Golfing in Mexico's warm climate makes for near-perfect conditions all year round, combined with stunning views and friendly people, you have yourself the perfect golf recipe. There are now over 200 golf courses in at least 32 states within Mexico, solidifying the fact that Mexico is the perfect golf destination for amateurs and pros alike.
Mexico offers 200 golf courses in 32 states, so it is likely you will find an excellent course wherever it is you want to travel to in Mexico. The courses in Mexico are so good in fact, the Mayakoba Golf Classic professional golf tournament (on the PGA tour) is held in Playa Del Carmen, Mexico. It first debuted in 2007, and due to its continued success, it's still hosted every year there.
Some of the most outstanding golf courses in Mexico were designed by the best American golf architects around, such as Jack Nicklaus. Moreover, all the golf courses in Mexico are generally very well maintained, making for the ultimate golf experience.
If you are considering traveling to Mexico to enjoy a round of golf, what are you waiting for?
How Much Does It Cost To Play Golf In Mexico
The cost to play a round (18 holes) of golf in Mexico will range anywhere from $79 to $389. Ultimately, the price is determined by the course you choose, and whether it's high or low season. During the high season, you should expect to pay a higher price when compared to the low season.
If you are looking to play a 9-hole round, generally the fee will be half of the full round, potentially a little more depending on the course. As well, children under 15 will receive a price break, and children under 12 will generally receive the greatest price break for both 9 and 18 holes.
Here is a chart of 5 top golf courses in Mexico, and their pricing for reference:
Rates are dependent upon the time of day and season when you book your tee.
What Are The Best Golf Resorts In Mexico
With over 200 golf courses all across Mexico, it may be difficult trying to find the best golf resort to stay in. I've done some research and I found the best golf resorts that are available in Mexico. These resorts are known for their quality golf courses and of course their excellent customer service and hospitality.
You can't go wrong choosing any of these options, it just depends on where you want to stay in Mexico, what you desire out of your resort, and of course your budget.
1. Four Seasons Resort, Punta Mita
(Swimming Pool Included)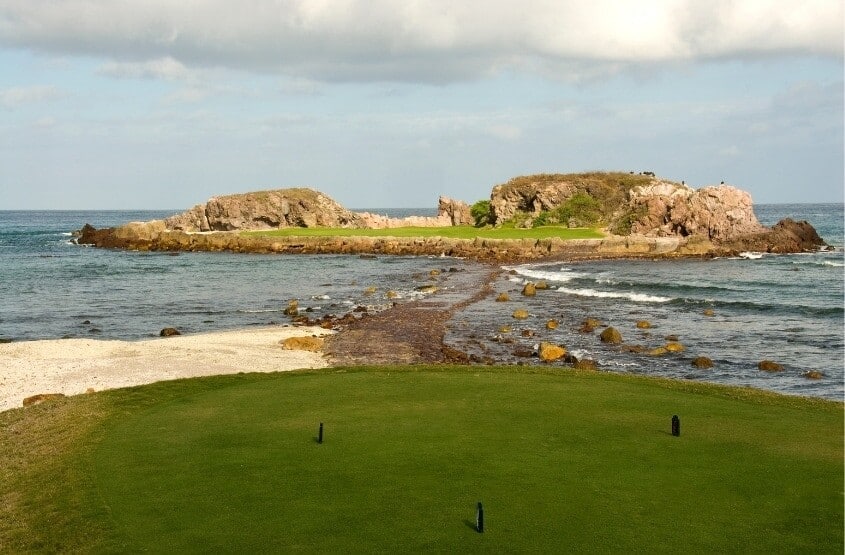 If you are looking for the best of the best golf resort, look no further than the 2020 Tripadvisor Traveler's Choice Four Seasons Resort, located in Punta Mita.
At Four Seasons, enjoy your choice of two different world-class golf courses. The Bahia course designed by Jack Nickolaus provides a panoramic view of the Bay of Banderas, as well as nearby lakes and other water features.
If you thought it couldn't get better than the Bahia course, wait until you see the amazing Pacifico course. This course features the world's one and only natural island green, better known as "Tail of the Whale". This multi-level course offers a breathtaking view of the Sierra Madre Mountains, the Bay of Banderas, AND the beautiful blue Pacific (hence the name).
Not only are the golf courses exceptional, but so is Four Seasons Resort. Four Seasons offers each and every guest personalized care and treats you as if you were a family. There's a reason this resort is such a staple in the resort world, and that's the main reason why their brand is so well-known and trusted by people all over the globe.
Only stay at Four Seasons Resort if you are looking for the best service, the best golf courses, and the best views around.
2. Hilton Los Cabos Beach and Golf Resort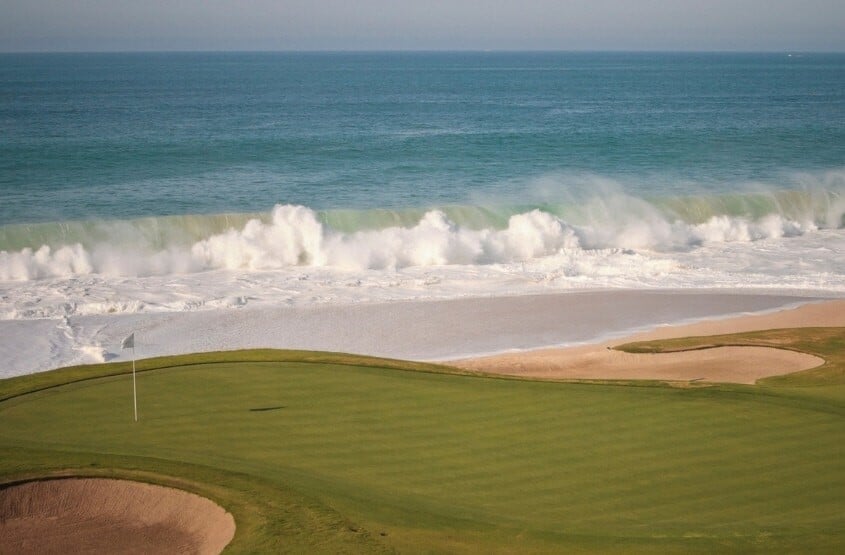 Hilton Los Cabos Beach and Golf Resort offer a spectacular view of the Sea of Cortés from every hole on its course. This awesome golf course in the Sierras hills features many exciting elevation changes and rolling greens. Designed by, you guessed it, Jack Nickolaus, himself.
Besides the well-designed course, Hilton provides guests with award-winning service and hospitality. They have an excellent kids program (ages 4-12), as well as a bunch of quality dining options you may choose from, at any one of their 5 restaurants offered.
The location of this resort is what really makes it stand out, only 25 minutes from the San Jose del Cabo International Airport (SJD), and located on a relaxed swimming-allowed inlet bay that stretches from Cabo San Lucas to San Jose del Cabo, this resort is the perfect relaxation destination.
If you enjoy golfing with great scenery, a relaxed vibe, and five-star service, then Hilton has got you covered.
3. Moon Palace Golf Resort Cancun
Located on Cancun's south side shore only 10 minutes from the airport, Moon Palace features two golf courses both designed by Jack Nickolaus and his team. Both courses feature water areas, not only making the courses more challenging but also more exciting. The service that Moon Palace provides on the green is absolutely amazing, all food and drinks are included which will be offered at least every other hole.
The original 18 holes known as Jungle and Lakes nines, is an exciting course that offers a carefree feel and is the easiest course of all the courses offered. Surrounded by a dense jungle that hosts an assortment of different species; from crocodiles to iguanas, hit your ball too far off course, and it will be lost in the depths of the thick vegetation.
Dunes 9 is the other course available at Moon Palace, if you're begging for a tighter, and more challenging course, then this is the one you want to play. Put your skills to the test with water and sand forced carries, all encompassed by picturesque views.
Besides the thrilling golf courses, Moon Palace Resort offers over 200 accommodations, including but definitely not limited to; whirlpool tubs, top-shelf drinks, 24-hour room service, and an endless amount of gourmet dining options. If you have kids or teens, they will enjoy the state-of-the-art playroom, plus a lounge specifically for teens. Oh, and not to mention a Double Wave Simulator for anyone who is up for a surf challenge.
Basically, Moon Palace has everything you could ask for, and then some. Enjoy 5-star service and hospitality when you stay at Moon Palace in Cancun.
4. Dreams Playa Mujeres Golf & Spa Resort
Situated in a gated community in Playa Mujeres, and featuring a world-famous golf course, Dreams Playa Mujeres Golf and Spa is surrounded by tropical white sandy beaches, making for the ultimate resort and golf experience alike.
Lying north of the resort rests the Playa Mujeres Golf Club, an 18-hole Greg Norman-designed course featuring two returning 9 holes all of which are surrounded by thick vegetation and water, creating a challenging course indeed.
Making things even more challenging, you have to watch out for "Big Al" on the 6th, he's the local gator waiting to snatch up your ball, as well as the wind on the 16th, which will most likely be blowing against you.
Not only is the course exciting, but the entire resort is superb! Hosting 502 luxuriously equipped suits, surrounded by the stunning crystal clear Caribbean water, Dreams is a true luxury resort. Dreams offer 3 different levels of swimming pools, including 2 infinity pools with an ocean view (or should I say sea view), six whirlpools, a children's pool, and even a water park with a lazy river.
Dreams resort is perfect for anyone, whether you are a large family with varying age groups, or couples looking for a relaxing time, Dreams is sure to meet all your needs and expectations, and probably exceed them with their top-class service.
Mexico obviously has an abundance of high-quality, top-class golf courses and resorts to choose from. If you are thinking of planning your next golf round somewhere, choose Mexico, you won't be disappointed.
You may also want to check out my review of the Best All-Inclusive Resorts in Mexico.