Is It Safe To Do Excursions
In Cancun
If you get a bit nervous like myself doing new things such as excursions in Cancun, you may be curious how safe the excursions actually are.
Excursions are generally very safe in Cancun, as well as in the neighboring towns such as Chichen Itza, Puerto Adventuras, Puerto Morelos, Tulum, the list goes on. In fact, safety is the number one concern for the staff in charge of your excursion.
For example, if you're riding ATVs, you will be given a helmet to wear and be required to keep distance between other riders, or if you're zip-lining, you will have to wear safety gloves and a helmet. Specific instructions will be given to you before any activity to ensure you are doing everything in the safest manor. Communication is key, and the excursion experts are very good at guiding you to a safe and exciting time.
The Cost Of A Cancun Excursion
Many factors come into play when determining the cost of your Cancun excursion however, the average cost for an excursion in Cancun will range between $100.00 and $200.00 USD. Here is a list of excursions and the average price per person:
Excursions

Average Price Per Person

ATV
$70.00 USD

Centoe

Tour

$70.00 USD

Sailing Experience

$65.00 USD

Scuba Diving

$150.00 USD

Snorkeling

$80.00 USD

Town Tours

(Chichen Itza, Tulum)

$100.00 USD

Theme Parks (Xel-Ha)

$150.00 USD

Zipline

$60.00 USD
*Averages may vary depending upon season
When Too Book Your Cancun Excursion
When you know which excursion you are wanting to book, there are a few things you may want to consider before deciding to book online or in person at an excursion booth.
Booking an excursion online will generally be cheaper, more convenient, and you don't run the risk of your excursion being completely booked before you even get to Cancun.
On the other hand, if you book your excursion in person at a booth, you can better determine how the weather will be, and potentially haggle for a lower price.
An alternative to booking online would be to call the excursion company directly and ask for any additional sales or discounts that may be available, and purchase your excursion over the phone.
I have personally have the best luck purchasing my excursions and tours online. I almost always use Tripadvisor.com to book any of my excursions in Cancun. They offer just about every tour available, and they are always competitive with their pricing. Plus their site is easy to navigate, and that is a big win to me.
Excursions Available In Cancun
There are thousands of different tours and day trips available to choose from in Cancun, Mexico. Some of the most popular types of excursions include ATVs, Archaeology (Chichen Itza), Cenotes (snorkeling and scuba diving), Catamaran Cruise, Shore Excursions (parasailing), Theme Parks (Xcaret), and Ziplines just to name a few.
When deciding which excursion is right for you, consider the amount of time you have, if you have any physical limitations or restrictions, your budget, and of course, what do YOU want to do?
If you are interested in learning more about a town and it's history, consider an archaeologic tour, if you want more of a relaxing day, try a catamaran cruise tour or a beach day in Tulum, if you are more the adventurous type, do an all in one atv, cenote and zipline tour for a fun-packed day!
The Best Combo Tour
The 3-in-1 Discovery Combo Tour is the perfect package deal for the adventure seeker. In this Traveler's Choice Awarded tour, you will explore the archaeological site of Tulum, snorkel around reefs in the Caribbean, and enjoy a refreshing swim in the amazing Cenote Caracol.
Your day trip will begin with a scheduled pickup at your hotel on an air-condition shuttle. You will arrive early in the morning in Tulum before it gets too crowded, and then venture on a guided tour of the mayan ruins. You will have some free time to walk around and explore on your own as well. This will last about 90 minutes.
Then you hop back on your shuttle and head to the Mayan Beach. Here you will board a boat and head out to the reefs in the Caribbean. You will get to snorkel and see all kinds of amazing tropical fish, turtles, and some pretty cool underwater rock formations. This part lasts about 1 hour.
For the third and final destination, you will get back on your shuttle and head 35 minutes North to Cenote Caracol, located deep in the subtropical rainforest. Here you will hike through the jungle and do some cave exploring. Leading ultimately to a leisurely swim and snorkel session in a beautiful cenote. You get to relax for a couple hours here.
All admission, lunch, and transportation is included in this package deal for only $110.00 USD per person. A full refund is offered when canceling 24 hours before the date of your excursion, or if bad weather stops you from going.
This excursion is a full 7 hour day trip and is more than worth it for the price. You don't have to worry about setting up anything, all you need to do is have fun and enjoy your excursion.
The Best Cancun Family Excursion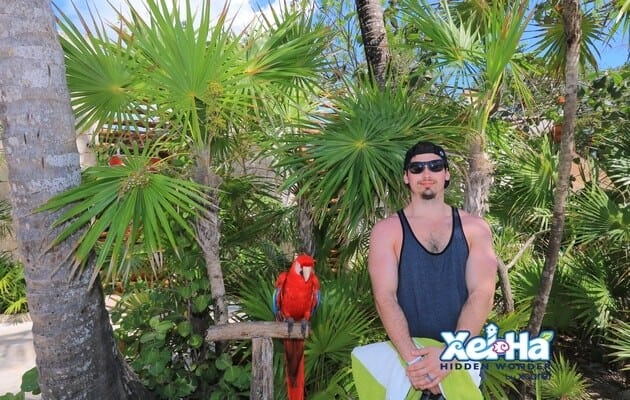 With so many excursions available, it can be difficult to choose the perfect excursion for your whole family to enjoy.
Xel-Há Park located in Tulum, is the best family excursion you can choose. Admission is only $99.00 USD for adults and $49.99 USD for children. The Xel-Há admission gives you complete access to the park and allows you to enjoy over 20 activities including cenotes, swimming, snorkeling, ziplines, a 131 foot high lighthouse with descending water slides, and so much more. Continental Breakfast is served from 9:30 am to 11:30 am and is delicious. An all-you-can-eat buffet is also available from 11:30 am until 5:30 pm in addition to an unlimited open bar, all included in your admission fee.
Considering you have 20+ activities to choose from, Xel-Há will provide everyone in your family with an enjoyable time. Small or big, young or old, Xel-Há really accommodates to everyone, and is even wheel chair accessible.
Life jackets and inner tubes are provided for swimming, and bicycles are included to explore the jungle trails. There is a sandy rest area with shaded lounge chairs and hammocks for relaxing, plus multiple lounge chairs are provided throughout the park.
Restrooms, changing rooms, showers, and lockers are all provided for your convenience. Wifi, ATMs, and a nice shop with a lot of goodies, are all available to you as well.
There is seriously so much to experience in Xel-Há, I recommend you arrive as early as possible so you can try everything. My wife and I spent a whole day here and we were able to do just about everything that was offered.
If you want the best deal for Xel-Há Park, you need to buy your ticket on their official website Xelha.com. Book here, and you can save 15% just by purchasing your admission 21 days in advance! You can literally save up to 50% on your admission fee, depending what experiences you choose when you book on their website.
On their website you can also purchase transportation from Cancun, as well as the photopass for the park. The photopass is a must have in my opinion, and it's really neat and simple. You will get your photopass wristband before heading out to enjoy the park.
All over the park there are photo stations where you simply scan your wristband, and then after a couple of seconds the camera will flash, letting you know the picture was taken. The best part is you really only need one photopass per 10 people. However, if you plan on being in separate areas of the park at times, it may be wise to purchase multiple photopasses per group.
Xel-Há holds a special place in my traveler's heart. It is one of my most memorable days while vacationing in Cancun. My wife and I had so much fun, it may even be my favorite experience I had while staying in Cancun. I can tell you that we will return to Xel-Há whenever we are nearby.
Wether you are looking for an action packed day with your friends, significant other, or your family. Xel-Há will provide you with the ultimate Cancun excursion experience!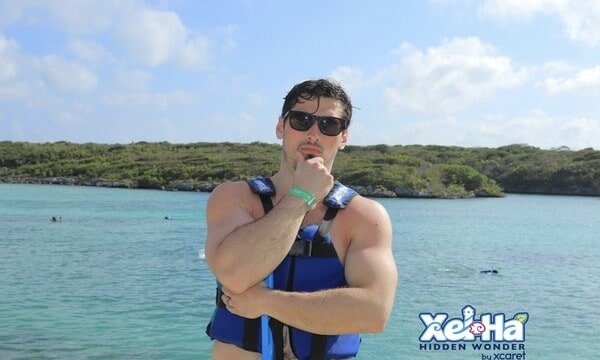 The Best Cancun ATV Excursion
Everyone is looking for the best ATV excursion they can handle in Cancun. I found the best one!
Jungle Road Adventure is the best 4×4, ATV combined excursion you will experience in Cancun, hands down! You'll experience some Mayan history and glide through treetops on zip-lines to your ATV, then blaze through the jungle trails, ultimately reaching the beautiful sacred cenote spot where you can dive in and cool off.
You start off at La Isla Shopping Mall in your 4×4 vehicle, heading towards El Rey Ruins. After learning some Mayan history from your guide, you head to an ecological reserve in the thick of the Mayan jungle. Here, you glide through the treetops on canopy zip lines. Soon after, you hop on your automatic ATV and blast through the jungle on some awesome trails. When you reach the most beautiful sacred cenote, you can dive in, and cool off. After your swim, you get back into your 4×4 and head over to Puerto Morelos where you can shop for handcrafts and, experience the second largest reef in the world! Lunch is included and vegetarian options are available.
There is no age limit for this adventurous excursion, so the whole family can enjoy it. Baby car seats are available for an additional $15.00 USD each.
You get to do all this for only $230.00 USD per person! You can book this awesome excursion on Tripadvisor.com, or if you want to save a few dollars, purchase from the official website JungleRoadAdventure.com.
This is a day trip, so the whole excursion lasts about 7 hours. Make sure you wear clothes you don't mind getting wet and muddy. It's also a good idea to bring a spare change of clothes for when you are done. Make sure to bring a valid driver's license if you want to drive the 4×4 vehicle. Everything else will be provided for you such as gas and insurance for the vehicle, helmets for the zip lines, and life vests for swimming in the cenote. Jungle Road Adventure really has everything you could ask for in an ATV excursion!
If you are looking for the best 4×4 excursion, this is the one for you! You get a full day of exploring and driving around the jungle of Cancun! Not only do you get to go off-roading, but you get to zip line, swim, and eat!
Cancun Excursion Overview
Cancun is known for beautiful views and amazing weather. But Cancun is also home to some of the best and most memorable excursions you may ever experience! No matter what kind of excursion you are looking to try, Cancun will surely have something that fits your budget, and satisfies your excursion needs.
Knowing these excursions are executed with safety in mind over everything, is just another reason why you should book your Cancun excursion without any anxiety or fear, but rather with joy and excitement! Get out and explore! You won't regret it.
Please feel free to comment and make sure to share your favorite Cancun excursion, we are always looking for more adventurous things to do in Mexico.