There are so many great options for shopping all around Cancun, but what are the best spots?
From markets to malls, Cancun has it all. Depending if you are looking to buy souvenirs or name brand clothes, there are a couple excellent places for shopping. The best market to shop at, offering local eats, souvenirs, handicrafts, and much more is Mercado 28 in downtown Cancun. Looking for more upscale shopping? Plaza Malecon Americas, the largest mall in Cancun, offers high-end stores and a huge food court with restaurants such as McDonalds and Olive Garden.
Mercado 28 is located in the heart of downtown Cancun. They are open from 8 am to 7 pm daily. Generally, if you go between noon and 3 pm, this will be the busiest time of the day. If you want to avoid the crowd, either go right around open or closing time.
If you are looking to buy gifts or souvenirs to take back home, this is where you want to go. Many of the shops will have the same types of items for sale, if you don't like the price, head to the next shop and see if you can't get a better deal.
All shops are willing to negotiate pricing, it's not uncommon to be able to haggle the price down 50% on some items. So put your poker face on, and let the bargaining begin. Make sure you are buying with pesos when shopping at any market in Cancun.
Plaza Malecon Americas is also conveniently located downtown as well, so if you are done exploring the market head over here and check out the largest mall in Cancun. Open from 10 am to 10 pm daily, you can head here any time of day although, it tends to get busy after 5 pm until 7 pm.
There is a lot to see in this partial open air mall, so make sure to give yourself adequate time to explore the whole mall. The prices here will be similar to U.S. prices, there is also no negotiating prices like at the market so what you see is what you pay.
If Market 28 and Plaza Malecon Americas doesn't satisfy your needs for shopping in Cancun, I have more markets and malls that may appeal to you below.
Is Cancun Good For Shopping
Cancun is known largely for its sandy white beaches, beautiful blue water, and amazing weather, but how's the shopping there?
Cancun is home to some of the best shopping malls and markets available in Mexico. Cancun is superb for shopping! Whether you are looking to buy some souvenirs and crafts at Mercado 28, or enjoy some high-end shopping at stores such as Cartier, Fendi, Lacoste, Rolex, Victoria's Secret and much more at Luxury Avenue, Cancun appeals to everyone from the budget friendly shopper, to the shopper looking for the best of the best, and everything in between.
Offering over 18 shopping malls, and at least 16 markets, there is no lack of shopping experience in Cancun.
Not only do the markets and malls sell clothing and accessories, but they contain some of the best hidden gems when it comes to eateries. Mercado 28 is home to multiple authentic hole-in-the-wall restaurants, while Plaza Malecon Americas hosts a HUGE food court that will surely satisfy any craving you may have.
Best Shopping For Kids and Family In Cancun
Looking for the best shopping mall your whole family can enjoy?
La Isla Shopping mall is the best mall for your family, including the kids. Here you will enjoy an open-air structure supplying clothing stores, restaurants, an interactive aquarium, and even a ferris wheel.
La Isla Shopping Mall is located in the Hotel Zone and are open from 11 am to 10 pm daily. This mall is great for shopping at high-end stores like Louis Vuitton and Gucci. But, there are still plenty of things you and your family can enjoy together as well.
Done with your shopping? Then enjoy some family time at the interactive aquarium which contains over 140 different species!
You can touch sea urchins and starfish, walk underwater in the aquarium trek, and enjoy a dolphin presentation every day at 7 pm. Entry into the aquarium is $15.00 USD, the aquarium trek is $55.25 USD, or you can do an awesome package deal including the trek and swimming with dolphins for only $110.25 USD. The aquarium is open daily from 9 am to 8 pm.
Take a relaxing ride on the 177ft tall La Gran Rueda (the big wheel) and experience an amazing view of Cancun with your family. Each booth holds 6 people and has air conditioning, ambiance music, and even a transparent floor! The wheel makes 4 rotations lasting approximately 15 to 20 minutes. A ticket costs 299.00 MXN (about $15.00 USD) per person. Make sure to bring your camera, because this is an amazing ride that you will never want to forget!
Best Shopping For Travelers On A Budget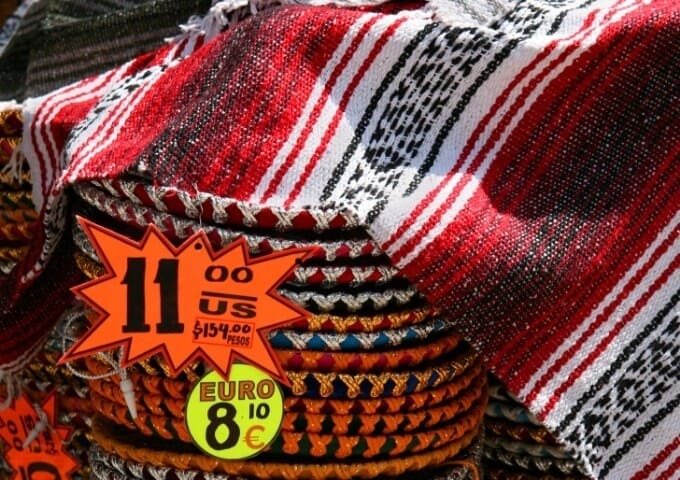 If you're a shopper on a budget such as myself, then you will love this market.
Mercado 28 has plenty of different items to choose from, and being able to haggle prices on all the items, makes it the ultimate place for a budget friendly shopper. I'd say the average price per item at the market in my experience ranges from, $5.00 USD to $20.00 USD. You can stock up on all your souvenirs, gifts, clothes, and enjoy some authentic cooking while you shop, all for a very low cost.
If you don't like the price of something, don't settle for it. Instead, go to a different shop that is willing to negotiate the price down to what you want to pay.
I have been able to do this multiple times, if someone won't budge on the price, I head to the shop literally next door, and get the same item for 50.00 MXN less! Eventually you will catch on after exploring so many different shops, you will know what you should pay for each item.
Where Do The Locals Shop In Cancun
Wondering where the best spots that the locals shop are in Cancun?
Try shopping like a local at Tianguis de la 94. Serving up authentic street food and drinks, fruits and vegetables, handmade furniture, and clothing, this place is very popular amongst the locals.
Tianguis is basically a huge flea market where you can buy anything. They are only open on Saturday from 2 pm to 9:30 pm. Go there any time after 5 pm and expect it to get very busy, very quickly!
I would say you could experience Tianguis de la 94 as a family, and it would be a great outing for everyone. There is so much to look at, and definitely a lot of food to eat. Be sure to get there early to avoid a large crowd!
Shopping In Cancun Hotel Zone
The Hotel Zone has many shopping malls to choose from, but only one is the best.
The best mall for shopping in the Hotel Zone is Forum By The Sea. Located in Northern Cancun right on the beach, this shopping mall is the only mall in Cancun with beach access. Not only do they have casual and brand-name clothing and jewelry, they also have restaurants and bars, two movie theaters, clubs, and the best view out of all the malls in Cancun.
This mall is open 24 hrs a day, every day! Looking for a quick bite to eat? Head up stairs and they have a nice dining selection at the food court. Choose between causal fast food, or nice restaurants.
Overlooking the gorgeous blue Caribbean, this mall offers the best view for a mall in Cancun. Make sure to check out the beach that is available as well.
What Should You Buy In Cancun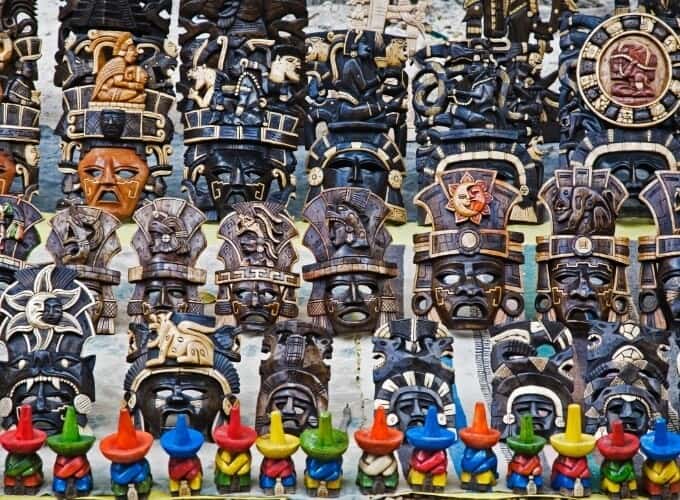 Cancun offers so many cool things to buy, so it may be hard deciding what you should buy.
You need to buy souvenirs for yourself and for family and friends back at home. Also, make sure to buy some Mexican made clothes, they are good quality at a cheap price. Plus, it's something you don't see back in the states. Also, buy street food and authentic hole-in-the wall food for the ultimate Cancun shopping experience.
If you get thirsty and feel dehydrated in Cancun, I always buy Suero, an electrolyte drink that is available at pretty much any store in Cancun. There are a bunch of delicious flavors to choose from, and they are really refreshing after a long day of shopping.
What ever it is that you are looking to buy while visiting Cancun, have no fears because you will find it. Their markets are endless, and the malls are abundant. No matter what it is you are shopping for, I say give both options a try.
If you have never been to a market, it may seem overwhelming but just remember. You are in control of your money, you don't have to look at anything you don't want to look at, buy anything you don't want to buy, or even talk to anyone you don't want to talk to!
When you get a hang of negotiating though, it is even more exciting.
The malls are great, and some are even quite unique with what they offer. I'd recommend visiting one of the malls I have mentioned above. Otherwise, explore them all and maybe you'll find something you really enjoy.
I hope you have enjoyed reading. I appreciate any comments, suggestions, or questions you may have when it comes to shopping in Cancun. Shop safe, and shop smart, but most of all have fun!