You need to give Cancun the time that it deserves to fully be explored. Cancun is known for its glistening white beaches and aquamarine water. But Cancun has much more to offer than just spending all day at the beach building sand castles. You need to spend 7 full days to explore all of Cancun such as the Hotel Zone (clubs and beaches), Downtown (lots of shopping and food), Cenotes (deep natural wells), Tulum (mayan ruins), Xel-Ha Park (aquatic theme park), and Zip Lining are some of the best things you need to experience while staying in Cancun.
In order to experience everything Cancun has to offer, you will need to plan out your days to optimize your time. This should also help with booking your flight tickets to Cancun.
Planning Your Week In Cancun
7 days is the perfect amount of time to spend in Cancun because if you plan what you are doing ahead of time, you will enjoy so many memorable things.
You may also want to consider renting a car in Cancun, do read my guide to get a better idea of how to go about doing that.
Day 1: Explore The Hotel Zone (Zona Hotelera)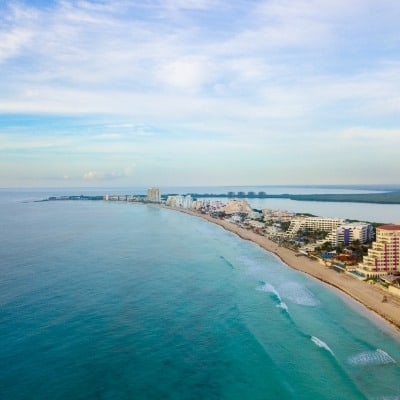 Considering you are staying in or near the Hotel Zone, I recommend first exploring the there. You should walk the entire beach which spans 14 miles. You can stop at some really great restaurants along the way such as, La Bamba and La Palapa. Also, make sure to put on your bathing suit and take a dip into the Caribbean Sea. It's very relaxing to just kick back and float around in the 80 degree water for a bit. Remember to support local vendors and buy something from them. I enjoy the mango on a stick, it's very refreshing when you have been exploring all day.
Make sure to stick around for the sun to go down and catch site of the most amazing sunset you have seen. After, if you still have some energy you need to burn off, you can check out the nightlife and head over to Mandala, one of the most popular clubs in Cancun. If clubs aren't your thing, you can take a night stroll on the beach and listen to the sounds of the waves crashing. It's a nice relaxing way to prepare for a good night of sleep.
Day 2: Explore Downtown: El Centro
For your next adventure, head to downtown Cancun. Heading downtown you will enjoy walking down Avenida Tulum (Cancun's main street), full of shops and restaurants you can stop by and checkout. There is so much to explore downtown, below I've listed just a few things you need to checkout!
Market 28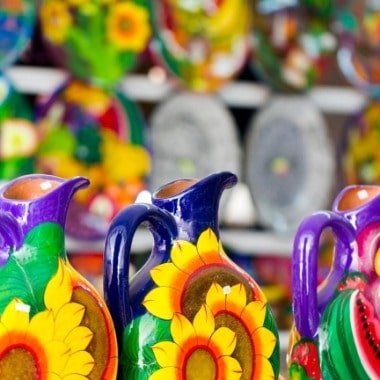 Mecerado 28 is a long running flea market with food stalls and shops offering apparel, handicrafts, jewelry, souvenirs, and local eats. There is plenty to explore here. Make sure to take your time and try not to get overwhelmed. There will be a lot of shop employees trying to get you into their store. If you aren't interested, it's okay to tell them "no thank you", and keep walking. If you want to buy something at a shop, be prepared to hassle if you want a better price.
Plaza Malecon America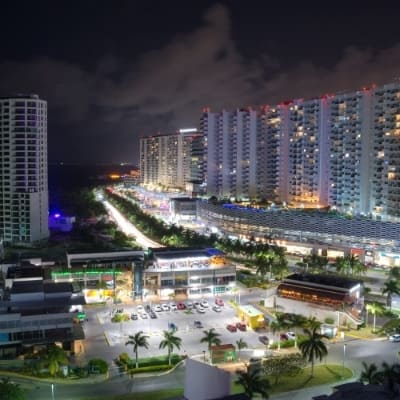 If you still have the urge to shop, then you have to checkout Plaza Malecon America. This is the largest shopping mall in Cancun. This mall has everything a mall should have. It has apparel, a bookstore, furniture and home furnishing stores, jewelry, Chapur (Mexican department store) and the food court upstairs offers restaurants from Olive Garden to McDonalds to sushi or tacos. If you're looking for a specific type of food you'll find it here. Weekends are typically the busiest days of the week so if you want to avoid the crowd, go on a weekday.
Malecon Tajamar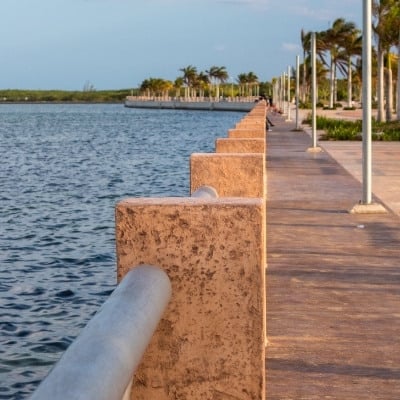 This is a beautiful waterfront boardwalk area that is popular with locals and anyone looking to take a peaceful, scenic stroll. This area is one of the best locations for seeing the sunrise at the lagoon. It is across from Plaza Malecon America so you don't have to travel far to visit here. The city still has big plans for this area, and it seems there is always some kind of development going on. But don't let that scare you away, you have to see the beautiful scenery that this boardwalk offers.
Parque De Las Palapas
Parque De Las Palapas is a paved park with playground structures, food carts, shops, and a large stage for performances. This is a great place to take your kids to play on the playground or enjoy some painting activities. Make sure you try some traditional food from one of the food carts, you won't be disappointed. The city's oldest church, Iglesia De Cristo Rey, sits on the edge of the park making this area very busy on Sunday.
You can most likely spend all your time either shopping in the mall or getting lost trying all the local cuisines. But make sure you visit all these places in Downtown Cancun to really experience the roots of Cancun.
Day 3: Tulum
Finally after exploring Cancun for a couple days, you should head south and take Highway 307, 73 miles down to Tulum. Tulum is known for its beautiful white beaches and its ruins of an ancient mayan city. You will get to see El Castillo (the castle), which sits atop a rocky cliff overlooking the Caribbean Sea.
Next to the ruins you will find Parque Nacional Tulum. This park hosts some of the best mangroves and cenotes around. Gran Cenote (one of the best cenotes) is just 3 miles from the center of Tulum. You will for sure want to take a dive into one of the cenotes to cool off. Tulum is a MUST SEE when you are staying in Cancun.
Day 4: Enjoy The Beach Activities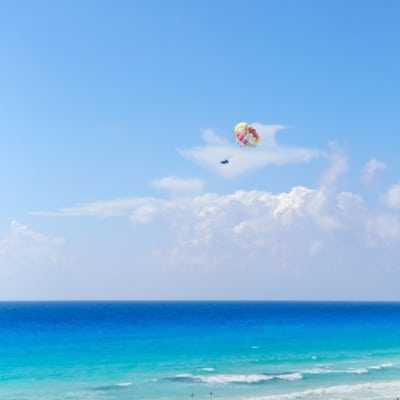 Generally, after a day of traveling to somewhere such as Tulum, I like to take a day to recoup and enjoy the gorgeous view Cancun is all about. I recommend spending some more time at the beach, parasailing, swimming, and of course eating. It's nice to just be on vacation and relax like you deserve.
Parasailing provides a whole new perspective of Cancun. Soaring up to 500 feet, you can see everything. The best part about parasailing is it's so peaceful. Just you and the sky, the only sound you hear is the occasional breeze of fresh air. If you aren't a fan of heights and like staying near the water, you should try jet skiing on the sea. This is more of an adrenaline rush compared to parasailing in my opinion, and well worth it. Save some money and buy a parasailing & jet ski package deal together.
The rest of your recoup day can be spent relaxing on the beach and eating at some delicious restaurants. You deserve it.
Day 5: Xel-Há Park
When you are well rested, you have to visit one of my personal favorites. Xel-Há (pronounced "Chel-Ha") Park is a commercial aquatic theme park and ecotourism development located on the Caribbean coast. They are open Tuesday to Sunday (closed Monday) from 8:30 am to 6:00 pm. This park is awesome and there is so much to do. My wife and I were able to explore the whole park in one day.
You will get to float the river on tubes, climb a scenic lighthouse with a twisting slide descent, hike through jungle paths, swim in cenotes and coves, cliff jumps, rope games, snorkeling the crystal clear water, and zip lines are some of the things you get to do.
They offer breakfast from 9:30 am to 11:30 am and snacks and lunch buffet from 11:30 am to 5:30pm, all included in the admission charge of $89.99 USD for adults, half price for kids 5 to 11 years old and, kids under 4 get in for FREE!
Don't worry if you need to take a break throughout the day, they have a sandy rest area with beach chairs and hammocks you can nap in. Of course they provide everything you need, bathroom, changing room, lockers, wifi and, the essentials like life vests, tubes, and even bicycles to explore. I highly recommend Xel-Ha, everything you get for the price is fantastic!
Day 6: Xplor Park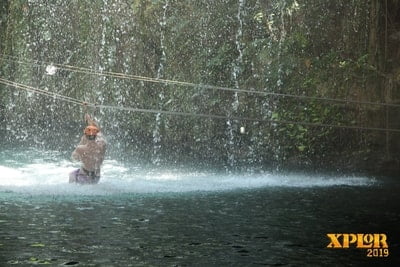 Prepare yourself for a thrilling day full of adventure. Xplor is a jungle adventure park with amphibious vehicles, rafting, underground rivers, and zip-lines. Two circuits with seven zip-lines each (2.4 mi total distance) which includes the tallest zipline in Riviera Maya. Make sure to wear water shoes and a swim suit, some of the ziplines will dip you into the refreshing water. You get to explore this whole park on your own and do whatever you want, when you want. You are your own guide. No complaints here, only fun times.
Open Monday to Saturday 9:00 am to 5:00 pm. Xplor offers unlimited snacks and non-alcoholic drinks as well as a lunch buffet. With your Xplor admission, you will receive access to every activity at Xplor. You may do any activity as many times as you please for only $116.99 USD for adults and, $58.49 USD for children 5 to 11 years of age. You must be at least 5 years old to be admitted to this park. You will not regret taking yourself and your family to this park for an amazing day.
Day 7: Your Last Day
You've made it to the last day! By this time you are wishing you could stay even longer. Depending what time your flight back home departs, you should still have some time to enjoy a breakfast buffet at Sedona Grill. That way, you will be satisfied for you flight back home. If you're real lucky and have extra time, I suggest taking one last dip into the Caribbean. So relaxing.. Hopefully after swimming and a meal, you will be ready to nap on your flight.
Cancun is full of adventure and has something to offer for everyone. Wether you're looking for some excitement, or just some time to kick back and enjoy life for a week. 7 days in Cancun will serve you well and allow you to experience the true wonders of this exotic costal destination.