I was sitting in Cancun and I thought to myself; there are so many Cenotes around Cancun, but which is the best one? After exploring several cenotes, I've narrowed it down to a select few.
The best cenote near Cancun is Ponderosa Cenote (aka Cenote Jardin Del Eden), located in Puerto Aventuras (1 hour and 20 minutes away from Cancun). The water at Ponderosa is perfectly clear all the way to the bottom, while still maintaining its stunning blue-green color.
Of course, there are still more cenotes to explore. Let's take a look at my other favorites below.
What Are the Best Cenotes Near Cancun?
A cenote is a natural sinkhole filled with collapsed limestone bedrock, resulting in exposed underground water, therefore creating a spectacular natural pool. There are no Cenotes located in Cancun, but there are so many places around Cancun that have the most gorgeous spots you have to check out!
Cenotes are located in surrounding areas including Chichén Itzá, Playa Del Carmen, Puerto Aventuras, Puerto Morelos, Tulum, and Valladolid. Keep reading to see some of the best cenotes you need to experience if you are in Cancun!
1. Ponderosa Cenote
Ponderosa Cenote is the perfect swim spot, if you aren't swimming you can take advantage of the rocks on the side and take a dive into the freshwater.
You can also snorkel and scuba dive in a deep underwater cave. If you work up an appetite, there is a small food hut serving up Mexican classics like nachos and quesadillas.
Bathrooms are also available near the cenote. The entry fee is 200.00 MXN (about $10.00 USD) for adults and 100 MXN (about $5.00 USD) for children. Ponderosa is open every day except Saturday, from 9:00 am to 5:00 pm.
2. Puerto Morelos: Cenote Siete Bocas
Puerto Morelos is home to at least 100 cenotes. You can actually find maps on the road into Puerto Morelos showing you the cenote's exact locations.
Located in this small Mexican port town only 40 minutes South of Cancun, Cenote Siete Bocas (Seven Mouths), is a unique cenote due to the fact that it has seven entrances into the cenote (two entrances require scuba gear), leading to underground river and caverns.
You can access this cenote through its various entrances, some will be steps leading into the water, others you will have to journey down a ladder, or if you're the thrill-seeking type, there's an opening where you can dive right into the water.
The water in this cenote is very clear and has a vibrant blue color, it really is a breathtaking site. One spot is an open area, while the other four are underground with limited headspace so you can breathe. If you don't enjoy tight spaces, you may want to stay in the open area. But I highly recommend exploring the caverns for the full experience.
This cenote is not commercialized and does not offer food or drinks. The entry price is 200.00 MXN (about $20.00 USD) and is well worth the experience. This price includes a life jacket plus a flashlight to see while in the caverns, and access to tables and palapas for a nice picnic, so bring your own snacks and beverages.
Also, if you have snorkeling gear I recommend you bring it so you can explore all the caverns comfortably, but don't worry if you don't have snorkeling gear, it is not required in order to have a great time here.
If they try to charge you more for entry, make sure you haggle down the price and tell them you only have 200.00 MXN to spare. Other tourists have been charged as high as 300.00 MXN for entry, which would be considered quite expensive for a cenote.
They are open 7 days a week from 8:00 am until 5:00 pm, so make sure you give yourself plenty of time to explore everything including the surrounding jungle area full of peacocks and other exotic bird species. I'd recommend at least two hours here to explore everything this amazing cenote has to offer.
3. Playa Del Carmen: Cenote Chaak Tun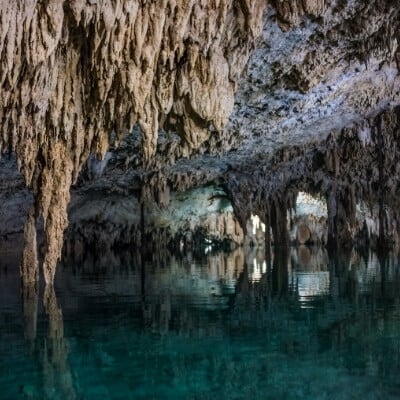 Take a 15-minute drive West from Playa Del Carmen, and find Cenote Chaak Tun. This amazing cenote contains 3 caverns, you must explore this cenote with a guide. All the caves are lit by backlighting, providing you with the ultimate experience.
The entrance fee is 500.00 MXN (about $25.00 USD) and includes everything you may need, a life vest, locker rental, snorkel gear, water shoes, and a wetsuit are all included. Not only will you have your own personal guide, but lunch will be available for you, and tequila tasting is offered after the tour is finished.
The tour will last approximately 2 hours, and a new tour begins every 40 minutes. Chaak Tun is open daily from 9:00 am to 3:00 pm Monday-Saturday, and 9:00 am to 1:00 pm on Sundays. The caverns are beautiful, and the English-speaking guides do a great job of explaining everything in detail.
For the price and everything that is included, this cenote is really hard to pass up. You don't have to worry about anything because everything is conveniently provided for you.
Head to Cenote Chaak Tun and you will have an unbelievable time exploring and swimming around in the cool, refreshing water.
4. Puerto Aventuras: Cenote Azul
A runner-up to the best cenote near Cancun (Ponderosa Cenote), Cenote Azul is located in Puerto Aventuras only 1.3 km (6 minutes) away from Ponderosa Cenote.
Cenote Azul is a large open-air cenote that is absolutely gorgeous in all aspects. Surrounded by jungle and with its crystal clear, blue water, this is the perfect swim spot. Take a dive from the 15-foot cliff into the main cenote, or just sit back and watch others work up the courage to do so, either way, it's entertaining.
You can pay the basic entry fee of 120.00 MXN (about $6.00 USD), or if you would like a tour of the cave that connects the two areas, that will cost a bit more.
They only accept cash here, so make sure to bring your pesos. If you would like to rent snorkeling gear or fins, a refundable deposit of 1000.00 MXN ($50.00 USD) is required and will be returned to you when you return your rental gear.
Lockers and restrooms are also available for paying customers. If you get hungry, there is a small restaurant serving tacos and beverages. Also, there is a shop where you can purchase things like fish food to feed all the fish.
My one simple tip is to make sure you arrive early in the morning, wait any longer and surely this Cenote will be full of people. If you can't make it in the morning, then I recommend you come here late afternoon, an hour or two before they close to avoid the large crowd midday.
This cenote is a very popular spot, especially for families. Cenote Azul opens from 8:30 am to 5:30 pm 7 days a week.
Being one of the largest cenotes in Mexico, Cenote Azul is most definitely worth checking out. It's also inexpensive compared to some of the other cenotes, making it perfect for the budget traveler, or large families.
5. Tulum: Dos Ojos Cenote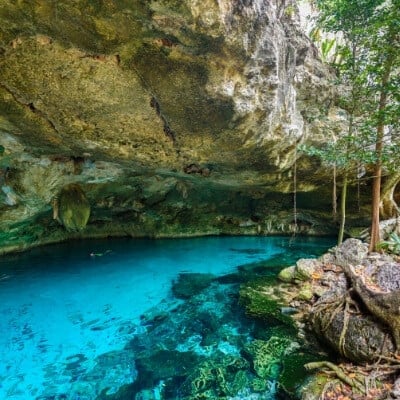 Dos Ojos Cenote (Two Eyes Cenote) is a spectacular cenote to explore via snorkeling and is especially popular for scuba diving. This cenote is known to contain one of the largest underwater caverns.
There are two separate sinkholes connected by one long waterway. The water here is cool and refreshing. The clarity and depth of the water are just some of the reasons this cenote is a divers paradise.
For entry to both Ojos, it will cost you 350.00 MXN (about $17.50 USD). If you want a guided tour of both areas, and snorkeling gear, the price is only 600.00 MXN (about $30.00 USD). Life vests are provided and required for entry. If you don't want a tour but would like to rent snorkel gear, it will cost 70.00 MXN (About $3.50 USD) per person.
A restaurant and restroom are both provided at this one-of-a-kind cenote. Being a decent size cenote, even with busses of tourists arriving at times, there is still space to swim around and explore. Again, if you want the best chance of avoiding the crowds, arrive early in the morning upon opening. Dos Ojos is open 7 days a week from 9:00 am to 5:00 pm.
Dos Ojos has been featured in IMAX films as well as on Discovery Channel's Planet Earth. If you want to experience the best cenote in Tulum, Dos Ojos is a must-see! Don't visit Tulum without taking a dip in this refreshing cenote.
6. Valladolid: Cenote Zaci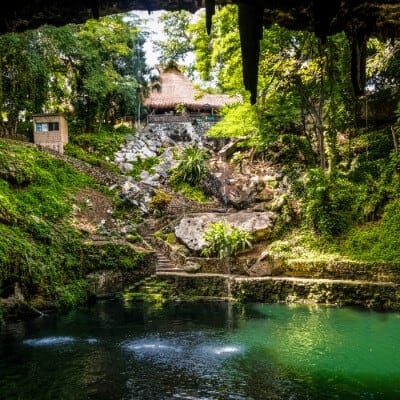 In the small town of Valladolid, you will find the exotic Cenote Zaci, just a few blocks from the town's main plaza. Surrounded by green towering trees, Cenote Zaci is a partially open-air cenote that is 150 feet across both sides. There's a little winding staircase leading directly into the water for easy access.
Of course, it wouldn't be a proper cenote if it didn't have a spot to dive off of, which it does indeed. In fact, it has multiple spots you can jump from ranging up to about 40 feet at the highest point.
You have two options for entry into this paradise cenote. Your first option is at Calle 39. Before entering here, there are some souvenir shops you can browse around. Otherwise, your second option (my favorite option) is via Calle 36.
Here you will find Restaurant Cenote Zaci. This is a pretty good restaurant, but the best part is if you purchase food here (must spend at least 100.00 MXN or about $5.00 USD), your entrance into the cenote is free! It doesn't get much better than that in my opinion.
If you don't want to take advantage of the restaurant deal, then the normal entrance fee is 30.00 MXN (about $1.50 USD) per person.
The water in Cenote Zaci isn't as clear as some of the other cenotes, but it still has a beautiful blue color of course. Life jackets are not required when swimming here, but they are available to rent for only 30.00 MXN. There are no lockers available, so make sure not to bring more stuff than you need. Hours of operations are 9:00 am to 5:30 pm (last entry is at 5:00 pm) open 7 days a week.
If you are in Valladolid, you have no reason not to visit Cenote Zaci. It's so conveniently located and inexpensive, it's more than worth every peso you pay to enter.
7. Chichen Itza: Cenote Lol-Ha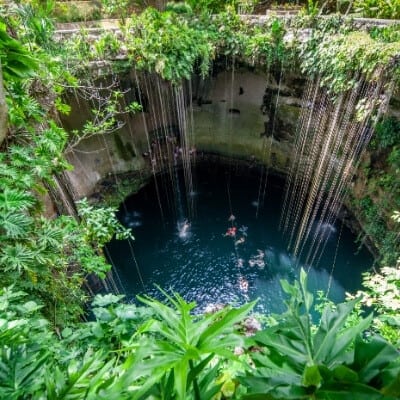 Chizen Itza offers some excellent cenotes to choose from. But if you are looking for the best cenote in Chichen Itza, you need to check out Cenote Lol-Ha! Lol-Ha is located only 15 minutes away from Chichen Itza.
This cenote is not commercialized, and few people visit it compared to other busier cenotes. Arrive here early in the morning, and most likely there will only be a few people around.
Cenote Lol-Ha offers clean and pristine blue water, with an open-air center, and tree vines dangling from above. Surrounded by ancient trees and a habitat full of exotic birds, this cenote is truly one of a kind. Lol-Ha is perfect for swimming, snorkeling, and scuba diving. You will enjoy the pleasure of viewing all sorts of fish swimming beneath you.
This cenote really feels like a lost paradise in the middle of a jungle. Actually, that's exactly what it is!
In order for you to enter the water, you will need to climb straight down a ladder. This is the only way into the cenote, so if ladders aren't for you, then you can admire them from above.
The entry fee is 50.00 MXN (about $2.50 USD) per person, life vests are offered for an additional 10.00 MXN ($0.50 USD), and restrooms are available as well. Lol-Ha is open 7 days a week from 10:00 am to 5:00 pm.
How Far Are Cenotes From Cancun
There are so many great cenotes near Cancun, it may be a difficult decision when trying to choose which one you want to visit.
The closest cenotes to Cancun are in Puerto Morelos, about 40 minutes south. Other options include Playa Del Carmen and Puerto Aventuras, about 1 hour south, and Tulum and Valladolid, about 1 hour and 50 minutes away. Chichen Itza is the furthest at 2 hours and 20 minutes southwest of Cancun.
All of the Cenotes located around Cancun are worth a visit.
How Do You Get To Cenotes In Cancun
There are a few different options for getting to your cenote of choice. You can take the public bus (Ado) which will take you to all the popular cenote towns, but they won't get you to the actual cenote itself within the town. You will need to request a taxi once you arrive in your cenote town to take you the rest of the way to your cenote of choice.
| From Cancun To: | Travel Time Via Bus | Approx. Price |
| --- | --- | --- |
| Puerto Morelos | 1 hour | $4.00 USD |
| Playa Del Carmen | 1 hour and 5 minutes | $4.00 USD |
| Puerto Aventuras | 1 hour and 30 minutes | $8.00 USD |
| Tulum | 2 hours and 25 minutes | $10.00 USD |
| Valladolid | 2 hours | $10.00 USD |
| Chichen Itza | 3 hours and 20 minutes | $17.00 USD |
You may also take a taxi from Cancun to any of these locations but be prepared for a large fare because a taxi ride to these destinations from Cancun is expensive.
If your cenote is far away from the main town where you are dropped off by bus, simply request a cab. There should be local taxis readily available in all the main towns that will be able to take you to your cenote.
You can ask the cab driver to come back at a specific time to pick you up, generally, they will be happy to do this for you although, they may charge a bit extra for the convenience.
Are Cenotes Near Cancun Safe?
There are so many different cenotes near Cancun, and generally, any of the publicly available cenotes will be considered safe to swim in. There are no strong currents of water you need to worry about or undertows in a cenote. Also, most cenotes offer life jackets, and some even require them before entering the water. The water is clean and clear as well.
However, swimming in a cenote is done at your own risk. But as long as you use common sense and you are a decent swimmer, you will be just fine swimming in most cenotes.
Final Thoughts
Cancun, or rather nearby towns, offers an array of breathtaking cenotes to try out. The best way to choose which cenote may be right for you would be to choose a cenote in a town where you have other things planned for the day, that way you make the most out of your time spent traveling to these towns.
For example, maybe you have a tour planned in Tulum, well why not stop by Dos Ojos Cenote that same day either before or after your tour? This way, you aren't traveling 2 hours to Tulum, and then 2 hours back to Cancun just for the Cenote or a tour, but rather you are creating an adventure-packed day, full of exploration and different experiences.
I have found that this is the most satisfying and cost-effective way to plan for a day trip away from Cancun.
Regardless of how you decide to choose which cenote you want to visit, make sure you visit at least one cenote while staying in Cancun. There is no other experience that compares, and surely you will leave wanting more!