Is Cancun A Good Honeymoon Destination?
Looking for that perfect honeymoon destination, but you just don't know if a Cancun honeymoon makes the cut?
Cancun offers honeymooners the experience of a lifetime. From all-inclusive hotels, amazing beaches, and surreal tropical water, and with activities such as jet skiing, parasailing, sailboats, snorkeling, and zip lining, Cancun is packed full of adventure for your honeymoon. All at a low cost, averaging only $700.00 USD per person for a week's vacation in Cancun. Guaranteed you will not run out of things to do while honeymooning In Cancun.
Here's What We Cover
Is Cancun Safe For A Honeymoon?
Cancun's safety may be a concern for some people, but let your worries be at ease. Cancun is one of the safest destinations in Mexico. However, it is recommended that you exercise increased caution when visiting. This is mostly due to petty crimes such as pickpocketing and theft. Your overall safety is based on your actions, arm yourself with safety knowledge and use common sense, and you will be fine.
There are many tips and tricks you can take advantage of in order to increase your safety while visiting Cancun, make sure to check out our Top Tips To Stay Safe in Cancun.
The Cost Of A Cancun Honeymoon
If the thought of the price of a honeymoon in Cancun makes you cringe, it shouldn't. Cancun is considered an inexpensive destination and offers so much in terms of beauty and adventure when compared to other places that will cost you more.
The average cost to fly roundtrip will range anywhere from $320.00 to $600.00 USD per person. As well, the average price for a hotel room per night will be $180.00 USD ($1260.00 USD for 7 days). Save even more money by renting an Airbnb instead. Excursions such as Xplor will average around $100.00 USD per person, and meals are usually no more than $5.00 USD per person unless you are eating at a nice restaurant, the price is more like $10.00 USD per person. You can have an awesome, fun-packed honeymoon for as cheap as $2600.00 USD (per couple for 7 days including airfare) and that's living like royalty.
Complete Cancun Honeymoon Itinerary
1. Experience The Hotel Zone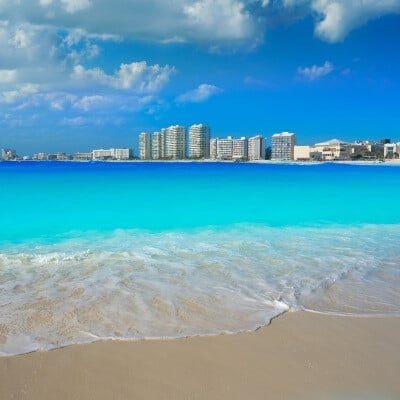 Your first day in Cancun is exciting. It's even more exciting when you're there for your honeymoon. There is an endless amount of romantic and thrilling things to do in Cancun. The first thing you should do is take your time to familiarize yourself with the Hotel Zone and enjoy a beach day. Besides swimming in the picture-perfect water, there are plenty of things to keep you entertained at the beach. I personally recommend parasailing if you're looking for a relaxing moment to be with your newlywed and take in the view of a lifetime from 500 feet above the Caribbean.
If you are more of a water-type person, then try out the 4 in 1 Cancun Snorkeling Tour. You get to swim with turtles, explore the reef, underwater statues, and a shipwreck. I enjoy this snorkeling tour because you get to see a lot of things, but it doesn't take up your whole day as it lasts about 3 hours and 30 minutes. It's well worth the $65.00 USD per person price.
When you are done exploring and have worked up an appetite, put on your nicest outfit and head to Fantino, a AAA Five Diamond Award Winning Mediterranean restaurant with a contemporary touch. The food will blow your socks off if you're wearing any! With impeccable service, accompanied by a live piano, this place is a surefire way to spark your honeymoon off on the right note.
2. Parque Las Palapas: Enjoy Some Culture
At Parque Las Palapas in downtown Cancun, you will find locals and tourists gathering here to enjoy food, music, plays, and even street performers. There are outdoor games and picnics during the day. If you're interested in watching some performances you can check the schedule for shows on the stage in the middle of the park. Sundays will be particularly busy and full of life.
3. Explore Tulum: Swim In Cenotes
Hop on a bus and head to Tulum. Tulum is an extraordinary ancient Mayan town just 2 hours South of Cancun, located on the Caribbean Coastline. The main building, fittingly called El Castillo (the castle), sits near the edge of a rocky cliff hanging over the turquoise hue of the Caribbean Sea.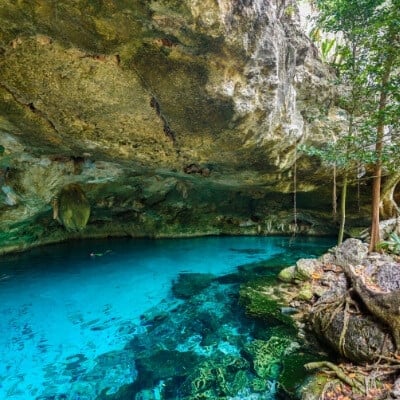 After viewing the historic town of Tulum, head 3 miles north of Tulum and visit the most beautiful cenote around, Gran Cenote. An exotic limestone cenote that offers snorkeling areas and gear rental if desired. Gran Cenote cost $10.00 USD for admission, $4.00 USD for snorkeling gear, $1.50 USD for a locker, and $2.50 USD for a life jacket. Awe, there's nothing more romantic than swimming in a sinkhole with your loved one.
4. Cruise To Isla Mujeres
Isla Mujeres is simply described as tranquil. Located just across from Bahia de Mujeres (Bay of Women), Isla Mujeres is a getaway from a getaway. The overall vibe of this glorious island is more relaxed than Cancun and it is a great spot to spend a day together with your other half.
You will enjoy perfect sandy beaches, calm waters, and some of the nicest people around. With 150 restaurants ranging from Italian to Mexican, or even Japanese and Pizza options, you don't have to worry about running out of food on this spectacular island.
In order to get to Isla Mujeres, head to Gran Puerto in Puerto Juarez, and catch a passenger ferry (Ultramar). The ferry leaves every 30 minutes starting at 5:00 am until 9:30 pm. The cost for a roundtrip ride to Isla Mujeres is $27.90 USD per person. The ferry ride is about 15 minutes to get there.
5. Plaza La Isla Cancun: Shopping Spree
Enjoy a shopping spree in downtown Cancun at Plaza La Isla, an open-air shopping mall with upscale stores, restaurants, a ferris wheel, a chocolate factory, and an interactive aquarium.
The restaurant row overlooks the stunning Nichupté Lagoon. Nichupté Lagoon is considered a natural paradise, it contains a large area of the natural reserve for the mangrove ecosystem. It has seven lakes and connects to the Caribbean through two channels. Here, you can do everything from fishing to scuba diving. One of the most popular activities is taking a boat ride through the jungle, simply called Jungle Tour.
If you want to catch a gorgeous, romantic Mexico sunset, Nichupté Lagoon is the place to be.
6. See Dolphins At Playa Delfines
Visit miles of undisturbed pristine white beach, and enjoy the crystal clear water, making for a truly relaxed and romantic beach experience. The main reason Playa Delfines aka, El Mirador (The Lookout) is one of the absolute best beaches in Cancun, is due to the fact that the beach has been left as is. There are no structures such as hotels or restaurants spoiling your beach experience.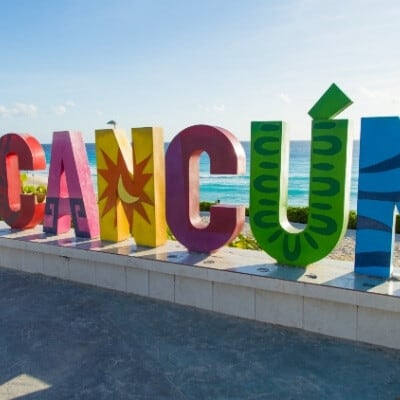 Here is where you will find the iconic CANCUN letters that you have to take pictures next to. There is also onsite parking and beach chairs at the beach, additionally, there is a playground, and many local food vendors ready to serve you up some delicious food. Keep an eye out and you may catch glimpse of the dolphins that frequently visit this area. You can spend a whole day at Playa Delfines relaxing and enjoying life.
For the best beach experience, I highly recommend Playa Delfines, you will not regret it.
7. Visit Cozumel
Cozumel is a beautiful, undeveloped island that is known for its abundance of coral reefs including the Mesoamerican Barrier Reef System, which is the second-largest coral reef in the world, making it one of the top destinations for scuba diving and snorkeling.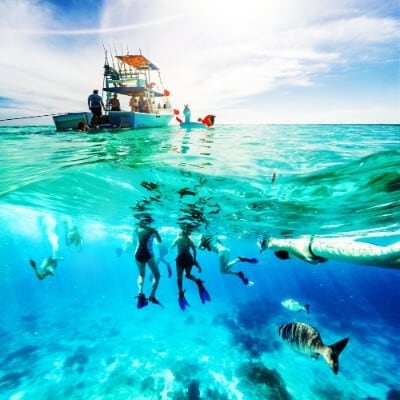 If you and your love bird are interested in a snorkeling tour, I recommend the Glass Bottom Boat 3-Reef Snorkeling Tour. It only costs $36.00 USD per person, and you get to explore 3 different coral reefs, all with visibility up to 200 feet thanks to the amazingly clear water. You will get to see tropical fish and marine life, all while exploring the reefs. On the boat ride, you will enjoy beer, soft drinks, and snacks as well. This tour is offered daily at 11:00 am and lasts about 3 hours.
I'm telling you, if you want to go snorkeling, this is where you want to be folks!
8. Checkout Chichen Itza
Known as one of the New 7 Wonders of the World, Chichen Itza is an ancient city containing stepped pyramids, columned arcades, and temples. Chichen Itza is nice because it is extremely well-preserved and quite extensive.
When you are done exploring Chichen Itza, head to Cenote Lol-Ha to cool off, one of the best cenotes in the Yucatan. This cenote is surrounded by a thick jungle and colorful exotic bird species. The clear water has a bright blue hue with a visual of 10 to 15 meters in depth. You will most likely be the only person around, depending on the day. Making for a romantic time to enjoy the natural beauty of Mexico, and the company of your loved one.
The cost is 50.00 MXN to enter, and only 10.00 MXN for a life jacket. Do not go to Chichen Itza without also checking out this cenote! You will be missing out.
Cancun Honeymoon – Conclusion
There may be many places you are considering for your honeymoon. But one thing that I can tell you FOR SURE is that Cancun is the ultimate honeymoon destination. Considering all there is to explore and experience, Cancun is a no-brainer for celebrating your life together with your significant other. Cancun's picturesque early morning sunrise over the glistening turquoise Caribbean is more than enough of a reason to honeymoon here. The sounds of the waves crashing in while you soak up some sun and relax is hard to beat. All for a really convenient price. If you don't pick Cancun for your honeymoon, no worries.
There are always anniversaries. But, you will be missing out on A LOT if you don't go!