Are All Inclusive Resorts In Mexico Worth It
I was curious if an all-inclusive resort in Mexico was really worth it, so I spent 7 days at an all-inclusive resort in Mexico just to find out.
Staying at an all-inclusive resort in Mexico is absolutely worth it. All-inclusive resorts in Mexico offer excellent perks such as an open bar, a delicious breakfast cafe, multiple dining options serving up excellent dishes ranging from Traditional Mexican to Asian or Italian, plus everything else. As well, you have unlimited access to pools, gyms (including classes), recreational activities, and live shows, all included in the up-front price of the resort.
All Inclusive Resorts In Mexico Pros and Cons
| Pros | Cons |
| --- | --- |
| Unlimited food and drinks with onsite restaurants, bars, and cafes | Price is higher when compared to non-inclusive resorts and hotels |
| Access to pools, jacuzzis, and a 24/7 full-size gym | Potentially location, if a resort is not offered in the area of town where you desire to stay |
| Enjoy nightly shows and live entertainment | Some all-inclusive resorts may be a bit loud from the live shows, usually in the evening time |
| Mini bar restocked daily by room service | If you prefer to minimize your social interactions with a large quantity of other people, this may not be for you |
| Impeccable service and attentiveness to your needs as a guest | If you want an authentic experience of staying in Mexico, you may want to look elsewhere where you wont be so pampered |
My first time staying in an all-inclusive resort in Mexico felt like a dream, or something you'd only see in the movies. Imagine waking up every day for a week, sliding open the curtains exposing pure bliss; the waves crashing onto a glistening beach and the unmistakeable Mexican sun, rising over the shadows of the palm trees. It is truly relaxing, as all your stress melts away and a weight is lifted off you shoulders, you begin to wonder why you hadn't thought of this sooner.
Whether you are the adventurous type, or the chill type, we can all benefit from a week vacation in an all inclusive resort in Mexico. You don't have to leave your resort for anything if you don't want to, and you'd be more than happy even then. But guess what, if you do want to get out and explore the town, or maybe try some local street food, nothing is stopping you from doing that. That is the best part about staying at an all inclusive resort in Mexico, it's all about YOU. And YOU deserve it.
If golf is your thing, check out my guide on the best Golf resorts in Mexico here.
How Much Does An All Inclusive Trip To Mexico Cost
An all inclusive trip to Mexico may seem like it'd be an unattainable luxury, but how much does an all inclusive trip to Mexico actually cost?
All inclusive resort prices will vary in Mexico depending on the location, resort, and type of room you book. The average cost for a budget all inclusive resort starts at $180 per night, an ocean front suite would cost anywhere from $400 to $1200 per night. Add $300 to $700 for your round trip plane ticket, and an additional $50 to $350 for recreational activities, transportation, and souvenirs for a total ranging from $1660 to $9500 for seven days in an all inclusive resort in Mexico.
| All Inclusive Resort Type/ Expenses | Cost US$ |
| --- | --- |
| Budget All Inclusive Resort, No Ocean View | $180 to $250 per night |
| Junior Ocean View Suite | $400 to $600 per night |
| Presidential Ocean View Suite | $800 to $1200 per night |
| Round Trip Plane Ticket | $300 to $700 |
| Tips/Transportation | $50 to $100 |
| Recreations and Souvenirs | $50 to $350 |
Unless you are expecting to spend a lot of money on food or additional activities and excursions outside of your resort, then expect to only need money for the initial cost of the resort, your plane ticket, transportation (may be provided for free from resort), and tips for the resort staff.
When I was staying in Cancun at the Hyatt Zilara, I went out to eat out maybe twice. The 7 restaurants offered in the resort had an ample amount of food, plus a rotating international menu that changed daily at one of the restaurants. So, there was never really a need to spend money on eating elsewhere considering the food offered was always something new, and you can go whenever you want, as much as you want.
However, if you plan on venturing out of your resort to enjoy any recreational activities like excursions, tours, or even the markets, you will want to bring some extra cash. Generally, excursions average between $100 and $200 per person for perspective.
If you plan on living off of all the accommodations your resort offers, that's completely fine. You will just need an extra $50 to $100 for transportation and tips.
Where Should I Vacation In Mexico For All Inclusive Resorts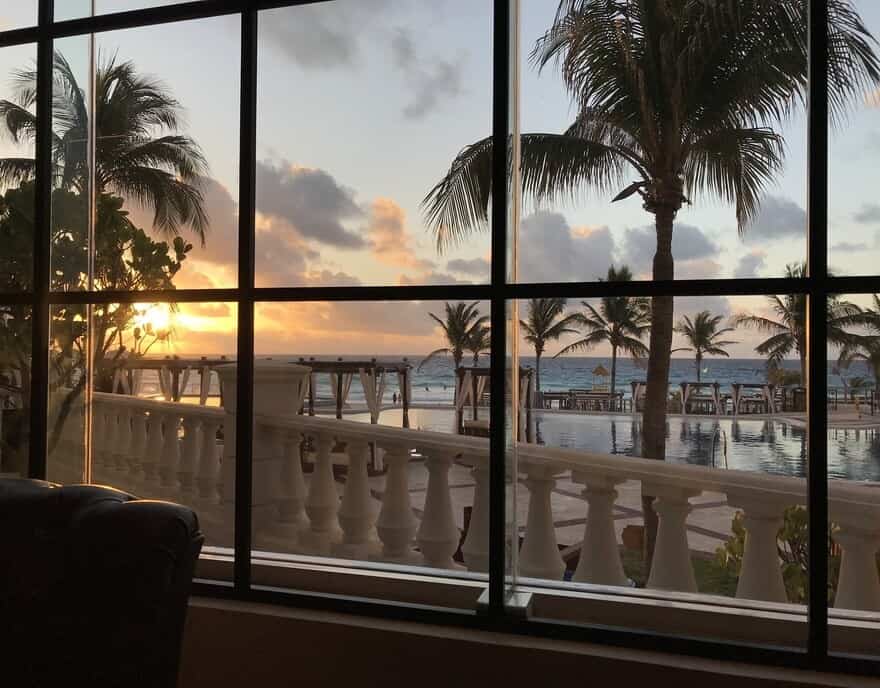 There are so many places you can vacation in Mexico, but were should you vacation to enjoy your all inclusive resort?
Here is a chart of the most popular all inclusive resort cities in Mexico, and the top resorts in each city.
City
Top All Inclusive Resorts
Average Price Range US$
Cost Per Night
Cancun
Hyatt Zilara (Adult Only, Clean Beach, Superb View, Exceptional Service)
$350 – $800
Los Cabos
Grand Velas (All rooms are Ocean View, World-Class service and food, #1 in Cabo)
$800 – $2200
Playa Del Carmen
Hotel Xcaret (Nature Infused, Includes free access to the 7 Best Theme Parks and Tours in Mexico, perfect for the family)
$550 – $4500
Playa Mujeres (Northern Cancun)
Excellence Playa Mujeres (TripAdvisor Certificate of Excellence Hall of Fame 2019, Exquisite Beach)

$400 – $800
Nuevo Vallarta
Grand Velas Riviera Nayarit (Top-notch service, excellent beach)
$650 – $4000
Whichever city you decide to stay in, there's a reason these are some of the best rated resorts year after year. They continue to provide unmatched service, hospitality, and continue to go above-and-beyond for each guest who decide to call theses resorts home for a week.
When you stay at a top rated all inclusive resort in Mexico, it's not the same as staying at any other hotel. Expect to be treated with friendly and attentive staff, who's sole job is to ensure that your stay is nothing less than exceptional.
They want you to come back every year, and maybe even bring a friend or two the next time, and then your friends will bring more friends next time. You see how that works? It's a win-win for both the resort and the guests staying there, that's one reason you will be treated like royalty. But who's complaining? Not me. In fact, it can be hard to adjust back to the non all-inclusive life when your stay is over, but I'm willing to accept that, and so should you.
If you're judging between Cancun and Puerto Vallarta, I've got a whole article on that.
What Is The Safest All Inclusive Resort In Mexico
With various options of all inclusive resorts to choose from in Mexico, it got me wondering, what are the safest all inclusive resorts in Mexico to call home for a week?
Four Seasons Resort Punta Mita is the safest all inclusive resort in Mexico. This all inclusive resort is situated on a 1500 acre private peninsula, about 10 miles north of Puerto Vallarta (1 hour car drive). Not only is the resort on private land, but they're family friendly and offer a lazy river perfect for the kids. The cost per night ranges from $800 for the Garden Casita room in the low season, and up to $13,000 in the high season, for the 5 bedroom Coral Beach House. Nestled away with 16 other sub-communities, this is the safest resort available in Mexico.
Four Seasons Resort is not only safe, but it's an excellent resort offering some of the best service you will receive anywhere in Mexico. Four Seasons also offers a spa, golfing, a fitness center, a fantastic beach, and even on-site child care. Not something you see too often at a resort in Mexico but they want you to know that you are in good hands.
As if being on its own private peninsula wasn't enough, the neighboring city Puerto Vallarta is one of the safest cities in Mexico, and home to some of the friendliest people you may ever meet.
View Four Season Punta Mita Accommodations
What Is The Best Resort To Go To In Mexico
With multiple resorts littered throughout Mexico, it may be difficult deciding which is the best one.
The best bang-for-your buck resort in Mexico is Hotel Xcaret, located in Playa Del Carmen. Featuring eco-infused architecture, surrounded by exotic turquoise water, this resort allows you access to 7 different theme parks, Xenotes, and Xhichen tours. Also included is transportation to and from the airport, and transportation to any of the parks offered. Prices vary, but average from $550 to $4500 per night for one room.
The price is extremely fair considering all that is offered, moreover if you have a family that may be difficult to please everyone, well not anymore. These theme parks and tours are amazing and are sure to please anyone. If you don't believe me, you can read about my experience of Xel-Ha aquatic theme park (one of the 7 theme parks offered at Hotel Xcaret) here.
This all inclusive resort is perfect for anyone who doesn't want to worry about a thing when they are on vacation. Literally everything is taken care of; transportation, food, activities, its all included at this amazing resort.
How Much Money Should You Bring To An All Inclusive Resort In Mexico
All inclusive resorts provide everything you need for your vacation, but how much money should you bring to an all inclusive resort in Mexico?
Considering all inclusive resorts provide you with everything you may need, you don't need to bring much money at all. However, if you plan on shopping, eating out, or enjoying some excursions, plan on spending roughly $50 to $150 per person each day. This will also cover the cost of transportation and tips for the resort staff.
If you are planning on spending all of your time enjoying your resort, then I recommend still bringing some emergency cash, $100 to $300 should be more than enough to cover any out of pocket expenses you may run into while vacationing in Mexico.
Do All Inclusive Resorts Water Down Alcohol
A common questioned I've heard asked a few times is; do all inclusive resorts weaken your alcoholic beverage by watering it down?
Resorts in Mexico are not known for watering down your alcoholic beverage however, they may not serve you as much alcohol as you'd like, additionally if your drink is on the rocks, the ice melts quick in Mexico and may give your beverage a watered down taste.
If I may, I suggest doing a few things if you are looking for a stronger drink when staying at an all inclusive resort.
Watch the bartender pour your drink
Order a double (twice the alcohol)
Tip well (this works great, and the bartender understands you want a kick)
Order a drink that does not contain ice
The beauty of drinking at your all inclusive resort is that you don't pay for any of your drinks, so even if you are receiving less than average alcohol levels in your beverage, you may order more until you are satisfied.
Mexico All Inclusive Resort Conclusion
If you haven't experienced an all inclusive resort in Mexico, I suggest you do at least once in your lifetime. It's a luxurious way of living for a week, and we all deserve some luxury once in a while. Maybe it's your first time traveling to Mexico? Staying at an all inclusive resort is a good way to be introduced to a new country, it's not such a huge culture shock as if you were to stay in a hostel in the center of the city.
Even if you have to save up for a year or two, it's worth the experience. Personally, I have had nothing but positive experiences at all inclusive resorts in Mexico. If you are planning on staying at an all inclusive resort or you have already stayed in one, I'd like to hear your experience. Please feel free to jump in and leave a comment, ask a question, or suggest anything at all, and I'd be thrilled to hear from you.
Stay safe, and have fun!