What Do You Need To Get Married In Mexico
Planning a wedding can be a stressful task. So, planning a wedding in Mexico seems like it it may be near impossible, but what exactly is required to get married in Mexico?
In order to get married in Mexico, a U.S. citizen marrying a U.S. citizen or non-Mexican must have a valid passport and your visitors permit (obtained at entry into Mexico). As well, you will need your notarized certified copy of your birth certificate and divorce decree or death certificate (if applicable), marriage application form (obtained from local registry office in Mexico) and lastly, blood test results which are to be done in Mexico.
Requirements For Marriage In Mexico
4 Witnesses
(over the age of 18)
Passport
Visitors Permit (FMM) Obtained at the port of entry in Mexico (or online prior to travel)
Translated Certified Copy of Your Birth Certificate
Translated Certified Copy of

Divorce Decree or Death Certificate
(if applicable)
Marriage Application Form (obtained from local registry office in Mexico)
Blood Test Results (to check for HIV and syphilis; must be done in Mexico)
X-Rays
(some states may require a chest x-ray to check for tuberculosis)
Alright, so you have gathered all the essential items on the list to be able to be married in Mexico however, there are still some things that need done to ensure everything is proper and ready for your big day.
Make sure you check that your passport is valid and up-to-date. Once you confirm your passport is good to go, you will need to obtain your visitors permit. You can either wait until you arrive in Mexico or, if you like to plan ahead, you can simply fill out and print this form online prior to leaving to Mexico here: www.inm.gob.mx/fmme
You will be required to fill out a lot of information pertaining to your travel plans.
First you'll choose if you're traveling via land or air.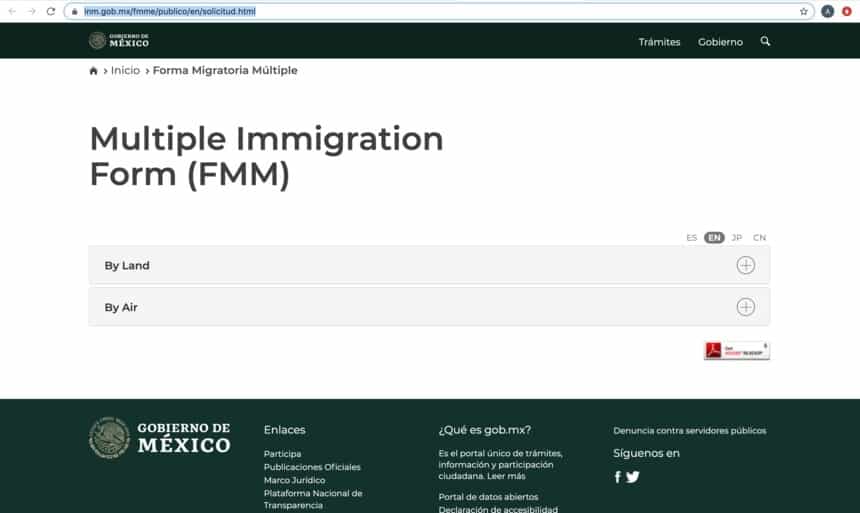 Next you will fill out info regarding your entry such as point of entry, date of arrival and departure, as well as your airline and flight number.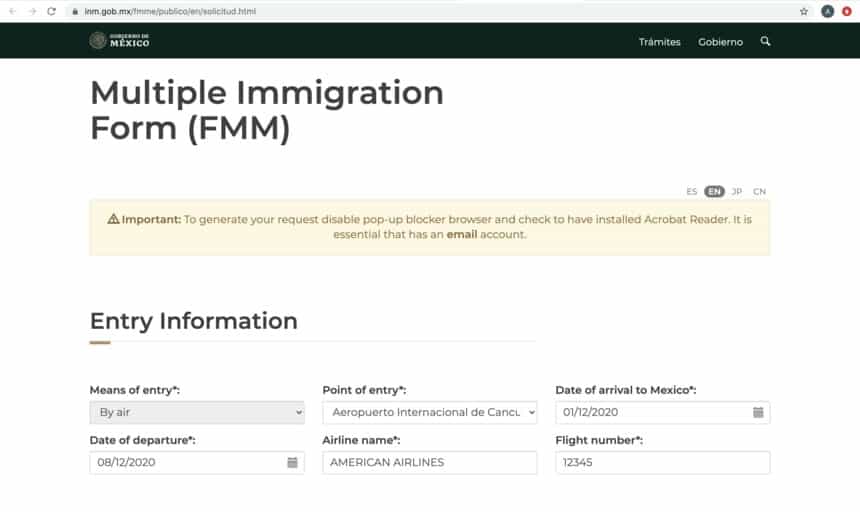 Then comes all your personal info, including all the information from your identification document such as your passport.
Finally you will fill in info about your place of residence and your trip info regarding reason for your trip, State, and exact address of where you are staying in Mexico.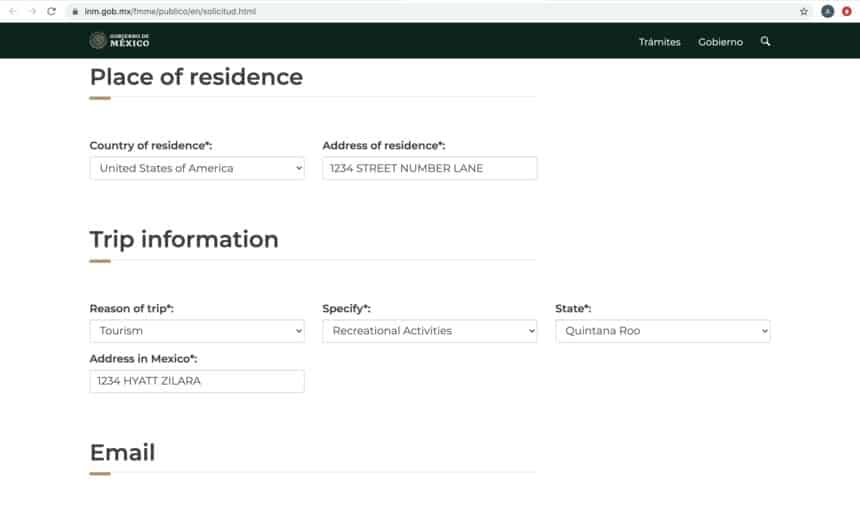 Then submit your email address and you will be sent a printable copy that you can have ready ahead of time.
This form is valid for 180 days AFTER it has been stamped when you arrive in Mexico.
Generally, the fee for this form is $25.00 and is included in your airfare. So if you are required to pay online, just be aware this is normal. Unless traveling by land and you leave Mexico within 7 days, then this form is free.
Now that you have your passport and your visitors permit squared away, make sure to gather your birth certificate and any other applicable forms you may have such as divorce decree or death certificate.
In order to present any type of official documents in Mexico that were not originally issued in Mexico, you will need to have them Apostilled (Notarized) in the original state where you obtained the documents.
HOW TO NOTARIZE YOUR DOCUMENTS
Step 1: Contact your state's Department of Vital Statistics (it's quicker if you can go in person rather than requesting online)
Step 2: Request a Certified Copy of your documents
Step 3: Pay the fee to obtain your certified and notarized copy
Remember, you will need to notarize any documents you bring that will be used to get married in Mexico.
HOW TO TRANSLATE YOUR DOCUMENTS
Now that you have your notarized certified copies all ready, you will need to have each document translated by a certified translation service into Spanish. There are multiple sites you can find online that will translate any document for you, for a small fee of course. A popular site with low cost and a quick turnaround time of 24 Hours is ImmiTranslate.com.
With ImmiTranslate, it's as simple as uploading images of your documents using your phone or computer, selecting any options you may need, then they will review your documents and send you a draft for final approval before finalizing and sending out your email and physical copies, as well as notarizations.
BLOOD TEST RESULTS
All Mexican states require a blood test to test for HIV and syphilis. You and your spouse's blood tests must be done no later than 14 day prior to your date on your marriage application, and must be performed in the state where you are getting married.
CHEST X-RAYS
Some Mexican states require a chest x-ray be done prior to your wedding, this is to check for tuberculosis. Check locally with the state in Mexico where you are getting married to see if this is required.
How Much Is A Wedding In Mexico
With an average cost of $20,000 to $50,000 for a wedding in the U.S. Many Americans find themselves exploring abroad in Mexico for a more affordable alternative for their wedding needs.
You can plan a small wedding in Mexico for as little as $2000, or go all-out for as much as $15,000. This all depends on the type of wedding you plan and, how many guests are attending.
Wedding Expenses

(Small, Private) $2,000 Wedding

(Large, All-Inclusive)
$15,000 Wedding

Plane Ticket

$250 – $700

$250 – $700

Hotel/Resort

$100 per night

$200 – $800 per night

Transportation

$50 -$100

$50 – $100

Reception Site

FREE if you use local registry

$900 – $5000

Wedding Cake

$50 – $150

$150

Food

$150 -$300

$500 – $2500

Music

$350

$350 – $1200

Photographer

FREE (Family or Friends) – $350

$550 – $10,000

Paperwork

$100

$100
These prices are for reference only and will vary
How Much Do All Inclusive Weddings Cost In Mexico
Can't decide if your should have a traditional small time wedding, or go all out? First thing we need to know is how much does it cost to have an all-inclusive wedding in Mexico?
The average cost of an all-inclusive wedding in Mexico ranges between $5,000 and $15,000 at a resort which generally includes your wedding cake, a beach ceremony, cocktails and an open bar, a buffet dinner for many people, as well as a DJ and all the necessary lighting and decorations.
The price range varies, and ultimately depends on which resort you are staying at, and which room you have booked.
Of course your guests will need to make sure they purchase their plane tickets and resort rooms as well, unless you plan on taking care of the cost for all of your guests. Here is a rough estimate of what your wedding may cost for each of your guests:
Wedding Expenses As a Guest

Cost US$

Plane Tickets

$250 – $700

Resort Room

$100 – $

800

Transportation

$100

Other Expenses

(food, tips, souvenirs)

$50 – $

200
TOTAL:
$900 – $5000 (for 5 days)
These prices are for reference only and will vary
Depending how long you and your guests are staying in Mexico, the average cost for your guests will range from $900 to $5000 per person, for 5 days and 4 nights, in and nice resort.
Where Can I Have A Wedding In Mexico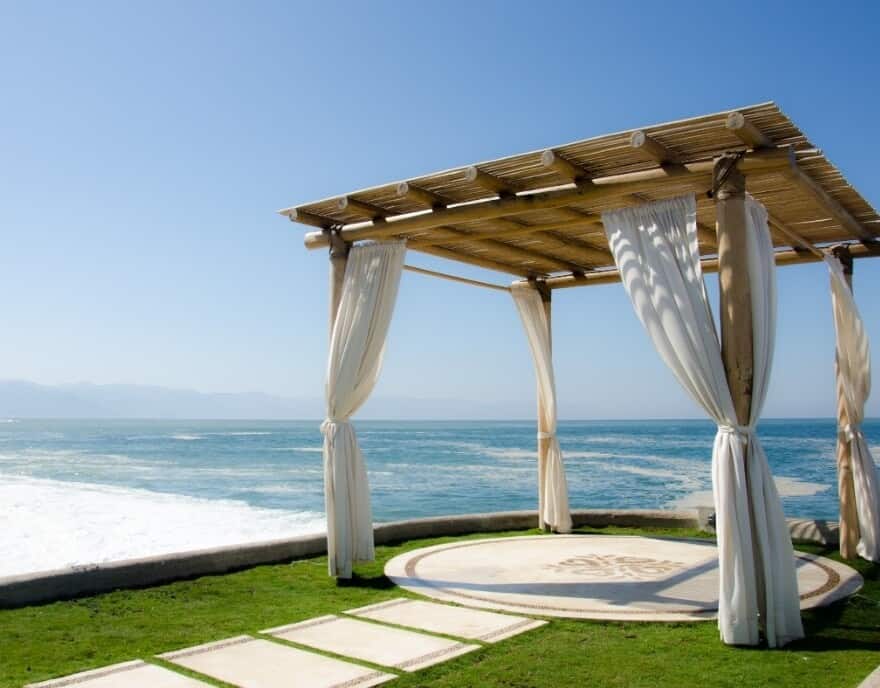 So you've decided you want to plan your wedding, but where should you look to start planning your wedding in Mexico?
Mexico has a unique variety of beautiful and exotic beach resorts, located in various cities throughout the country.
Cancun

(Hyatt, Zilara: Lavish & Opulent Package Starting at $5,055)

Cabo San Lucas

(Grand Velas Los Cabos: Starting at $6,800)
Playa del Carmen (Hotel Xcaret: $3,500 to $5,500)
Puerto Vallarta (Hyatt Ziva: starting at $1290 for 10 guest all the way up to $9549 for the luxury package)
Riviera Nayarit (Grand Velas, Riviera Maya: as low as $2,600 or $3,500 for the Premium Package)
Tulum Dreams Tulum Resort and Spa: ranging from $999 to $3,599
The Best All-Inclusive Wedding Resorts In Mexico
Mexico is known for it's gorgeous beaches and amazing sunsets, accompanied by friendly people and delicious food, so expect nothing less when it comes to the best all-inclusive wedding resorts in Mexico.
Cancun, Hyatt Zilara Lavish and Opulent Wedding Package


View Wedding Package:

Here
Feel the love with a decorated beach, oceanfront gazebo wedding with the Lavish and Opulent package offered at Hyatt Zilara in Cancun. This package accommodates the wedding couple and an additional 20 guests.
Don't worry about getting a cake because they have you covered, even the champagne for a toast is included, plus a free cocktail party and appetizers after the ceremony. Enjoy a 3 course meal at your 3 hour wedding reception then finish off the night with some champagne and chocolate-dipped strawberries, delivered to the newlyweds room on your wedding night.
Pricing for the Lavish and Opulent package starts from $5,055 and increases in price from there, depending on any additional requests or guests.
Overall, Hyatt Zilara is a topnotch resort with excellent service, you are in great hands if you decide to celebrate your new lives together at Zilara in Cancun.
Los Cabos, Grand Velas Wedding Package


View Wedding Package:

Here
Nestled on the most beautiful golden beach in Los Cabos, Grand Velas offers dreamy views where the Pacific Ocean meets the Sea of Cortez. You have four locations to choose from; Azul Garden, Convention Center, The Beach, and The Terrace, are all available for your ceremony and reception needs.
You can't go wrong choosing any of them. 3 options offer a scenic view of the Ocean, and the calming sounds of waves crashing. The Convention Center however, although still beautiful, is intended for large parties up to 774 guests!
Included in the Grand Velas wedding package is a complete catering service for your wedding, menu tastings, professional photographer and video, live music plus decorations, and of course your minister and wedding certificates.
If you desire that perfect beach wedding, Grand Velas is where you want to have your wedding. Prices start at $6,800, and can range upwards of $15,000 if you decide you want to splurge a bit.
Playa Del Carmen, Hotel Xcaret Wedding Package


View Wedding Package:

Here
Alright so, Playa Del Carmen's, Hotel Xcaret is one of my favorite all-inclusive wedding resorts available in Mexico for one very simple reason; they offer their hotel guests UNLIMITED ACCESS with round-trip transportation included, to all 7 of their parks and tours.
If you have read my blog post; Cancun Complete Excursion Guide: The Best Excursions You Need To Experience then you know just how much I love Xel-Ha Aquatic Theme Park after spending a whole day there having a blast.
Besides offering unlimited access to the best parks and cenotes available in Mexico, Hotel Xcaret offers a stunning beach location for your big day. Everything is done with care and consideration for the wedding couple, and their guests.
The only thing you need to worry about is how you're going to find time to explore all the awesome attractions included with your stay.
With a starting price of $3,500 up to $5,500, Hotel Xcaret is a steal for what's included and how pampered you will be by the hotel staff.
Puerto Vallarta, Hyatt Ziva Wedding Package


View Wedding Package:

Here
"Make your dream day reality" with Hyatt Ziva in Puerto Vallarta, offering amazing outdoor venues for any wedding situation. Hyatt Ziva is located on a private beach that is incredibly clean, and presents a picturesque backdrop of the beautiful Pacific Ocean.
The only thing you will hear at this secluded and luxurious beach is the waves crashing, and your hearts beating strong with love for each other as you say your vows.
After your cocktail reception, enjoy AAA Four Diamond restaurants with elegant catering options from Traditional Mexican Cuisine to Asian Fusion. Guaranteed you will end the night with a satisfied taste pallet, and a full stomach.
Hyatt Ziva's wedding package starts at a mind-boggling low price of only $1,290 for you, your spouse, and 10 guests. Opt for the luxury package however, and you will being paying closer to $9,549 for your wedding at Hyatt Ziva. Rooms here will range from $150 – $250 per person per night.
Grand Velas, Riviera Maya Wedding Package
View Wedding Package:

Here
Grand Velas, Riviera Maya is an exceptional choice for your Mexico wedding, offering 8 Different wedding venues to choose from.
| Venue | Offers: |
| --- | --- |
| Ambassador Garden | Overlooking the infinity pool and exotic gardens, enjoy incredible views of the Caribbean Sea from this 4,844 square foot space |
| Grand Class Beach | Oceanfront, glistening white sandy beach venue, with beautiful sea view and a relaxed beach vibe |
| Grand Velas Convention Center | For LARGE weddings, 32,521 square feet of space, unforgettable marble structure and double-height ceilings, can be split into 32 rooms |
| Ocean Terrace | Experience exotic ocean view from the first floor of Bistro Restaurant in the Grand Class Ambiance. This terrace will fit around 100 guests |
| Sen Lin Terrace | Be one with nature and enjoy surrounding views of mangroves and ancient forests. Has ample room for a small wedding with 1,555 square feet of entertainment space |
| Virgen De Guadalupe Chapel | Perfect for a Catholic wedding, placed in the heart of the Mayan Jungle surrounded by natural beauty, hosts 143 guests |
| Zen Garden | Open-air 19,000 square feet venue surrounded by luscious green garden and features a reflecting pool |
| Zen Pool Terrace | Open-air pool terrace next to the Zen Grand Pool. Offers 1,600 to 3,347 square feet of space, engulfed in the thick of the Mayan Jungle |
If none of these 8 amazing venues did not appeal to you, then maybe getting married in Mexico isn't really your thing..
All jokes aside, Grand Velas, Riviera Maya is an excellent resort for any type of wedding you could plan for, from small to massive weddings, Grand Velas has you and all your wedding essentials covered.
Tulum, Dreams Tulum Resort and Spa Wedding Package


View Wedding Package:

Here
Dreams Resort in Tulum is an awesome all-inclusive wedding resort, even if you're a couple on a budget but still want a Mexico wedding.
For only $999 you can have your wedding on the beach, in Tulum, with enough wedding cake and sparkling wine for up to 10 guests. Unfortunately a judge or minister is not provided for free for your ceremony with this package level nor is a dinner service provided so you would need to hire catering company.
However, upgrade to the Dreams of Love Package for only $3,399 and receive quite a bit more accommodations. This package will upgrade the cake and sparkling wine to serve 20 guests. As well, a private cocktail hour and private dinner reception (Silver Menu) for up to 20 people will be provided with this package. They even provide a photographer and 36 full colored pictures of your special day.
Get the biggest bang for your buck with the Dreams Ultimate Wedding Package offered at $3,799. This package upgrades your dinner to the "Gold Menu" for up tp 20 guests, also you will receive 50 colored pictures along with an edited video of your ceremony. Enjoy live Mexican music during your cocktail hour and relax with your choice of couples spa treatment.
Dreams Tulum Resort and Spa is perfect for everyone. With their budget friendly option of only $999, or their ultimate package for only $3799, Dreams Tulum Resort will surely please anyone with any budget level type.
How Many Days Do You Need In Mexico To Get Married
Weddings abroad take a lot of work and planning, so how long do you really need in order to get married in Mexico?
You need a minimum of 3 days in Mexico for your wedding. It will take a few days for your documents to be reviewed and processed, also your blood test and chest x-rays (if applicable) will take up one of these days. For the ultimate wedding experience, the average recommended time needed for a wedding in Mexico is 5 days. This allows for extra time in case any issues arise.
How Many Witnesses Do You Need To Get Married In Mexico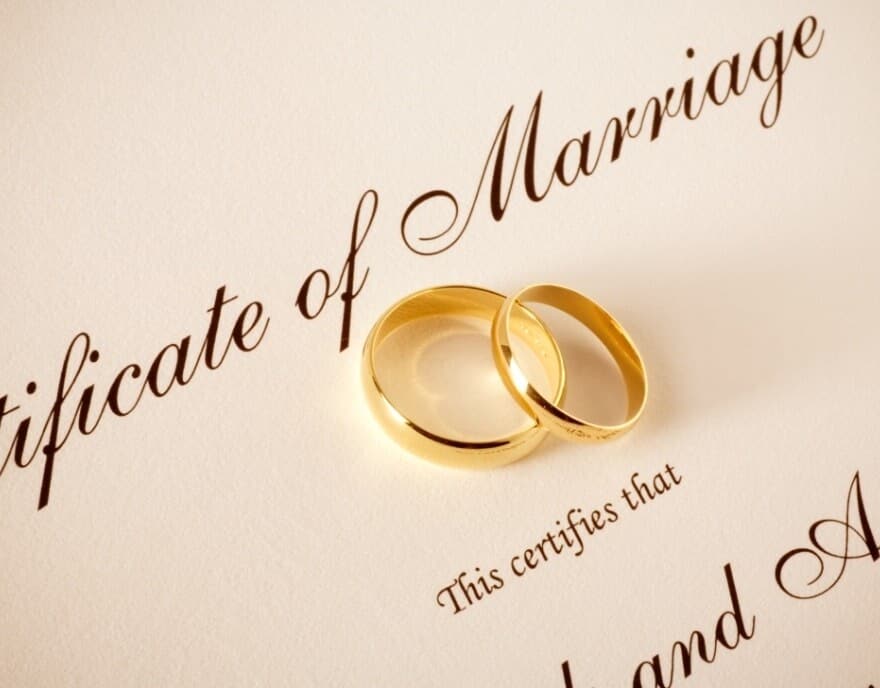 Your big day is finally here! But how many people do you need to witness your wedding to make it official?
Mexico requires four witnesses at least 18 years of age with a valid passport and visitors permit present at the time of your ceremony.
What Happens If You Get Married In Mexico
I was pondering on this question for a while, what happens if you are married in Mexico, and what happens when you arrive back home?
The only legally recognized wedding in Mexico is a Civil wedding. So if you plan on having a religious wedding as well, you will need to have a Civil wedding in addition in order for your marriage to be recognized in the U.S. Plan on receiving your marriage license in the mail in 1 to 4 months after your wedding. Source
Do I Need To Register My Marriage In The U.S. If I Get Married In Mexico
Getting married in Mexico is a great option with amazing perks, but is your marriage considered valid in the U.S.?
If you have a legal civil marriage wedding in Mexico, then you are considered legally married in the U.S. as well. However, some states in the U.S. may require you have your marriage license translated back to English to be considered valid.
How Old Do You Need To Be To Get Married In Mexico
Getting married in Mexico is a dream come true, even for some youngsters. But how old do you have to be to get married in Mexico?
In order to be married in Mexico you must be 18 years of age or older. If you are under 18 but have parental consent, then boys as young as 16 and girls as young as 14 can be married together in Mexico.
Is Same-Sex Marriage Allowed In Mexico
Mexico is known to be very LGBT friendly, but how does Mexico handle same-sex weddings?
As of 2015, federal court order ruled that all states in Mexico may allow same-sex marriage, or at the very least, all states must recognize the marriage when performed in another state.
The first same-sex marriage in Mexico actually took place on March 16, 2007 in Mexico City, and the pace has only be increasing rapidly since then. If you and your partner are looking for that perfect romantic wedding destination, don't shy away from Mexico, it's the perfect wedding destination.
You'd also want to check out Cancun, which has some of the best LGBT-friendly resorts.
Mexico Wedding Conclusion
Planning for you dream wedding in Mexico can be a stressful experience, but it shouldn't be. Your special day and the days leading up to your wedding should be all about you and your spouse, and celebrating the love you have for one another.
Mexico is the perfect wedding destination in my opinion. With glistening white sandy beaches, firey sunsets, and the natural music produced from waves crashing onto shore, you and your spouse will be delighted and so happy you chose Mexico for your destination wedding.
The best part about planning your wedding in Mexico is everything that is offered. Great food, exotic views, and most importantly, the love and kindness of everyone who is involved in your wedding, and the people who ultimately treat you the way you deserve to be treated, on your special day.
Thank you for stopping by and checking out the page. Please leave any comments, questions, or concerns you may have. If you have planned a wedding, or are thinking about planning a wedding in Mexico, please drop a comment with your personal experience, I'd love to hear about it.