If you are a traveler looking for a comfortable and fun resort for you and your partner, you will find plenty of friendly gay resorts in Cancun.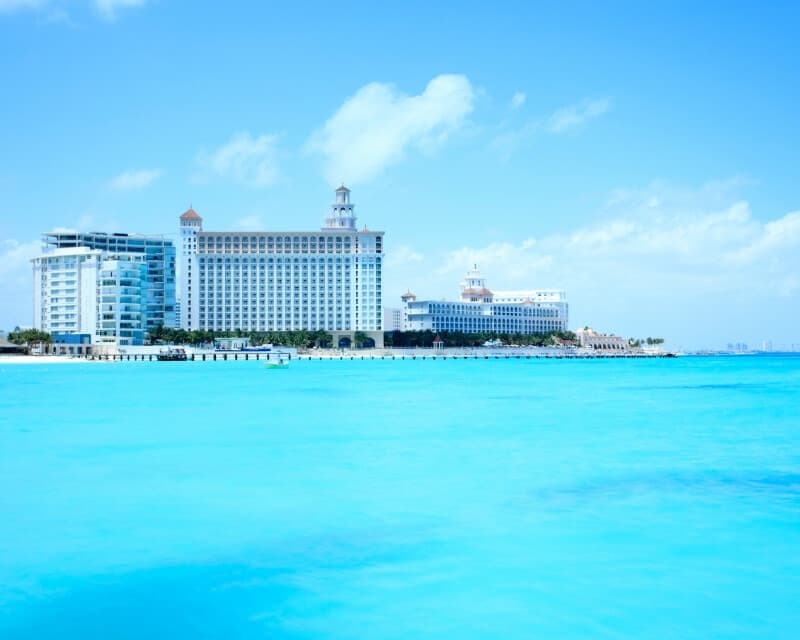 Here's What We Cover:
The Best LGBTQ-Friendly Resort In Cancun
JW Marriott Cancun Resort & Spa
The best LGBTQ resort in Cancun is JW Marriott Cancun Resort & Spa. Marriott was one of the first hotels to offer equal same-sex partner benefits. Marriott is also a member of the National Gay & Lesbian Chamber of Commerce, as well as many other diversity programs. Marriott has a lot to offer to be a 5-star resort. You will enjoy 24-hour room service, 6 restaurants, a bar, and a convenience store! As well, they have an indoor spa pool, and a separate men's and women's sauna. The rates start around $270.00 USD per night for a King Bed Ocean View Guest Room and up to $440.00 USD per night for a King Bed Oceanfront Large Bedroom Suite.
Marriott is a first-class hotel with first-class service. This hotel is beautiful and offers one of the best views in Cancun. If you want to live like royalty when staying in Cancun, the Marriott is your best option.
While you're here you may also find my guide on the best places to shop in Cancun interesting!
Temptation Resort Spa
Temptation Resort Spa is described as a "Playground For Grown-Ups". This luxury resort offers adults 21 years and older, an energetic and trendy environment. Along with its sexy and fun atmosphere, Temptation has 7 restaurants, playgrounds for adults, daytime parties in the Sexy Pool, and Bash theme nights, where every night is a different fun and exciting dress code party!
If you are looking for a nice relaxing getaway resort, this is not the place for you. This resort is for adults looking to have fun, and party. The music doesn't stop bumping until late at night, or rather early in the morning at around 3 am. The staff is very attentive and does their best to ensure you're having a great time.
If you enjoy partying in Vegas, this resort is for you. You won't ever run out of exciting things to do. Rates for this party palace start around $350.00 USD per night for the Trendy Garden View room, and upwards of $530.00 USD per night for the Bash Tower Ocean View room. No matter what room you choose, you're bound to have a blast! You will also receive complimentary breakfast in any room you choose.
Grand Oasis Sens
Grand Sens is an adult-only luxury all-inclusive resort. Located in the heart of the Hotel Zone, this resort is the perfect place if you're looking for a romantic getaway with your partner. Don't worry, because Grand Sens also provides a ton of entertainment options if you desire.
Red Casino is a Las Vegas-style casino where you will find classic casino games such as blackjack, poker, roulette, and much more. You can enjoy all these games with a drink in hand from the bar that offers up a variety of beer, spirits, and wines.
If you are looking for one of the best entertainment shows in Cancun, Red Circus is offered every night in the lobby. Sit back and enjoy artists, contortionists, and acrobats doing some amazing things you have to see! The best part about Red Circus is there is no need to leave your hotel to experience this one-of-a-kind performance.
If you're looking to get out on an adventure, then experience Kinky On Board. You will board a fun and sensual pirate ship, and sail the Caribbean Sea. This party ship includes dinner, cannons, and fireworks all combined for an unforgettable night.
If you prefer to stay in your hotel, then visit Kinky Night Club. With burlesque-style presentations, music, and sketches, your night will become an unforgettable one for the books.
Grand Oasis Sens also has 7 restaurants, 6 bars, and a Cafe. As well there are many amenities including a gym, an infinity pool overlooking the Caribbean, aerobatics, yoga, Zumba, and a beauty parlor. This place really has it all. Rooms range from $270.00 USD per night for a standard room up to $500.00 USD per night for Sian Ka'An Master.
Sun Palace
This all-inclusive adult-only resort, is the perfect couples resort. Sun Palace offers 4 restaurants and 3 bars. This resort also has a luxurious spa, a beachfront romantic dinner option, an infinity pool, and nightly shows. Nightly shows include karaoke, Michael Jackson shows, and a fantastic fire show.
Sun Palace is known for its impeccable customer service that is hard to beat. They really know how to cater to their guests and make you feel as comfortable as possible. The rooms are clean and smell good, unlike some other resorts that have an old musky smell.
As far as the area surrounding this resort is spectacular. The beach is perfect, and there are things nearby you will enjoy like the Underwater Museum of Art. At Sun Palace, you will sleep like a baby, and wake up to a beautiful morning sunrise every day. If you are looking for the perfect couples' getaway, look no further. Sun Palace is your place.
Prices range from $460.00 USD per night for the Deluxe Ocean View room, to upwards of $1000.00 USD per night for the Presidential Suite. This all-inclusive resort is well worth the price for its unmatchable customer service alone. You won't be disappointed at this luxurious resort.
You can book your room directly through Sun Palace at palaceresorts.com where you will get the best rate. I will make a small commission at no additional cost to you.
Secrets The Vine Cancun
Secrets The Vine is a highly-prestigious AAA Four Diamond Awarded All-Inclusive Resort. A Four Diamond-rated resort has to undergo inspections in which they are required to meet high standards in accommodations, dining and amenities, and of course service. Secrets offer what they call Unlimited Luxury.
These amenities include limitless access to gourmet a la carte dining options without reservations required, unlimited top-shelf spirits as well as fruit juice and soft drinks, 24-hour room service, pool and beach wait service, theme parties, oceanfront bar and entertainment venues, and so much more!
Along with all these luxurious amenities, Secrets offers a variety of activities like the turtle release program (July to December), beach and pool volleyball, dance lessons, mixology cocktail classes, water aerobics, and yoga are all available at no additional cost to you.
Also included are theme night and beach parties, live musical performances, and gala shows. You will enjoy two infinity pools and a terrace pool which are all heated. For your convenience, a large fitness center with everything you may need or want is available from 6 am – 6 pm. Talk about luxury.
Other activities are available for an additional cost such as deep sea fishing, snorkeling and scuba diving, wine tasting and pairing, as well as two championship golf courses.
All 497 non-smoking chic rooms feature Italian porcelain floors, a luxury bathroom wrapped in white glass, a private balcony, and a complimentary mini-bar that is replenished every day. Secrets The Vine has really thought of everything its guests may want, which is why this all-inclusive resort is so amazing for you and your partner.
Rooms start at $235.00 USD per night during the low season for the Deluxe Partial Ocean View, and range as high as $800.00 USD per night for the Preferred Club Presidential Suite.
Golden Parnassus All-Inclusive Resort & Spa
The Golden Parnassus is an all-inclusive adult-only resort and spa located in a fantastic location on an unexplored beach between the Nichupté Lagoon and the Caribbean Sea. Golden Parnassus has 7 restaurants, and 4 bars to choose from.
Also available are swimming pools, an outdoor jacuzzi, a spa with a sauna, a steam room, a gym, as well as tennis courts. Adult leisure activities where sports, parties, and group games are combined for your pleasure. Live concerts, cosmic shows, contests, dances, and theme parties are just some of the entertainment options you will enjoy while staying at Golden Parnassus.
Golden Parnassus is the definition of hospitality, the staff here caters to their guests accordingly and will make you feel at home. The rooms though a little dated, are kept very clean and are welcoming. This resort is smaller than some others in the area, which makes it feel even more like home. If you enjoy being pampered and treated well, this is the resort for you.
The Golden Parnassus Resort is one of the cheapest in terms of room rates. With two rooms offered here, The Deluxe Lagoon View starts at $180.00 USD per night, while the Luxury Room With Sea View starts at $210.00 USD per night. This is an excellent deal in a great location. Why wouldn't you stay here?
Best Gay-Friendly Hotels In Cancun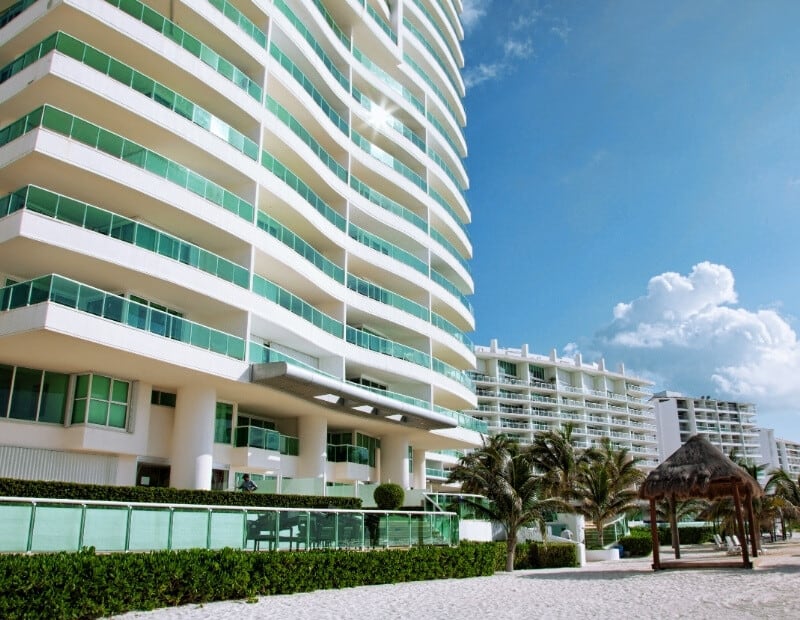 If you are looking for the best gay-friendly hotel in Cancun then I have found it!
International Suites is characterized by its warm and welcoming atmosphere and is the best gay-friendly hotel in Cancun. Each room in the hotel includes a list of amenities, including but not limited to a balcony or terrace, kitchenette, breakfast bar, free cable and wifi, and a mini bar (with an additional charge of course).
Although the hotel itself is located in downtown Cancun, right next to Parque De Las Palapas and nearby Mercado 28. They also have an outdoor rest area and a beach club in the Hotel Zone. So even if you may not be sleeping next to the Caribbean, you can head down to the private beach and enjoy as much of the Caribbean as you can handle.
The rooms are spacious and comfortable with a colonial-style design. There are two rooms to choose from, the Junior Sweet or the Master Suite. All the rooms are exceptionally clean. The Junior Sweet will cost you around $125.00 per night, and the Master Suite will be just a bit more averaging $145.00 USD per night.
This is a great deal considering the location and the fact they have a beach in the Hotel Zone that you are welcome to any time. Are you ready to stay in your home away from home in a pristine downtown location? Well, here you go!
Four Points by Sheraton Cancun Centro
Four Points is a 4-star hotel located in downtown Cancun making it the perfect place to experience all that downtown Cancun offers. Explore Plaza Las Americas, which offers upscale shopping, dining, as well as entertainment. There is an Ado Bus stop located outside of the hotel for your convenience, take the bus anywhere you want and explore all of Cancun. I recommend nearby Playa Delfines Beach, the best beach in Cancun.
Inside this hotel, you will find The Eatery Bistro & Restaurant, serving up breakfast, lunch, and dinner. Also available is a BBQ sports bar, and a Pool bar. The staff here is very welcoming and knowledgeable about the local area.
As far as things to do, they have a 24-hour fitness center, and a rooftop pool open from 8 am to 7 pm, 7 days a week. The Traditional King room starts at only $88.00 USD per night, with the most expensive room being the Junior Room Suite with a City View, at $150.00 USD per night. If you don't have your heart set on staying in the Hotel Zone and prefer somewhere more in the city, Four Points is the perfect hotel for you and your partner.
El Rey Del Caribe
El Rey Del Caribe is an ecological hotel located in the heart of downtown Cancun since 1983. Enjoy a tranquil atmosphere surrounded by gardens and fountains. The rooms are very comfortable and modern and are equipped with either a queen-sized bed or two double beds. The rooms are spacious with a private bathroom (using solar panels to heat all the water), a mini bar, a kitchenette, and a dining area, cleaning is also available daily.
The hotel offers complimentary breakfast from 7 am until 10:30 am. They also have an outdoor pool with a jacuzzi. Or enjoy a spa massage and daily yoga as well. The best part about this hotel is its low environmental impact (sustainable). El Rey has received multiple awards and mentions from respectable travel websites such as Tripadvisor and Lonely Planet.
Two blocks away from El Rey you will find a bus station that will take you 5 minutes away to Playa Tortugas, a known beach spot for locals, offering clean sand and that gorgeous turquoise water we all love so much.
For a 1 Full-Size Bed; 2 Person Max, breakfast included, you are looking at around $90.00 USD per night while the most expensive room, 2 Full-Size Bed; 4 Person Max, breakfast included will be about $111.00 USD per night. I would snatch up a room in this hotel just for how unique and relaxed it is.
The Best Gay Resorts in Cancun: Conclusion
There are over 250 hotels and resorts to choose from when staying in Cancun. I have researched many of them and found these options to be the most gay-friendly locations. Not to say that there aren't more, but I would choose any of these listed, over any others for the best experience. If you don't believe how great these locations are, check them out for yourself. A quick Google search will bring up many satisfied travelers' experiences, or better yet, book any one of these gay-friendly resorts for yourself and experience the most welcoming people and atmospheres.
If you want to have an excellent time in Cancun with your partner and be comfortable, you can't go wrong with any of these options. Choose the one that best fits your desires and budget, and you will have the best experience of your life!