If you've ever wanted to be a marine biologist, or the ocean holds a special place in your heart, then Cabo Pulmo NEEDS to be the next destination on your list. With one of the most diverse and plentiful marine life populations in the world, this little seaside village has way more going for it than meets the eye. Just below the surface, you'll discover a whole new world. 
From scuba diving to swimming with exotic species, a visit to the Cabo Pulmo Marine Reserve promises a week full of thrilling ocean adventures (and yes, a few overland excursions too). 
Ready to plan the trip of a lifetime? Get the D.L. on when to go, where to stay, what to eat, and the top things to do in Cabo Pulmo with this comprehensive travel guide. 
Table of Contents
When to Visit
While the warm temperatures might make Cabo Pulmo ideal for sunbathing in the sand year-round, there are a few things to keep in mind when planning a wildlife-watching/water sports-centered trip. Namely, you'll want to keep wind, water temperatures, and migrations in mind. 
The water is warmest and calmest from the summer into the fall. That said, winter is the time when most whale species have arrived (between December and March). For the best combination of conditions, we'd recommend a November trip. This way, you'll still be able to scuba and snorkel without concern, swim with whale sharks while they are in the region, and hopefully catch the first whales passing through. 
Getting There
The easiest way to get to Cabo Pulmo is to fly into The Los Cabos International Airport (SJD) and then rent a vehicle and drive yourself. We'd recommend a vehicle with 4-wheel drive as some of the more remote roads are not well maintained; or even a campervan to kill two birds with one stone. You could also hire a shuttle service to get you there, but this will limit transportation once you arrive. 
The drive to the border of the Cabo Pulmo National Park will take about 1 hour and 40 minutes. 
Pro Tip: Whether you are renting or adding Cabo Pulmo to your road trip itinerary with your own vehicle, you will need to ensure that you have valid Mexican insurance. We always recommend Bajabound, but you can get the full rundown here. 
Top Things to Do in Cabo Pulmo
Ready to fill your days with adventure? Here's a list of Cabo Pulmo's best aquatic activities and a few dry land excursions to help round out your itinerary:  
Scuba Diving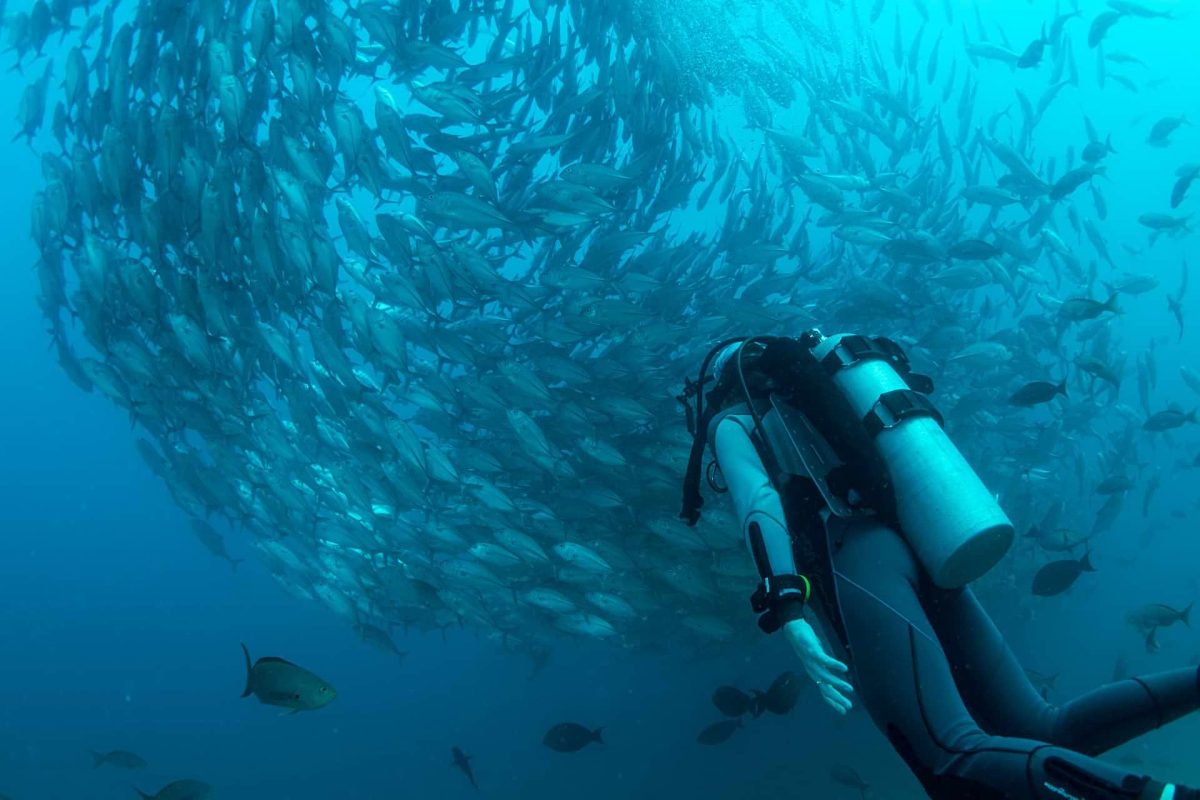 This marine park is the ultimate playground for new and seasoned scuba divers alike. Trust me, if you've ever wanted to get your certification, there's no better place to learn and log those introductory dives than in this sea full of color. As for experienced divers, Cabo Pulmo is your oyster! Get ready to cross a whole bunch of rare finds off your SCUBA bucket list. 
For an in-depth look at SCUBA is the park, you can check out our guide here.
Snorkeling
If you're not quite ready to strap on an oxygen tank, that's okay! With the reefs once again thriving, there's so much to see with fins and a snorkel. This rare opportunity to explore coral ecosystems in all their former glory- teeming with life and vibrant hues- is not one you want to pass up. Plus, the water here is crystal-clear so you'll have maximum visibility. 
Whale Watching
The Sea of Cortez's incredible whale-watching opportunities are almost solely responsible for making this a year-round destination. While the winter months can bring rougher (and colder) water that take most watersports off the table, they also bring migratory pods of some of the most awe-inspiring creatures in the deep blue. 
Target a trip between January and March to see for yourself how the planet's gentle giants are making a splash. From the gentle songs of the humpback to the independence of a solitary great blue, this encounter is sure to make a lasting impression. 
Beach-Going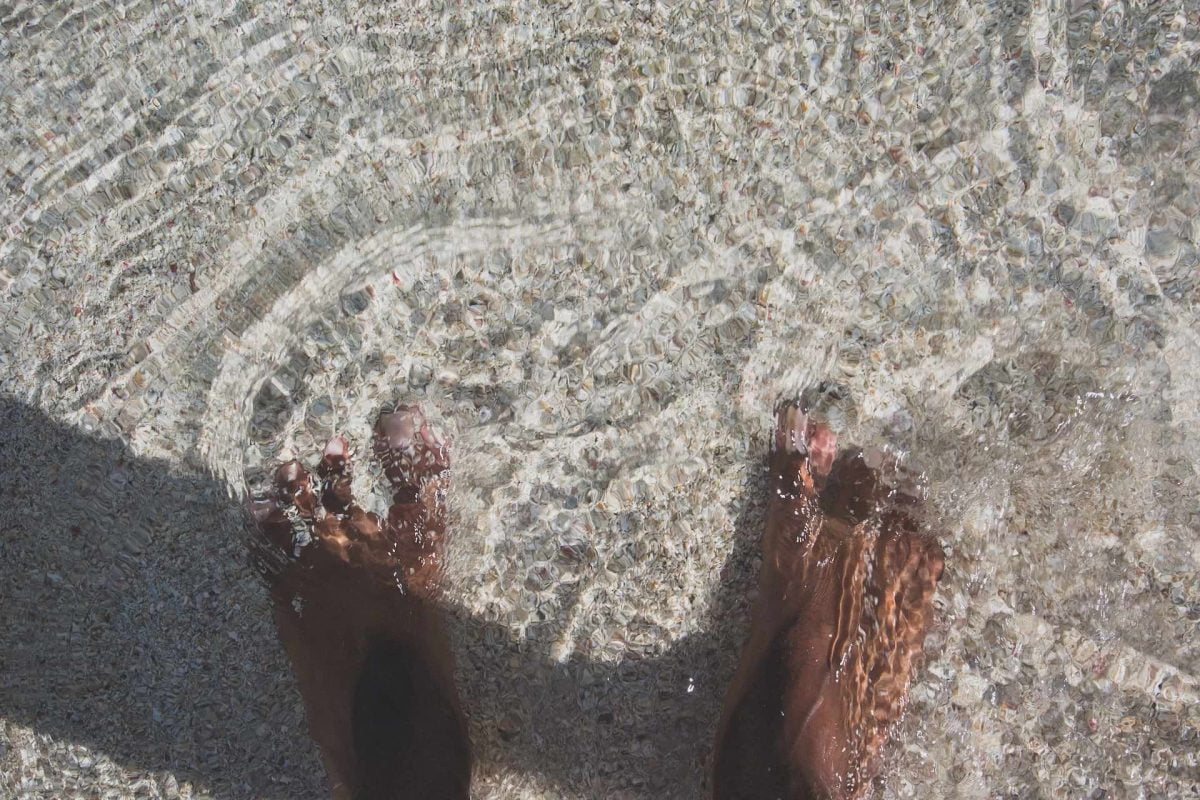 It might be hard to imagine the shores of Cabo Pulmo are equally as impressive as the sea itself, but they are. In fact, these are some of the best beaches in Baja. I promise you, you'll want to plan at least one full beach day during your stay. Playa Los Arbolito is probably the most popular beach, but Las Sirenas Beach is also an excellent choice. 
Visiting Cabo Pulmo beaches is also a winter-friendly activity since swimming is optional and wading will mean less concern about water temps than full submersion. 
Swim with Whale Sharks
Tourists aren't the only ones visiting the Sea of Cortez! Whale sharks pass through to feed from August to November, and an encounter with one of these giants of the deep is one of the top things to do in Baja. 
Top tip: You might want to book your tour well in advance since this activity is so popular and spots are limited in compliance with conservation policies. 
Hike Sol del Mayo
If you want to feel like you've landed on another planet, you need to hike to Sol del Mayo (also known as the Santiago Oasis) which is just 45 minutes from Cabo Pulmo. With smooth, grey rock canyons, cascading waterfalls, and natural pools practically begging you to take a dip, this is a place you'll never want to leave. In fact, this trek is so good, it even made our list of the top hikes in Baja! 
Free Diving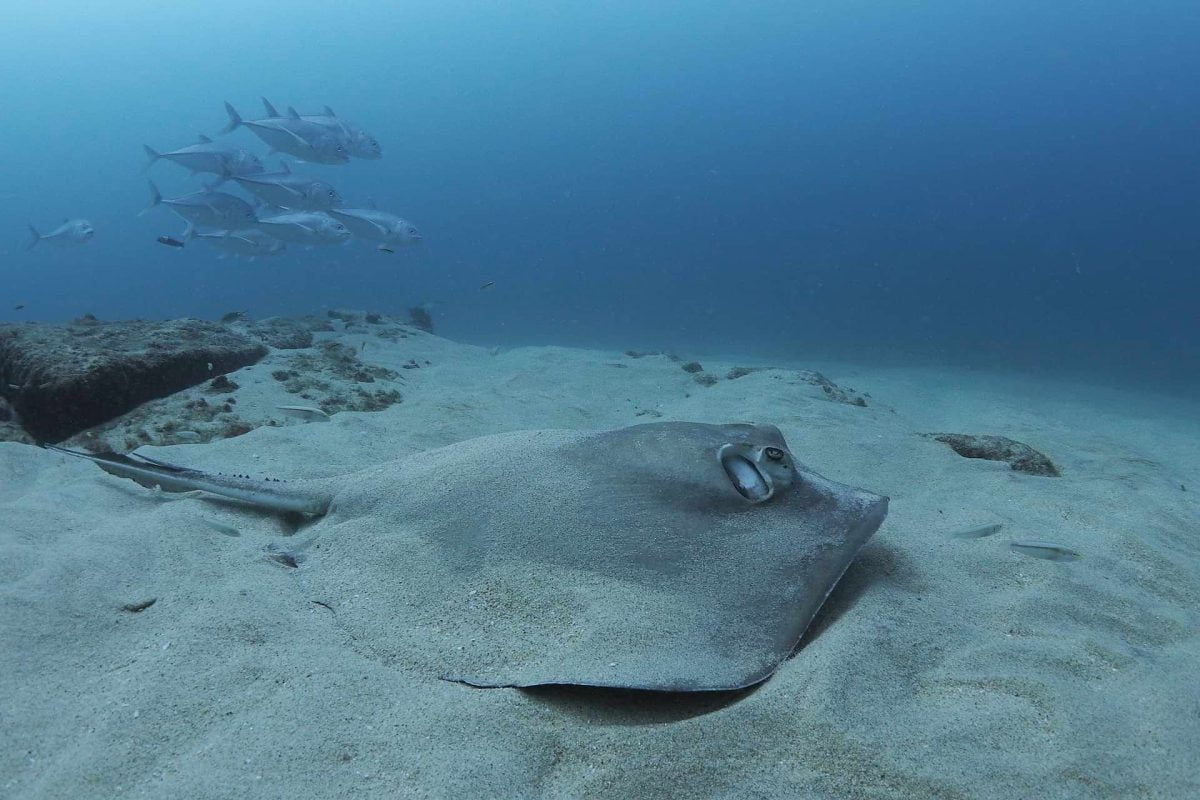 If you've ever had the slightest interest in learning to free dive, Cabo Pulmo is the place to do it. A basic introductory course will teach you all the basics of breathing and relaxation, plus feature two ocean dives where you can mingle with giant shoals of fish. You can even take a 2-hour crash course if you're a little short on time. 
Mountain Biking
Try getting your adrenaline rush on dry land by zipping through Cabo Pulmo's mountain biking trails. With dusty red rock and giant cactus, this experience is as scenic as it is thrilling. Of course, you could set out on your own, but half-day tours are also available with a local guide, which makes things easier if you're not traveling with your own set of wheels. 
Where to Eat 
With a town so small, Cabo Pulmo's culinary offerings are simple, but that's not to say it's lacking. Both tasty and reliable, this handful of restaurants offers a surprising amount of variety, with cuisine to cater to a plethora of different cravings. 
Tacos & Beer
For unfussy Mexican cuisine (packed with flavor, of course) and a cold cerveza, Tacos & Beer is the ultimate choice. Located on the beach, with picnic tables and twinkly lights, this is the perfect pitstop to refuel after some ocean exploration, or for some low-key nightlife before hitting the hay. 
📍 Where to find it: Unnamed Road, 23574 Cabo Pulmo, B.C.S., Mexico
Pepe's Pizza
Now, Cabo Pulmo's regional cuisine is amazing, but if you end up craving a little Italian, Pepe's has got you covered. This little restaurant offers some pretty amazing pizzas and even vegan options! The dine-in patio has a fun vibe with occasional karaoke after dark, but they also offer takeout and free delivery, making this a great grab-and-go option for busy days. 
📍 Where to find it: Camino Cabo Este, 23540 Cabo Pulmo, B.C.S., Mexico
La Palapa Cabo Pulmo
Looking for a more sophisticated meal with ocean views? La Palapa is about as fancy as it gets in Cabo Pulmo. The atmosphere is still pretty laid back, but they do have the best seafood around and some stunning food presentations. Why not treat yourself to some lobster? 
P.S. Plenty of previous diners rave about their fish tacos if you want to go the more casual route. 
📍 Where to find it: Cabo Pulmo National Park, Calle Acceso a la Playa, Frente a S/N, la Playa, 23570 Cabo Pulmo, B.C.S., Mexico
El Caballero
This open-air palapa provides a break from the sun while maintaining a beachy vibe; the perfect destination for breakfast, lunch, and dinner. After all, who wouldn't want to hunker down over a plate of huevos rancheros with a gentle sea breeze keeping them cool? 
📍 Where to find it: Cabo Pulmo National Park, Camino Cabo Este KM 26, 23574 Cabo Pulmo, B.C.S., Mexico
Where to Stay at Cabo Pulmo Hotels 
Four Seasons Resort Los Cabos at Costa Palmas
If you have a big budget for your stay, the Four Seasons Resort Los Cabos at Costa Palma represents the height of luxury. Perched on an endless stretch of shoreline in an exclusive gated community, you'll have access to complimentary beachfront fitness classes, catamaran sailing, and sommelier-led wine tasting.
And, of course, if you take your rest and relaxation seriously, you'll be happy to know that the Four Seasons curated their amenities with your wellness at heart. Not only does this Cabo Pulmo resort feature six serene pools, but it also has a full-service spa and private spa suites. From complimentary champagne, cheese, and fruit to personal hydrotherapy tubs, you're sure to leave in a total state of calm. 
Why We Love It
Suites with private plunge pools
Located in an exclusive, gated community on the Sea of Cortez
Various fine dining experiences from a grillmaster in the lemon grove to a trendy "coffee lab" 
El Encanto de Cabo Pulmo
For a more homestyle stay, choose El Encanto de Cabo Pulmo. This small hotel boasts a colorful interior and oodles of authentic sculpture and artwork. El Encanto also emphasizes the beauty of indoor/outdoor living, with a mountain view terrace, billowing fabrics, and an outdoor shower to cool off after a long beach day.
Why We Love It
Traditional Mexican casita decor
A two-minute walk from the beach 
Private gardens designed to attract a wide array of birds- with identification guides in every suite. 
Cabo Pulmo Camping
Cabo Pulmo Marine Reserve is a great place for wild camping, so if you've been wanting to try out the #vanlife, this would be a good time. Here are a few of the best places to camp for free within the reserve:
Miramar – Miramar offers a sandy beachfront and stays relatively quiet, as it's less popular than the next two sites. It's perfect for beach bums who want a more secluded experience, but remember to follow safety precautions when staying alone in remote locations. 
Los Frailes – Los Frailes offers the best of both worlds with a stretch of sandy beachfront for wading in and a rocky beachfront with great offshore snorkeling. Best of all, though, this wild camping site offers a sense of community. It's quite popular with long-term travelers and you'll likely make some new friends.
Los Arbolitos RV Park – Now listen, this is technically an abandoned campsite, but it's still totally safe. The services there (like showers) are no longer maintained, but it's still the perfect place to park for the night, with water access, easy access to town, and some excellent wildlife watching. Many campers say they watched whale pods pass by each morning! 
Vista Ballena Glamping
Would you prefer your camping experience to be accompanied by some modern comforts? Vista Ballena offers a wide range of glamping options from modestly furnished teepees to open-air penthouse suites for a true "night under the stars" experience. Alternatively, you can rent a simple hookup site and pitch your own tent, with access to communal spaces and amenities. All this on a quiet cove at the foot of the Sea of Cortez? Yes, please.  
Why We Love It
Beach access across the road at the edge of the Cabo Pulmo National Park
Palapas and hammocks for optimal relaxation
Hot showers and full bathrooms 
Cabo Pulmo Travel Guide FAQ
Is fishing in Cabo Pulmo allowed?
No- there is absolutely no fishing allowed at the Cabo Pulmo Marine Reserve. Though it might seem tempting with such a variety of sealife calling the reserve home, this area is only teeming with rare species thanks to rehabilitation (and now conservation) efforts, which include prohibiting fishing that can disrupt the ecosystems- specifically the reefs.
Do I have to pay for admission to the Cabo Pulmo Marine Reserve (Parque Nacional Cabo Pulmo)? 
Yes. Every visitor to the Marine Reserve is required to pay a $20 entrance fee which helps to fund the conservation efforts and enforce policies that protect the environment. You will receive a bracelet that you must wear during all water activities to show that your entrance fee has been paid. Please note that many tour companies require you to acquire this bracelet yourself at an additional cost, so you should verify whether or not it is included in your excursions.
What are the top species I could see in Cabo Pulmo National Park?
The possibilities are certainly endless, but a few standout sea creatures and phenomena to keep your eyes open for include: 
– Fin, Humpback, and Blue Whales
– The world's largest shark population: including hammerheads and tiger sharks
– Jumping Mobula rays 
– Olive Ridley and Leatherback Turtles
– Baitballs of fish 
Do I need to hire a guide to visit Cabo Pulmo? 
No, but you might want to. The town surrounding the reserve is not gated so you are free to explore on your own. There are also a few spots where you can snorkel without a guide, as long as you are following guidelines and wearing a life jacket (yes, it is required if you are entering the water). 
Since there are a lot of rules when interacting with wildlife, not to mention lots of remote "secret spots", exploring Cabo Pulmo Marine Reserve with a tour company is highly recommended. You'll likely get to see and do a lot more, and you're supporting the sustainable tourism industry. It's a win-win.
What should I pack for a trip to Cabo Pulmo?
In addition to your average beach vacation packing list, there are a few extras that are practically necessities when heading to the reserve: 
1) Underwater Camera Housing/Waterproof Disposable: Trust me, you'll want to document this underwater paradise and all its inhabitants. 
2) Reef-safe Sunscreen: Hey, we get it, You've got to protect your skin under the beating sun- especially if you're spending all day in/on the water. But protecting the reef is also of utmost importance, so please choose a sunscreen that won't damage the ecosystem. 
3) CASH: This one is not optional- trust me. There are no ATMs in the town and most businesses operate on a cash-only basis. 
4) A Satellite Phone (or other emergency contact device): This isn't a 100% necessity, but there is almost no mobile signal in town, or on the reserve. This extends to wifi as well. While this can present a wonderful opportunity to disconnect and engage with your surroundings, you may want to have a communication method available for emergency situations. 
5) A Short Wetsuit or Rashguard: The water is typically warm enough that you don't need a wetsuit for comfortability, but it's a great extra layer of protection against small jellyfish stings, cuts and scrapes, and sunburn. 
How far is Cabo Pulmo from Cabo San Lucas? 
Cabo San Lucas is about 2 hours by car from Cabo Pulmo, but it feels a whole world away. If you'd like to cut down on some of the remote travel, since some of these remote roads can be hard on a vehicle, you may want to consider booking a multi-day guided trip from Cabo San Lucas.