Tulum is a must-see destination, located on the east coast of the Yucatan Peninsula, in Mexico. While the beaches and the town offers many attractions and activities for fun and enjoyment during the day, the nightlife in Tulum is awesome too. So, what is there to do in Tulum at night?
For the night owls, the Tulum Nightlife provides many options such as dance parties, barhopping, shopping, sampling local Mexican cuisine and also taking part in Mayan ceremonies.
What use to be a bustling pre-Columbian Mayan site is now a boutique beach town attracting over 2 million tourists every year, and with that comes plenty of nightlife options.
Enjoy A Night-Out Clubbing.
For nightlife lovers and party animals Tulum has a lot of alternatives. There are a wide range of choices from beachside DJ sets, Caribbean salsa rhythms to live music. 
In the event that you decide to head downtown, you'll have tons of choices. You can choose between the clubs with awesome music and dance parties or choose more quiet and secluded venues for spending time with your special someone. 
So, people may head over to active socializing at Batey for live music and dance or go to Papaya Playa Project if they want to party on the beach.
Weekends at Tulum can be non-stop fun with many choices for dancing, music and events. Papaya Playa is a Tulum party destination, known for its lavish full moon parties held every month. People wait all week for the Papaya Playa parties.
On Saturday nights when it is a full moon, the popular and choicest party people in town come and join the party.
Models, fashionistas, and Tulum's cool kids all dance to music spun by some of the world's most renowned DJs. Despite the fact that the Tulum party scene is not very big, Saturday evenings at Papaya Playa tend to be popular and attract the largest gatherings in the area.
The atmosphere and dress code are elegant and stylish but there is a laid-back feel to Tulum. Please note that heels are not permitted here.
Try Out Some Local Cuisine.
Tulum is a great place for happy hours and good food. If you would like to try that go over to Mateo's Mexican Grill which is one of Tulum's best restaurants. 
It is known for its astounding dusks. The café/bar, which is situated on the beachfront, has an energetic, inviting, and bubbly air. Its beautiful treehouse is the ideal spot to visit and soak in the energy and scenes of Tulum.
If you head over there just before sunset you can see an incredible view of the sunset from the treehouse and then spend the time under the moon and the stars. Mateo's has a fun atmosphere and a relaxed feel. 
Batey is a very stylish, bar and café located in downtown Tulum. It is known for its mixed stylistic theme and a unique and creative ambience. 
Batey is situated in a stylish little area of cafés and bars and decorated with colourful flags and has a display of black and white photography.  From jazz to electro to live mariachi groups, the music adds to the energy of this place. Most visitors find it absolutely fascinating. So, for a unique ambience and a great experience, visit Batey and you will not regret it.
El Asadero, located in the heart of Tulum, is another restaurant in Tulum which is very popular with both locals and tourists. This is a great place to hold wedding parties and celebrations. They have a great Mexican barbecue here. The restaurant's signature dish, Arrachera steak is absolutely wonderful with 'melt-in the mouth', goodness and definitely worth a try.
Bar Hop Around Tulum.
Tulum's bars scene is without a doubt the most exciting aspect of the nightlife. You can barhop all night and you will be amazed with the variety of bars and beverages offered. 
Some of the bars are hidden away and known to only a few tourists. They are gems that only locals know about and you may not find listed in any website.  
Most of the bars are classy with their own exceptional stylistic layout and relax zones. They almost always have extraordinary mixed drinks and delectable finger food.
Since you are in Mexico, you'll discover margaritas every step of the way. In any case, Tulum's bar scene is very much evolved and priced well. So, you may want to explore other drinks such as Mojitos, Mezcal etc. When you are in Tulum be adventurous and don't stick with your run of the mill lime-and-tequila mixture. You will find some good bars here. 
Some of the best bars in Tulum are:
You can request expertly made cocktails and mojitos at these bars. Mezcal is a top choice here—you'll find Mezcal on all cocktail menus. Mezcal is nothing but Mexican gin.
Also, Batey, which is located midtown is specialized in mojitos made with locally grown organic fruits squeezed directly in front of your eyes. 
The nightlife scene becomes very lively during the special times of year. The beach bars which are located nearby the beaches will give you a pleasant night experience. Imagine sitting at the roof top bar sipping Mezcal while enjoying the light sea wind and listening to the soft crashing of the waves, nothing can beat that feeling.
In Tulum you can remain on the sea shore or hangout at bars nearby till late night. 
The people here don't stress over what you wear. You will find most of them still in their beach clothes and sandals they wore throughout the day, through the night too.
Late Night Shopping Spree.
Avenida Tulum, is the beach road that connects all of the beachside resorts. Here you'll find a slew of boutiques selling the latest fashion goods. You will find clothes, fashion accessories and jewelry. You will also find products such as cover-ups and inflatable rafts, and can even collect home decor to take with you after your vacation.
These boutiques are very similar to those you will find along the roads on California beaches. The energy and vibe really feel similar. In my opinion, there's an overall relaxed atmosphere when shopping in Tulum, along with cute shops and hangouts.
Here you can discover shops, grocery stores and cafés to eat real authentic Mexican food made by the local people. The road exists in the old town, so you'll unearth numerous recorded destinations and landmarks as you wander around. 
Follow the roads and you will come across some Mexican markets where you can attempt some haggling and get yourself a good deal on some souvenirs. 
Remember that the sticker price is never the final, you can haggle and get it for much, much cheaper. If you are a skilled negotiator, you will find good use for your skills here. This a great place for amazing handmade jewelry, caftans, swimsuits, skirts, hand-woven purses, straw hats, and more.
Take Part In A Mayan Ceremony.
If you want to partake of the culture more deeply you can participate in the Mayan Rituals and ceremonies, some of which take place at night. 
There are cleansing rituals and ceremonies open for tourists to experience for a fee. Various customs and rituals are performed for various contexts such as marriage, divination and purification. 
These are customs identified with the patterns of the year, patterns of time and functions of appeasing Mayan gods. These are traditions as old as the Mayans themselves. This is certainly something which would be a unique and exciting experience for most tourists. 
Some of the purification ceremonies require you to enter an enclosed and sacred space with a centre that is filled with volcanic rock. You sit there and sweat out toxins and bad spirits. There are shamans who will help guide you into the spirit world after you go through the purification ceremony. There are tour companies and agents you will find who will arrange such events. 
Explore With A Night Tour.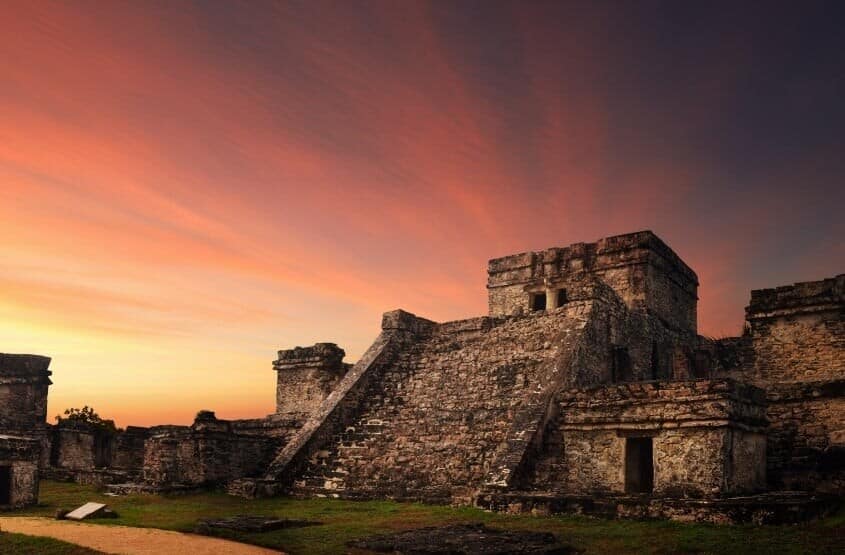 Some tour companies specialize in night tours. You can actually visit the Tulum Mayan Ruins and see them in the night! Regardless of whether you've visited Tulum previously, you will find the experience entirely unique. 
The inclusion of light and shadow effects as you stroll through the Mayan walled city is simply stunning. It is an entirely unique easy to get acquainted with its history, way of life and engineering marvels. Tour agencies will usually start at dusk and stop for a light supper.
When night falls you will enter the domain of the Mayas. Once at the Mayan ruin, some agencies will give headsets with audio descriptions.
Rent A Bike For A Night Cruise.
You can easily rent a bike and see Tulum in the night. It is a cheap and inexpensive way to see the sights of Tulum.You can bike on the seashore or through the town. Biking is exhilarating and also lets you soak in the sights and scenes without all the walking. 
Biking along the sea shore with the wind and the sounds of the sea, in the pleasant coolness of the night is both calming and refreshing. (You will also build up a good appetite to try out some of the local tasty tacos and tamales later.)
If biking is not your thing, then you can also lease motorbikes or a car to get around town.
Is Tulum Nightlife Safe?
In general, Tulum nightlife is safe for tourists and travelers. Some common crimes reported are petty theft, vandalism and corruption. That being said, make sure you use good judgment and common sense when exploring Tulum at night.
Don't stroll around alone late at night in isolated areas. In case you're staying in a hotel or at a beachside cabana, make certain to lock your door before sleeping. 
You should have adequate protection and backup for your travel documents and money. Although thefts and crime are reported, it's not all targeted toward us tourists.
Tulum is a wonderful destination for all types of adventure seekers. Nightlife is very active with bars, hotels, dance clubs and music. The nightlife is also safe for tourists and goes on till late night. 
Some of these places even offer overnight stay in case you had too much fun. While I have listed a few activities you can do at night, there are many more you will find when you visit Tulum. So, pack up your bags—Tulum is certainly worth a visit.