At the center of Mexico's best wine country and an important coastal-port city, Ensenada is an attractive travel destination with agreeable weather, great-tasting wine, and entertaining whale-watching. Getting to Ensenada can be a little complicated. However, with some early preparation, you will not only enjoy Ensenada but the journey there as well. 
There are several ways to get to Ensenada, which may vary depending on travel budget and preference: travelers can get to Ensenada by plane, car, bus, or cruise ship. Traveling by car or bus is more cost-effective while taking the cruise ship offers a more exciting traveling experience. 
Understanding all the minor details is important when traveling, as you will need to consider how you want to get there and the associated costs. In this quick guide, you will find out how to get to Ensenada so you can solidify your travel plans and make the most of your trip. 
How To Get To Ensenada
Getting to Ensenada can be a little tricky, as you cannot fly directly into the city like you can with most major metropolitan areas. This means that your trip will most likely involve going from one location to the next until you arrive in Ensenada unless you travel by cruise ship.  
Here are the ways to enter Ensenada: 
Fly to Tijuana 
Drive to Ensenada 
Take public transportation
Take a cruise ship from L.A.
These are the conventional methods of transportation when going to Ensenada. Depending on your budget and preferences, you may decide between any of these options. And once you make your decision, you will need to figure out the steps you will need to take to get to Ensenada from your current location. 
Fly To Tijuana 
Since there is no major airport in Ensenada, the next best thing is the airport in Tijuana, Mexico. Most of the flights coming from Europe route through Mexico city, including flights from London, Paris, and Madrid. For US flights, you can fly to Tijuana directly from many major cities, including Los Angeles, San Francisco, Las Vegas, and Dallas. 
Upon arriving at Tijuana airport, you can either drive to Ensenada with a rented vehicle, take an Uber, or take a bus line.
You could also take advantage of the opportunity to check out Tijuana while you're there.
Drive To Ensenada 
If you are coming from the US border to Ensenada, then all you need to do is take Highway-1D to get to Ensenada at the US-Mexico border. You can expect this drive to take about 90 minutes, assuming there is not too much traffic. 
Make sure your purchase Mexican vehicle insurance at a cheap cost just in case anything happens during your trip. Learn all the requirements for Mexican Car Insurance in this article. Also, make sure to have some cash handy as you will need to pay three different tolls while driving along Highway-1D which cost about five dollars each. 
For international travelers that do not own a personal vehicle, you can defer to a rental vehicle. However, this comes with a catch: there are many restrictions in place for US rental vehicles. Therefore, if you want to rent a vehicle to get around in Ensenada, then you should wait until after you cross the border.  
Take Public Transportation
For travelers going through Tijuana airport, there are bus lines that can take you from the airport to Ensenada. 
The bus lines to Ensenada include Aguacaliente, ABC and Autobuses Elite. 
The travel time for these buses is approximately 100 minutes. 
The weekly schedules for these bus lines run for 24 hours, but this varies for holidays and weekends. 
Another option available to you in Tijuana is a taxi. Taxis charge high rates, so you can expect to pay $70 to $85 to get a ride to Ensenada. Compared to the buses, the taxis are faster and should only take around 80-90 minutes to get you to Ensenada. If you are in a hurry and would rather avoid waiting for a bus, then taking a taxi might be a good option for you. 
Alternatively, if you are traveling from San Diego or any other area where Amtrak is servicing, you can take an Amtrak train to San Ysidro. San Ysidro is right next to the US-Mexico border, and has a bus that can take you from San Ysidro to Ensenada: Mexicoach is a bus line and cross-border service that takes travelers from the San Ysidro border station to Ensenada. Mexicoach is active from 6:00 am to 8:00 pm.
If none of the previous options appeal to you, then you can also think about paying for an Uber. Paying for an Uber will likely cost you a lot, but it may be preferable if you do not want to take a taxi or bus. Uber has a large service area, so you can find Uber drivers at Tijuana airport or regions in Baja California as you would anywhere else. 
Take a Cruise Ship From Los Angeles, California
More conventional for travelers coming from the US and Canada, taking a cruise ship is another way to get to Ensenada. Taking a cruise ship affords you many luxuries and beautiful sights of the sea as you approach Ensenada's coast. 
Taking a cruise can cost anywhere between $194 and $259. These cruises depart from L.A to Ensenada with an added stop to Catalina Island, which offers gorgeous beaches and scenic views. Keep in mind that some of these cruises only allow you to stay in Ensenada for a limited time, so if you want to stay in Ensenada for a week or more then you may need to consider other travel options. 
Some cruise ships do not require you to bring a passport, but in some cases they do. Since many of these cruises involve stays in Ensenada that last three days or less, oftentimes you will not need a passport. Nonetheless, you will want to have your passport on you just in case to avoid potential complications that could prevent you from entering Mexico and getting to Ensenada. 
Taking the cruise ship from L.A. is the most costly method of getting to Ensenada, especially if you are buying plane tickets before going on your cruise. But if you want to make your trip extra spectacular, then the cruise ship is a great option. 
The Best Times to Go to Ensenada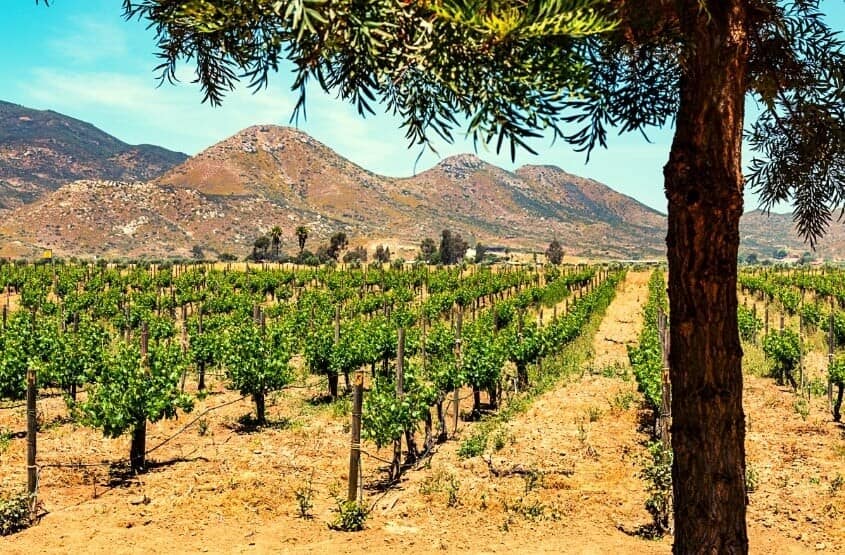 Depending on your reasons for visiting Ensenada, the best times to go may vary. Certain times during the year are better for the beach, while others are better for whale-watching or for people wanting to avoid large numbers of tourists.  
Although Ensenada has a mild climate, the best time to visit is during the summer between June and September. These months during the summer provide hot enough weather to enjoy the beach, but without too much heat to deter you from staying on the beach for long periods of time. 
If you are less focused on the weather and want to avoid large crowds of tourists, then October through November or April through May are great times to go. The weather is still decently warm during these months without too many tourists or cruise ship visitors. 
Whale-watching is a fun pastime that is prevalent in the coastal city of Ensenada. If this is an activity you are interested in, then the best times to go are between December and April. 
Ensenada is a vibrant coastal city with superb wine, whale-watching, and wonderful beaches. Depending on your travel budget and preferences, you can drive, fly, or take a cruise ship to get to Ensenada. 
Getting to Ensenada is not so straightforward, especially for international travelers coming from Europe. Nevertheless, with some careful planning, you can enjoy your trip and stay at Ensenada without any worries! 
Never Travel Without The Recommended Travel Gear:
Checkout More Mexico Tips and Tricks: