Planning a vacation on Mexico's Pacific coast? Ensenada is one of the top urban destinations in Baja thanks to its common use as a cruise ship port, beautiful beaches, and reputation as the home of both the first Margarita and the first fish taco. 
Once you've narrowed your search down to the perfect city, choosing the right neighborhood and hotel to serve as your home base is one of the most important decisions you will make when planning your Ensenada holiday. It will impact the accessibility of top attractions, comfort level, budget, and the overall vibe of your trip. And since there's no shortage of exceptional options, this decision is not an easy one. 
Looking for the perfect hotel stay for your upcoming trip? Make booking a breeze with this guide to the best places to stay in Ensenada. 
Table of Contents
The best areas to stay in Ensenada are:
Zona Centro
Playa Ensenada
Estero
El Sauzel 
Valle en Guadalupe
Zona Centro: The Best Hotels in Ensenada Mexico for the Busy Tourist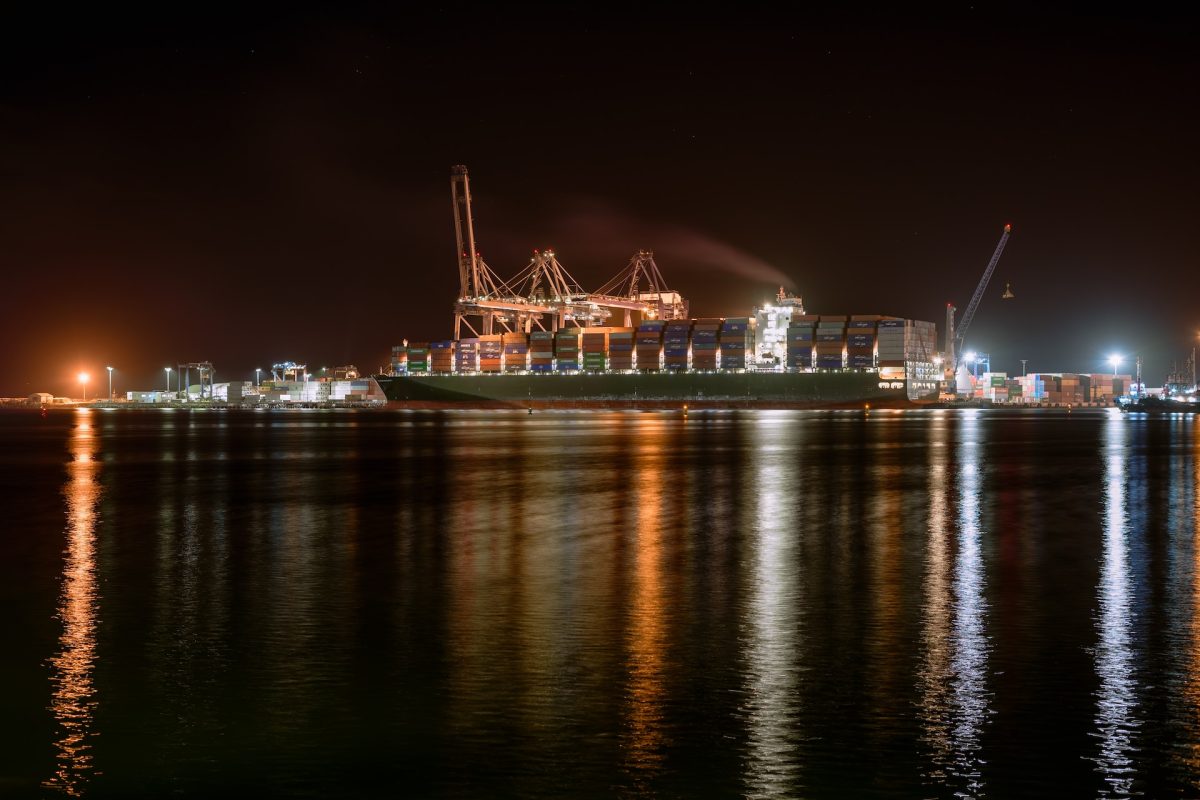 If you want to stay in the center of all the action, Zona Centro is the way to go. You'll find the city extremely walkable, with easy access to Ensenada's top restaurants, bars, shops, and attractions. There are a few beaches in this area too, for a well-rounded experience. Especially if this is your first time in the area, or you'd like to keep your transportation budget to a minimum, you can't do better than downtown.
This B&B-style hotel offers exceptional bang for your buck. Not only does your stay include the first meal of the day, but this hotel offers the high-end design and service you'd expect from a luxury institution, all at a modest price. 
The guest rooms boast a bright and cheerful interior with clean lines and contemporary furnishings, while communal spaces offer access to an outdoor pool and a terrace lounge with gas fireplaces. There's even an upgraded suite with a private hot tub if you want to splurge on a touch of romance! 
It's not hard to find Posada El Ray Sol with its distinctive colonial facade and punchy pops of color. From a bright pink exterior wall to bold-patterned headboards with a Mexican touch, this hotel is certainly not short on personality. Besides its prime location, it offers a whole slew of premium amenities including a well-stocked hotel gym, free parking, and an on-site restaurant serving French cuisine. Traveling with a furry friend? Posada El Ray Sol is one of the best Ensenada hotels for those seeking pet-friendly accommodations.
Playa Ensenada: The Ideal Neighborhood for Resort-Lovers
If you find yourself to be a frequent flyer who prefers the resort atmosphere, choose Playa Ensenada. While there aren't any all-inclusives in the city, this resort strip has the same vibe. It's all about the beach, good food, and a laid-back pace of life. This is an especially good choice for families with young kids who want to see and do a lot but avoid the nightlife scene.
Beach House by Eazy is best described by its breezy curb appeal. On resort grounds, you'll find a retro motel-style pool area, complete with a cactus mural, pink umbrellas, vinyl basket chairs, and fun flamingo floaties. Though the outside has a spunky side, the guest rooms are calm, cool, and collected, decked out with relaxing neutral tones and soft textures. As if you needed another reason to book, Beach House by Eazy has an on-site coffee shop and your stay includes free beach bikes for touring around the neighborhood. Score! 
The San Nicolas Hotel and Casino has a few claims to fame. For starters, it has the biggest tropical pool & hot tub in Ensenada. Not only does this courtyard oasis offer alfresco fining, and waterside massages, but they also host weekly movie nights and live musical performances. When you're finally ready to head inside, you can visit the heartbeat of the hotel: the in-house casino featuring over 400 machines and new electronic poker tables. 
When it comes to the best hotels in Ensenada, Hotel Punta Morro is the top choice for couples. Utterly romantic from top to bottom, this stay promises total seclusion on a rock beach, private terraces for soaking in the sunsets together, and fine dining at the water's edge. 
When you're not lazing around by the spa-inspired pool and sundeck, you can even arrange a private four-course dinner under the stars or a couples massage package. Not only will you be pampered in a glass gazebo on the shoreline, but you'll be treated to a bottle of bubbly and chocolate truffles.
Estero: A Beach Bum's Paradise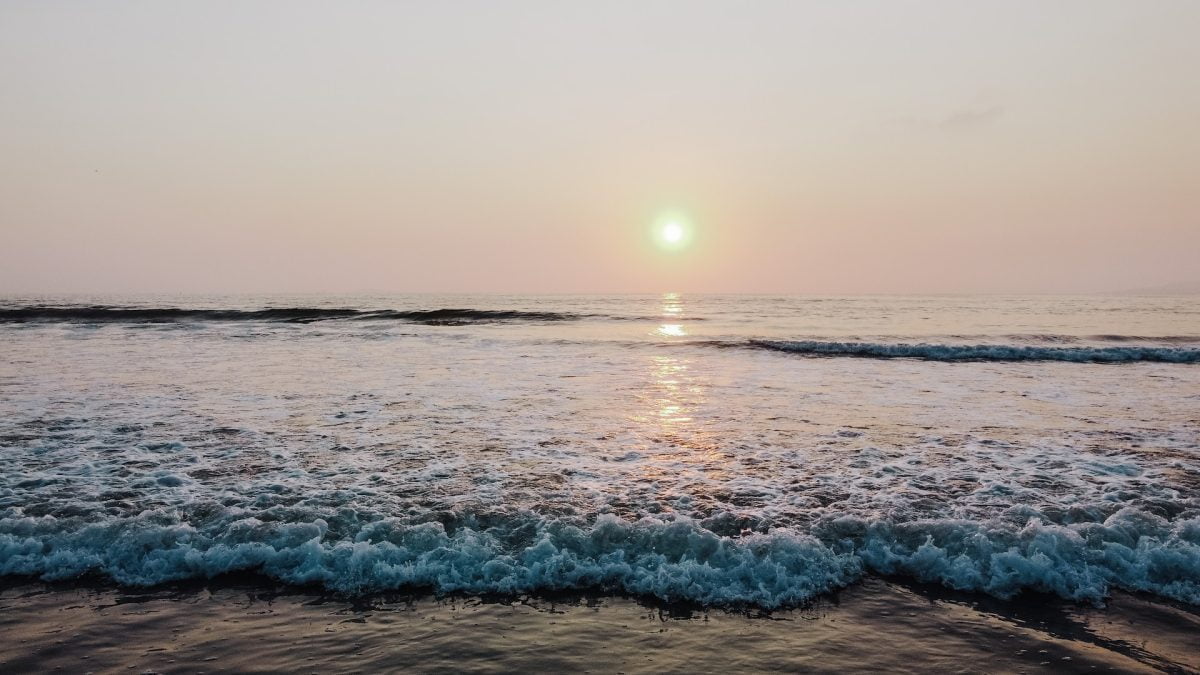 If you plan on spending the majority of your holiday on Ensenada's beaches, why not stay right on the beach? This area is set further back from the main resort strip along the shore, giving you access to a more secluded beachfront and fewer crowds. 
Without a doubt, Estero Beach Hotel and Resort is one of the best beachfront hotels in Ensenada. If you have a larger budget to play with, the onsite activities alone are enough to hit "book now". There's a whole list of water sports to choose from, tennis courts, a kid's playground, and a stunning free-flow pool with a swim-up bar. As for aesthetics, Estero has an "old world" touch that reminds us of Hemingway, studded with a plethora of towering tropical plants and palms. What's not to love? 
El Sauzel: A Serene Atmosphere with Ample Amenities
El Sauzel is situated on the outskirts of Ensenada, where there are fewer hotels and more expensive vacation homes. It's only ten minutes away from downtown, but you'll find this extra degree of separation affords you a ton of privacy, making it a great compromise if you want to do a lot of sightseeing AND relaxing. 
One of the main perks of a stay at City Plus Ensenada is the proximity to the ocean and they want to make sure you've got premium views at all times. The trendy lobby lounge space has massive panoramic windows and the great views carry into the guest rooms with floor-to-ceiling glass walls. 
Of course, they have a handful of other things to brag about with a state-of-the-art fitness center, modern minimalist furnishing, and an impressive library. Oh, and we can't forget about the rooftop pool with luxury daybeds! Talk about the perfect place to unwind. 
Valle de Guadalupe: The Best Ensenada Hotels for Amateur Sommeliers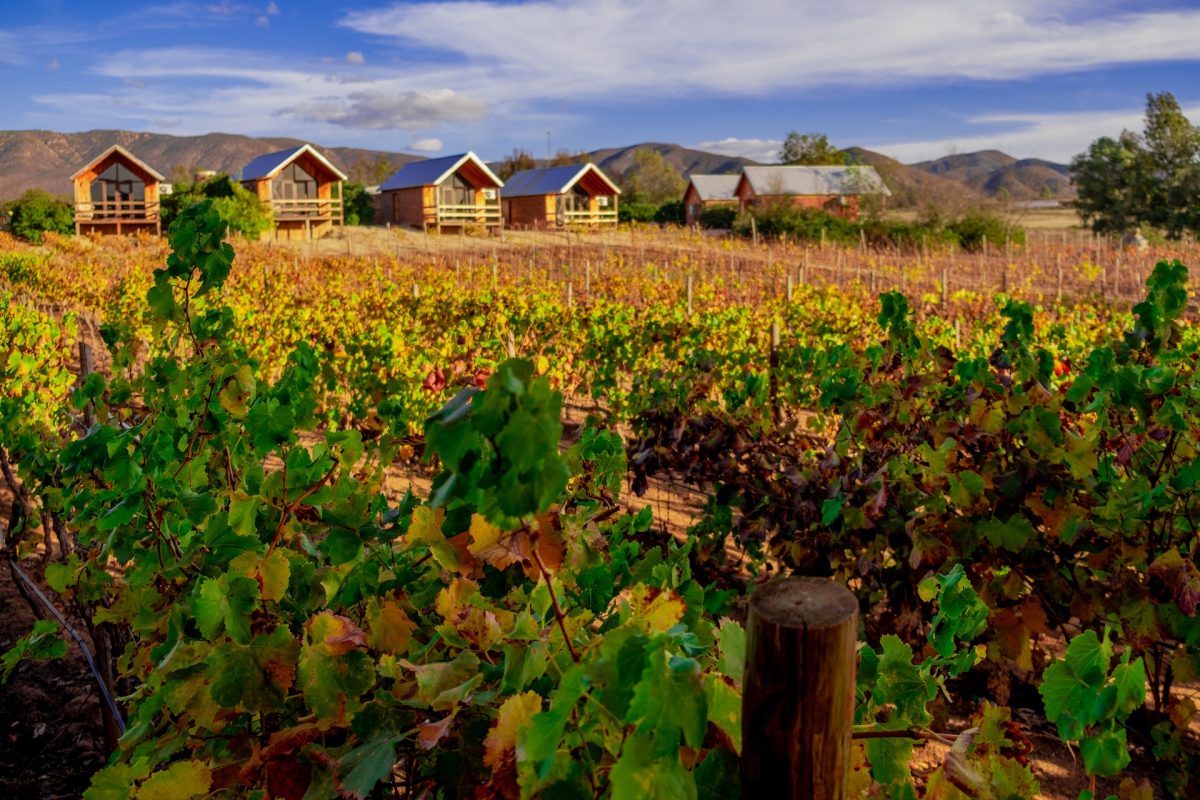 Okay, okay. So the Valle de Guadalupe isn't in Ensenada proper. But if one of your main reasons for visiting Enensada is to enjoy the wine-tasting tours, choosing a hotel in the valley, just outside the city borders, is a great idea!  You'll be centrally located amongst all the best vineyards, and get a healthy dose of peace and quiet. 
For a vineyard stay that's very chic with slight wild West vibes try out Brisa Del Valle Boutique Hotel. You'll know you're in the right place when you see the giant wine barrel peaking out over the grapevines and dusty red soil. Each guest room features panoramic windows, statement stone walls, and an ensuite kitchen. As for the bathrooms, you'll have a choice between a stone-bottom rainfall shower or a soaking tub built for two. 
Plan to spend most of your time in the great outdoors? Enjoy a warm afternoon barbequing, take a siesta in the fringed hammock, or contemplate life on the swing overlooking the desert. 
Want to sleep under Mexico's big night sky? Indómito Glamping Resort is the ultimate stargazing location. They promise to take you a bit closer to nature without sacrificing that luxury experience: I bet you've never had room service while camping before! 
Each wood cabana comes with a plush king-size bed, a private bathroom, bespoke furniture, and a private terrace. With the vineyards at your doorstep and mountains in the distance, what more could you need? Well, they also have plenty to do with a spa pool, horseback riding tours, firepit lounges, and scenic rides through the country in classic cars! 
If you've got money to spend on your vineyard adventure, choose Surya Hotel. This boutique hotel is the perfect place to unwind with your evening glass of vino. Tucked into the hillside, its lush grounds are brimming with natural touches of wood and stone, local artwork, and handwoven textiles. 
You could start your day off by dining on Lupe 87's garden patio, and cool off in the tranquil pool after an afternoon in the sweltering sun. If that doesn't sound like perfection, we don't know what does! 
Best Hotels in Ensenada Mexico – FAQ 
Where are the best hotels in Ensenada for first-time visitors?
If this is your first vacation in Ensenada, you'll want to stay as close to all the major attractions as you can so you can see and do it all. For this reason, we'd recommend Zona Centro, where there's the highest density of shops, restaurants, attractions, and easy access to public transportation. 
Where is the best place to stay in Ensenada on a budget?
Most areas in Ensenada have at least one budget hotel stay, as well as a few mid-range options, but Zona Centro has the highest concentration of budget-friendly hotels. You'll also be able to save money by taking advantage of this neighborhood's walkability and cheap street food.
Where are the best Ensenada hotels for kids?
For an easy, breezy, beach vacation with kids, staying in Playa Ensenada is ideal. You'll have access to all the amenities and modern comforts you could possibly need, a resort-style beachfront, and a little less hustle-and-bustle. Many of the hotels in the area are geared towards families, with playgrounds, children's programming, and extra services available.
How far away are Valle de Guadelupe Hotels from Ensenada?
It depends on which hotel you choose, but this trip can be as little as 20 minutes from Ensenada. Especially if you are renting a car during your holiday, it's an easy drive that gives you the best of both worlds: Ensenada's beaches and urban culture, plus a taste of Mexico's wine country. 
If you do rent a car, be sure you're fully protected by taking out a policy with BajaBound before you set off. Also, check out our comprehensive guide on Mexican car insurance.