I was astonished when I first heard about a huge monarch butterfly migration that occurs every year in Mexico. With this newly discovered information, I began to dig deeper to find out everything I could about the monarch butterfly and their yearly trek across the United States to Mexico.
Every year millions of monarch butterflies migrate over 2500 miles from the Northeastern parts of the United States and Canada when the weather begins to cool, all the way to their warm breeding grounds in the Sierra Madre Mountains in Mexico.
Lucky for us, we are actually able to experience a part of this wonderful journey by traveling to Mexico ourselves.
Best Time To See Monarch Butterflies In Mexico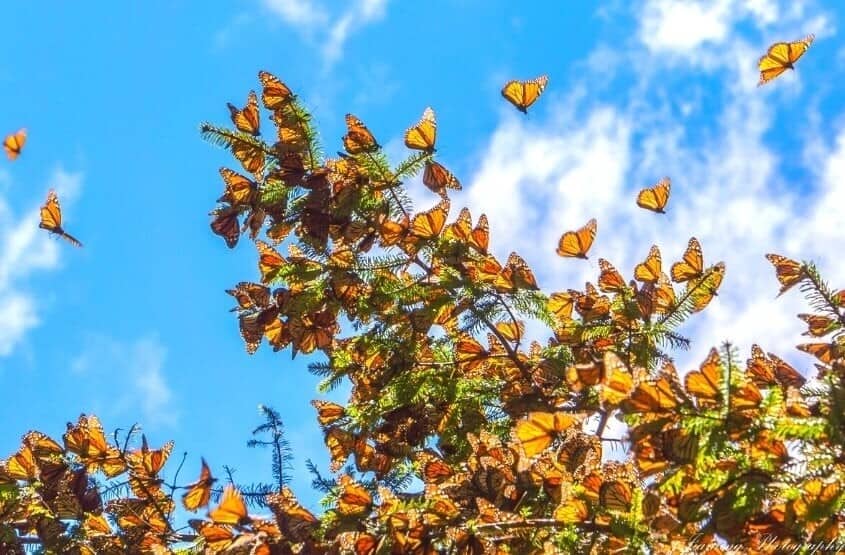 The best time to see the monarch butterflies in Mexico is late-November or anytime throughout December. The reason being; there are less people at this time and the 4 sanctuaries aren't open to the public until November 16. However, February through March is when the butterfly population is peak and the butterflies are most active.
These beautiful butterflies start arriving in the Sirrea Madre mountains November 1st, where they call home for the remainder of the winter season. In February, the monarchs begin mating, and eventually make their way back to the United States around mid-March when the air begins to warm.
Although the best time to see the monarchs is late-November to December, the butterflies are more active late-February all the way through March when the air is warm. The butterflies will begin to flutter more and show off their gorgeous wings as they prepare for the long journey back to the U.S.
Best Place To See Monarch Butterflies In Mexico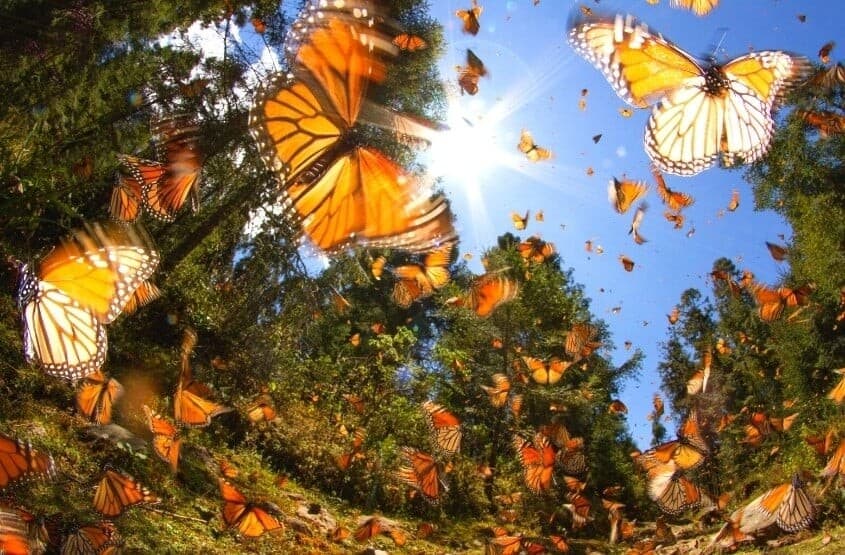 The monarch butterflies reside in the Sierra Madre mountains in the eastern parts of Michoacán and west of Mexico City. But, where is the best place to go where you can view these astonishing monarchs?
The best places to see the monarch butterflies are in the four sanctuaries located in eastern Michoacán and western Mexico City in Mexico.
1. Cerro Pelon Sanctuary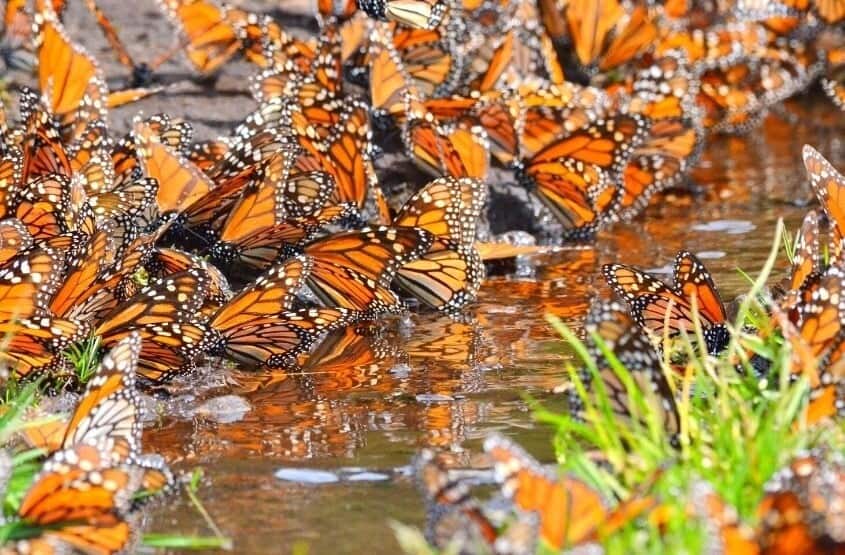 Cerro Pelon the the perfect sanctuary for anyone who desires a raw experience. Located about 3 hours from Mexico City, this sanctuary is said to be the least busy out of the four sanctuaries.
When you arrive at either of the two entrances located in Macheros or El Chapulin, you will ride horseback up the mountain trail. After an hour of riding, you will hop off your horse and walk for another 20 minutes to the sanctuary spot where you will enjoy many monarchs scattered about.
Help out the small town of Macheros and opt to stay at JM's Butterfly B&B. Not only does staying here make this experience that much more memorable, but you are helping this peasant community by providing them income, where they have very limited sources of income as it is.
Cost: The entry fee starts at $2.00 per person.
2. El Rosario Sanctuary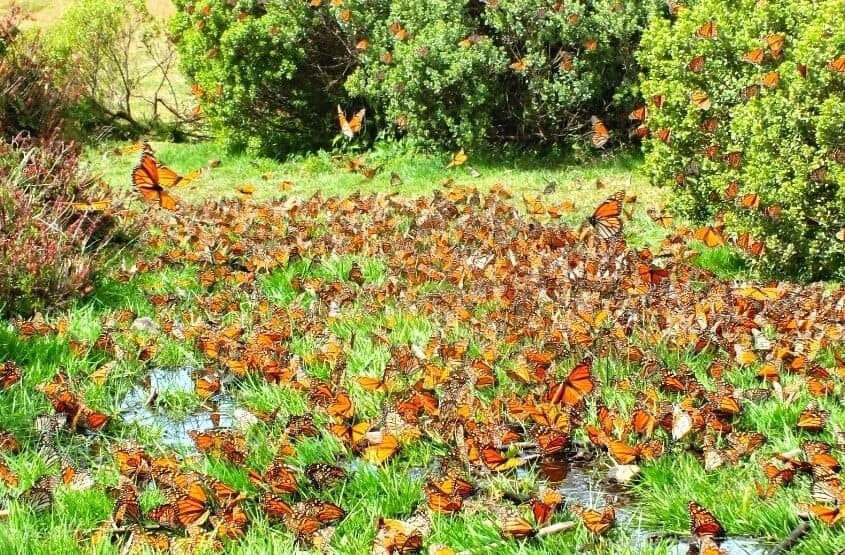 On the contrary, El Rosario Sanctuary located in Angangueo (magic town) is one of the most popular spots to view the monarchs. Angangueo is approximately four hours outside of Mexico City.
The hike up this mountain is mostly a paved trail, which you can either walk, or ride a horse if you prefer to get up to the spot a bit quicker. At this sanctuary you will find a souvenir shop, food, and drinks offered at the base of El Rosario, making it the ultimate tourist sanctuary.
Cost: Entrance is about $2.50 per person. Expect to pay more if you decide to ride horseback or go in a large group with other tourist.
3. Piedra Herradura Sanctuary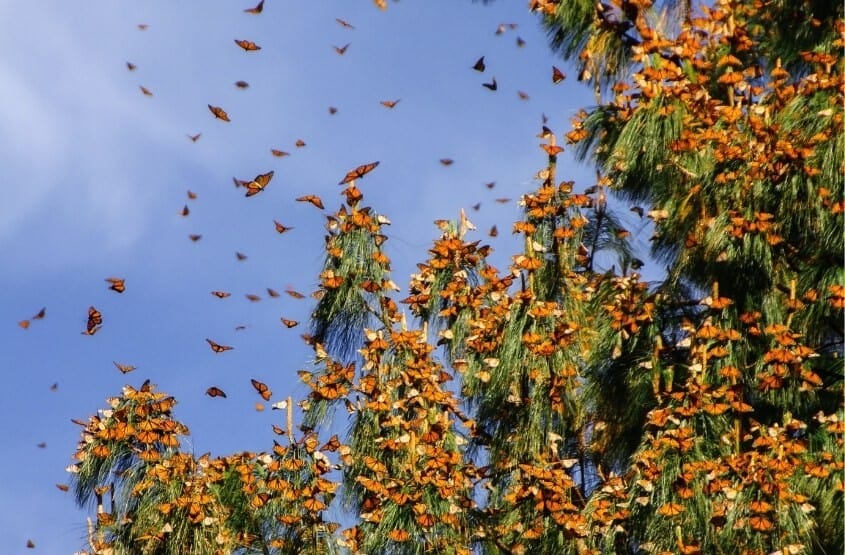 Piedra Herradura Sanctuary is the closest sanctuary out of them all, being only two hours away from Mexico City and also offers a similar experience when compared to the others.
Follow a paved path up this steep hill on foot or take the separate horse trail and giddy-up the hill at a constant pace. This hike will take about an hour on foot, or about half the time if riding a horse.
Cost: Adult entry is around $3.50, or enjoy the ease of riding a horse for only $10.50 per person.
4. Sierra Chincua Sanctuary
Also located in Michoacán, Sierra Chincua Sanctuary is a little over three hours from Mexico City.
Experience a guided tour either on foot or horseback. You will arrive at the viewing area in a matter of an hour or less from the start of the trail.
If you are looking for an adventurous butterfly viewing experience, Sierra Chincua is for you. Enjoy a nearby climbing wall, suspended bridges, and even zip-lines!
Cost: Entry fee for this wondrous sanctuary starts at $2.50 per person.
What To Bring When Viewing The Monarch Butterflies In Mexico
In order to make the most of your monarch migration experience in Mexico, you may be wondering what is needed when viewing these stunning butterflies.
Regardless which butterfly sanctuary you decide to explore, make sure to pack these items:
Comfortable hiking/walking shoes
Hat and a light jacket
Water Bottle
Snacks
Camera (the camera on your phone should suffice)
Pesos for the entry fee
No matter what sanctuary you choose, you will eventually have to hike in certain areas, so it's best to wear comfortable shoes which also offer some grip.
As well, bringing a light jacket and maybe even some pants would be a good idea. The average temperature in this area of the Sierra Madre mountains range from 55–65 °F above 6000 ft (all of these sanctuaries range higher than 6000 ft) making for a cooler experience.
It is imperative that you bring some water and a snack, preferably a nutritious snack that will replenish your energy after the long hike. Although food is offered at one of these sanctuaries, it's best to just come prepared.
Since you're making the journey all the way up to these amazing sanctuaries, you better bring a camera to capture at the natural beauty you are going to experience. If you are photographer or just a perfectionist, consider bringing a camera along. Otherwise, your phone camera should be more than capable of capturing stunning photos and videos as well.
Lastly, don't forget your pesos to pay for your entry into these places. I recommend bringing bills and some change as well, that way you can pay the exact price, and not a peso more (unless you want to).
You have a chance to see the monarch butterflies every year in Mexico however, due to illegal logging, which is one of the only lucrative sources of income in these areas, these butterfly habitats are suffering.
That's where you and I can help.
By visiting these sanctuaries and purchasing any goods and services offered, you are helping preserve the habitat and the butterfly that occupy it. So why wait to visit such an awesome place?
If you have visited any of these wonderful sanctuaries or have any questions, I'd love to hear your feedback in the comments section below.
---
Checkout My Recommended Travel Gear:
Looking For More Mexico Tips and Tricks?