Flights to Cabo San Lucas can cost you a leg and arm, and then some. Without proper knowledge of how to book your flight, you could end up paying too much for your flight to Cabo San Lucas.
That said, it's possible to get cheaper flights. Below are my best tips to book cheap flights to Cabo San Lucas.
How to Get Cheap Flights to Cabo San Lucas
If you want to travel to Cabo but you think you may be paying too much for flights, you're right. There are many simple solutions for booking cheaper flights to Cabo San Lucas.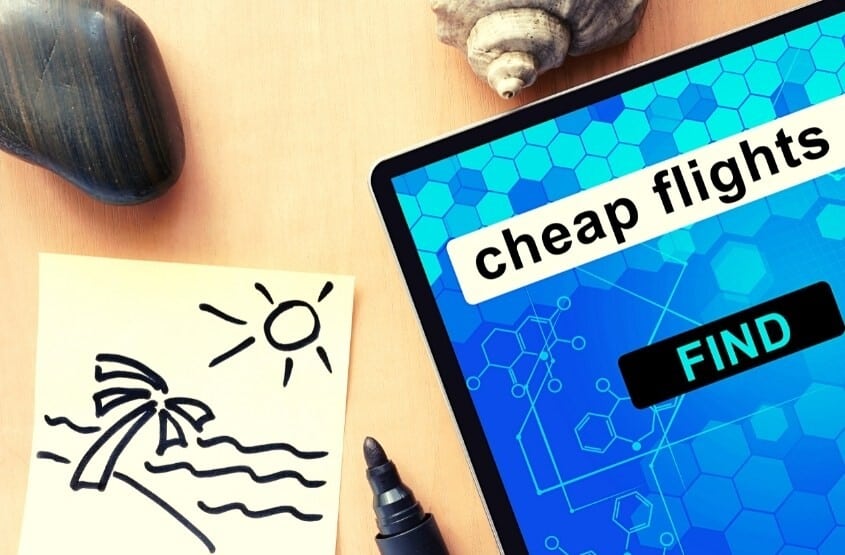 Book flights with budget airlines
A budget-friendly airline is something you should consider if you want to save money flying to Cabo. While it might be tempting to fly with popular airlines due to the comfort that comes with them, you might want to opt for a cheaper airline.
These airlines might not be as classy as you'd like, but budget airlines can help you save some serious money. You'll be required to sacrifice amenities such as entertainment and comfort, but you'll still get to Cabo in one piece. 
Book a connecting flight
Generally, connecting flights are cheaper compared to direct flights. However, it's critical you factor in any additional costs you might incur when connecting the flights.
Take advantage of flights with a layover
Direct flights to Cabo will always be more expensive than a flight that has a layover. Generally, flights with a layover, or even multiple layovers will cost a lot less than a direct flight.
If you don't mind spending a few extra hours at the airport, booking a flight with a layover is a reasonable and easy way to save money. Just be sure it won't interfere with any activities you may already have planned in Cabo.
Make use of points or frequent flyer miles
Many airlines award points to their customers for every flight they take. The system of awarding points varies with every airline, but it's common to get over 3000 points with every flight. If you have enough points, you can redeem them for a free flight.
Book your flight in advance
If you're planning to visit Cabo any time soon, it's best to book your flight a few months in advance. This way you'll be able to catch the prices when they're low and you'll avoid the scramble for the last-minute booking that facilitates price hikes.
Visit Cabo during the low season
The low season is the cheapest time to fly to Cabo. With temperatures spiking over 100 degrees, most travelers aren't booking flights. That's where you come in and take advantage of this opportunity.
What Is the Cheapest Month to Fly to Cabo?
The cheapest month to fly to Cabo is during the low season (between July and September) when temperatures are highest. Most travelers avoid flying to Cabo during these months, as a result, it's much cheaper to fly since the demand for flights is lower.
During these months, flights can be as cheap as $215 for a round trip, depending on where you're departing from and the airline you fly with.
Why Are Flights to Cabo So Expensive?
Flights to Cabo are expensive because it's one of the most popular tourist destinations in Mexico. Also, you pay more during peak season (December-April) due to high demand. The airline you choose, when you book your flight, and where you're departing from all play a role in the flight cost.
On average, around 3 million people visit Cabo every year, according to Forbes. Around 75% of travelers arrive by plane, with the remaining 25% arriving by road and sea.
With an influx of people choosing Cabo as their preferred tropical destination, it's easy to see why airlines hike the prices of tickets as the rule of demand and supply requires. 
Traveling During Peak Season
Anyone traveling to Cabo during the high season (winter through spring) will end up paying more for flights compared to the low season. Out of the 3 million annual visitors to Cabo, more than half arrive during the peak (high) season.
Travelers booking well in advance is another factor that drives ticket prices sky-high. The airlines take advantage of this scramble, with ticket prices increasing with every passing day. 
Departing Location Matters
It costs more to fly from New York to Cabo than it costs from Los Angeles. The further you are from Cabo, the more you'll pay for your plane ticket. However, there are special cases where flights cost more even though departing locations are closer to Cabo. 
A good example is flying from Dallas to Cabo, which costs around $614 compared to flying from New York, which costs around $450. Compare that to the fact that Dallas is just 1,583 miles from Cabo and New York is 3,130 miles away, and costs less! 
The Airline You Choose to Fly
Ticket prices tend to vary with different airlines for reasons such as comfort, additional amenities such as meals served, and brands associated with an airline.
International airlines tend to charge more compared to local airlines. There is also the prestige associated with airlines such as KLM, Virgin Atlantic, and other international airlines that might charge more for flights to Cabo.
What Is the Most Expensive Month to Fly to Cabo?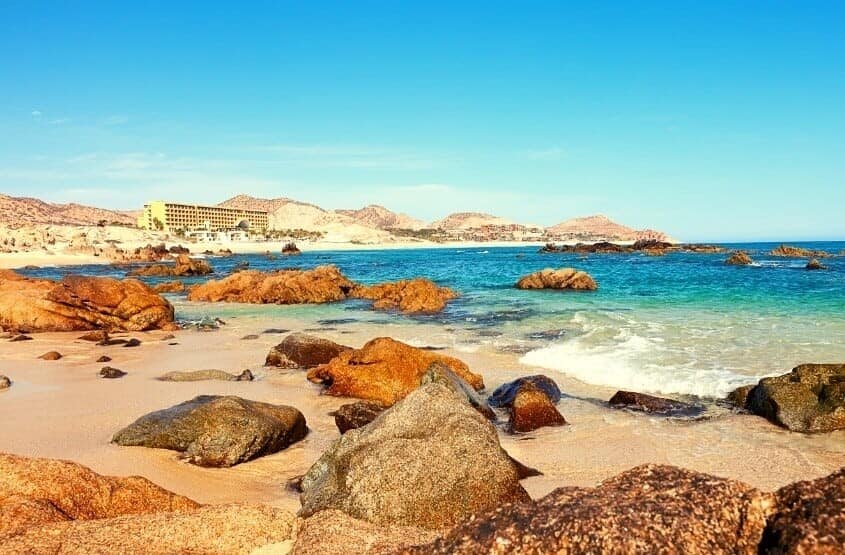 The most expensive month to travel to Cabo is during the peak season which starts in December and runs through April. Flights can cost from $500 to $700 for a round trip during the peak season depending on where you're departing from and the airline you choose. 
I prefer visiting Cabo during winter for the warm weather experienced in this city throughout the year. It's also common for people to visit Cabo during spring. If you choose to travel to Cabo during this period, be prepared to pay twice as much for your plane tickets. 
Which Airlines Fly to Cabo San Lucas?
Below is a complete list of airlines that fly nonstop to Cabo.
Aeromexico
Delta
United
Alaska
American
Southwest
Qatar Airways
Air Canada