Lush, sun-baked beaches, superb food and fun activities — Cabo San Lucas is a major destination in Mexico for many adventure-seeking tourists. With that being said, the people of Cabo are known for their great service. A positive service experience is generally rewarded with a tip. But, is it necessary to tip in Cabo San Lucas?
Tipping in Cabo San Lucas is expected when good service is provided to you. An average tip in Cabo is generally 10-20% of the total bill. If you encounter subpar service, tip closer to 10%. Likewise, if you experience superb service a 20% tip is encouraged. Ultimately, it's up to you.
Unless you fall victim to a terrible service experience, you should always tip in Cabo San Lucas when possible. The average salary for many service workers in Cabo averages around $235,000 MXN ($11,500) per year. This means many workers depend upon tips from tourists to support their family's.
Tipping Service Industries In Cabo San Lucas
Let's take a deeper dive into the matter of tipping in Cabo San Lucas. Depending on the duty, different jobs within the service industry may expect to receive different percentages of tips. Just remember, it's ultimately up to you to determine what is the appropriate amount to tip based on your experience.
Tipping In Restaurants
Restaurants in Cabo expect you to leave a tip based on satisfaction and party size. Generally, the standard 10-15% tipping rule is acceptable at restaurants. If you find yourself in a situation where you only have large bills, ask for smaller change. Tipping less than the standard may come appear disrespectful and surely your server will not be happy.
Tipping Street Food Vendors
It is not expected that you tip street food vendors in Cabo San Lucas. These street food vendors are required to provide quick and convenient service however, if the food was incredible and you really enjoyed the service — offer no less than $10 MXN as a tip.
Tipping For Your Lodging In Cabo San Lucas
In Cabos San Lucas there are a variety of amazing places you may choose stay — a hostel, Airbnb, hotel or even an all-inclusive resort. Each of these lodging options all have different expectations when it comes to tips.
Here is a chart showing you the various tipping requirements for lodging in Cabo San Lucas:
| Lodging Type and Service | Expected Tips |
| --- | --- |
| Airbnb | None |
| Hostel | None |
| All-Inclusive Resort, Hotel | 15-20% (Based upon service). |
| Maids | Minimum of $50 MXN per cleaning. |
Tipping In Hostels:
Tipping is unnecessary when staying in hostels and it is not expected. However, make sure you tip a minimum of $10 MXN If someone helps you with your luggage or goes above and beyond to provide exceptional service and you decide a tip is necessary.
Tipping At An Airbnb:
Airbnb hosts do not expect tips. You're already charged a cleaning fee, guest fee and a Airbnb fees plus taxes. Rather than leaving a tip, hosts benefit more from their guests leaving a 5-star review on their listing for others to see.
Tipping In Hotels:
Tipping 10-15% of the total bill is expected at hotels in Cabo San Lucas. Moreover, it is absolutely essential you tip when you order food and drinks. If you are staying at a budget hotel tip around 20 pesos, if you are staying at a ritzy hotel tip closer to 50 pesos.
Hotels are the most preferred choice of lodging for the majority of tourists. Hotel employee's expect tips and are accustomed to receiving them. There are many situations where you have the opportunity to tip. For example, after you check in and the bell boy brings in your luggage and sets them in your room, you are expected to give 20-50 Pesos. Similarly, if valet parking, using a chauffeur, or being served by waiters, you need to tip the employees for their services. Most of the employees make their necessary income through tips. Hence, tipping is crucial.
The housekeeping staff will need to be tipped as well. It is better to tip daily rather than wait till the end to tip. Giving a minimum of 50 pesos will ensure that the hotel employee's gets paid for their services as they may be splitting-up their tips.
Tipping At All-Inclusive Resorts: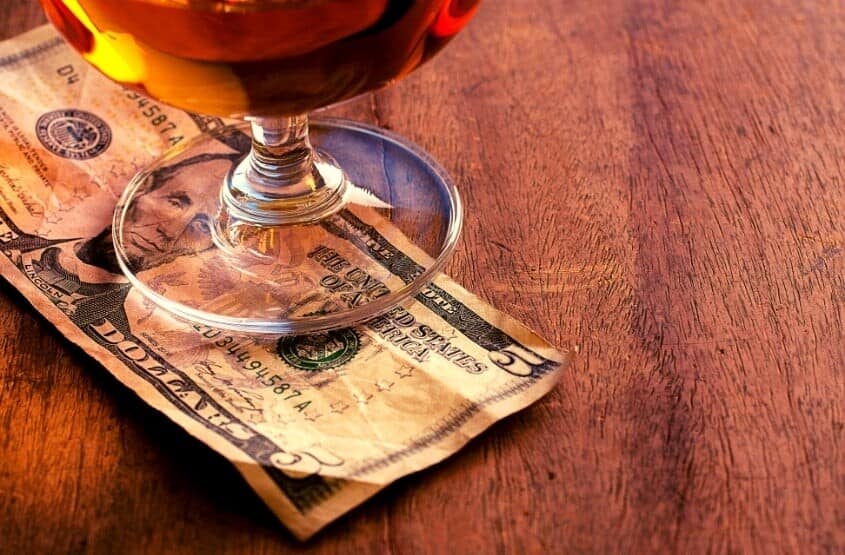 All-inclusive resort employees such as servers and bartenders expect a 15-20% tip of the total bill
Now you may be thinking that since its all-inclusive tips are included in that as well. Well, not so. You would need to tip the same way you would in hotels even though you paid ahead of time. The people who actually serve you in the hotel do not make any extra money unless you tip. The salaries are pretty low and tips are the way that allow the workers to have enough to get by.
Bartenders- Yes, you do need to tips the bartenders. You can keep 10 – 15 pesos would be fine.
Tour Guide- If you are using a tour guide then they would expect 10%-20% of the cost that you agreed for the whole package.
For Restaurant waiters and spa treatments staff etc. you can stick to the 10%-15% rule. For concierges it can vary depending on how happy you were with the help and support. People tip anywhere between 50-100 pesos.
Tipping At Grocery Stores
If you are shopping at some of the super market chains such as Commercial Mexicana, Chedrali or Soriana are you expected to tip? 
Tipping the person who bags your groceries is standard practice. 5 to 10 pesos depending on the number of bags and service received. If your bags are less (1-2) then you can tip 5 pesos. If there are many you can tip 10 pesos. If someone brings your bags to the vehicle or helps you carry them, this deserves a tip as well.
Tipping At The Gas station
Depending where you're from, you may or may not be accustomed to tipping the gas station clerks. However, what about in a place like Cabo San Lucas — is tipping the gas station clerk expected?
Tipping the gas station clerk 5 to 10 pesos is expected in Cabo San Lucas. Clerks may fill your tank, check your air pressure and clean your windshield. If you are offered these services and you agree, then you need to provide a larger tip. 10 to 15 pesos for additional services is ideal.
What Is Considered A Good Tip In Cabo? 
Although 10-20% of the total bill is a standard tip in Cabo, a good tip is considered to be 50 pesos and above. Tipping 150 to 200 pesos would be a generous tip and will get you cooperation and enthusiastic service. Ultimately, tip as much as you feel is deserved.
When and Where Not to Tip in Cabo San Lucas
Obviously, there are many services and situations in Cabo where a tip is expected. With that being said, are there any times when you shouldn't tip in Cabo San Lucas?
Here are some common situations where a tip may not be necessary:
Taxi ride
Barber shops
Bad service
Poor quality product
As a general rule, if you are happy with the service you receive, then you may leave a tip. Don't give tips out of pity, especially if the service is poor.
Tipping culture is prevalent in all of Mexico and hence Cabo San Lucas as well. Make sure to keep some pesos with you whenever you leave your hotel or go shopping. Try to avoid leaving foreign currency as a tip, it is likely non-exchangeable in most cases (US dollar is an exception). Also, small change can be difficult to come by so keep a small cache of change with you for ensuring you have tip money. Now you are fully equipped to confidently avail the services you need in Cabos San Lucas. Happy tipping!
Never Travel Without My Recommended Travel Gear:
Checkout More Mexico Tips and Tricks: