Mexico gets a bad rap in terms of the county's overall safety. Reasonably, many travelers carry a certain level of fear when they consider traveling to Mexico. Luckily, there are plenty of places in Mexico that are considered extremely safe and tranquil.
Here are the top 13 safest places in Mexico worth visiting :
1. Mérida
Mérida is the safest city in Mexico with an extremely low crime rate. The city was declared "Best Small City in the World" by Condé Nast Traveler's for its natural and cultural attractions. As well, Mérida earned the title "City of Peace" for its continued security. Expect to see municipal police everywhere, protecting this amazingly tranquil place.
Mérida isn't only one of the safest cities in Mexico, but also a city full of history laced with a modern-twist. Enjoy beautifully built architecture such as churches, along with carved stones and ancient Mayan ruins nearby.
The cost of living in Mérida is rather inexpensive, making for the perfect tourist's safe-haven paradise. If you want to visit the safest place in Mexico, Mérida is where you want to be.
2. Puerto Vallarta
Ahh, Puerto Vallarta. . . Such a wonderful place to be. Puerto Vallarta is not only one of the most popular beach towns in Mexico, but also one of the safest.
Puerto Vallarta is one of the safest beach-towns in Mexico. Although it's one of the most popular tourist destinations, the overall crime rate remains low with petty crimes such as vandalism and theft being the main points of concern. Walking around at night should present no issues, especially considering Mexican National Guard roam the streets day and night.
Although Puerto Vallarta has seen its fair share of violence, the city generally remains peaceful. Millions of travelers visit this adventurous place every year, making it a staple on the map and surely one of the top destinations you need to visit.
If you are interested in Puerto Vallarta's safety concerning tourist such as yourself, take a look at my article answering any questions or concerns you may have; Puerto Vallarta: Is It Safe For Tourists?
3. Querétaro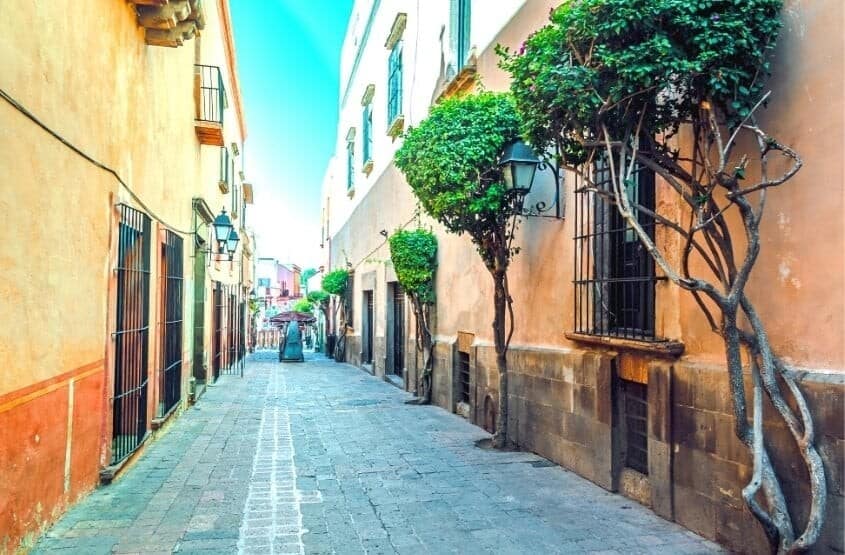 Considered one of the safest cities in Mexico, Querétaro's crime rate is rather low according to Numbeo.com, with theft and vandalism being the most concerning thing you may experience. Locals report the quality of life in Querétaro to be exceptionally well, making for the perfect place to visit.
Querétaro is located in central Mexico near Mexico City and hosts historic colonial Spanish architecture you're unlikely to find anywhere else.
In fact, the city's fantastically preserved historic centre was appointed a UNESCO World Heritage site in 1996. Querétaro is the perfect place for anyone who enjoys outdoor activities, Mexican history, and an overall friendly vibe.
4. Monterrey
Monterrey, Mexico is the capital of Nuevo Leon, a northeastern Mexican state which borders Texas. The city has the lowest per capita crime rate out of all the large cities in Mexico however, do to its location near the US border, drug-related crimes are a known issue in neighboring cities.
As well, pickpocketing and scams are a common crime here, so you should exercise increased caution and awareness in this large city.
Don't let that stop you from visiting this lovely place as it is still generally safe. Monterrey is a business and industrial center surrounded by picturesque mountains.
One of the top attractions in Monterrey is the Macroplaza, large squares covered in deep-green grass consisting of monuments, gardens and even other plazas. Macroplaza is the fifth-largest plaza in the world and the absolute largest plaza in Mexico, extending 400,000 square meters!
The plaza's most popular monument is the 70-meter-tall Faro del Comercio (Lighthouse of Commerce), with its green laser shooting all around the city at night. You don't want to miss out on this safe, unique, and bustling city.
5. Valladolid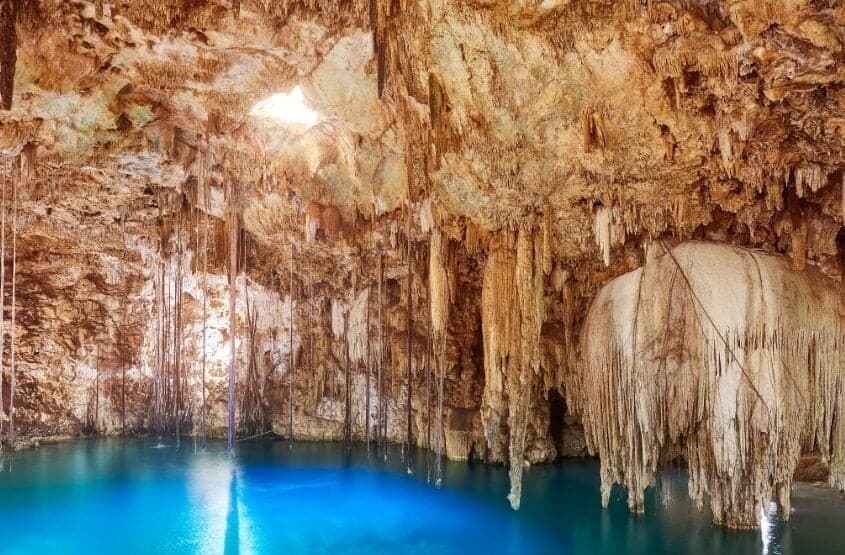 One of the safest towns in the Yucatan is Valladolid, a perfect place to bring your family or travel solo. Even wandering the town at night is considered low-risk, just use caution. The locals are friendly and helpful and the most common crime is petty theft. Overall, the area remains crime-free, expect a peaceful experience when you visit Valladolid.
Valladolid is know for it's amazing cenotes and Chichen Itza (one of the seven wonders of the world.) This town is home to many ancient Mayan ruins with tourist traveling from all around to visit the area.
As well, there are museums and plenty of local restaurants to keep you satisfied.
6. Guanajuato
Guanajuato is a peaceful and vibrant city in central Mexico, often referred to as the most beautiful city in Mexico. Guanajuato hosts narrow streets, alleys and tunnels that are so close together it fittingly adopted the nickname Allejón del Beso (Alley of the Kiss).
The city of Guanajuato, Mexico is fairly safe considering it's location and being the sixth-highest populated state in Mexico. The southern end of the state borders Michoacán (a more dangerous state) and often times experience gang-related violence, the state as a whole is experiencing an overall incline in crime.
The locals are friendly, but mainly due to Guanajuato's location in central Mexico, the state sees many people traveling through the area bringing potential danger with them. You can expect a generally safe experience however with many people traveling here every year without any issues.
While exploring this colorful city you may stumble upon mines, mummies, markets and museums all tucked away in this stunning city. If you're looking for a safe city which is also easy on the eyes, make sure you visit Guanajuato.
7. Yelapa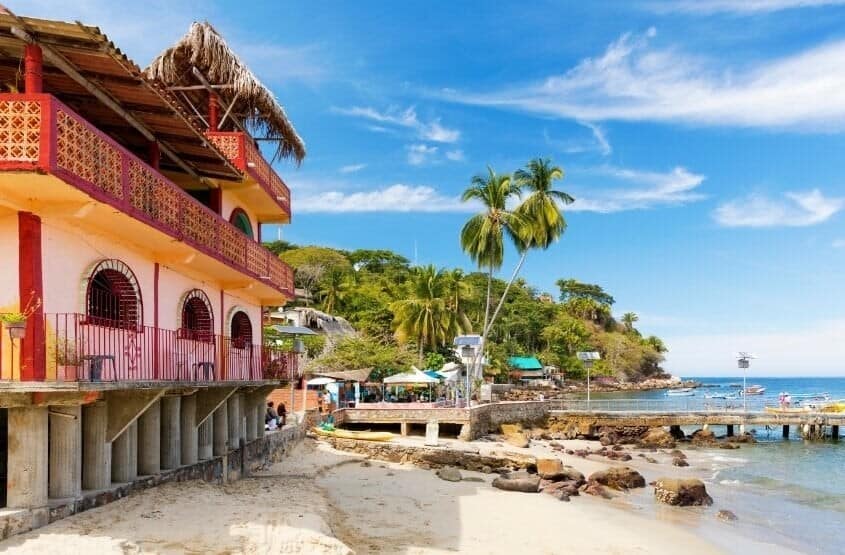 Have you ever wanted to visit a secluded beach-town? Well if so, Yelapa is the place for you. This excellent town contains gorgeous waterfalls and nests in the world's seventh largest bay, Bahía de Banderas.
Yelapa is a safe area overall, the main concern however, is there are minimal ways to get in and out of the town. There's one main road to take, or a water taxi. The most common crimes in Yelapa are theft and being ripped-off or overcharged. There is also a lack of police presence making crime easier to get away with.
The best part about Yelapa is that it's only a 40 minute boat ride south of Puerto Vallarta. So, if you are looking for an adventurous and overall safe trip, you can visit both of these places during a single vacation.
When you arrive in Yelapa you will notice a few things; the beach is incredible, the water is impeccable and the people although few and far between, are very welcoming.
If you desire seclusion, safety, and friendly people make sure to checkout Yelapa, Mexico. You can thank me later.
8. Todos Santos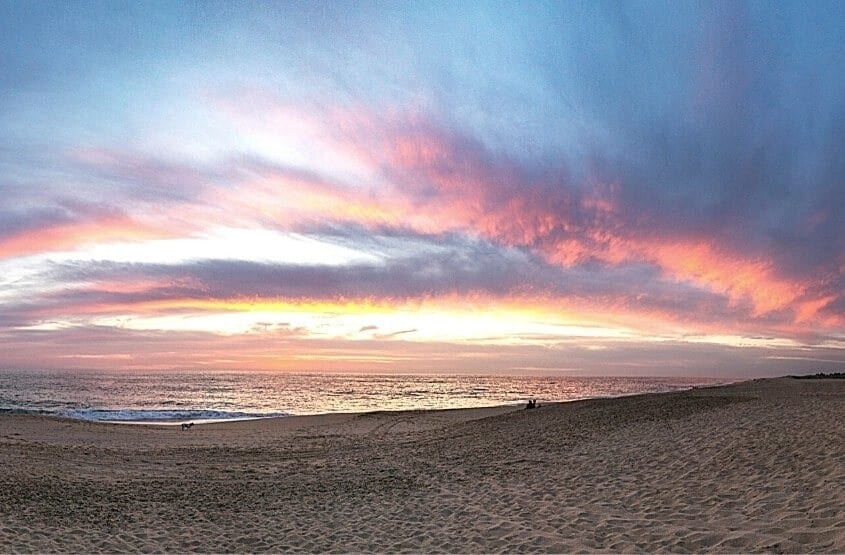 Alright, don't tell anyone but Todos Santos is Mexico's best-kept secret and for a good reason. Lined with cobblestone streets, art galleries, and romantic restaurants, Todos Santos is the perfect place to bring your family or loved one.
Todos Santos is a safe city in general and when there are outbreaks of crime such as burglaries or other other petty crimes, the locals notice and demand the government's assistance. Protecting a town like Todos Santos is a top priority for the Mexican government considering it is a lucrative tourist destination.
Also, the weather may pose a small level of concern, don't travel to Todos Santos from June to November, as this is a more common time to experience severe weather and even hurricanes. Additionally, sharks may pose a hazard on the Pacific Coast but attacks are a rare occurrence here.
Todos Santos is famous for artists and local galleries. As well, the beaches in the southern end are a popular surf spot, providing large waves and perfect weather.
If I had to use just three words to describe Todos Santos I'd say; safe, charming and modern.
9. Campeche
Campeche is a small Mexican port-city on the Gulf of Mexico. It's mainly know for its military architecture and 2 hilltop fortresses that are now museums, which were originally the result of pirate attacks in the 17th century.
Campeche is one of the safest states to live and to visit in Mexico. Maintaining low to moderate crime rate according to Numbeo, with bribery and corruption being the main issues. Being a popular tourist destination with millions visiting yearly, local authorities stay observant and maintain the peace.
Nowadays, Campache is full of pastel houses lining narrow streets and the city is enclosed in the walls that were built originally for protection. As well, Campache hosts the country's largest nature reserve (Reserva de la Biósfera Calakmu) containing over 400 endangered species where you can view jaguars, spider-monkeys, the famous rainbow-beaked toucan, maritime turtles and so much more! It's truly amazing and perfect for any family.
If you're after a memorable time in one of the safest states in Mexico, take a trip to Campache, it's quite the site to see.
10. Tulum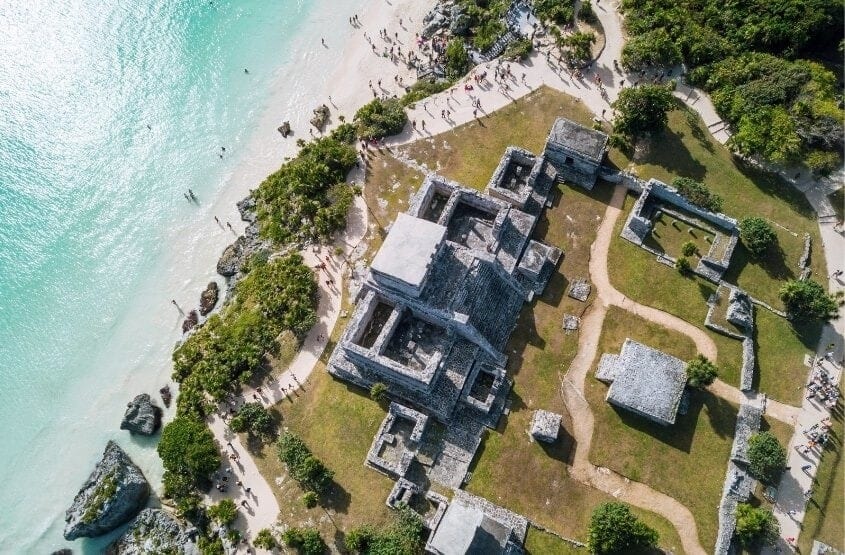 You've probably heard so much about Tulum already and how it's a wonderful place, but how safe it Tulum?
Overall, Tulum is considered one of the safer towns in Mexico. More recently however, there has been a spike in drug-related crimes and crimes against tourist. Additionally, this spot of the Caribbean is known to be in direct path of hurricane season. Avoid traveling to Tulum between July – October in the increased likelihood of hurricanes thrashing through.
Tulum is becoming more popular every year as this small town gains more exposure. Of course, more people generally brings more crime, hence the steady increase in crime. Use common sense and avoid walking around town at night. Also, make sure to lock your doors wherever your are staying, it's better safe than sorry.
When you visit Tulum, you will appreciate the glistening-white sandy beaches, crystal-clear turquoise water and the awesome Mayan ruins that everyone comes to see.
Tulum is a great place, just use increased caution and you should be fine.
11. Playa del Carmen
Playa del Carmen is a coastal resort-town known for it's fantastic beaches and beautiful blue Caribbean water. As far as safety is concerned, Playa del Carmen ranks appropriately.
According to over two-thousand contributors on Numbeo.com, Playa del Carmen experiences a moderate amount of crime. The most common types of crime in Playa del Carmen appears to be vandalism, theft, assault, as well as corruption. Due to Playa del Carmen's increased popularity, crime is becoming more prevalent.
If you're looking for something to do in Playa del Carmen, you may enjoy the ample amount of shops, restaurants, bars, and dance clubs. If you're looking to sit-back and relax, choose a palm-tree and enjoy a day at the white-sandy beach.
Overall Play del Carmen is safe, however, increased awareness is advised do the the current spike in crime rate.
12. Oaxaca
Oaxaca is an amazing indigenous-populated town engulfed by years of tradition and culture. But just how safe is Oaxaca for foreigners?
Oaxaca is one of the safer cities to visit in Mexico and isn't too heavily crime-laced, but you should still be cautious. Petty crimes such as pickpocketing and vandalism are still present. Mother Nature takes a tole on Oaxaca as well, posing heavy-rainfall from hurricanes (June-November) and earthquake risks.
Known best as Mexico's culinary capital, Oaxaca serves up amazing dishes at a very inexpensive price. Oaxaca attains most of their resources from themselves, meaning most everything is local. Additionally, the state is one of the most biologically diverse states in Mexico, home to many types of amphibians, mammals, reptiles, and plants.
The state of Oaxaca is full of culture, tradition, and varying languages you may not find in other Mexican states. Along with a melting pot of Spanish civilization, Oaxaca features ancient ruins and a popular tourist attraction called Hierve el Agua (the water boils).
Hierve el Agua is a set of natural rock formations formed by fresh water springs which are over-saturated with calcium and other minerals. These minerals are deposited when the water pours over the cliffs, creating amazing formations. There are two artificial pools atop of the cliffs and some separate naturally formed pools perfect for a relaxing swim.
Safety and tradition is what keeps Oaxaca at it's best. Visit Oaxaca if you want the authentic Mexico experience.
13. Guadalajara
The second-largest city in Mexico is Guadalajara. The city is known for its tequila and mariachi music. Surely this means that Guadalajara can't be safe, right?
Guadalajara is a safe city, especially considering its size and population. Although the city's crime rate is moderate; with assault, bribery, theft and vandalism being common, the city overall is safe and is home to over 50,000 expats. Use common sense, avoid getting involved in anything sketchy and you will increase your safety.
TRAVEL + LEISURE named Guadalajara #6 out of the "Top Ten Cities in Mexico & Central & South America" as part of their World's Best List. Guadalajara mixes years of tradition with modern-lifestyle, creating an experience like no other.
Many expats choose Guadalajara as their new home and for a good reason. The people are friendly, the city is exciting, and there are so many different people from all over the world who visit Guadalajara every year. There's no doubt that this city is safe, thrilling, and full of Mexican history.
Is Mexico Safe To Visit?
If you are experiencing any level of anxiety concerning safety when planning a trip to Mexico, try choosing a destination on this list and ease your fear. Mexico isn't all that bad, in fact, it's rather amazing for so many different reasons, which in my opinion, far outweigh any cons.
Mexico is a safe country worth visiting. According to reports on Numbeo.com, Mexico ranks number 90 following closely behind the United States sitting at number 80 for safety and overall crime rate. Many cities in Mexico are safer than those in the U.S. but there are a few areas where you'll want to avoid traveling to due to high cartel-activity.
Mexico was the first country I traveled to outside of my own country and ever since, my life has changed. I mean, look at me now. . . I'm the founder of a Mexico Travel Blog. If you can't tell, I LOVE MEXICO. I'm confident that you will too. Just relax, enjoy, and be amazed.
Of course, if you do have any questions or concerns I encourage you to drop a comment below and I'd be more than happy to help you out, that's what I'm here for.
— Alex White-Gomez
---
Don't Travel Without These Recommended Travel Items:
Want More Mexico Tips and Tricks?