Querétaro is a well-kept colonial city secret in central Mexico. The town is known for its preserved and vibrant colonial structures, with their historic centre officially designated a UNESCO World Heritage site in 1996. What this means for tourists is that this part of the city contains outstanding universal value you don't want to miss.
Even though Querétaro is known for its strikingly gorgeous architecture, many people are still concerned about the city's overall safety. With so little known about this hidden treasure of a town, I did some in-depth research to find out more on Querétaro's safety. Here are some things I learned.
Querétaro is one of the safest cities in Mexico for locals and tourists alike. The crime rate in Querétaro is low, and they have the lowest rate of deaths related to drug war. Vandalism, theft and local corruption are the most common crimes. Compared to Chicago, Illinois; Querétaro is considered twice as safe — according to contributors on Numbeo.com.
If you are a tourist considering traveling to Querétaro, Mexico and you are concerned about safety, let your anxiety be at rest. Querétaro is one of the safest city's for Mexico first timers, families, and children.
Most people are generally friendly and inviting. However, as more tourist begin to discover just how wonderful the city of Querétaro really is, crime will continue to increase as a result.
What Makes Querétaro So Safe?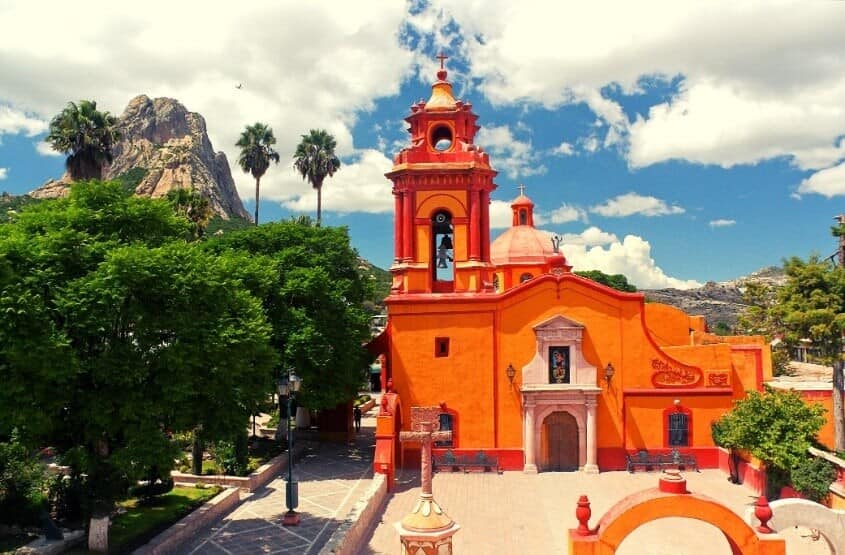 The state of Querétaro, Mexico has a strong reputation for safety and the city is no exception. With over two-million citizens to look after, the local authorities always make safety a top priority.
Here are a few reasons why Quéretaro is one of the safest cities in Mexico:
Police presence
Internal migration to the state and city
Many young couples and families move to Quéretaro
Strong Police Presence
Quéretaro is known for its strong police presence. The state's population has seen a rapid growth-spurt climbing from six-hundred-thousand citizens in the 1990's to over two-million in as of 2021. With this increase in population came a substantial increase in police and technological advances.
With an average of 3000 911 calls per day, the police in Querétaro keep busy. However, since safety and trust between local authorities and citizens is such a huge deal, police have implemented the use of crime-reporting tablets. This allows each officer to report crime in real-time at the scene and file them with the Attorney's Office directly.
The implementation of this tablet technology has led to a 35% increase in the filing of crime reports. Source
This has increased the participation and trust of local citizens in Querétaro.
The acquisition of new technology ensures Querétaro is one of the safest states and city's in Mexico.
Mainly Internal Migration
Querétaro's population has sky-rocketed; from 1990 to 2010 alone, the state's population more than doubled, to over 1.1 million people. Source Currently, the state is home to over 2 million citizens. I'm sure you're curious how all of this correlates with safety.
Internal migration, otherwise known as "domestic migration", simply implies migration within your own nation. The reason many people migrate to Querétaro is for the education and economic improvements, and most importantly — the safety. This means most Querétaro citizens are peaceful people, just trying to live a better quality life.
Young Couples and Parents Live Here
Many families with young children move here to raise their kids and have a new chance at life, same goes for the young lovers. Likewise, as a tourist expect to feel safe and welcomed when visiting this wonderful city.
The fact that so many Mexicans have migrated to Querétaro is the only proof you need when considering if the town is safe enough for you and your family.
Walking Around At Night In Querétaro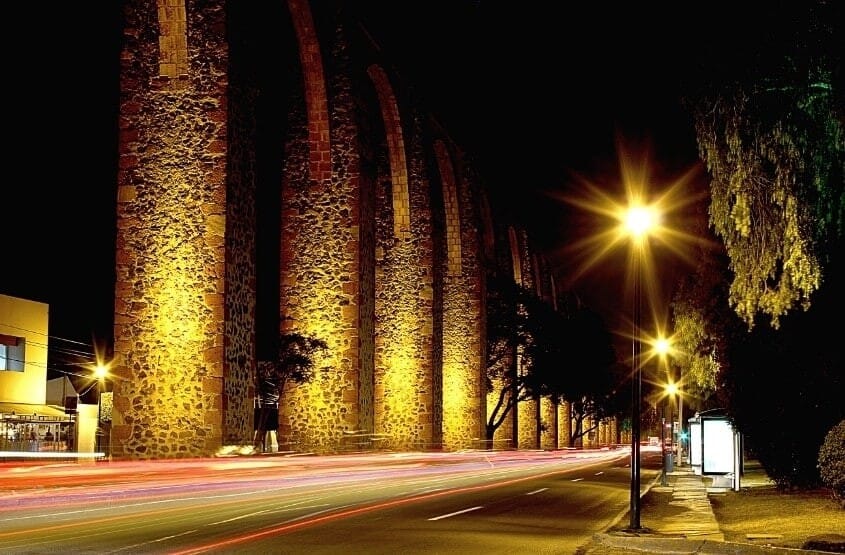 Alright, now we're getting into one of the most commonly asked questions on the internet about any Mexican city; is it safe to walk around Querétaro at night?
When walking around in Querétaro at night, you should feel safe. Many people reported on Numbeo.com, that walking around at night is actually very safe and is equally as safe as walking around in the daytime in other Mexican cities.
Taking a nice evening stroll through the town after the sun has set is a relaxing way to wind-down, especially in such a visually pleasing town such as Querétaro. However, you should never walk around at night alone. Additionally, you should carry an extremely bright flashlight on you when walking for an added layer of security.
On a positive note, police roam the streets so there is generally help within a screams-distance, worse case scenario.
Top Safety Tips When Visiting Querétaro, Mexico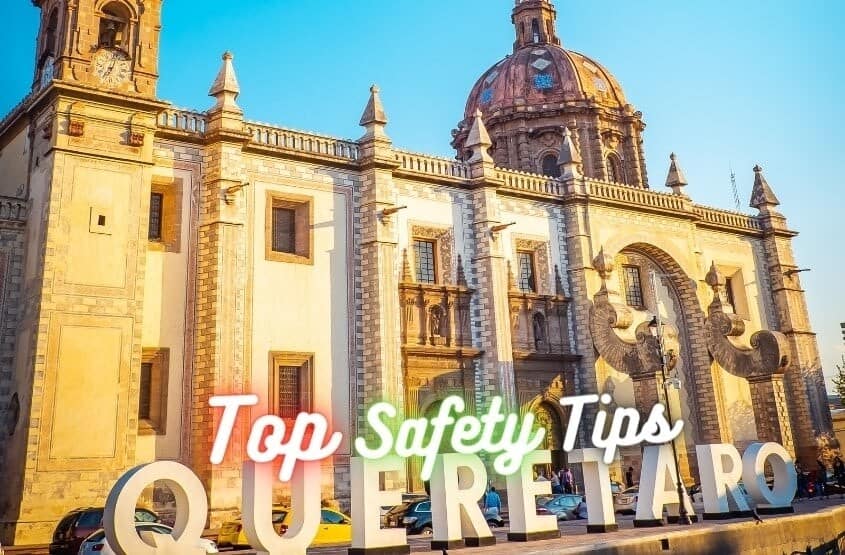 Although Querétaro is considered extremely safe, I still recommend being extremely cautious and using common sense. Every city has crime, so it's up to you to reduce your risk by assuring you're staying vigilant.
Here are the top safety tips when visiting Querétaro, Mexico:
1. Use Common Sense
Using sound judgement in practical matters is your ultimate defense against danger. Common sense will go along way, here are some examples of common sense you should practice:
Don't leave personal items unattended
Don't get involved with the wrong people and their bad habits
Don't attract attention to yourself
Be friendly and respectful
See? Common sense is easy! So make sure to always have it activated.
2. Avoid Being Flashy
It's easy to stand-out in Mexico, especially if you're a foreigner. So it's a no-brainer not appear to fancy in Querétaro unless you want to draw unwanted attention. Instead, try to dress casual and avoid brand-name clothing and accessories.
Yes, that includes jewelry! If you wear a wedding ring, I recommend purchasing one of those convenient and inexpensive silicon-rings at your local Walmart, or on Amazon.com
3. Don't Carry More Money Than You Need
Carrying more money than necessary is one of the quickest ways to make yourself a target, mainly when someone discovers you have all this cash. Keep your cash in a secure location and try to disperse it in multiple places on your body.
Put some in different parts of your wallet, stuff some in your sock, or in a hidden pocket if you're lucky enough to have one. You can either sew your own hidden pocket on an article of clothing, or buy a secret hidden pocket belt or underwear, also available on our recommended travel gear page which directly links you to Amazon.com.
Regardless of where you decide to hide your money, just don't carry more than you need, or you may find yourself stuck and without money for a bit.
4. Drink Bottled Water
The water treatment plant in Querétaro is actually top of the line. Where the water becomes contaminated is through their outdated delivery system. The pipes as well as the water tanks attached to some buildings are so old, that ground water and other unwanted elements are able to re-enter the system, making the water not suitable for many foreigners.
It's safest to drink bottled water. Even the water at restaurants, unless filtered, is possibly contaminated considering it's all from the same source.
With that being said, you should be okay to use the tap water to brush your teeth and wash vegetables off, just avoid swallowing the water or you risk becoming ill.
5. Be Courteous To Others
I know being friendly and respectful is under the "Common Sense" section, but I also felt it was right to give this tip its own heading because I want to empathize just how important being courteous to others, really is.
When you travel to a foreign city, you need to understand you are traveling to someone's home. It's a privilege that you are able to travel freely and essentially do whatever you like, so being respectful not only to others but also to the city is extremely important.
From holding a door for someone to keeping you trash picked up and not littering, these are all simple ways to ensure you are courteous and Querétaro remains welcoming to outside visitors.
With the huge influx of migrants and tourist, the city already experiences an increased level of littering and rude people, even appose to 20 years ago. So, do you part and stay respectful, this is also another way to maintain your safety because you draw less negative attention to yourself and instead spread joy! Easy enough, right?
Overall, traveling to the city of Querétaro is likely one of your safest options in Mexico. Though there are a lot of people, you should still feel at ease. Querétaro is the perfect tourist destination for solo travelers, families and couples. With a strong police presence, friendly people, and an overall emphasis on safety and well-being, Querétaro is the perfect place to visit.
---
Don't Travel Without My Recommended Travel Gear!
Want More Travel Tips and Tricks?