Mazatlán is a popular resort destination known for its spectacular sunsets enjoyed as one strolls on Malecon, one of the longest seaside promenades in North America. Mazatlán lies across the tip of the Baja Peninsula, on the Sea of Cortez and has 16 miles of golden-sand beaches, thus earning its name as the Pearl of the Pacific. 
Although Mazatlán is a great place to be, there are preferred months to travel to this beautiful beach town destination.
The best times to visit Mazatlán are the end of March for the most optimal weather, the first week of April for nice, warm weather, neither hot nor humid, the winter-visitors have returned home and the hotel rates as well as the airfare remain low. Try November for cheap hotel rates, hot weather and very minimal rain.
Mazatlán's beaches are perfect for snorkeling, scuba diving, sport fishing, as well as boat trips. More than just a sun-drenched beach, a walk through the city's Centro Histórico or "Historic District" shows a colonial city with a rich culture, history, and tradition.
Moreover, there are specific times of the year when you will find the best events to experience.
Best Time To Visit For Special Celebratory Events
Mexico likes to celebrate a lot of things. You can take advantage of these events by ensuring you travel at the proper time of the year. Every year, tourists look forward to two grand parades along the entirety of the Malecon promenade: Carnaval Mazatlán and Dia de los Muertos. Oh, and don't forget about Spring Break!
Carnaval Mazatlan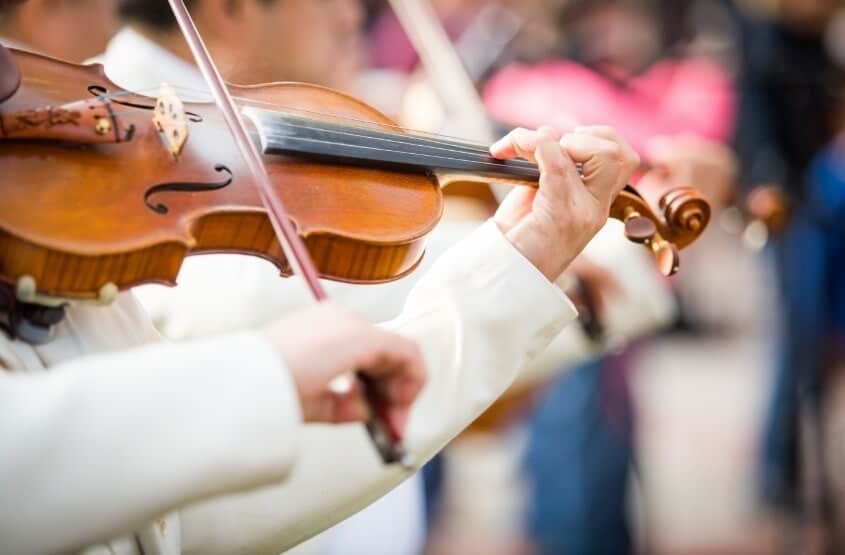 Every February, sometimes leading into March; Mazatlán has the largest, most elaborate, and best modern Carnival or Mardi Gras celebration, alongside the notable Rio and New Orleans celebrations, held in February-March. Mazatlán celebrates with parades, costumes, colors, and its popular Pacifico beer; there are epic shows in the baseball stadium; a big outdoor party on Olas Altas, a main outdoor area near downtown 
Dia de los Muertos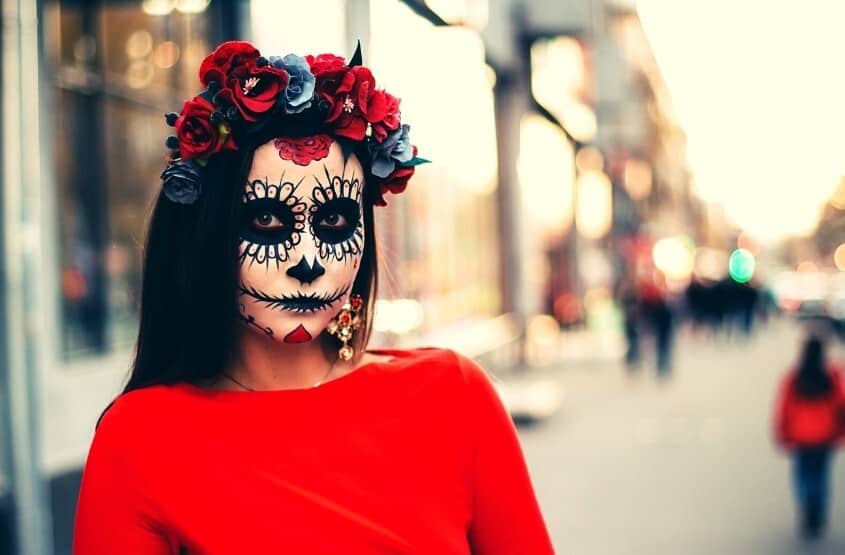 At the end of October, the city comes alive with painted faces, a grand parade and brightly decorated altars. The awesome flamenco dance is performed at Plaza Machado in the Historic Center, where a huge crowd of people gather to enjoy dancers perform with lights and colorful outfits.
If you like to party, Dia de Los Muertos would be a great day to come to Mazatlán.
Spring Break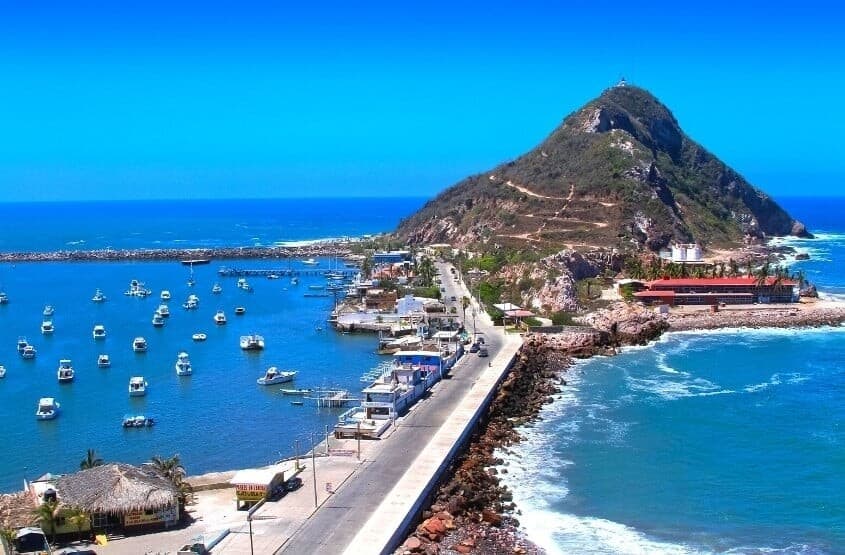 Mazatlán is the nearest Pacific resort town to the US border, 745 miles from the border of Arizona, so it is a favorite among college students from Texas, Arizona, and New Mexico.
Many college students spend their Spring Break along the shores of Mazatlán and enjoy watersports, surfing, scuba diving, parasailing in Playa Olas Atlas.
Most of the resorts are located in the Golden Zone, like Playa Camaron and Playa Gaviotas. During spring break, students enjoy parties at bars and restaurants along the beach. Another spring break perk is restaurants don't generally raise prices; in fact, bills are 30 to 50 percent lower than famous spring break destinations. 
When To Travel To Mazatlán For The Best Weather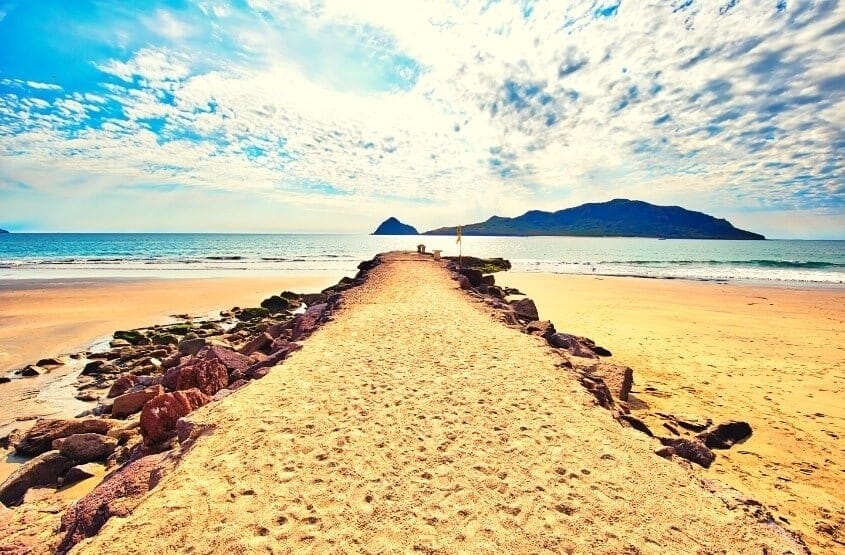 Mazatlán's weather is one key feature that makes it a popular tourist destination. The city has consistent weather, inviting tourists all-year-round. The weather throughout the year ranges from 69 to 83 degrees; with minimal rainfall during most months. But, when is the best time to visit for optimal weather?
The best time to visit Mazatlan for the best weather is from October to November, with ideal temperatures in the 80's; there is no rain and fair humidity making it the ideal time to enjoy outdoor activities and events. Also, most winter-travelers haven't made it there yet so the beaches are less crowded.
January
The coolest month in Mazatlan is January; the high temperature reaches an average of 80 degrees and the low sits around 68 degrees.
March
Mazatlan is beautiful at this time of year, with average high temperatures in the upper 70s; and very little rain. The cruises draw large afternoon crowds. Rates are high during this peak tourist season.
November To Mid-December
Summer months along with the rain is over. The expensive, winter travel season is yet to begin. There is very little rainfall during these 2 months, so it's an ideal time to spend your days in the sun or on the water 
July To August
Mazatlán experiences an average high temperature of 90 degrees during July and August. The average low temperature during these months are around 78 degrees. The air is moderately humid.
Cheapest Months To Visit Mazatlán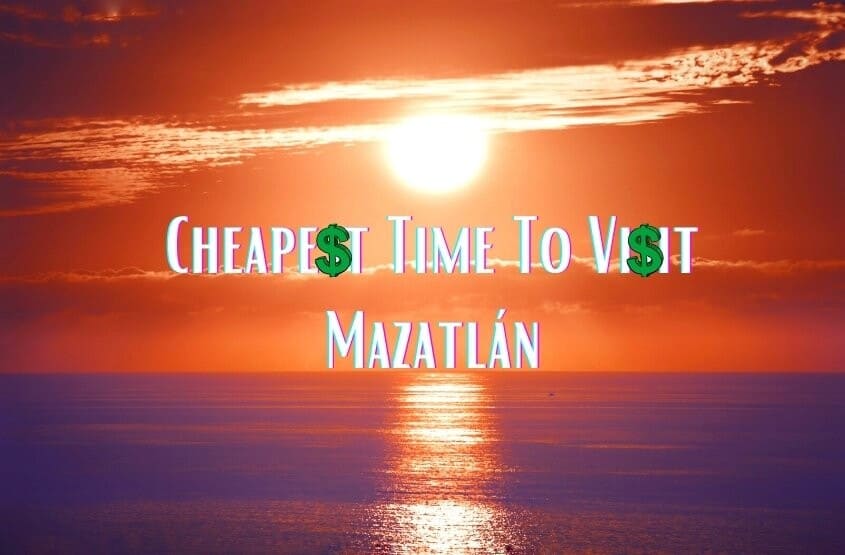 If you're traveling to Mazatlán and you want to save some money, you may be wondering when the cheapest time to travel to Mazatlán is, after comparing rates, here is what I discovered.
September through November are the cheapest months to visit Mazatlán, Mexico. Enjoy a 7-day vacation for only $700 to $1000 including airfare, hotel and food. Make sure to book your trip at least a month in advance to save the most money.
I understand that not everyone desires to travel just when it's most affordable, so I wanted to provide this table breaking down the average seasonal cost when visiting Mazatlán.
| Month | 7 Day Cost (airfare, hotel, food) |
| --- | --- |
| January – February | $800 – $1200 |
| March – May | $850 – $1300 |
| June – August | $900 – $1500 |
| September – October | $700 – $900 |
| November – December | $750 – $1500 |
These are estimates only, rates tend to fluctuate depending on demand.
When Not To Go To Mazatlán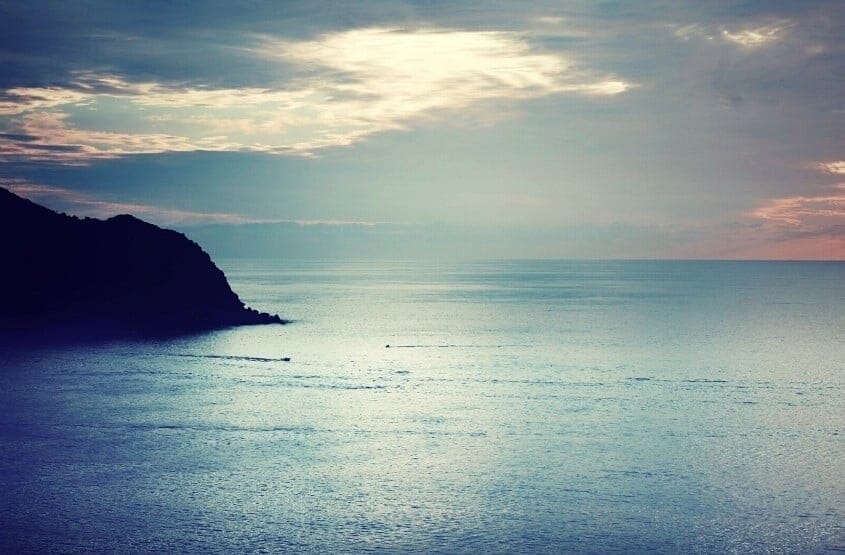 Mazatlán is almost perfect year-round, however, there are some very specific times you may want to avoid visiting this festive town. Depending on the month, it can get very crowded. As well, the weather is optimal all the time.
Here is when you may want to avoid traveling to Mazatlán, Mexico:
Semana Santa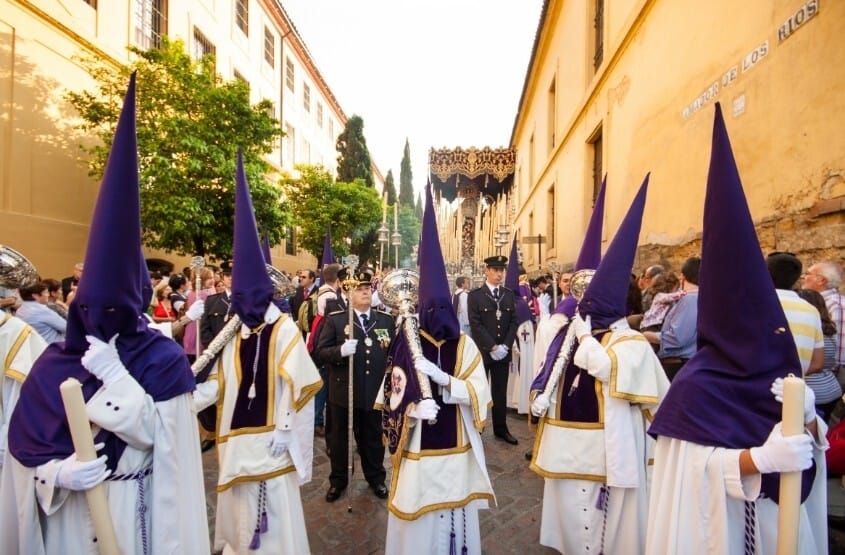 The week before Easter is Semana Santa (Holy Week) where people crowd the streets and the beaches are very crowded. Many residents and their families occupy the beach around this time of year. 
I only recommend avoiding this time of year because the beaches may be overcrowded. If you don't mind that, then you are good to go.
Semana Pascua
The week after Easter is Semana Pascua. Although not quite as busy as Semana Santa, more than 20,ooo motorcycles meetup here making for an awesome event. Motorcycles ply the road, as people watch the parade and the costumes of motorcyclists.
It's a busy week overall, but also an eventful week.
Spring Break
Spring Break occurs in Mazatlán from January through April, and peaks in March. American and Canadian students go to Mazatlán to party in bars and restaurants along its beaches. Different groups of Spring Breakers crowd the beaches of Mazatlán from January through April, with most coming in March.
June to September
Summertime rain falls in June, with temperatures reaching the high 80s. These are humid, wet summer months, with lots of rainstorms. A very wet time is not a good time to spend outdoors. The rain continues through August reaching an average of 10 inches of rainfall, eventually beginning to calm down as September passes by.
There are a lot of things that can be said of Mazatlan from the allure to its visitors such as the Zona Dorada where the tourists go and the Centro Historico with lovely plazas and recently renovated 18th-century commercial buildings and private homes. 
One thing is for sure however, Mazatlán is almost perfect anytime of the year and ultimately comes down to your personal preference. Whether you are looking to travel during the hottest time, cheapest time, or the overall best time, I truly hope I have helped you solve when you are planning your next trip to Mazatlán, Mexico.
Please make sure to post your questions, comments, concerns or a friendly hello below and I'll be more than happy to respond! Until next time my friend.
---
Make Sure You Pack The Proper Travel Gear:
Looking For More Travel Tips?