Two of the most popular forms of transportation in Puerto Vallarta are Uber and Taxi, but which one is better?
I've used both Uber and taxis countless times while helping my dad move into his new house in Puerto Vallarta, here's what I learned.
Should You Take an Uber or Taxi in Vallarta?
Taxis are more convenient as they are readily available. That said, taxis charge by zones so be sure to establish the fare before you ride. Uber is suitable if there's no taxi nearby. If you're further up north or deep into the neighborhoods for example, an Uber might be your best option.
That said, it really depends on where you are and how busy it is in your area. Generally, the busier it is, the longer you're going to have to wait and the more you'll have to pay, and that goes for both Uber and taxis.
There's much more to consider when deciding between the two though. Let's look at some other aspects of Uber vs taxis in Vallarta.
Is An Uber or Taxi Safer in Vallarta?
Riding in an Uber is safer because you can use the app to confirm you're headed to the right place. Plus, Uber drivers greatly depend on good reviews to keep their job, so providing a safe and efficient service is their top priority whereas cab drivers are not held to as high of standards.
If you do ride in a taxi, make sure to have your destination set in your preferred navigation app such as Google Maps. That way you can keep track of where you're going.
In my personal experience though, I'd say they are equally as safe. I've had good and bad experiences in both.
One Uber driver I had drove like a maniac and was even jumping curbs to get around traffic.
On the other hand, I've ridden with a taxi driver who must have thought he was driving Nascar the way he flew in and out of traffic on a rainy night.
And believe me, I understand how people drive in Vallarta, but these two speed-racers took it to the extreme.
To be fair, drivers who are this crazy are few and far between.
I've also experienced both Uber and cab drivers who drive slower than my grandpa does in 6 inches of snow. But I think these guys are just enjoying life so I don't blame them.
Is Uber or Taxi Cheaper in Puerto Vallarta?
Uber and taxis in Puerto Vallarta offer similar prices. Your best option is to see how much an Uber would cost from your location, then ask the cab driver how much it would cost to compare. If Uber is slightly cheaper you can bargain with the cab driver. If he won't budge, take the Uber.
Remember, taxis in Vallarta don't use a meter to determine the cost of your ride, they go by zones. On average, regular yellow taxis charge approximately $50 MXN to travel within a zone and an extra $10 MXN every time they enter a new zone.
Above are the most current rates that taxis charge when heading from the airport to a specific zone. You can use this chart to compare current Uber rates with a taxi before making your final decision.
You can learn more about the various zones by visiting PuertoVallarta.net.
In general, I often find that taxis are cheaper than taking an Uber. In some cases, the difference in price is significant, like a 20 to 40 pesos difference.
Yeah, maybe it's only a couple of bucks, but you can use what you saved on the ride to tip the driver.
This is especially true if you're in a busy area and Uber's surge pricing kicks in. The surge price can add an extra $2-$4 to the cost of your ride.
I'm sure taxis are aware of this as well, but if you see a group of taxis sitting there with no business while Uber is surging, chances are they're willing to take you where you need to go for cheaper—but you have to ask.
In fact, that's my number one rule. Always ask how much your ride will cost before getting in.
But as I said, it comes down to your personal situation. You really have to test it on a case-by-case scenario.
If you're on a budget and you're trying to save every penny you can, use the method I mentioned above.
If you're not concerned about saving a couple of dollars every time you need a ride then choose whichever is more convenient at the time.
Just remember, you pay for Uber via the app whereas taxis only accept cash (USD or pesos is acceptable).
Just make sure you're aware of the benefits of using pesos over USD (or whatever your native currency is) before choosing to hand over your cash.
Is Uber Reliable in Puerto Vallarta?
Uber is one of the most reliable forms of transportation in Puerto Vallarta. It doesn't matter if you're deep in the tourist zone or far up north away from all the action, you can hail an Uber anywhere in the city. Just know that if you're in a desolate area, it will take longer to arrive.
In fact, when my wife and I visited the butterfly sanctuary which happens to be down a long dirt road, deep into the city, and in the middle of nowhere at the same time, not only did an Uber drop us off but it also picked us up.
We did have to walk up the road to get service though. And we had to wait 20 minutes for our driver to arrive, but nonetheless, he showed up.
We found that requesting an Uber is particularly helpful when there aren't any taxis around.
This probably won't be a problem if you're staying anywhere near the Malecon, but since we live up north and deeper inland, there are fewer taxis to wave down.
The only place where getting an Uber can be a little tricky is at the Puerto Vallarta airport.
How to Get an Uber at the Puerto Vallarta Airport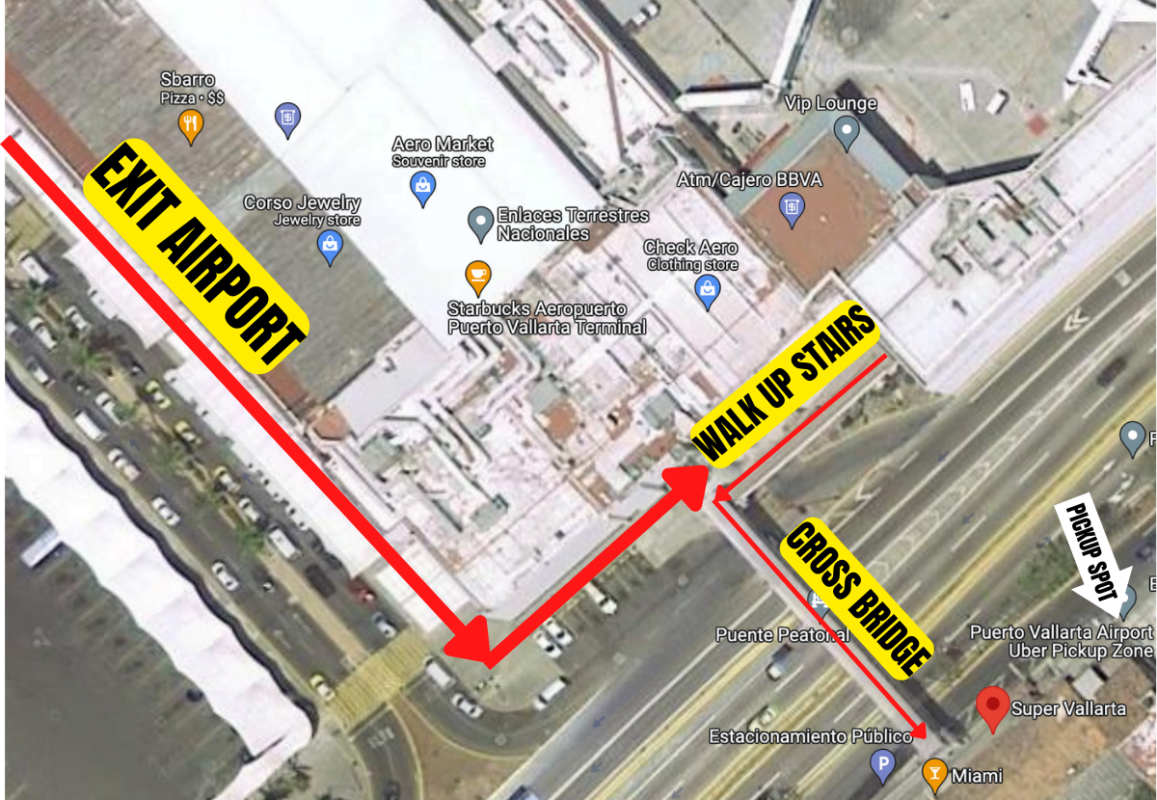 Once you land in PVR, you're going to want to take an Uber unless you're okay paying super-inflated taxi or shuttle fees. 
But, you can't order an Uber on airport property, so how do you get an Uber at the PVR airport? 
Follow the steps below.
1. Exit the airport left and walk straight
Immediately upon exiting the airport, take a left and walk toward the end of the building.
2. Take your first left where the airport building ends
Take your first left once the building ends. You'll notice an OXXO store directly to your right across the street. If you want a drink before catching your Uber, that's a good place to go.
3. Continue up the stairs that lead up to the bridge
After taking a left, continue to walk towards the pathway that leads up to the bridge which passes over the main roadway.
4. Cross the bridge, once on the other side, order your Uber
Once you cross over the bridge to the other side of the street, you can order your Uber while still standing on the bridge.
I only recommend this because there are a bunch of shops and taxi drivers directly below who will hassle you.
It's nothing to worry about, that's just the way it is. Personally, I just wait at the bottom and deal with it.
5. Walk down the stairs when the Uber is nearby
When your Uber is nearby (2 to 3 minutes away) walk down the stairs until you reach the Uber pickup location.
Pay close attention to where the app is telling you your Uber is waiting. If they don't see you, they'll probably call you.
Also, always verify the driver's name, car model and color, and ensure that the license plate on the car matches what the app says.
If everything checks out, hop in and enjoy the ride!
It's important to note that although Uber doesn't can't pick you up on airport property, they can drop you off directly in front of the doors if you're headed into the airport.
So, if you think you need to catch a cab back to the airport, you don't. An Uber is acceptable too.