What Is The Best Place To Live In Mexico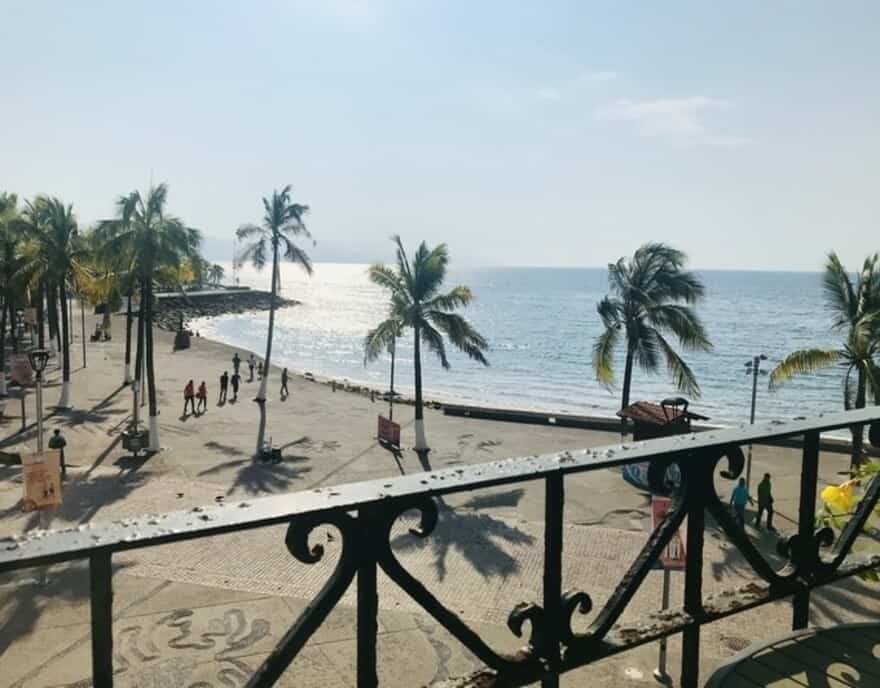 I often daydream about a life in Mexico after visiting a handful of times. So much that I actually began to wonder, what would be the best place to live in Mexico?
Being one of the safest cities in Mexico, as well as having a low cost of living (about $2000 USD per month), plus amazing food, Puerto Vallarta is the best place to live in all of Mexico. You can hike luscious green mountains, or take a stroll on the boardwalk while listening to the calming waves crash onto shore. PV is the place where everyone wants to live in Mexico.
| Best Places To Live In Mexico | Pros: |
| --- | --- |
| Guadalajara | Diverse Population, Many Expats In The Area |
| Mazatlán | Inexpensive Beach Town |
| Mérida | Awarded City Of Peace and Voted Cultural Capital Of The Americas |
| Puebla | Very Inexpensive, Known For Great Food and Beautiful Architecture |
| Puerto Vallarta | Safe Beach Town, The Best City To Live In Mexico |
What started as a small fishing town, is now a bustling tourist city seeing over 4.1 million tourist per year (second most-visited city in Mexico). Now, you may be asking why is this a good thing, and why would you want to move to a busy tourist town?
Currently, over 35,000 U.S. Citizens call Puerto Vallarta home, and for a good reason. Being such a popular tourist location, a majority of the people living here will speak a bit of english, so you should be able to get by knowing minimal Spanish (however, I recommend you learn the language). The people in PV are charming, welcoming, and some of the nicest people you will meet. Moreover, the cost of living is low, with the average rent for a 1 bedroom apartment in the city center averaging only $600.00 USD per month.
Whether you are looking for a place you can sit-back and relax, or are an active person full of adventure, PV will suite anyone well. The overall vibe in this town is very relaxed. Yet, most people living here are very active and hard working. Imagine waking up every morning and being able to take a walk next to the ocean, have a beach day, and meet some really amazing people from all around the world. In PV everyone fits in, and there is very little discrimination of any kind.
Overall, Puerto Vallarta is an excellent city in Mexico to call home. Getting around town is easy, you can walk to just about anywhere, or hop on a public bus for only 10.00 MXN and get anywhere in town. There is so much to do, from hiking to fishing, or relaxing on the beach with a cold cerveza in hand. Did I mention the weather? The average high temperature in Puerto Vallarta sits around 85°F, with the average low being 69°F. Can you say perfect weather?!
Take one trip to Puerto Vallarta and you will see why so many U.S. and Canadian expats call this wonderful place home.
Is Living In Mexico Dangerous
Keeping safety in mind is an important factor when deciding where you want to live. So you ask, how dangerous is it to live in Mexico?
Crime rate overall in Mexico is considered high however, most crime is isolated to certain cities, and specific areas within a city, or near the borders. The most common crimes in Mexico are corruption, theft, and drug trafficking. Although the murder rate is on the rise, this is largely due to cartel interactions, which are generally confined to certain areas in Mexico.
Top 5 Most Dangerous Cities In Mexico

Most Common Crime

Crime Index Level

1. Culiacán

Bribery & Corruption, Assault, Robbery

71.94 HIGH


2. Ciudad Juárez

Drug Trafficking and Drug Use, Bribery & Corruption

67.76 MODERATE

3. Tijuana

Bribery & Corruption, Drug Trafficking

67.08 MODERATE

4. Acapulco

Bribery & Corruption, Assault, Robbery

66.77 MODERATE


5. Chihuahua

Bribery & Corruption, Assault, Robbery

61.50
MODERATE
All info on this graph was obtained from Numbeo.com a crowd-sourced global database of reports by consumers.
Just like any country, Mexico has the potential to be dangerous and certain cities such as Tijuana you may want to avoid. Generally speaking, if you use common sense and stay alert you will be less likely to find yourself in a sketchy situation. Also, knowing how to speak Spanish will help you tremendously, and increase your communication skills which can be very critical if in a tough spot.
What Is The Safest Place To Live In Mexico
If I were to move to Mexico one of the first things I'd ask is; what's the safest place in Mexico to live?
Statistically speaking, Yucatán state is the safest place to live in Mexico. In fact, the city Mérida was awarded City of Peace in 2011. The crime rate in Mérida is considered low; with crimes such as corruption and bribery being only moderate.
The cost of living in Mérida is also cheap. You can rent a one bedroom apartment for $280.00 USD per month, or a 3 bedroom for only $540.00. Expect to spend between $1000.00 to $1500.00 per month depending on your needs and your spending habits in order to live in Mérida.
Filled with deep Mayan and Colonial heritage Mérida is not only the safest city in Mexico, but one of the most beautiful places as well. Mérida was voted for Cultural Capital of the Americas due to its diverse collection of art, architecture, and of course my favorite, their food.
If you are looking for the safest city in Mexico, Mérida should be your go-to place.
What Is The Cheapest Place To Live In Mexico
If you are looking for the cheapest place to live in Mexico, well so am I. After doing some research, I discovered the cheapest place to live in Mexico.
Numbeo (the biggest crowd-sourced cost of living internet database) ranks Puebla one of the cheapest cities to live in Mexico. The total cost per month to live in Puebla is $500 to $700.00 USD. The average rent per month for a one bedroom apartment will cost you between $130.00 to $200.00. Utilities for your apartment would average $25.00 per month (add an additional $27.00 for unlimited internet), and only $30.00 each month for public transportation.
Puebla is the 4th largest city in Mexico with a population of over 1.5 million people. Known for their food (especially mole), and pottery, Puebla is nothing less than a gorgeous place, full of history and culture.
You will enjoy museums, beautiful cathedrals, markets, and an overall relaxed and welcoming vibe.
Puebla is only a 2 hour drive South of Mexico City. Making for a tempting option if you don't want to live in the thick of Mexico City, but wouldn't mind visiting from time to time.
Where Do Most Expats Live In Mexico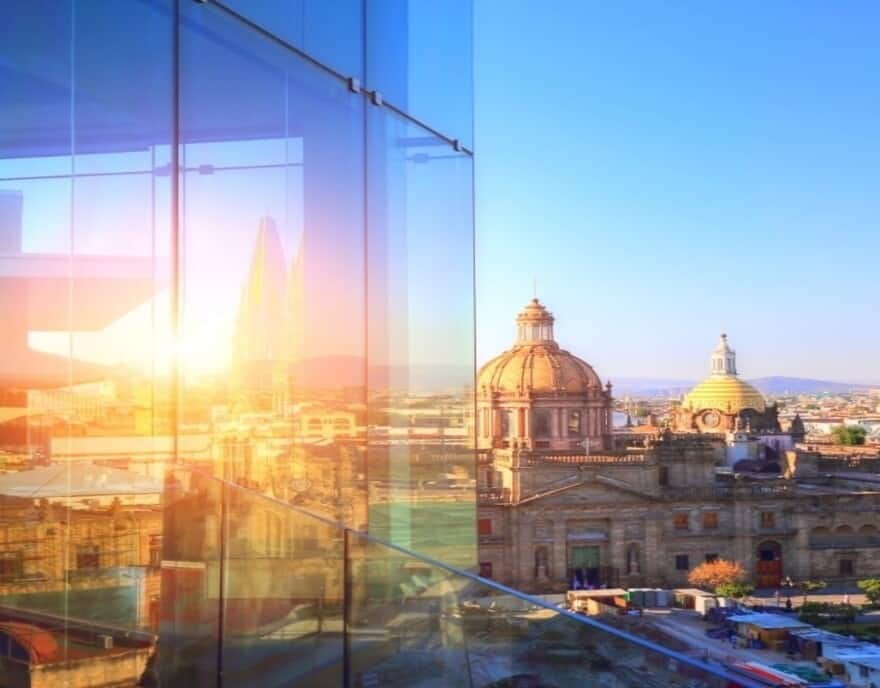 If you can't beat 'em, join 'em is the thought that comes to mind when I asked myself, where are all the expats living at in Mexico?
With an estimated 50,000 plus expats, Guadalajara is where most expats reside in Mexico. More specifically, Lake Chapala region sustains over 20,000 of these expats.
There are three expat communities in Lake Chapala; Jojotepec, Ajijic, and Chapala. These locations host the most concentrated levels of American and Canadian expats in the city. About everyone here will speak English, as well most restaurants and stores will have an english menu option.
Ajijic is considered to be more up-scale out of the three communities and is aimed towards the expats living there. These communities are great, and make for a convenient way to communicate with other expats in the area.
If you are looking for just a bit more culture and the real Mexican experience, I recommend moving to Guadalajara city opposed to the expat communities. The city of Guadalajara is very diverse with people from all around the world calling this place home. If you are looking to practice your Spanish, then Guadalajara is the perfect place. But don't worry if you're not great with Spanish because most people here also speak a bit of English.
Guadalajara offers a cheap cost of living, averaging $1000.00 per month for one person. Not only is this city inexpensive, but the 1.5 million people here are very welcoming, even when it comes to foreigners.
The weather here is perfect spring time weather year-round, and due to it's elevation, the summer months don't get too hot like in other cities. In fact, most recently in 1997, Guadalajara saw some snow fall. However, this is not typical and the winter months generally only last a couple weeks here.
Dive into the melting pot of Guadalajara for the ultimate Spanish experience.
Most Affordable Beach Town In Mexico To Retire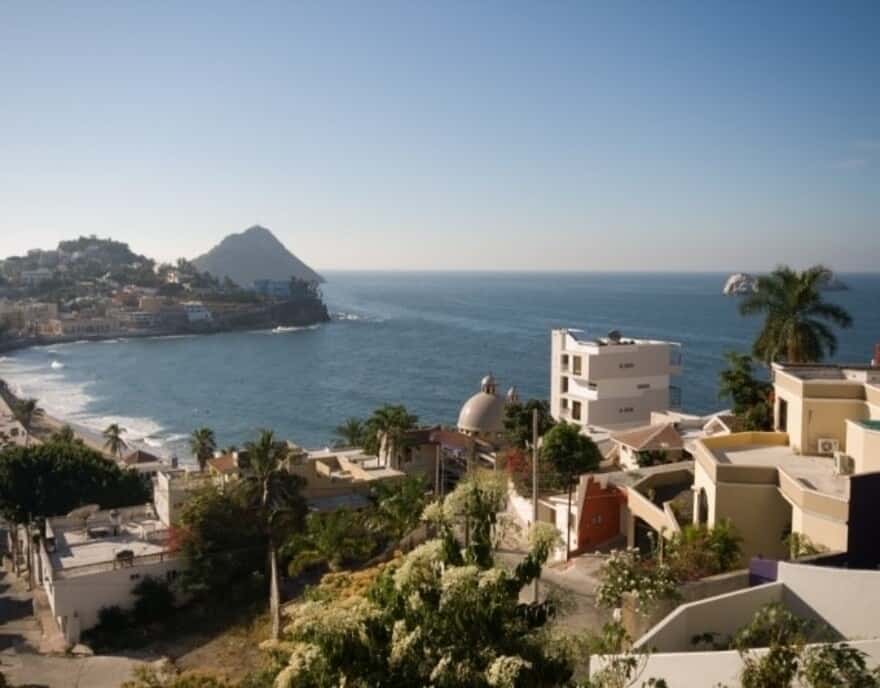 Everyone wants to retire in a beach town, but what is the most affordable beach town in Mexico?
Mazatlán is not only one of the most affordable beach towns in Mexico, it's just downright cheap! A monthly budget for a couple living in Mazatlán ranges between $1000.00 USD to 1500.00 USD.
Expense

s Each Month

Cost

US$

1 Bedroom Apartment in City Centre

$370.00

Utilities




(Electricity, Heating, Cooling, Water, Garbage) for 915 sq ft Apartment

$30.00 (add $25.00 for internet)

Groceries

$150.00

Public Transportation

$40.00

Recreational Activities

$100.00

Average Cost To Buy An Apartment In City Centre

$138.00 per sq ft

Property Tax 0.1% of total property value (Paid Annually)

Between $200.00 and $300.00 average

Average New Car Price
(Total Price)

Between $12,000.00 and $15,000.00
Prices are based on multiple contributors who have reported cost of living on Numbeo.com
Best Places To Retire In Mexico On A Budget
After doing some research, I was shocked to learn how inexpensive this city in Mexico is to retire in on a budget.
Puebla is the best place in Mexico to retire on a budget with monthly expenses averaging only $500.00 to $700.00 USD. This charming town is perfect for someone looking to increase their quality of life and are looking for the perfect Mexican getaway, at a very low cost to you.
Most Inexpensive Cities To Retire In Mexico On A Budget

Monthly Cost Of Living US$

1) Puebla

(Inner City)
$500 to $700.00

2) Mérida

(Inner City)
$1000.00

to

$1500.00

3) Mazatlán

(Beach Town)
$1000.00 to $1500.00

4) Puerto Vallarta

(Beach Town)

$1700.00 to $2000.00
Mexico is full of great cities that are inexpensive to live in. It's very realistic for anyone who dreams of moving to Mexico, to make it happen. Think, you could move to Mexico for just a year if you want to test it out first. All you would have to do is save up enough income to afford your cost of living for that year. Realistically, you could be living a life in Mexico for as little as $14,000.00 per year!
You will need to determine which city you want to live in and why, then once you know that, you figure out how much your cost of living will be for the amount of time you plan on living there.
No matter what kind of city it is that you are looking to move to, I'm positive you will find your dream home in Mexico. At the very least you will improve your quality of life plus, enjoy a change of scenery and lifestyle, which I always consider refreshing.
Thank you for your continued support and please don't hesitate to leave a comment, question, or any concerns you may have and please share your experience if you have lived in Mexico, or are planning to live there.