Just about everyone knows Puerto Vallarta is a top vacation destination for honeymooners and beachgoers alike. But, did you know they have a large appetite for fantastic food?
Puerto Vallarta hosts some of the best restaurants you will ever try. Offering over 200 restaurants in PV, surely there's no lack of culinary experience and family tradition, all infused into some of the best food your tastebuds have tried.
These aren't your run-of-the-mill restaurants I pulled off of Google. I've wandered the city personally with one simple goal in mind, find all of the best places to eat in Puerto Vallarta. Now I have the pleasure of sharing my experiences with you. So sit back, relax, and let the mouth watering begin.
Loncheria Don Jorge (Best Hole-In-The-Wall)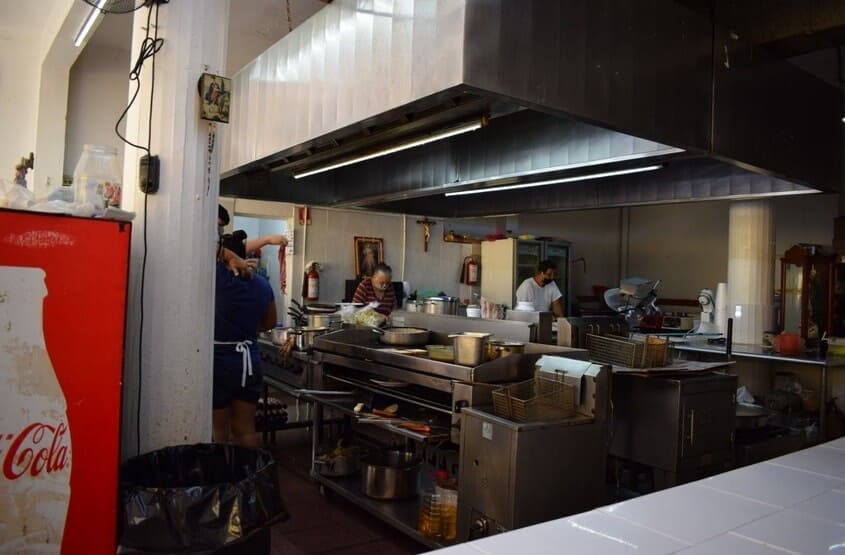 If you are looking for the most authentic Mexican hole-in-the-wall restaurant in Puerto Vallarta, look no further than Loncheria Don Jorge.
Loncheria Don Jorge is located in the "Rio Cual" (City Market). It's literally a large opening in the wall, right off the street. The counter surrounds the staff and kitchen, as they whip-up some of the most delicious and authentic Mexican food you can get your hands on. It's a really unique experience, that not every restaurant offers. Plus, you know you're getting your food hot and fresh out of the kitchen every single time.
From sopes to posole, quesadillas and tacos dorados, Don Jorge has it all. The staff here is hard-working, and they treat everyone with the same respect. While you sit and enjoy your food, you'll notice just how popular this local spot really is. Their phone was ringing, and orders were being placed the whole time I was there enjoying my meal. Many locals stop by for a quick lunch break, or a licuado (smoothie) to-go.
Whenever your sit down and order your meal, they serve you three different salsas to enjoy with your food. Don't worry though, the salsa ranges from mild to medium, and then pretty spicy. I suggest starting off with the mild salsa, if you need more spice in your life, then you can move up to the medium.
As far as the food goes, it is muy delicioso! Seriously, this is traditional Mexican cooking at it's finest. The food is hot, the flautas are crispy, and the salsa compliments any dish on the menu. The most amazing thing is how excellent the food taste, but how inexpensive the price is. The most expensive item on the menu at the time I was visiting was only 90 pesos ($5.00). Don't miss out on this local gem.
El Campanario (Best Authentic Mexican)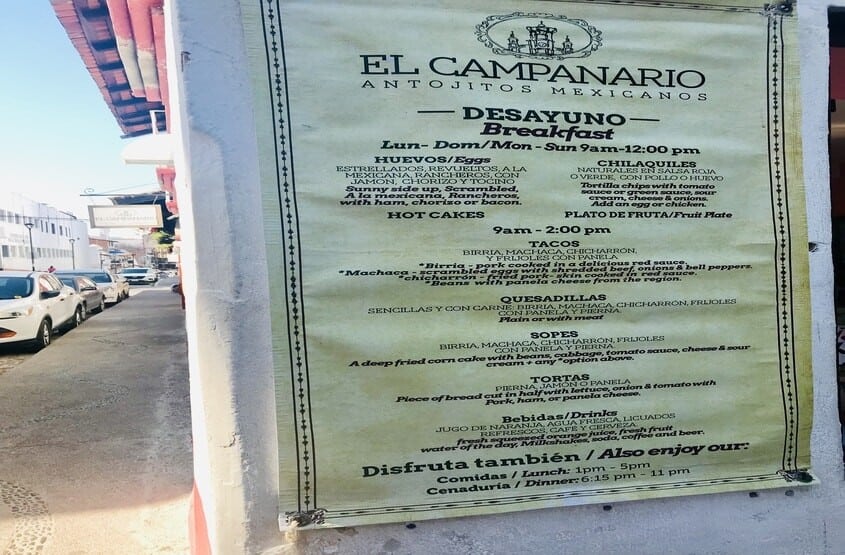 Located right across from the beautiful Parish of Our Lady of Guadalupe's front steps; is the best authentic Mexican food you will touch your tastebuds too in town.
Sit down in this little authentic Mexican restaurant and enjoy the casual vibe. Whether you visit El Campanario early in the morning, late afternoon, or around dinner time, you will find that this restaurant is always most certainly busy. Local families and friends gather here to enjoy delicious home-cooked traditional Mexican classics. You have to try all their menus which change all day; breakfast, lunch, and dinner all offer different menus.
My last time in Puerto Vallarta I went here for breakfast with my wife, and then again to have lunch with my dad that same day. Both times were delicious, and it was a different menu each time which is great.
Enjoy Mexican classics like chilaquiles or a torta early in the morning, carne asada and fajitas in the afternoon, and my personal favorite, dinner time. This is when they serve pozole, flautas, tamales, and enchiladas. I have tried all these items and yes, they are all delicious as you'd think they would be.
The staff here is welcoming and professional, I always leave here more than satisfied. If you are looking for that home-cooked flavor and vibe, you have to go to El Campanario.
Pancho's Takos (Best Tacos)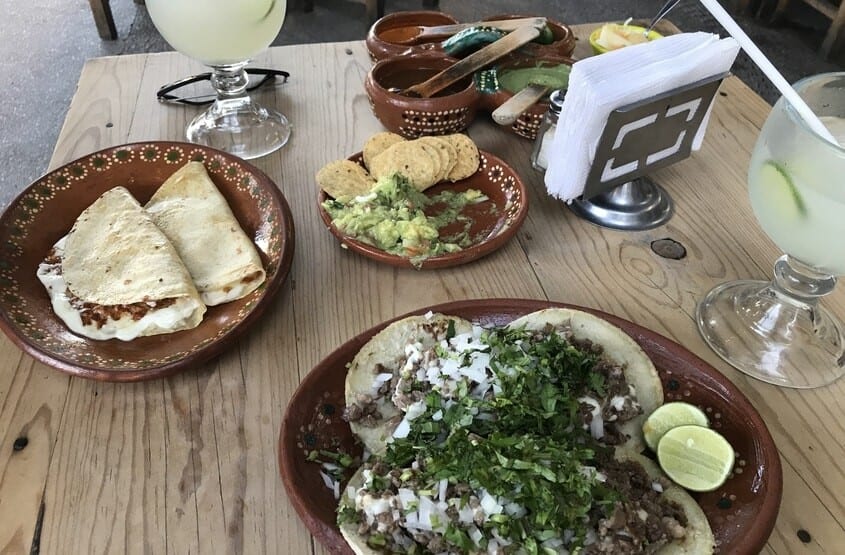 There is some fierce competition when it comes down to choosing the best taco spot in Puerto Vallarta, but Pancho's Tacos wears the crown.
Sit down outside (or inside) and feel the heat blazing from the fire that cooks a rotating hunk of meat known as "al pastor". You haven't tried tacos if you haven't tried tacos al pastor. The meat (usually marinated pork) is slowly cooked, while it rotates around an open flame on a vertical spit (stick). When you order tacos al pastor, the meat is thinly sliced off of the freshly roasted pork chunk, right into a tortilla, and ultimately into your mouth, all in a matter of seconds. Enjoy any taco with a splash of spicy, yet flavorful habanero salsa.
As you walk up to Pancho's Takos, you will quickly notice that this is the place to be. It's not uncommon to see people standing outside lining-up down along the sidewalk, waiting for their chance to try the best tacos in Puerto Vallarta.
The tacos at Pancho's are crafted to perfection. The tortilla is warm and soft; but still sturdy enough to hold the tender meat, and there is plenty of cheese and salsa to go around. If you don't want tacos, no worries. Pancho's Takos understands thankfully, they also serve delicious cheesy quesadillas, stuffed avocados, and of course cold cerveza which compliments any taco.
There's a reason Pancho's Takos has been a local favorite since 1989, and even more recently they won TripAdvisors Traveller's Choice Award in 2020. Make sure to get here around open if you want to avoid waiting to be seated. But, even if you have to wait it's more than worth it!
Tacos Revolucion (Best Ice Cream)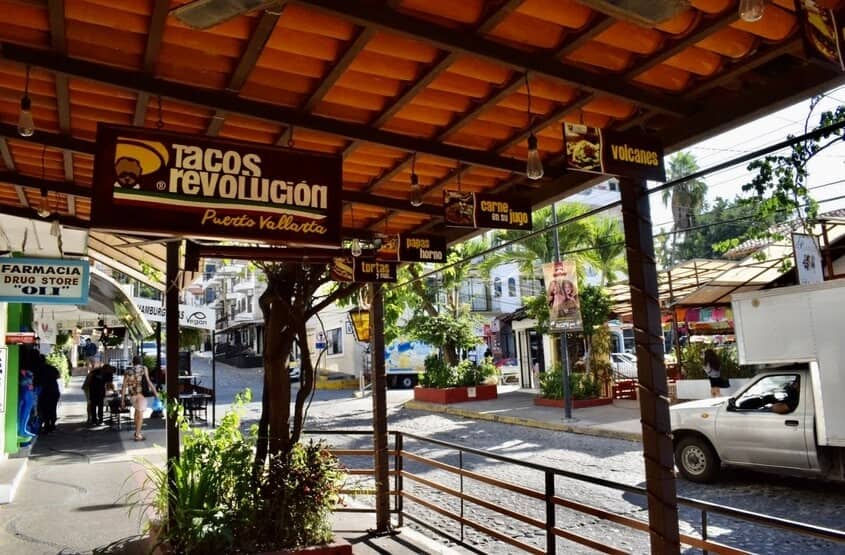 Surprise! Tacos Revolucion isn't only known for their great tacos and homemade tortillas, but they also serve up some of the best ice cream to help scrape it all down.
Tacos Revolucion is a modernized taco restaurant, serving up a variety of delicious tacos from classics like asada and lengua or, enjoy some soy and vegan options such as soy chorizo and mushroom tacos just to name a couple. If you are craving tacos, I have no doubt in my mind that Tacos Revolucion will satisfy every taco-lovers need. They also offer a huge serving of nachos that you can either share with a few people, or keep it all to yourself if you're real hungry. Finish your meal off with some tasty craft beer or a margarita and you will be set to enjoy some superb dessert.
The item on their menu that really stands out to me, and one of the reasons I always come back; is their handmade ice cream. Choose from coconut, pineapple, melon, and even corn, all served in their respective skin. This ice cream is so good I always order two different flavors, the fact that it's served in its own skin makes it even more tasty in my opinion.
The ice has cream features a deep flavor that's not overly sweet, containing chunks of the fruit that it's made from. Because this isn't your normal overly-sweet ice cream, you can enjoy multiple servings without losing interest. If you're not crazy about tacos, make sure to stop by even if it's just for a cold cerveza and some hand-made ice cream. You can thank me later.
Coco's Kitchen (Best Breakfast)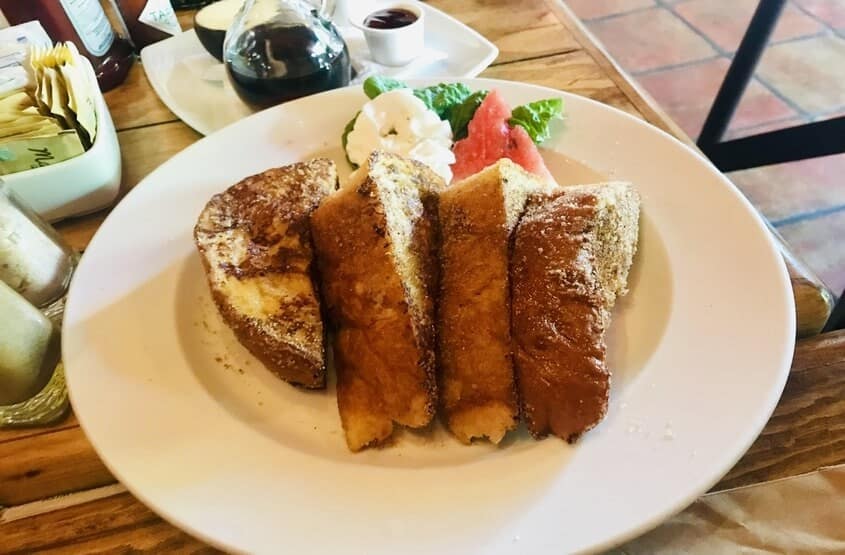 Sitting right off the street in a laidback part of town, you will find Coco's Kitchen; the best breakfast spot in Puerto Vallarta. And, as far as I'm concerned the best french toast in in the whole town.
Coco's Kitchen is a large open-area breakfast joint, tucked away on a quiet shaded street. Listen to the birds chirp as you enjoy a massive selection of breakfast and brunch food, plus some thirst-quenching drinks. Coco's Kitchen serves breakfast staples like waffles, omelettes, pancakes, and chilaquiles. Coco's offers lighter options as well such as fresh fruit, yogurt, granola, and oatmeal.
My absolute favorite item on their menu is their french toast, which is made to perfection. Envision a thick slice of bread, perfectly soft, topped with almonds, fresh fruit, and mouth-watering syrup. It's flavor city with every bite you take. They offer four different types of french toast including stuffed french toast. You can't go wrong choosing any one of them.
Enjoy your breakfast with a glass of fresh juice, a relaxed vibe, and friendly people all around. Most importantly, don't miss out on the best local breakfast spot in Puerto Vallarta.
Mi Cafe Restaurant & Coffee Shop (Best Cafe)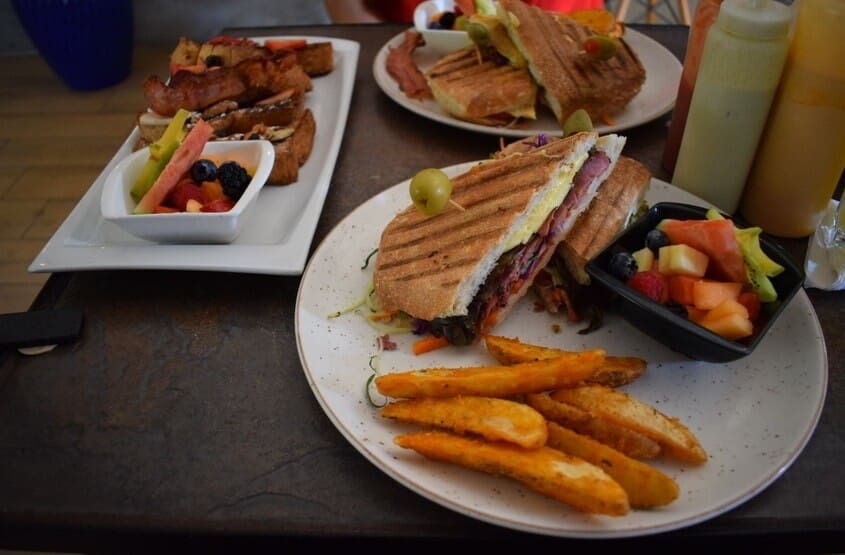 Mi Cafe is a modern and bustling little cafe located in the Romantic Zone. When you take a seat here and begin to look around, you will see that all the locals love to come here, and once you take your first bite you'll realize why.
Mi cafe is not only the best cafe in Puerto Vallarta moreover, they provide some of the best service in my experience. They will happily tighten down a hook on your table, so you may hang your bag and personal belongings while you enjoy your meal. The menu is fully stocked full of good-eats; sandwiches and croissants, steak and eggs, pancakes, french toast, salads, and of course a freshly brewed cup of coffee to top it all off. The espresso here is exquisite and leaves a pleasant after taste as you gulp it down.
I would say that Mi Cafe Restaurant & Coffee Shop is a solid runner-up for the best breakfast spot in Puerto Vallarta. However, I still prefer Coco's Kitchen's french toast. I'm not talking-down on Mi Cafe's french toast, because it is also fantastic.
The service here is exceptional, the waiters are attentive, and the food arrives quickly. I highly recommend Mi Cafe, no complaints here.
Gaby's Restaurant Bar (Best Bar Restaurant)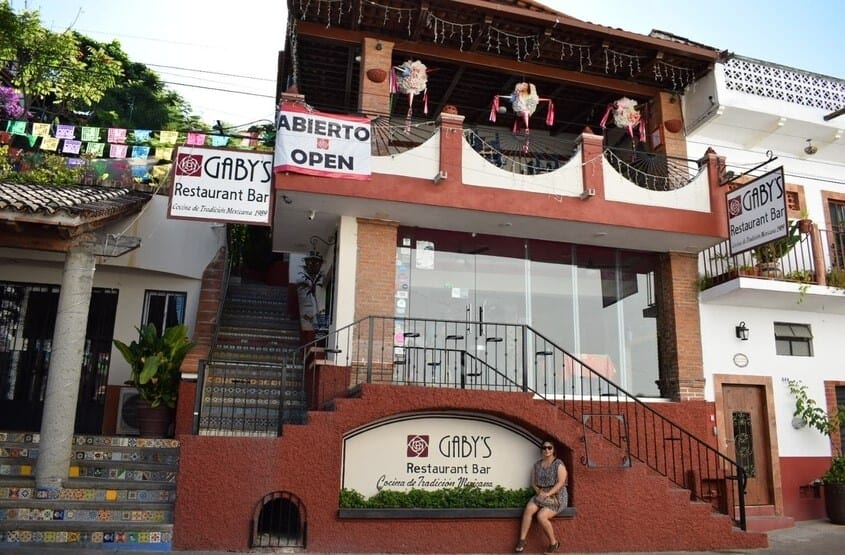 Gaby's Restaurant Bar holds a special place in my heart. Gaby's was the first restaurant I tried in Mexico.
Gaby's is nestled three streets into the thick of the city, straight back from the Triton and Mermaid statue that sits on the boardwalk. Enjoy a beautiful balcony view with outdoor seating available on the second-story floor. You'll catch a nice glimpse of the boardwalk and the gorgeous blue ocean, right from your seats while you enjoy some terrific Mexican bar food.
When browsing through Gaby's menu, you will find a nice selection of different dishes ranging from classic Mexican (enchiladas, chimichangas, mole, fajitas), to Seafood (shrimp and fish), and even three proper pasta dishes.
I've had the chance to eat at Gaby's more than a few times now, and I've come to the conclusion that Gaby's is a very good restaurant with fair prices. They offer a little bit of everything, and the location combined with the view is very pleasing. I would recommend Gaby's to anyone who is looking for a relaxed vibe, and some great food and drinks. Whenever I visit Puerto Vallarta, I will always return to Gaby's for an overall great dining experience.
Longolo Di Napoli (Best Pizza)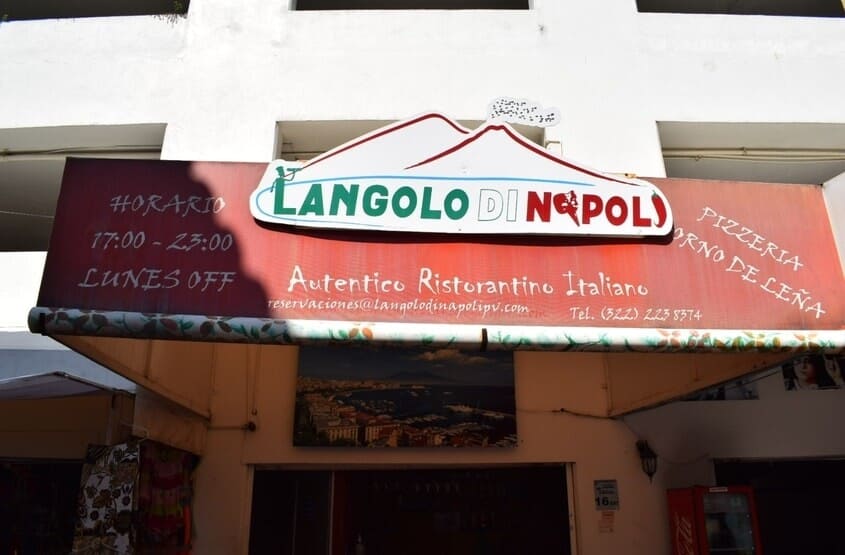 If you're having a pizza craving, Longolo Di Napoli has you covered. Enjoy a pleasantly soft and thin crust pizza, baked to perfection.
Longolo Di Napoli's offers the best pizza in Puerto Vallarta. Enjoy a simple pizza that includes tomato sauce, fresh mozzarella, cherry tomatoes and basil (Cumm Si Bell). Or, if you are craving a more hearty pizza, then you may want a slice of pure bliss; tomato sauce, fresh mozzarella, ham, mushrooms, olives and artichoke hearts with an egg in the middle (Capricciosa).
Not a fan of meat pizza, not a problem because Longolo Di Napali's has all you veggie lovers in mind. Longolo offers veggie pizzas in addition too multiple varieties of gluten free crust. Or, you can choose to make your own pizza, either way it's SO GOOD!
Now, I know I previously stated that Langolo Di Napoli's has the best pizza in town, but that doesn't mean you shouldn't try their other menu options. They have homemade gnocchi, linguine, and fettuccine dishes that they pair up with an assortment of either clams, mussels, and shrimp, Italian sausage, or beef and pork meet. Of course they have gluten free pasta and veggies options as well, nicely done Langolo Di Naploi's!
Salud Superfood (Best Healthy)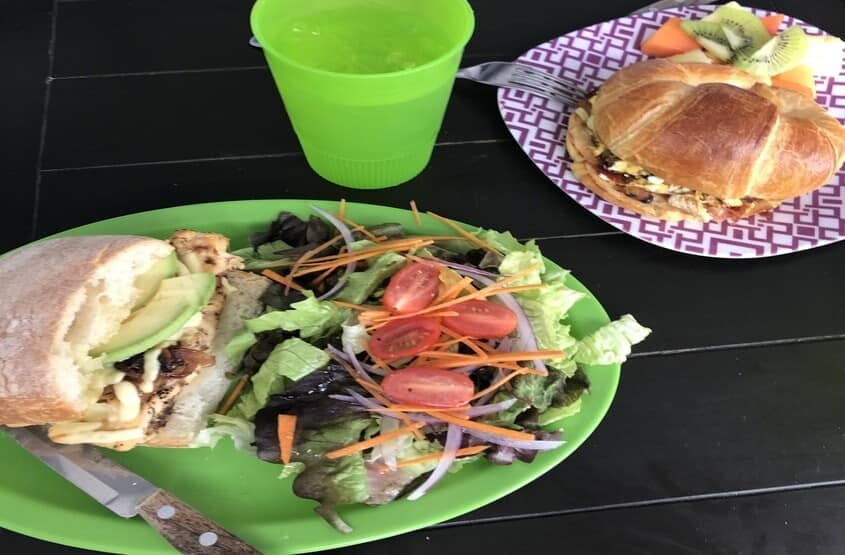 If you need a break from all the delicious but sometimes greasy food in Puerto Vallarta, head over to Salud Superfood for a delicious way to detox.
Salud Superfood is a great way to take a break from the spicy and sometimes greasy food in Puerto Vallarta, without sacrificing any excellence in any form; flavor, quality, and healthiness, is what you will find at this super-food spot in Puerto Vallarta.
I don't know how they do it, but the food here is packed full of flavor! I ordered the grilled chicken sandwich with a salad and was pleasantly surprised after my first bite. This is hands-down the best chicken sandwich I have ever had, and the dressing on the salad is outstanding.
The rest of their menu is actually quite extensive; burgers, noodles, sandwiches, tacos and wraps, all made with quality ingredients.
If you need a little pick-me-up, or even some antioxidants, Salud offers over 13 kinds of smoothies all made with fresh fruit and other organic ingredients.
Generally, health-conscious restaurants are more expensive however, that is not the case at Salud Superfood. The average cost for a meal is ranges from $3-$6. How can you afford not to go with such low prices, and such high quality ingredients.
Don't let the "Healthy" aspect scare you out of trying one of the best spots in Puerto Vallarta, Salud Superfood is nothing less than super-good-food.
The Churros Guy

(Best Food Stand

)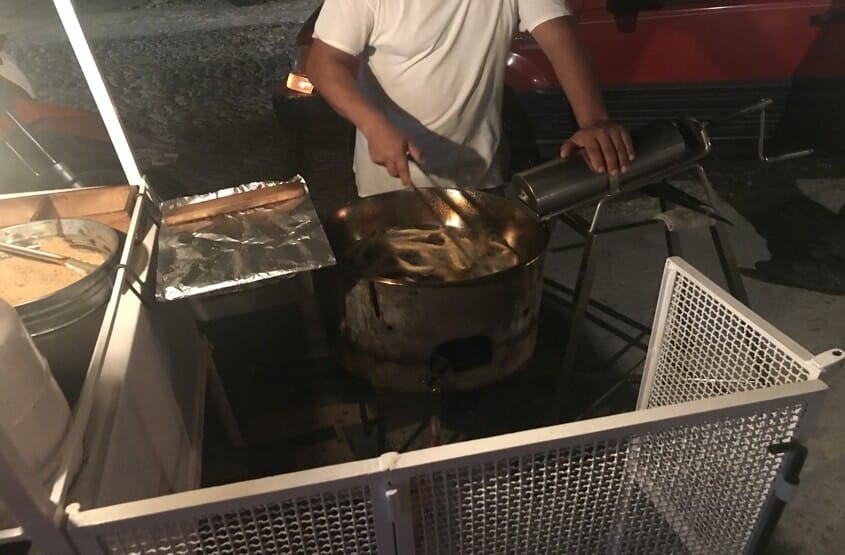 You haven't had churros until you've tried The Churro's Guy churro's. Made fresh in front of your eyes, these things are fried-to-order.
The Churro Guy is very well known locally in Puerto Vallarta, you will see people stop by on their way home from work just to say hello. If you visit him anywhere from 6-8PM, expect there to be a line of people down the block, waiting for their turn to get their freshly-fried, cinnamon dusted churros.
Usually, the Churro Guy is open until 9PM at the latest but, depending how many people he sees throughout the day and how much churro dough he has left, ultimately determines how long he will remain open. It's not uncommon for him to closedown by 8PM, and sometimes even earlier. So make sure to show up shortly after open for your chance to try some real churros. You don't want to miss out on these treats!
Oh, and did I mention you pay less than 2 pesos per churro! I got 3 churros for only 5 pesos. That's about 25 cents for 3 churros, fried-to-order.
La Naranja Azteca (Best Juice)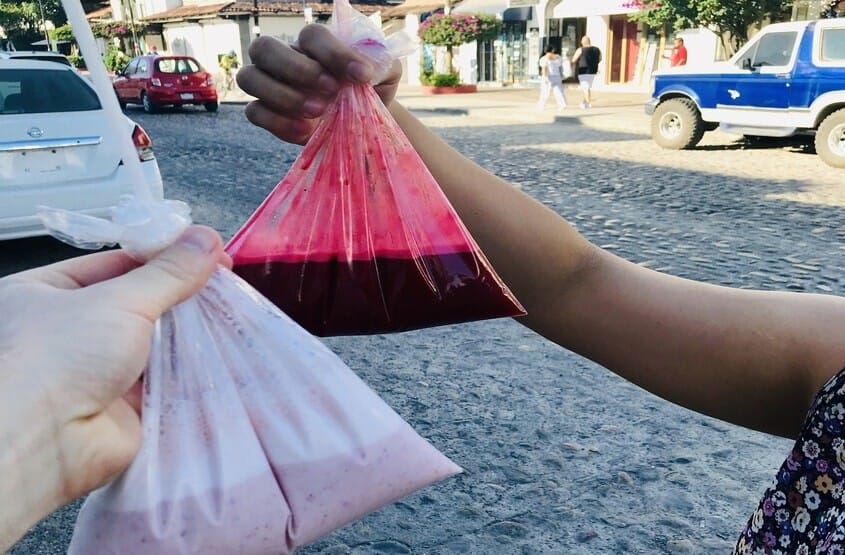 When I stay in Puerto Vallarta I start every morning off with freshly-made juice at La Naranja Azteca.
La Naranja Azteca is located on Ave Mexico, in a small closet-sized room right of the sidewalk. Large bags of fruit surround the small opening, where 2-3 employees stand and squeeze the best juice you will try in Puerto Vallarta. If you're walking down Ave Mexico and suddenly see a small crowd of people gathering, you have probably found La Naranja Azteca. This is exactly how my wife and I stumbled upon this place.
You request a mixture of any assortment of fruit and veggies. They offer oranges, bananas, beets, carrots, papaya, and strawberries. Make it a smoothie and they'll splash some milk into the mix. You can choose either a mediano (medium) for 18 MXN, or get 1 whole liter of juice or smoothie for only 35 MXN. Where else can you get freshly squeezed juice for less than $2 for a liter? No where that compares with La Naranja Azteca. I recommend a strawberry-banana smoothie (strawberry, banana, and whole milk). It's so simple, but so creamy and smooth. Order the medium size drink and your beverage is served to you in a clear bag tied around a straw, for your drinking pleasure.
La Naranja is a perfect way to start your day and get you energized for any adventure that may await. Mine and my wife's morning routine is to wakeup, walk to La Naranja Azteca, order our beverage of choice, then enjoy a nice hike up to Cerro de la Cruz lookout.
Cocos Helados (Best Coconut Stand)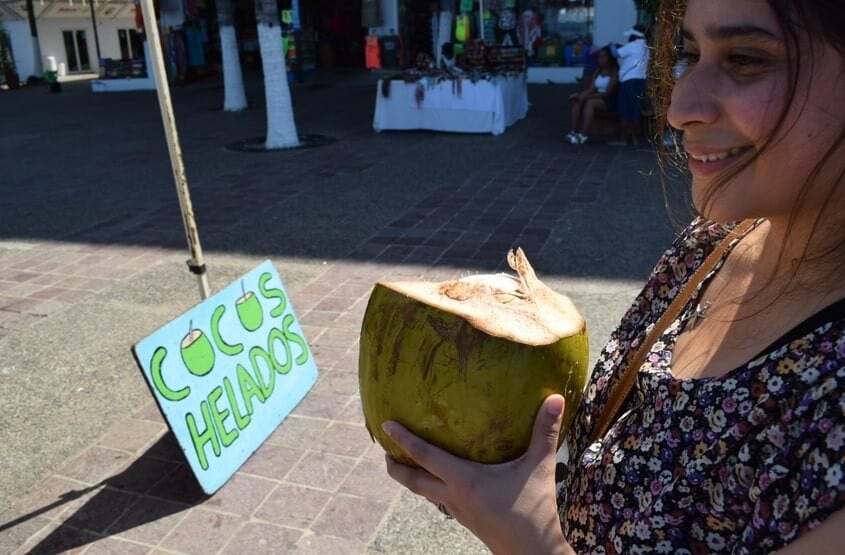 If you need a cold and refreshing pick-me-up when exploring Vallarta's boardwalk, make sure to stop by Cocos Helados.
Coco's Helado's is a pop-up vendor that usually sets up shop between the Lorena Ochoa Statue, and the Bailarines de Vallarta statue on the Malecon. You can expect to find them anywhere between noon and late into the evening.
The words on their sign explains it all, "Cocos Helados". These coconuts are cold and extremely refreshing. The meat inside is tender with a nutty flavor. When you order a coconut get ready, and stand back. They will whip out the machete and with only a few hacks against a wooden stump, your coconut is ready to sip on. If you hangout for a bit while you finish drinking your fresh coconut water, you can ask them to scrape the meat out for you. They will conveniently place all the meat in a bag for you, and will even add lime and spices if you want. It's the little things like this, that make such an amazing coconut stand.
Bakery & Confectionery Yarita (Best Bakery)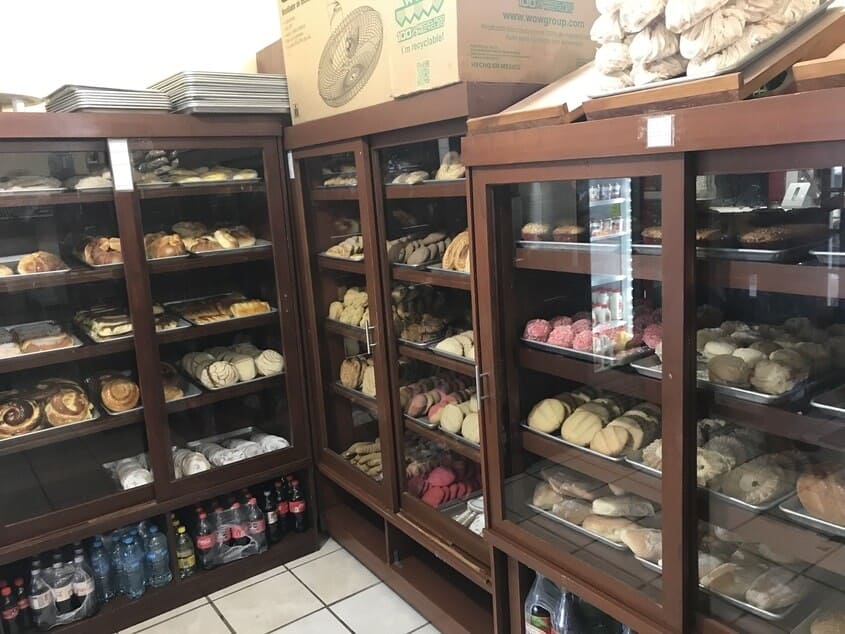 Bakery & Confectionery Yarita is the best bread shop in Puerto Vallarta. There are so many different kinds of sweet bread, cookies, and breakfast croissants that will have you drooling before you even arrive at the cashier counter with your tray full of sweets.
I felt like a kid in the candy store when I first step foot inside this wonderful bakery. I was actually walking down the street from Pancho's Takos when my nose caught wind of that sweet and hypnotizing sent of freshly baked bread. I had no choice but to sniff out the source, and that I did! It was coming from their walk-up window where you can order whatever you'd like, without even entering the shop. Of course, I went in to explore and found some wonderful baked treats. I got a creme filled empanada, sweet bread, and this scrumptious ham and cheese baked pastry. I wanted to keep adding more to my bread tray, but I had to resist for my own sake.
If you are in need of some sweetness in your life, just stop by Bakery & Confectionery Yarita and enjoy the best bakery in Puerto Vallarta.