It's no secret that seafood and Mexican cuisine go hand in hand, especially in Baja, where the ocean is right at your doorstep. A fun way to spice up your dinner plans is to try out some of the best fish tacos in Ensenada, which are the backbone of the city's street food scene. 
In fact, the first fish taco EVER was made right here in Ensenada. So not only will you #treatyourself to an authentic and delicious lunch, but you'll also be tasting an important piece of the region's culinary history. It might not seem like a big feat to add seafood to an ever-growing list of taco toppings, but this special combo has a unique story full of local lore. 
Ready to take yourself on an epic street food tour? Here are the best fish taco vendors in Ensenada that you simply can't miss.  
Table of Contents
The Best Restaurants Serving Fish Tacos in Ensenada Mexico are:
Tacos Fenix
Makuko's Fish Tacos
Tacos Castillo
Tacos Lily
Tacos de Pescado Marco Antonio
Tacos Fenix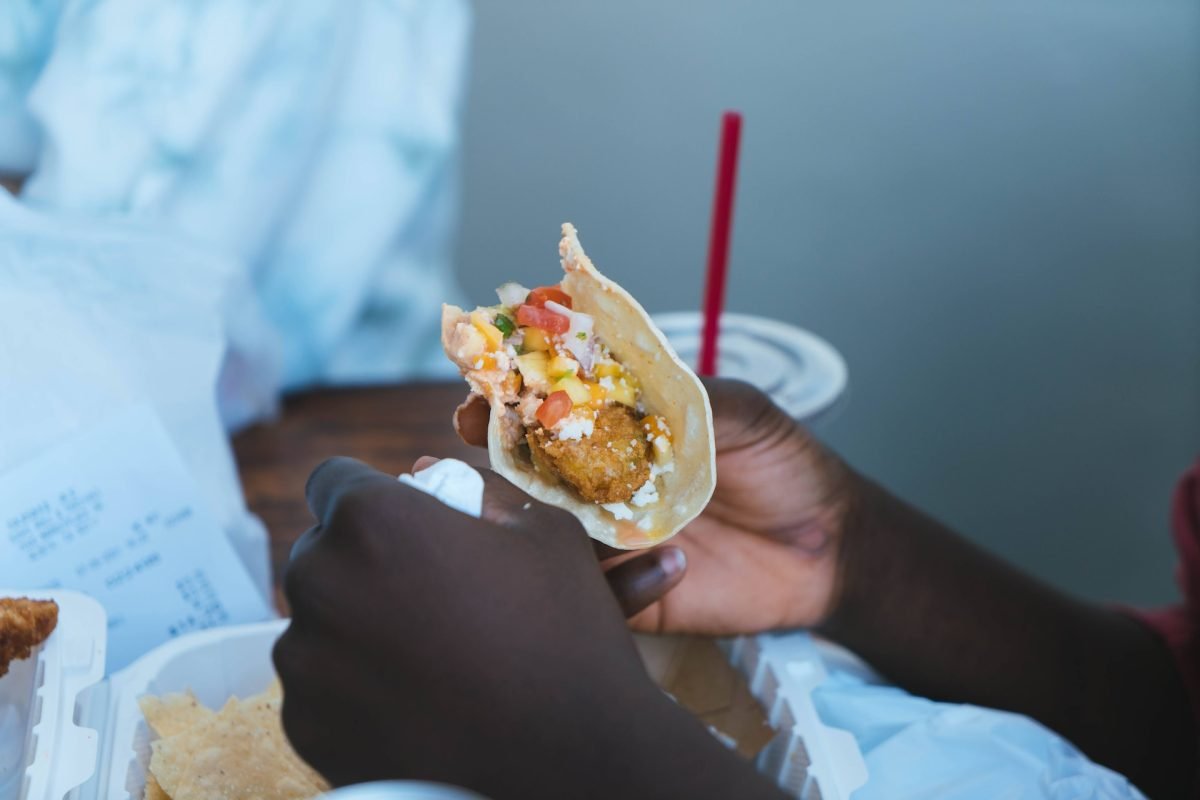 You can't go on a taco-tasting tour in Ensenada without paying homage to the O.G. fish taco. That's right, Tacos Fenix is the official birthplace of this internationally-loved fusion dish. They'll start you off with a handmade tortilla and deep-fried fish or shrimp, and then you'll be left to your own devices with their extensive toppings bar. From zingy salsas and hot sauces to pickled onions and fresh lime wedges, you'll want to experiment a bit to find the ultimate combo, so be sure to order more than one! 
Where to find it: Perched on the corner of Avenida Juarez and Calle Espinoza, Tacos Fenix always draws a crowd. 
Cost Per Taco: $20 MX pesos ($1 USD)
Makuko's Fish Tacos
Want to visit a stand with incredible fish tacos but some other options too? Makuko's Fish Tacos is known for its traditional batter, and you can sample it in more ways than one. Along with one of the best tacos in Ensenada, you can order plates stacked high with ceviche tostadas, fresh oysters, or seafood cocktail. Yum! 
Where to find it:  Somewhere between a street stall and a brick-and-mortar restaurant, this fish taco vendor has an indoor seating area (and a liquor license) on Lázaro Cárdenas. 
Cost Per Taco: $40 – $50 MX pesos ($2 – $2.50 USD)
Tacos Castillo
Tacos Castillo is a local hotspot. It's always really busy, so it's not exactly an under-the-radar gem, but it is free from the tourist crowd (for the most part). When it comes to killer fish tacos, the locals know best, so follow their lead and slather on the salsas. Not only are these tacos a great value at one of the lower prices around, but they are also super filling, served on full-sized tortillas.  
Where to find it: Named after its location on Castillo 456, this stand can be identified by its rooftop Coca-Cola sign. 
Cost Per Taco: $18 MX pesos ($1USD)
Tacos Lily
In addition to straight-from-the-source fresh fish, this market-bound stand boasts so many premium toppings like housemade cremas, avocado, and radish. We wouldn't be surprised if you have these fully gobbled down before you've ever paid and left the line, but they also have a couple of picnic tables so you don't have to eat them hovering around the stand if you don't want to. Don't take our word for it- even celebrity chef Anthony Bourdain agrees that these Ensenada fish tacos are a must-try! 
Where to find it: The Tacos Lily stall is tucked into the back of the infamous Mercado Negro Seafood Market. In the parking lot by the port, it's worth the wait to seek them out rather than settle for one of the stands inside. 
Cost Per Taco: 2 for $85 MX pesos ($5 USD)
Tacos de Pescado Marco Antonio
One of the things diners love most about Tacos de Pescado Marco Antonio is that you can sample so many different types of grilled fish on your taco, rather than just the standard one or two options. It also has a super exclusive feel because they are only open for a couple of hours each day and it's easy to miss! Don't forget to double-check their hours of operation if you want to be a part of the in-crowd. 
Where to find it: In a converted industrial building along Av. Rayon. It shouldn't be too hard to spot with bright blue metal siding and a constant line out the door. 
Cost Per Taco: $35 MX pesos ($1.75 USD)
Best Fish Tacos in Ensenada – FAQ
Was the fish taco created in Ensenada?
While nobody can say for sure, It's widely accepted that the first fish taco was created in Ensenada at the Tacos Fenix stand. Those who disagree with the general consensus may argue that it was instead created in San Felipe, another Baja Peninsula destination. Others credit its creation to an influx of Japanese fishermen and the fusion of cuisines, with tempura inspiring the original fish taco.
Are fish taco stands in Ensenada safe?
Eating from street food stands in Ensenada is typically pretty safe, as it does not pose a large risk of foodborne illness or food poisoning. That said, we always advise using your common sense and keeping an eye out for the following: 
– Undercooked Meats
– Product Freshness
– Proper Temperature Control/Refrigeration
– Possible Cross-Contamination 
– Sanitary Practices of Staff
How much do fish tacos cost in Ensenada?
The cost of a single fish taco in Ensenada will vary from stand to stand and will greatly increase if you choose a plated meal at a sit-down restaurant versus sourcing your tacos from a street vendor. In general, you can expect tacos from a stall to range from 20 to 50 Mexican pesos  ($1 to $2.50 USD). Avoid areas with a lot of tourist traps, such as right at the port, to save money as you may find the costs are inflated in these neighborhoods.
Where can I find the best fish taco in Ensenada Mexico? 
For a tried-and-true, Baja-style fish taco, you can't do better than Tacos Fenix. Where longstanding tradition and culinary flair come to meet, this street vendor is credited with serving the best fish tacos in Ensenada year after year, since their 1970 beginning. Go on, don't you want to know what all the hype is about?