Uber is one of the most efficient forms of transportation. But is there Uber in Mexico, and if so how do you use it? I had the same questions myself.
After using Uber nearly 50 times in Mexico, I've learned everything there is to know. Now, I'm going to share what I've learned with you.
Is there Uber in Mexico?
Below is a list of cities in Mexico that offer Uber.
| Cities in Mexico with Uber | Will Pick-Up At the Airport? |
| --- | --- |
| Aguascalientes | Yes |
| Cancun | No |
| Cabo San Lucas | Yes |
| Celaya | Yes |
| Chihuahua | Yes |
| Ciudad Juarez | Yes |
| Ciudad Obregon | Yes |
| Ciudad Victoria | No |
| Coatzacoalcos | No |
| Colima | No |
| Cuautla | No |
| Cuernavaca | No |
| Culiacan | Yes |
| Dolores Hidalgo | No |
| Durango | Yes |
| Gomez Palacio | No |
| Guadalajara | Yes |
| Guanajuato | Yes |
| Guasave | No |
| Guaymas | No |
| Hermosillo | Yes |
| Irapuato | No |
| La Paz | Yes |
| Leon | No |
| Los Cabos | Yes |
| Los Mochis | No |
| Manzanillo | No |
| Matamoros | No |
| Mazatlan | No |
| Merida | Yes |
| Mexicali | Yes |
| Mexico City | Yes |
| Monclova | No |
| Monterrey | Yes |
| Morelia | Yes |
| Navojoa | No |
| Nogales | No |
| Nuevo Laredo | No |
| Nuevo Vallarta | No |
| Piedras Negras | No |
| Puebla | Yes |
| Puerto Vallarta | Yes, across the street. Exit the airport left, cross the bridge over the main road, and wait there. |
| Queretaro | Yes |
| Reynosa | No |
| Salamanca | No |
| Saltillo | Yes |
| San Juan del Rio | No |
| San Luis Potosi | Yes |
| San Luis Rio Colorado | No |
| San Miguel de Allende | No |
| Tampico | Yes |
| Tehuacan | No |
| Tepic | No |
| Teziutlan | No |
| Tijuana | Yes |
| Tlaxcala | No |
| Toluca | Yes |
| Torreon | Yes |
| Tuxtla Gutierrez | No |
| Uruapan | No |
| Valladolid MX | No |
| Veracruz | No |
| Villahermosa | Yes |
| Xalapa | No |
| Zacatecas | Yes |
| Zamora | No |
Data gathered from Uber.com
I have requested an Uber in different parts of Mexico and I have never experienced any serious issues besides the driver getting a bit confused about where the pickup location is.
That said, there are a couple of things you should be aware of.
Certain cities in Mexico don't allow the use of Uber.
Some cities won't let you request an Uber at the airport.
If you visit a city that doesn't allow you to request an Uber ride at the airport, you can walk off of airport property and request a ride.
Out of all the transportation options available in Mexico, I have found Uber to be one the most inexpensive, yet efficient, forms of transportation.
Having said that, at busy hours of the day it might take a while for your Uber to arrive depending on which city you're in.
If you are in a large city like Puerto Vallarta, your Uber ride can take as little as 3 minutes to over 20 minutes to arrive.
How To Use Uber In Mexico
You may be thinking that using the Uber app in Mexico would be more difficult considering the language barrier and the dissimilar currency, but this is simply not the case.
Here's how to use Uber in Mexico.
1. Download the Uber App
If you don't already have the Uber app installed you'll need to install it. It's best to install the app prior to arriving in Mexico just in case the internet connection is poor and prevents you from downloading it.
2. Create or sign in to an existing account
If you already have an account you can use that one. If you haven't created an Uber account before, make sure to do this well in advance.
3. Request a ride
Once you are at your desired pickup destination, request a ride. Be sure to request a ride from a reasonable pickup spot, otherwise, the driver may cancel.
4. Verify the license plate and driver's name before entering the vehicle
Take notice of the vehicle type, license plate number, driver's name, and profile picture. Make sure to confirm each before entering the vehicle.
5. Tip the driver
If you had a good experience, make sure to tip your driver.
Hailing an Uber in Mexico is just as easy as anywhere else. One thing I will mention, however, is that many of the people who drive for Uber in Mexico may know zero, or very little English.
This shouldn't discourage you from taking an Uber though considering all the communication such as; your location, where you are heading, and the payment itself, all occur on the Uber app.
I haven't had any problems getting around Mexico using an Uber, and I speak minimal Spanish.
My wife speaks fluent Spanish, but she likes to pretend that she doesn't so that the driver will practice their English. I know what you're thinking, pure evil, but really she's just trying to help them out.
To be fair, she makes me practice my Spanish when we're in Mexico so I don't feel too bad.
I recommend asking your Uber driver for some tips such as good local food spots and fun things to do around the area you are visiting.
Many Uber drivers grew up in the area where they drive, making them very knowledgeable about the city.
If you find that your driver doesn't know English or isn't in the mood to talk, there's no need to force a conversation.
Instead, just sit back and relax, they will more than likely turn the music up and enjoy the ride with you.
How to Tip Your Uber Driver in Mexico
When it comes to tipping your Uber driver in Mexico you can do it through the Uber app or just give the driver a tip in person. Many drivers prefer you tip them with pesos or USD as opposed to the app. Ultimately, whether you leave a tip or not is up to you along with how you leave the tip.
I have left a tip using both methods. The drivers appear grateful regardless of how I tip them.
I'd say if you have some spare pesos and the service was good, give them to your Uber driver. Otherwise, tip them using the app.
How Much Does Uber Cost In Mexico?
The average price for an UberX in Mexico ranges from MX$3.60 to MX$9.20 MXN ($0.15 to $0.50) per kilometer traveled not including the flat rate booking fee, or in some cases, an additional 1.5% government contribution fee. The rate may vary daily, however, considering the peso's value is constantly fluctuating.
This does not include the *7.9% booking fee. Also, Uber may apply an additional 1.5% government contribution fee in certain areas of Mexico such as Baja California.

Here is a screenshot of my bank account for my Uber transaction which occurred in Puerto Vallarta, Mexico.
You can see that it states the original origin currency amount; MX$207.98, and then provides the exchange amount in my country's currency, equalling $9.97.
To better understand why certain areas of Mexico may charge an additional government contribution fee, you can view more info regarding tolls and surcharges on Uber.com.
Nonetheless, the cost to take an Uber in Mexico is nearly twice as cheap as taking an Uber in the U.S.
To put in perspective just how cheap an Uber ride in Mexico is, I have provided a copy of my receipt for my 30-minute ride from the Puerto Vallarta Airport, to downtown Puerto Vallarta, which is about 12 miles in total.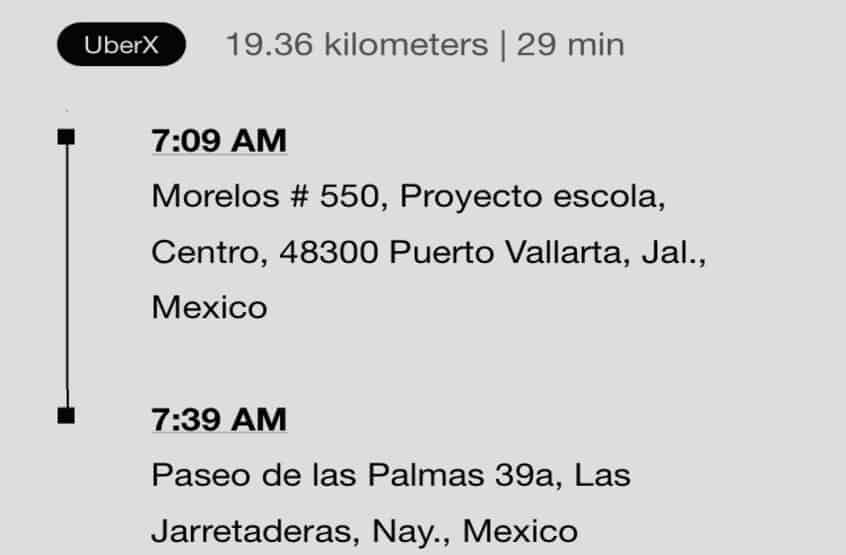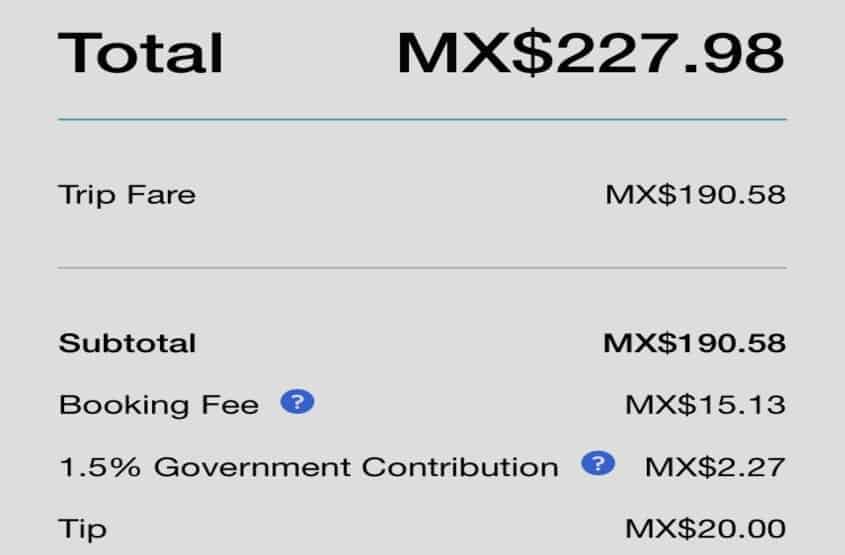 As you can see, the subtotal was only MX$190.58 (about $9.00 at the time).
Throw in the additional booking and government contribution fee, for a total ride cost of MX$207.98 ($9.97), not including my MX$20.00 tip.
I don't know about you, but $10 for a 12-mile, 30-minute Uber ride, seems like an excellent deal to me.
Taking an Uber in Mexico is the cheapest form of transportation besides walking or taking the city bus.
Is Using Uber In Mexico Safe?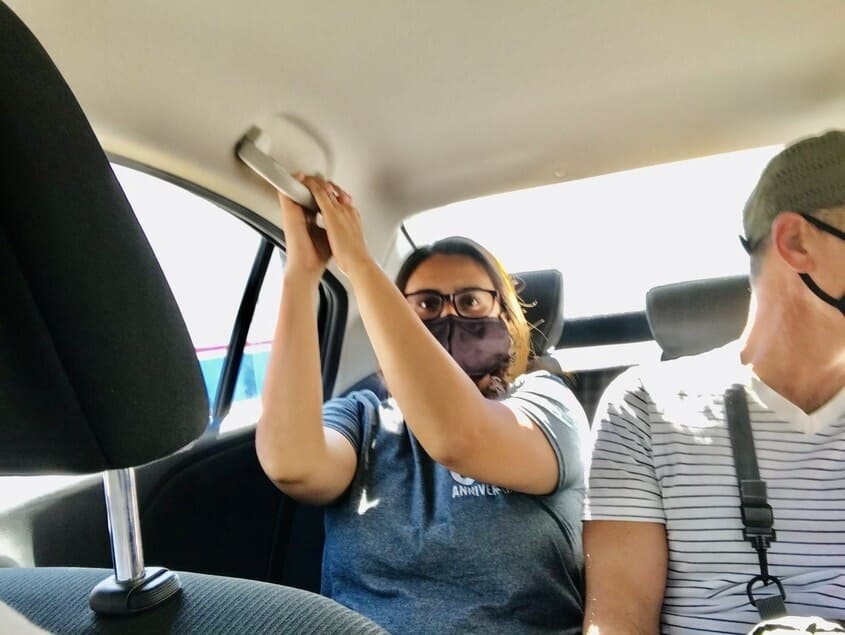 Uber in Mexico is considered safe overall, the rating scale holds drivers accountable to ensure quality service, otherwise, they risk losing access to the Uber app.
With an estimated 75 million people using Uber every month around the world, there is no doubt that Uber has become a safe and trusted source for all our transportation needs.
The advantage of taking an Uber in Mexico is that you are less likely to be robbed or scammed because all of the driver's info is in the palm of your hand.
The only thing I can say that may be cause for concern, is some taxi drivers in Mexico have a very negative outlook when it comes to Uber or any other rideshare app for that matter.
Understandably, Uber is taking away a HUGE portion of cab drivers' business.
Not only that, but taxi drivers have to deal with licensing fees, tax, plus other inspections and tests that Uber drivers don't necessarily endure themselves.
Taxi drivers have been known to protest, and even attack Uber vehicles. Although, this was more common when Uber was just gaining popularity in Mexico.
I have never experienced any conflict when riding in an Uber in Mexico, and I've ridden multiple Ubers, literally in front of taxi drivers.
Another reason I consider Uber one of the safest transportation options in Mexico is that your ride is private (not shared with others), and you can follow along with the GPS map in your Uber app, ensuring the driver is taking you directly to where you need to go.
I would highly recommend using Uber in Mexico. It's safe, convenient, and extremely inexpensive. What more could you ask for?
Should You Use Uber in Mexico?
Using Uber in Mexico is a safe and cost-effective form of transportation, averaging only MX$3.60 to MX$9.20 ($0.15 to $0.50) per kilometer traveled. It's one of the best ways to travel in Mexico, and you can easily request nearly anywhere.
Of course, you can try using a taxi cab to compare prices or take the bus if you have time to spare and don't mind standing shoulder-to-shoulder.
Moreover, if you don't mind walking, I still think it's one of the best ways to get around in Mexico.
---
Checkout My Recommended Travel Gear:
Looking For More Mexico Travel Tips?
Looking For A Specific Destination?