With so much changing around the world, it can be difficult to keep up with everything that is going on, especially if you're a foreign traveler like myself looking for as much information as possible for your next adventure to Mexico.
I try to experience everything I can personally, that way I can provide the best and most informative content for all my fellow travelers. However, sometimes I turn to others in the blogging industry, more specifically my fellow Mexico travel bloggers.
Whether it be for inspiration, information, or an enjoyable afternoon read, I can hop on the web knowing I'm going to find exactly what I'm looking for thanks to these top 10 best Mexico travel blogs: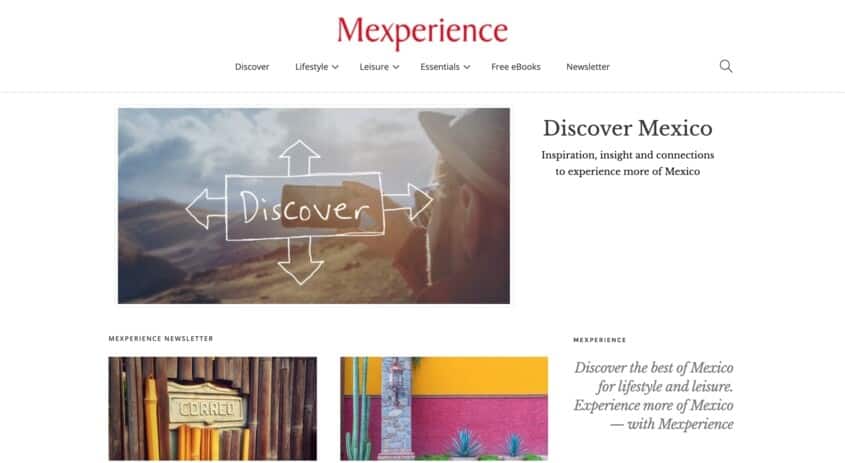 My number one go-to Mexico travel blog is always Mexperience.com. As an award-winning web site, I trust that the information I find on Mexperience is always accurate and very in-depth. Not to mention Mexperience offers great sources to further advance your knowledge and ultimately lead you to the answer you are likely looking for.
In 2005, Mexico's Vice President Vicente Fox awarded Matthew Harrup; the founder of Mexperience, the Silver Lens award for "Best Foreign Website About Mexico".
Since 2005, I see no signs of the site slowing down its content production, if anything, Mexperience is more informative than ever and will only continue to grow greater as the years go on.
If you are looking for information about your next Mexico vacation, starting a new life in Mexico, or to stay up to date on everything Mexico related, Mexperience should be your go-to site.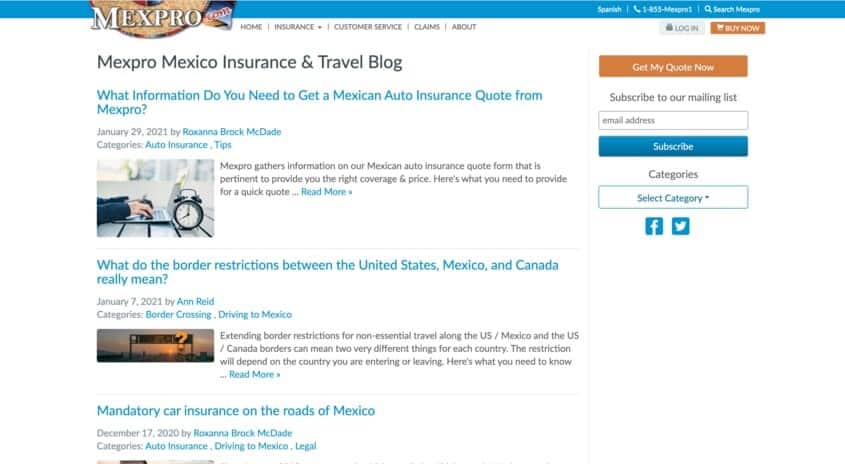 Mexpro is another one of my personal favorites when it comes to informative Mexico travel blogs. Mexpro is actually a Mexico insurance and travel blog. So, not only does Mexpro provide excellent information regarding traveling to Mexico, but expect to find an unlimited amount of articles explaining all things insurance related for Mexico.
Whether you're a foreigner looking for car, boat, or general travel insurance; or if you're a Mexican local searching for your next homeowner insurance, Mexpro partners with some of the most trusted A-rated insurance agencies in Mexico and are able to offer you the best service at the most affordable price.
Mexpro provides bilingual policies, claim personnel, as well as adjusters making any insurance you may need, convenient and easy.
Okay, enough with the sales pitch. I can honestly say I have never used Mexpro for any of my insurance needs, although, I'm sure they are great, I'm speaking more on behalf of their blog.
Overall, Mexpro is a terrfic source for informative information regarding laws, news, and general information about Mexico which many people are searching for on the internet.
Playa Del Carmen blog is a blog specifically made for, well, Playa Del Carmen, Mexico. As well as surrounding areas like Cancun for example.
PlayaDelCarmen.com offers a large source of recreational and informative blogs speaking on lifestyle, activities, arts & culture, nightlife, and of course food and drinks.
If you can't find what you're looking for when searching for anything Playa Del Carmen related on this site, you probably aren't going to find it at all. On the flip-side, Playa Del Carmen Blog does an excellent job pumping out consistent and entertaining content every month, and has even covered more general topics regarding travel to Mexico.
This blog is perfect for anyone who is looking for fantastic tips, tricks, and reviews regarding travel to Mexico.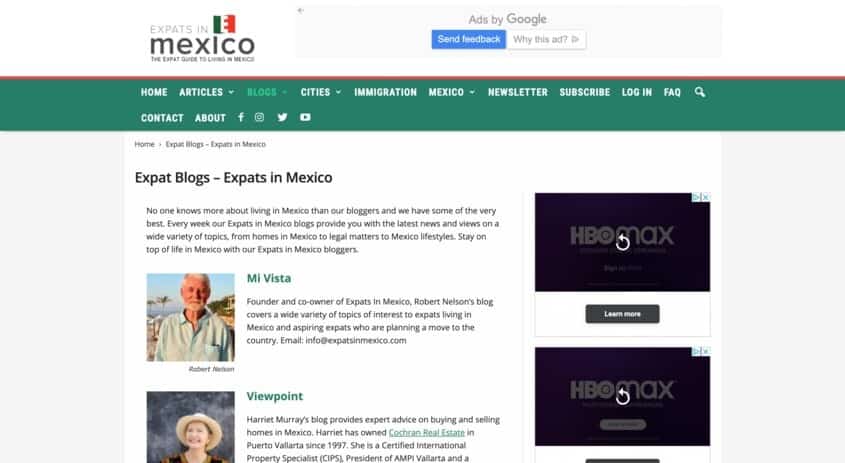 Expats in Mexico is an online magazine/blog which was created for expats currently living in Mexico and aspiring expats who may be thinking of making the transition to a new life in Mexico.
The founder; Robert Nelson lived in Puerto Vallarta, Mexico (my favorite city) for seven years as a brand consultant and is the author of one of the best selling books "Boomers In Paradise: Living in Puerto Vallarta" as well as "Adventurers Abroad: The New American Expat Generation".
As you could imagine, Expats in Mexico is full of quality information, from cost of living to lifestyle as an expat, you are guaranteed to find whatever it is you're looking for when you visit Expats in Mexico.
One of the best things about this site is that you get to read other people's experience of living and traveling in Mexico. It's the perfect site to read, view, comment and participate in anything and everything Mexico related.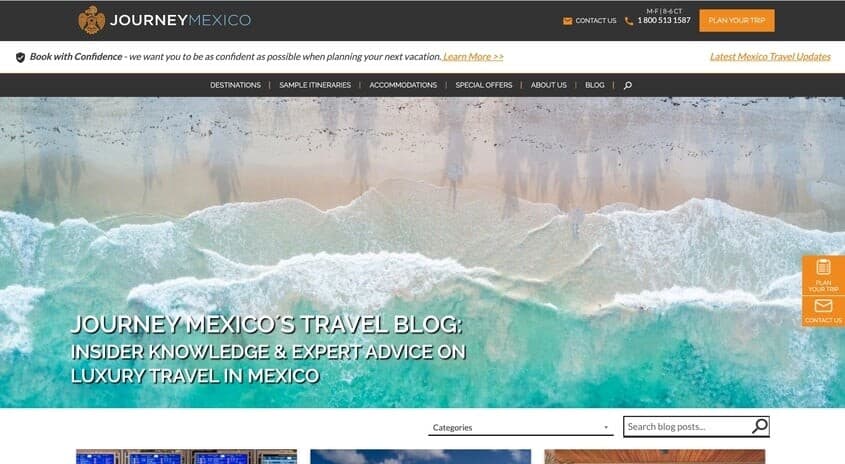 Journey Mexico Blog is known for their insider knowledge and expert advice on luxury travel in Mexico. Guide-owned and operated, Journey Mexico has over 30 years of combined experience when it comes to Mexico travel knowledge.
Everyone who contributes to Journey Mexico work, live, and play in Mexico. So if you are looking for those hidden gems or hole-in-the-wall restaurants, you have come to the right place.
Aside from the wonderful insight offered through their blog, Journey Mexico provides you with custom-made itineraries designed by people who are currently living life in Mexico.
Whether you are looking for an exciting time in Cancun, or prefer a more authentic vibe in places such as Oaxaca, Journey Mexico has your back with highly-knowledgeable professionals ready to make your vacation in Mexico truly memorable.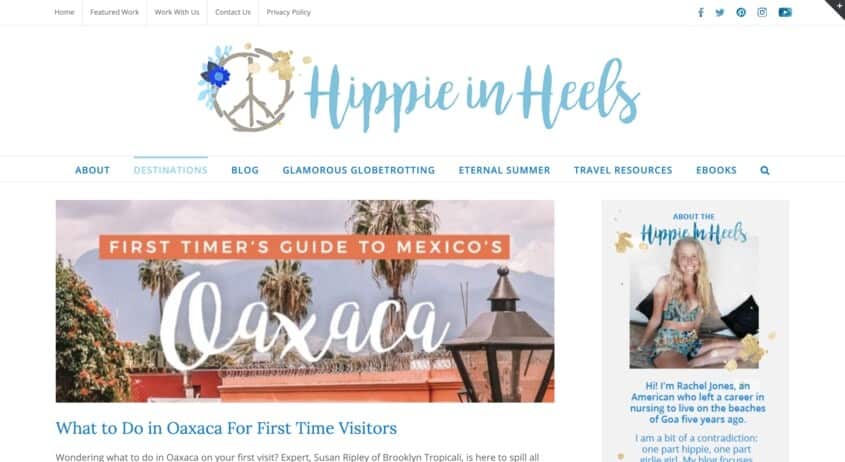 Alright, so Hippie in Heels is awesome. Although not specifically a "Mexico Blog" Rachel offers a first person view in her blog. Rachel has traveled to over 30 countries, but she has some great insight on specifically about Mexico.
Hippie in Heels is a diverse blog that informs and entertains all at the same time. Considering Rachel has lived life in Mexico as an expat, you receive a personal and authentic experience sure to excite you when preparing for you next trip to Mexico.
Whether you are looking for instruction on how to move to Mexico, or if you just want more knowledge on the best places to eat throughout Mexico, Hippie in Heels gets up-close and personal with every blog article posted.
Northern Lauren is a Mexico travel blog which provides "a colourful look at all things Mexico". Lauren gives practical tips for travel to Mexico.
Even though Lauren spends a majority of her time in Mexico City, she bestows knowledge and experience in all areas of Mexico and on multiple different topics.
According to her Mexico map, which shows all the places she has lived and visited in Mexico, she has been to over 21 states within Mexico alone. If you want to know more about culture, shopping, or the best places to get some drinks in Mexico, checkout Northern Lauren.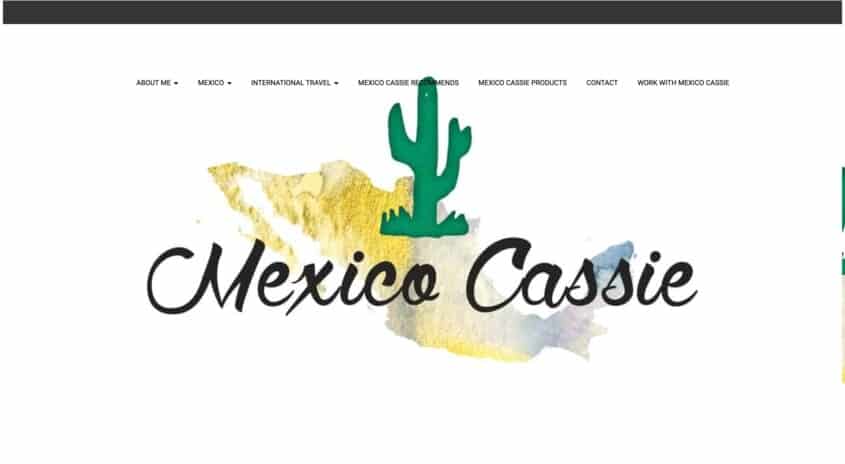 Meet Cassise, founder of Mexico Cassie and current expat who resides in Mérida, Mexico with her family. Cassie and her family moved from London, UK, to start a new life abroad in Mexico. Originally only planning on staying for 6 months or so, they decided that Mexico would be their permanent place of residence.
Cassie offers a "move specific blog series" which provides you with a comprehensive look on all things associated with moving to and living in Mexico. You can feel confident that you are receiving the best information when you visit Mexico Cassie's blog.
Since Cassie travels with her family, her blog contains child-friendly as well as general activity posts, making this the perfect blog for anyone looking for a more family oriented Mexico travel blog.
OwnMexico.org is ran by experienced enthusiasts who decided to make the Mexico dream a reality by moving to Oaxaca, Mexico all the way from Canada. Brent and Erin moved to Oaxaca in 2011, and currently operate a full service real estate company in Mexico along with their website.
Own Mexico has blogs regarding purchasing and owning property, moving, and living in Mexico. New content is flowing through this site often, ensuring you receive the most current tips and trips when traveling to Mexico.
I enjoy Own Mexico just for the pure knowledge found exploring and reading all the articles, as well as some very entertaining posts you can find.
Make sure to visit Own Mexico, especially if you are looking into purchasing property and/or moving to Mexico.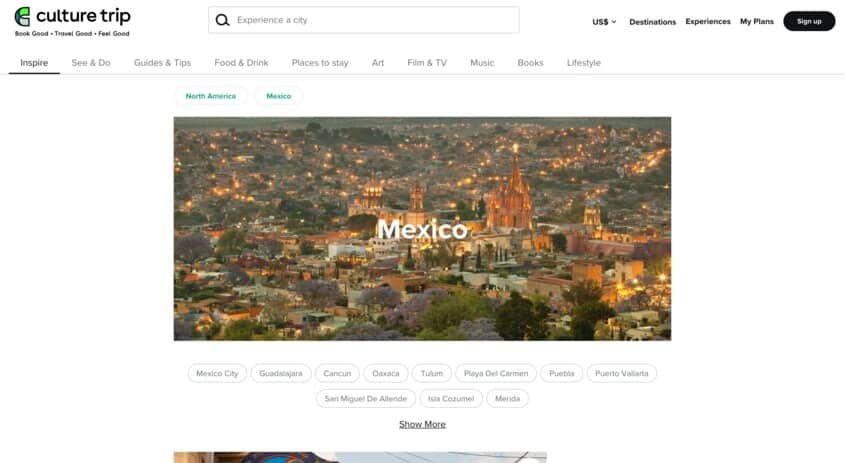 If you haven't seen The Culture Trip, you probably haven't been on the internet much. Millions of people have visited this site, and their social following has currently reached over 8 million people and is still climbing.
The Culture Trip has evolved into an E-commerce travel brand, with useful content still being the beating heart behind the company and their values.
Culture Trip has hundreds of freelance content writers spread all over the planet. I know, they may not be a Mexico travel blog, but that doesn't mean this site doesn't contain some very beneficial articles when it comes to traveling to Mexico.
In fact, Culture Trip has an abundance of Mexico travel articles, from the best places to stay, to things to do, tips and trick, restaurants and shops, even architecture, you can find just about anything on this content-rich site.
In the slim chance that you haven't already seen this site, it's more than worth taking a look as you're sure to find something applicable to your travel experience.
If you have your own Mexico travel blog, or you know of some other great sources, leave them in the comment section below, I'd love to check them out.
---
Checkout My Recommended Travel Gear:
Looking For More Mexico Travel Tips?