If you're an animal lover, Guerrero Nego needs to be on your radar. With a whale-watching scene that has dominated the local tourism industry, plus diverse habitats like wetlands and sky-high sand dunes, there are plenty of ways to get close to nature. 
If you're ready to plan the ecotourism excursion of your dreams, this comprehensive guide to Guerrero Negro will be your new best friend. Covering what to see, where to stay, and everything in between, you can plan your trip from top to bottom in just one day. 
Table of Contents
When to Visit
Generally, tourists flock to this area of Baja in the summer for warm, calm ocean adventures, but if you're coming to see the whales, that's not what you want to do. 
Believe it or not, this is one of Mexico's year-round whale-watching destinations, but January to March is the peak time when mothers come to the lagoons to have their calves. You may see the famous Gray whales as early as September and October. 
Getting There
One of the great things about where Guerrero Negro is located is that you can actually start your journey from a set point in either direction, depending on whether or not you want your road trip to be focused on the northern or southern parts of Baja. This also makes it a great midway point to stop and carry on if you'd like to do both. The Loreto Airport will be a good starting point in the south, about five hours and 20 minutes away, but it will require you to hire a rental car. 
Alternatively, the Mexicali Land Border is 5 hours and 40 minutes to the North. 
When planning a road trip through Baja, there are a few things you'll need to know. I'd recommend checking out our guide to driving through Mexico and Mexican Travel Insurance to ensure your road trip knowledge is up to snuff. 
Top Things to Do in Guerrero Negro Mexico
To help paint a better picture of what a week in Guerrero Negro could look like, I'd like to introduce you to some of this destination's top attractions and must-see landmarks. From thrilling wildlife encounters to ultra-unique landscapes, this destination is a haven for outdoor enthusiasts. 
Salt Flats
The salt flats in Guererro Negro are an important fixture of the local economy, as the largest salt mine in the world, but that's not all. It's also an important landmark for the local tourism industry. 
On the shores of the Ojo de Liebre Lagoon, you'll experience the eerily otherworldly landscape. Full of reflective surfaces and the illusion of a "white desert" this destination is the photo op of a lifetime. 
Whale Watching
Guerrero Negro's Ojo de Liebre Lagoon is considered one of the best places to spot whales in the world, and not just because of the volume of pods passing through. This is actually the only place you're legally permitted to pet them when visiting with responsible eco-tourism companies. 
This sanctuary is mostly known as a grey whale sanctuary since they flock to this warm water breeding/calving ground but you'll certainly find other species splashing and playing in the lagoon as well. What are you waiting for? Come get to know one of the largest animals on the planet and participate in one of Baja's most popular things to do. 
Dunas de Soledad
No need to travel all the way to the Sahara to see some impressive desert dunes. The Soledad Dunes in the El Vizcaino Biosphere Reserve are absolutely magnificent, with sweeping sands and panoramic, rippled peaks in all directions. In an effort to protect the dunes, sports like sandboarding and ATVing are not permitted, but it's worth a stop for some photography and to simply feel the majesty of the desert. 
Guerrero Negro Wetlands
When it comes to ecotourism, Guerrero Negro's wetlands make the most idyllic backdrop. These gorgeous marshes are a designated UNESCO World Heritage site in the Vizcaino Bay Natural Biosphere Reserve, thanks to its diverse ecosystems and rich natural history. 
Of course, this is a beautiful area to observe from shore and snap a few photos of, but if you have time to hike the circumnavigating trails or set out in a kayak, you won't regret it. 
Uniquely, these marshes are both fresh and saltwater, allowing you to spot a massive range of wildlife including dolphins, octopuses, crabs, and large freshwater fish. 
Birdwatching
It might not get as much attention since the whale-watching industry has taken over, but Guerrero Negro is a primo birdwatching spot, especially surrounding the wetlands. On average, there are around 95 species considered to live in the area, but some seasons have seen up to 175 species when accounting for migratory birds too. 
This alone should make this destination an amateur ornithologist's dream, but the Army has also installed tall poles in an effort to help create nesting grounds for Osprey. This protected bird of prey is known as one of the most beloved residents of Guerrero Negro, watching the tourists from their perch in the sky. 
Make the Trek to La Lobera
Chances are, you've seen photos of this hidden gem because despite being somewhat difficult to find, it's considered one of the top things to see in Baja. La Lobera is a seaside crater that has created a "secret beach" below where sea lion colonies reside. Whether you arrive on your own or with a tour group, you'll have the chance to observe them almost as if you're looking into a fishbowl, which is a unique perspective for both enthusiastic wildlife watchers and photographers alike. 
Lucky for you, La Lobera is just a few hours away, making Guerrero Negro one of the most ideal starting points to set out from. 
Where to Eat 
Guererro Negro has an INSANE selection of good restaurants, with a chef ready to satisfy your every culinary whim. I'd even go so far as to say it's a foodie paradise. You won't have any trouble finding good food, but you might experience some difficulty trying to choose where to go and avoiding FOMO. Here are a few of my top recommendations to help narrow it down: 
Tacos el Muelle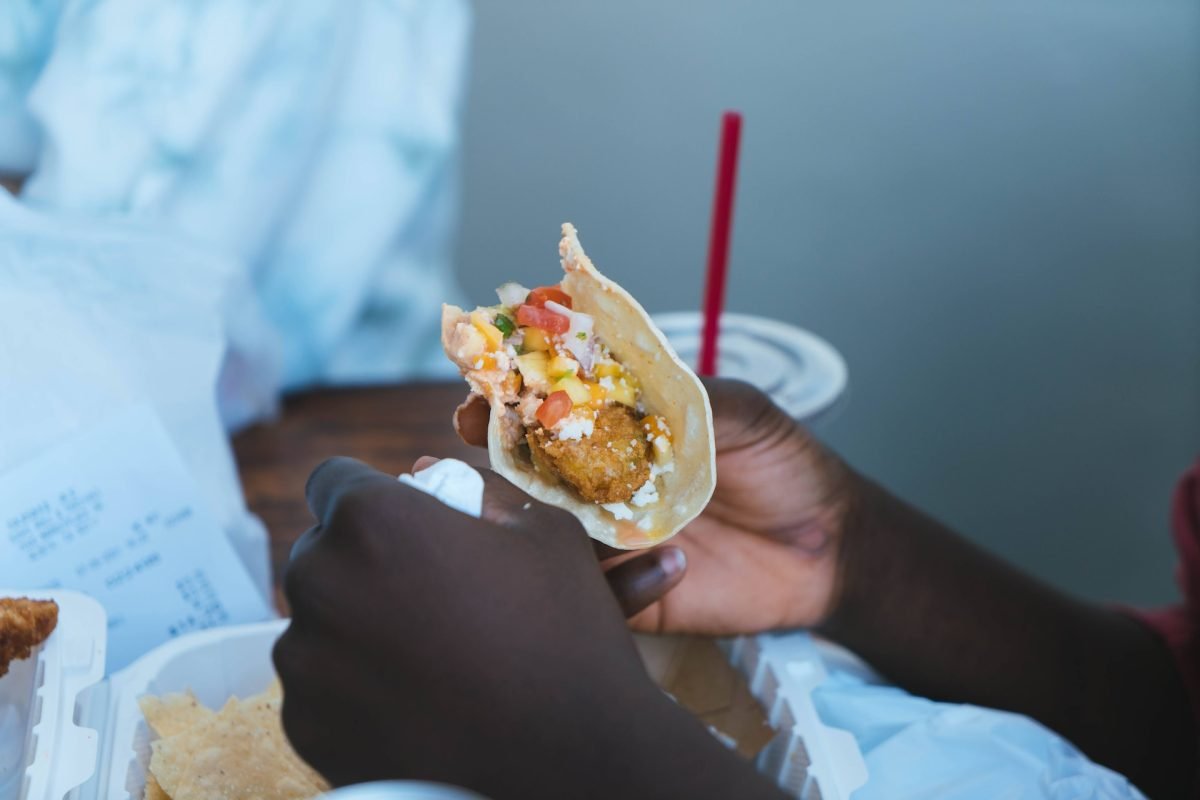 If you find yourself beside a food truck painted like a whale and tucked in beside a massive anchor, you have to drop everything and have lunch. This is Tacos el Muelle, and they're known for serving the best fish and shrimp tacos in town. They take the art of the perfect taco super seriously, even down to the handmade salsa bar. Previous diners all mention the orange hot sauce, so be sure to give that a try. 
Don't be surprised if you find yourself visiting on repeat throughout your stay, because plenty of travelers fall under their spell every day. 
📍 Where to find it: Gral. Guadalupe Victoria, Marcelo Rubio Ruiz, 23940 Guerrero Negro, B.C.S., Mexico
Restaurante Las Cazuelas
Restaurante Las Cazuelas is a traditional Mexican restaurant that's easy to spot from a mile away; standing 2-stories high with arched windows and a hand-painted mural. Las Cazuelas offers excellent value, with decent prices, red hot spice, and punchy flavor profiles– no bland dinners around here! 
And hey, if you want a big ol' stock of American hotcakes for breakfast, they do that too. The chefs have even been known to get creative in making hotcake teddy bears for kids. 
La Cazuelas is also the unofficial spot for margaritas in town. Just a heads up though, the bar is known for making fairly stiff mixed drinks so you might want to plan a siesta after happy hour. 
📍 Where to find it:  Carr. a Guerrero Negro, Fundo Legal, 23940 Guerrero Negro, B.C.S., Mexico
Mariscos Guerrero
Mariscos Guerrero is a Primo seafood spot, especially for those who know their way around an ocean-based menu. With stunning presentations from ceviche in a giant seashell to curated oyster and shot glass pairings, this unfussy restaurant could certainly be said to be taking a fine dining approach. All this, and they have a trendy atmosphere with big tropical plants, rustic wooden accents, and bright natural light. 
What are you waiting for? Book that reservation now! 
📍 Where to find it: Loma Bonita, 23940 Guerrero Negro, Baja California Sur, Mexico
Restaurante Alma de Sal
Want to take your travel buddy on a Date? You can't go wrong with Restaurante Alma de Sal. Luxurious rattan basket chairs and high ceilings give this diner an effortlessly cool, breezy-bohemian vibe. The larger portion of the menu is centered around flavour-packed breakfasts so I'd recommend checking out this joint at the start of your day. They also offer a good selection of vegetarian options and word on the street is they are super good about accommodating vegans as well. 
📍 Where to find it: Emiliano Zapata y Rosaura Zapata, Estado 30, 23940 Guerrero Negro, B.C.S., Mexico
El Jardin Homemade Cuisine
El Jardin Homemade Cuisine offers a little bit of everything when it comes to food. They may not stick to one cuisine, but they do stick to one central principle which is that every dish must be downright delicious and made with love. Accompanied by a trendy craft cocktail menu, green trellis walls, and Edison lights, this restaurant is an Instagram addict's best friend. 
📍 Where to find it: Calle Josefina, Profra. Josefina Flores Estrada 9, Invi, Marcelo Rubio Ruiz, 23940 Guerrero Negro, B.C.S., Mexico
Ostrica Seafood
Ostrica Seafood makes tacos, burritos, and tostadas meet ocean-to-table dining. The atmosphere is pretty sophisticated but also super laid-back, with picnic tables and string lights. The vibe makes it feel like an especially good place to visit after dark and the dishes are really affordable making it a good option for cheap eats after the bar. 
Ordering tip: The deviled octopus is delicious, no matter which carby vessel you choose to pair it with. 
📍 Where to find it: Emiliano Zapata, Fundo Legal, 23940 Guerrero Negro, B.C.S., Mexico
Zapata Burgerdogs + Gourmet Factory
If you're looking for "two-hands needed" American burgers, and hotdogs piled high with creative toppings, you've come to the right place. The BBQ accompaniments have also contributed to making this the "it" spot, with raved-about wedges, shoestring fries and thick-cut onion rings. 
Zapata is literally located in the chef's backyard. He brought his big passion for food to the place that means the most to him, and now this is one of the most buzzed-about restaurants in town. The Hot dog cart-inspired outdoor prep station and flanked by a gorgeous patio with a serene sage palette and friendly vibe. 
📍 Where to find it: Victoria Sánchez 1234, Marcelo Rubio Ruiz, 23940 Guerrero Negro, B.C.S., Mexico
Where to Stay at Guerrero Negro Hotels
Hotel TerraSal
Perhaps one of the best things about Hotel TerraSal is that it's very kid-friendly. If you're traveling with littles, you'll really appreciate the included bike rentals, simple breakfast buffet, indoor play area, children's TV programming, onsite infirmary, and parquette. 
❤️ Why We Love It
Convenient location
On-site coffee shop
Electric vehicle charging stations, which can be difficult to find in these parts.
Hotel Malarrimo by Rotamundos
Hotel Malarrimo by Rotamundos has a fairly tropical feel with a maze of outdoor corridors flanked by towering plants and chairs; perfect for roaming the grounds or drinking your morning coffee in peace. It may not be everyone's style but they even have cool hand-carved headboards with whales on them- kids will certainly think it's sweet! 
❤️ Why We Love It
Good wine list
Mountain view rooms
BBQ facilities for an easy DIY dinner option
A pretty cool restaurant and bar area on site brings the nightlife to you. Just imagine chatting the night away with your friends over several rounds of margaritas and then crawling straight into bed. Bliss! 
Guerrero Negro Travel Guide FAQ
What is Guerrero Negro known for?
To the world at large, Guerrero Negro is most notable for its salt production industry. In fact, it's the largest salt works on the planet. But, where tourists are concerned, this is best known as a hotspot for incredible whale-watching opportunities where you can get closer than ever before.
Is Guerrero Negro Baja a big city? 
No, not at all, but it is the largest town in the Mulege municipality. Thanks to the relatively large ecotourism crowd that visits each year, this town is quite built up with tons of restaurants, shops, and amenities despite its size. This isn't always the case with Baja's more remote destinations so this can be a fun, lively addition to an otherwise quiet and slow-paced road trip. 
Do I need a guide to visit the salt flats? 
Yes, Guerrero Negros salt flats are not open to the public except when visiting with a certified tour provider. Don't show up just expecting to pay admission and roam around on your own, or you will leave disappointed. The good news is, there are plenty of tour guides around who will take you to this top attraction, and it's a fairly affordable add-on. 
Can I really touch grey whales?
One of the reasons this is considered the best place to go whale watching in the whole world is because, yes, it's the only place to touch the whales. Mamas and babies are particularly gentle and friendly and will often approach boats seeking affection. That said, this is a heavily regulated activity with only certain tour companies certified by the authorities. 
Always do your due diligence and only travel with reputable, ethical service providers. Laws are in place about how and where the whales can be touched, how to approach them, how close you can get etc., and following these rules is an absolute necessity for the protection of the species and the lagoon. 
Is Guerrero Negro located in a national park?
No, but it is located in the El Vizcaíno Biosphere Reserve. Fun fact- This reserve is home to many threatened and endangered species. In particular, there are noteworthy populations of Pronghorn antelope (also known as American ANtelope) which is one of the fastest land animals on earth.