If you've been looking for a Baja destination that's sure to get your adrenaline pumping but also exudes a chilled-out vibe, Ejido Eréndira is the spot for you. From a challenging mountain biking scene to arduous day hikes, there's certainly no shortage of ways to push yourself to the limits. After you've accomplished your feats, though, you can always look forward to sitting barefoot in the sand with a cold cerveza, watching the day slip away. 
Does this sound like the perfect place to get your "adventure" on? Dive into this guide to where to stay, what to eat, and the top things to do in Ejido Eréndira. 
Table of Contents
When to Visit
Ejido Eréndira's tourism patterns (and weather) seem to follow pretty closely to the general recommendations for Baja, which state that November to April is the best time to visit. That being said, if you want to spend plenty of time in/around the ocean, September is the perfect month. This is when Ejido Eréndira sees the highest land and water temperatures. 
Getting There
Ejido Eréndira has a small airport of its own, but unless you're looking at chartering a commuter flight, you'll want to set your sights on the Ensenada International Airport as your gateway to Mexico. The drive from there is about an hour and 20 minutes. The best option is to rent a car so you can get around during your stay, but there are buses and taxes that will take you from point A to point B as well. 
Alternatively, you could cross into Mexico from the United States via the Tijuana land border and take a road trip through Baja. 
Top Things to Do in Ejido Eréndira
Despite being a small town, this destination packs a big punch because there are so many ways to fill your days. Here's a list of Ejido Eréndira's top activities to stuff your itinerary with adventure: 
Hike "the Mountain"
If you love a good backpacking trail, "The Mountain' is for you. Steep and challenging, this hike is not for beginners but will certainly please those with some experience and stamina. 
The average hiker will take about four hours to ascend to the summit and clamber back down- but don't forget to plan some time to stop and take in the views while you're up there! With both the north and south coasts stretching out as far as the eye can see, this picturesque view is worth all the energy and sweat to get there.  
The Sea Caves
A long, and somewhat grueling, hike to The Sea Caves will reward you with scenic views of unspoiled landscapes and rugged desert rock. You might even feel like you've landed on the moon! Prepare to spend anywhere from three to eight hours pushing yourself under the hot sun, and don't forget a camera because you'll definitely want to document this journey. 
"The Volcano"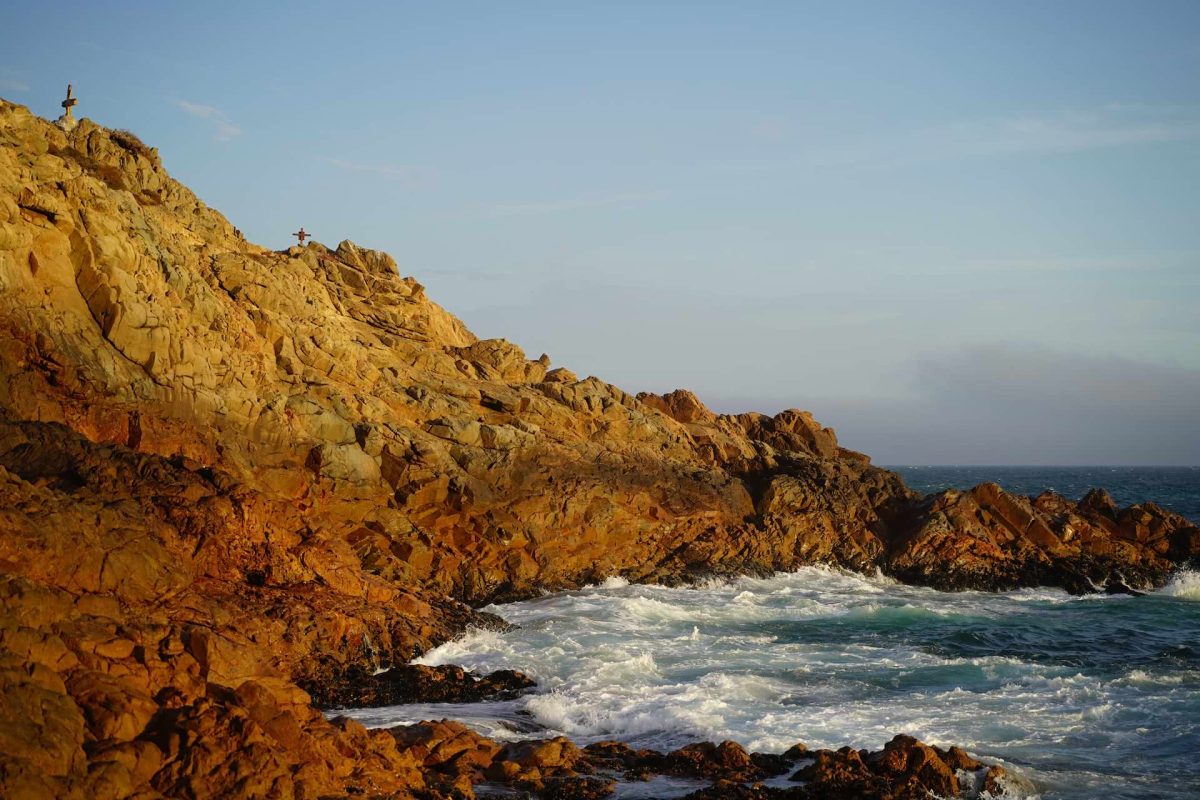 What about a beach hike? One of the most popular treks in town is to a landmark known as "The Volcano", which as you might have guessed, is across the remnants of a coastal volcano! An ancient eruption caused tons of tide pools and mini islands along the shore and into the ocean, which is now a paradise of unique rock formations, pool-sized micro-ecosystems of sea life, and cascading waterfalls. 
This is a must for anyone who loves to get up close to unique ocean critters and can easily be paired with a trip to one of three secluded beaches crossed along the route. If you're not the most experienced hiker this should be your top choice, since it's long but relatively easy. 
Mountain Biking
If you don't want to explore the previously mentioned landmarks by foot- you're in luck! Extreme mountain biking is considered a popular activity in these parts with challenging terrain and trails that lead to out-of-this-world sights. You can easily rent some wheels for $10/day if you're not traveling with your own bike, a then snag a route map to Half Moon Bay, The Mountain, The Volcano, or the Sea Caves. 
Note: These trails are HARD and are not suited to beginners. In fact, I'd say they aren't suited to the faint of heart either, even if you know your way around a mountain bike. 
Surfing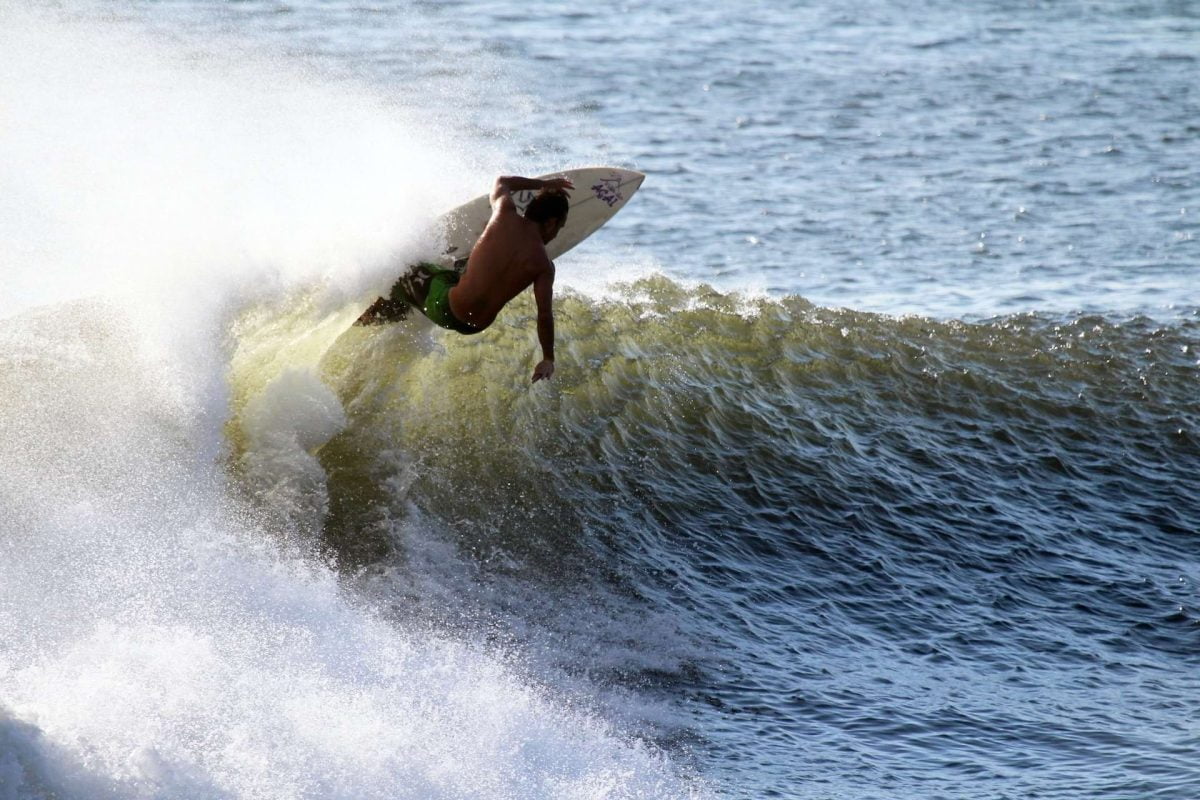 Ejido Eréndira's beaches have plenty of fantastic reef-breaks year round, and thanks to their secluded nature, you almost never have to navigate around a crowd of swimmers or compete with a busy lineup to catch a wave. The northwest and south swells are the most popular, but even there, you'll find a fairly laid-back vibe and a small surfing community. 
You can easily rent boards nearby if you're not traveling with your own, or you can check out Baja Experience Tours for group surfing lessons. Thankfully, there are breaks in this area to suit almost every experience level.  
The top surf breaks in Ejido Eréndira are: 
 K-181//River Mouth
Ramps
Barney's
Half Moon Bay/ Punta Cabras
Sunset Beach
Playa Ejido Eréndira
Bahia Almejas/ North Long Beach 
 La Calavera
Ejido Eréndira Fishing
Fishing is a popular local pastime that you may want to try- especially if you've never cast a rod in hopes of snagging saltwater species before. There are a few ways to participate, from a laidback morning of shore fishing (with the help of a local skipper for as little as $5) to a more thrill-inducing deep-sea charter far from the harbor. So what will you catch? Calico Bass and Yellowtail are the most common catches from either type of tour. 
Both are fairly attainable due to the low tourism rates in this area, but you'll need to reach out to Erendira Sports Fishing offices at least a week or two in advance to ensure all your ducks are in a row. 
Whale Watching
If you visit during whale watching season (from February to April) you might be able to spot some pods of gentle giants navigating the lagoon from shore, as well as some energetic dolphin pods. But for a sighting that's practically guaranteed (with a front-row seat), we'd recommend hopping on a whale-watching tour. Gray whales, in particular, are known to take this migration route, and many argue this is the best place to see them along the coast. As one of the top things to do in Baja, you don't want to miss out.
Wine Tasting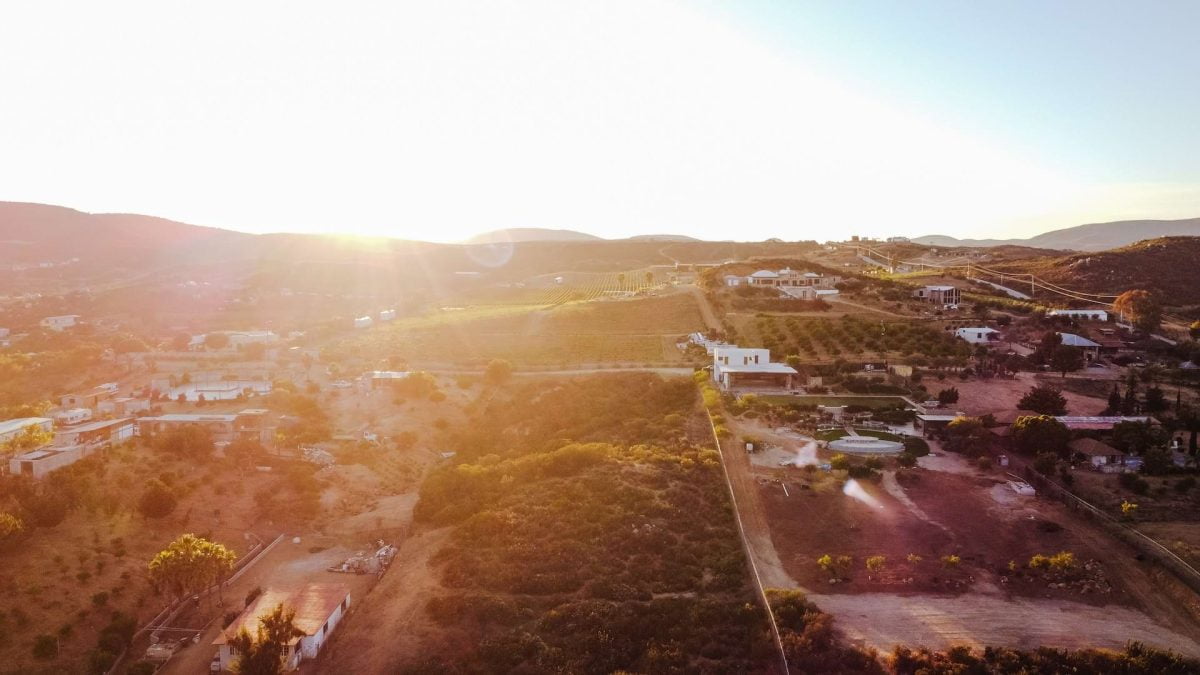 Backing onto the bottom of the Valle de Guadalupe, Ejido Eréndira is just a hop, skip, and jump from Mexico's wine country. Though it might not suit the adventurous "vibe" of the destination, it would be a shame not to go wine tasting while you're in the area. Rancho El Gladiador, DOVINTO, and Vinos Dubacano are all five-star options just a day trip away. 
Visit Nearby Destinations
Though Ejido Eréndira can feel totally remote, it's actually pretty close to a handful of Baja's northern destinations. Whether you want to treat Eréndira like an off-the-beaten-path home base for exploring all these nearby cities, or you simply want to take a quick trip to fill a gap in your itinerary, it's worth familiarizing yourself with these nearby gems: 
Ensenada: 1 hour, 45 minutes
Rosarito:  2 hours, 45 minutes
San Quintin: 1 hour, 55 minutes
Tijauna: 3 hours, 30 minutes
Where to Eat 
Now, there may be slim pickings when it comes to restaurants and bars, but that's not to say that the ones that have survived haven't earned their place as a staple in this sleepy little town. The few restaurants here serve up food that's pretty darn delicious and there are well-stocked supermarkets to cover all your basics. You might have to be your own chef for a couple of meals a day, but there's always an option to treat yourself when you feel like it. 
Coyote Cal's Barefoot Cantina
Whether you're looking for a happy hour refresher or some after-dark nightlife, Coyote Cal's Barefoot Cantina is the go-to. Nestled into a private section of the beach with raging bonfires by the shore, this establishment has done away with "no shirt, no shoes, no service" policies. Just come as you are and order a good ol' Mexican lager. 
📍 Where to find it: Avenida 13 de Dicembre 126, Eréndira, 22904 B.C., Mexico
Eréndira Fish Markets
If you're not afraid of a little DIY dinner, visiting one of Erendira's two fish markets is a must. Shop the stalls of the fish co-op or El Prieto Y Toñares and bring a catch home to toss on the grill. This is an easy way to spice things up in the rental home's kitchen and have a gourmet ocean-to-table meal in a town without much of a culinary scene. 
Cocina Familiar de Gloria
Pretty well the only sit-down option in town, Cocina Familiar de Gloria is a family-style diner that's sure to impress. Its indoor dining room provides a brief hiatus from the late afternoon heat and its fresh Mex is to die for. FYI, the fresh seafood and fish tacos are the most raved-about dishes. 
📍 Where to find it: Gral. Emiliano Zapata, 22904 Ejido Eréndira, B.C., Mexico
Birrieria Genesis
Looking to make a quick pit stop for lunch? Birrieria Genesis is a humble institution of Mexican cuisine, but its dishes are packed with bold flavor. As its name suggests, this restaurant's signature dish is Birria, which is one of the top foods you have to try when traveling through Baja. 
📍 Where to find it: 13 de Diciembre, 22904 Ejido Eréndira, B.C., Mexico
Where to Stay at Ejido Eréndira Hotels 
Coyote Cal's International Hostel
Perfect for long haulers on a road trip down the coast, or sports-driven tourists who don't want to stop moving, Coyote Cal's Hostel might just be the biggest draw to Ejido Eréndira. It's also a college-student-approved option for a lowkey spring break. 
This colorful and clean accommodation with a homestyle feel has SO MUCH TO DO, so come with an open itinerary. With loaner guitars for a beachfront jam sesh, lawn games, board games, and pool and ping pong tables, you wouldn't even need to leave the hostel to have fun (though I highly recommend that you do)! 
Why We Love It
Range of budget-friendly options from group hostel bunks to private rooms: Reserve the crow's nest if you want to splurge, with panoramic views of the ocean from its perch at the tippy top of the hostel. 
A huge selection of adventure activities coordinated by hostel staff
Beach bonfire parties 
Sirius Valle
Though Sirius Valle is not located right in Ejido Eréndira, the short drive inland toward the Valle de Guadalupe is worth it if you're craving a little taste of luxury. This resort comprised of modern, private casitas boasts a striking desert landscape and an emphasis on indoor/outdoor living. If you ask me, the most underrated feature is the guestroom skylights for gazing at the constellations after dark. 
Why We Love It
Every stay comes with a gourmet charcuterie board as a welcome snack 
Fresh fruit and basic breakfasts included
Outdoor swimming pool, hot tub, and fireplace 
Ejido Eréndira Travel Guide FAQ
Where is Ejido Eréndira located? 
Ejido Eréndira is a part of the municipality of Ensenada (not to be confused with the city of Ensenada) on Baja's Atlantic coast.
Would Ejido Eréndira be suitable for kids? 
This will depend on your kid's personality and is a decision every parent should make for themselves, but in my opinion, no. There are a few reasons for this: 
– Most of the activities in Ejido Eréndira are adventure-focused and strenuous. They typically require an advanced level of physical fitness that won't work for every adult, let alone children. 
– Accommodation options are pretty limited, and a hostel may not be the best environment to bring your kids to. Camping is always an option too, but arguments could be made that vanlife in Mexico may not be ideal with limited amenities and an adult-focused community. 
– The wifi and cell service Ejido Eréndira can be spotty, which, while not a total necessity with kids, can certainly be helpful in a pinch when it comes to entertaining kiddos.
Is Ejido Eréndira safe? 
For the most part, yes. You'll want to follow basic safety principles and advisories for traversing  Baja (especially on an extended road trip), but Ejido Eréndira does not pose any additional risk to travelers. 
Since this is a more remote area, you'll want to be more mindful about sticking around other people when possible and not wandering into secluded areas alone after dark. That said, you won't need to contend with heightened city crime rates or general tourist scams. 
Health goes hand in hand with safety, so it's also worth mentioning that there is a humble medical clinic in town. Thankfully, you won't have to travel too far should you fall ill or injure yourself on holiday. As far as remote Mexican clinics go- this one is actually pretty highly regarded. 
What do I need to drive to Ejido Eréndira? 
It might seem like the obvious answer is a car, but once you've got that sorted, there are a few more things to keep in mind when planning a road trip to Ejido Eréndira. Especially if your plan is to cross the border with your personal vehicle, you'll need to ensure you've got the following ready to go: 
– Proof of vehicle registration
– A temporary Vehicle Importation Permit. 
– Valid Mexican car insurance with a company like BajaBound
For more in-depth advice, be sure to give our guide to traveling Mexico by car a quick read.