What To Expect At The Cancun Airport
When you arrive at the airport in beautiful Cancun, there will be many things you should expect to do before exiting the airport.
When you get off your plane at either terminal 2 or terminal 3, you will head down the escalator and to immigration. If you are traveling from another country, enter the line that says "visitors". To the left, there will be self-serving kiosk options that will require your passport. If you choose the self-kiosk option, you will still need to see an official in order to get your passport stamped. Once your passport is stamped, you will exit into the baggage claim area where you can collect your luggage. Before leaving the airport, you are required to have your luggage x-rayed. At the end of this line is where you will present your immigration form. After looking over your form, you will have to press the big button. If you get the green light, you are good to go. Get a red light, however, and they will be doing a quick baggage search. This will be the last required line you stand in before exiting the airport.
Required Immigration Form
While you are on your flight that is heading to Cancun, you will be given an immigration form, aka Forma Migratoria Electrónica (FMME) that needs to be filled out. If your flight attendant does not pass these forms out, be aware that you will still need to fill one out before exiting the airport officially. Don't panic if you did not receive a form on your flight. You will be required to fill one out when your passport is being reviewed by an immigration agent, they will provide you with the form and a pen if you don't have one.
Personally, I recommend filling this form out prior to your trip, from the comfort of your own home. You can fill in the information, and print the form out ahead of time here: https://www.cancunairport.com/immigration.html.
There are two parts to this form. One part is the Entry Form, the second is the Exit Form. The entry form will be torn off and kept by the immigration officer, the exit form will be stamped and returned back to you immediately.
THIS IS IMPORTANT! You will need to keep the exit form the entire time you are in Mexico. When you are checking in for your flight to head back home, you will be required to present the exit form along with your passport. Make sure to keep the exit form in a safe place during your stay.
If you do happen to lose your form, there's an immigration office in Terminal 2 and 3 to assist you. Replacing your tourist card will take a while, so make sure to arrive at the airport early if you need a new one.
Getting Through Immigration and Customs
When you arrive in Cancun, there are plenty of agents ready to answer any questions you may have. Exit the plane and you will be directed to the escalators that lead down into the immigration area. As you come down the escalator, there is usually a large line of people.
This line generally moves quickly but will vary by day. You can choose to use the self-serve kiosk to the left to scan your passport. You will still be required to visit with an immigration officer to get your passport stamped.
After passing through immigration, you will be in the baggage claim area. Here you will gather all your luggage and carry on items together. You will then stand in yet another line for customs. They require that every bag is x-rayed, including your carry-on bags. When you reach the end of the line, this is where you will hand the immigration officer the FMME form you previously filled out.
The officer will rip off the perforated part (Entry Form) and keep it. The exit form portion will be stamped and given back to you to keep. Next, you get to press the big red button.
Pressing this button is the best part of the whole process. It's the one time in life when you are actually supposed to press the big red button that ultimately determines your fate.
If you get a green light after pressing, congratulations you are now able to continue onward. If you get the red light, no worries. This means they need to manually check your bags. Stay calm, as this is just standard protocol. I know it's not fun having people rip through your belongings, but they are just doing their job. Treat them with respect, and you will be on your way in 10 minutes or less.
You have officially made it through the screening process, welcome to Cancun!
The whole immigration and customs process can take upwards of 2 hours, but 1 hour is more common, while the best-case scenario puts you at about 30 minutes to get through both. Having the proper documentation such as your passport and immigration form ready ahead of time will save everyone time.
Surviving The "Shark Tank"
Once you have cleared immigration and customs, you are split out into what is known as the "Shark Tank". The shark tank isn't really a tank full of sharks, but close enough. It's the area after customs where there will be counters for renting transportation and buying timeshares.
Most likely, you will be approached. If you aren't approached, you will at least hear someone holler in your direction. If you aren't interested in any of the services being offered, take Dori's advice and just keep on swimming. Be courteous however, everyone here is just doing their job.
Transporters such as cab or shuttle drivers are not allowed to wait anywhere inside the airport, so if someone is claiming to be your ride, ignore them. If you have pre-arranged transportation, they will be patiently waiting outside when you exit the airport. Generally, they will be holding a sign with your name or your family's name on it.
How To Get To Your Hotel From The Airport
If you are curious about what options Cancun offers in terms of transportation from the airport, there a many to choose from. All of them carry their own pros and cons and vary in price for a ride to Cancun. There are airport taxis ($24.00 USD), private service ($30.00 USD), a public bus (Ado $5.00 USD), a rental car (as low as $5.00 per day), and shared shuttles ($17.00 USD).
Depending on your preference and budget, you will need to choose accordingly. You will not need to reserve ahead of time for a taxi or a public bus. You will need to reserve your private service, rental car, or a shared shuttle ahead of time, however. If not, you may end up waiting a while trying to arrange transportation at the airport.
Best Transportation From The Cancun Airport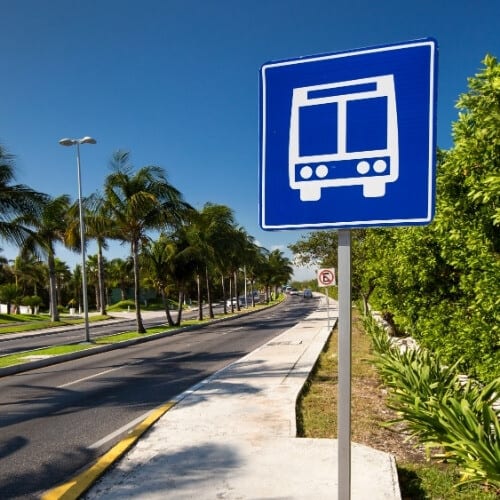 Determining which transportation service is the best for traveling from the Cancun airport greatly depends upon your budget and personal preference. If you don't mind sharing a vehicle with others, choose either the public bus or a shared shuttle. If you prefer more privacy, try either an airport taxi (budget option) or a private service shuttle (premium option).
The public bus will not stop directly at hotels, but rather at each Ado bus stop (they are plentiful all around Cancun). If you prefer direct transportation to your hotel, reserve a spot on a shared shuttle. I like using Viator.com, they provide you with all the different shuttles that are offered at the airport, along with different pricing.
If you prefer a bit more privacy, then an airport taxi or a private service shuttle is your best option. Normal city taxis are not allowed to pick you up at the airport, so you pay a premium for the airport taxi.
The private service will cost slightly more than an airport taxi but also offers more room if you have a lot of luggage, or are traveling with your family.
Using Uber In Cancun
Uber can be an efficient and cost-effective way to get around Cancun, in some cases an Uber may be up to 4 times cheaper than requesting a taxi. However, Uber in Cancun is a gray area. As of June 6th, 2019, a federal judge ruled to allow Uber Mexico to operate in the State of Quintana Roo. You can use your Uber app and request a ride in Cancun. Keep in mind Uber drivers cannot pick up at the airport, but they can drop you off.
Most local cab drivers are not too thrilled about Uber, so it is best to request an Uber away from other taxi drivers when possible.
Make sure you download the Uber app before leaving for Mexico, that way you don't have to worry about downloading it when you really need it.
Cancun Airport Conclusion
Flying into a foreign airport can be nerve-racking, I get it. There is a lot more required of you as a passenger. Planning in advance and being prepared for everything such as filling out your immigration form, having your passport readily available, and setting up transportation from the airport to your Airbnb or hotel, will make the whole process that much easier and more efficient.
I didn't plan ahead my first time traveling to Cancun, I had my passport with me and filled out the immigration form on my flight, that was about all the planning I had done.
Even with that being said, getting through the airport was really simple and stress-free. If you aren't prepared, it will take longer yes, but I'm here to assure you that you will be okay, and get through the airport with minimal issues.
The hardest part for me is standing still in the long lines. I get excited and want to start my adventure already! You can't blame me, right? Remember, you got this!