Famously referred to as the "World's Aquarium" by none other than Jaques Cousteau, Cabo Pulmo is unsurprisingly a hotspot for scuba divers, snorkelers, and marine enthusiasts alike. It's also a masterclass in environmental rehabilitation, with a 400% population growth since being declared an official marine reserve.
Now, visiting these fruitful waters in the Sea of Cortez has become a bucket-list-worthy opportunity for wildlife encounters and is considered one of the top things to do in Baja. From whales and dolphins to sharks and rays, this is a giant playground for all our favorite marine species. 
No matter which type of tour you want to take during your visit (or heck, why not do both?), this in-depth look at the best Cabo Pulmo Diving and Snorkeling Tours of 2023 is sure to have you making reservations in an instant. 
Table of Contents
The Top Snorkeling Tours in Cabo Pulmo
Eco Adventures Cabo Pulmo offers a snorkeling tour where all your needs are taken care of. Not only will you benefit from a super-small group size (or completely private tour upon request), but you'll also have lots of shade on these covered boats and fresh fruit/ local snacks to satisfy any mid-tour cravings. 
❤️ Why We Love It
Neoprene wetsuits provided to help prevent minor scrapes or jelly stings, not to mention keep you warm during the cooler months
Park admission bracelet included in the tour price
Includes a visit to the sea lion colony where you can swim with these cheeky pinnipeds
If you don't want to plan an overnight stay or don't have adequate transportation to the park- this one's for you. Make it easy by signing up for the Cabo Pulmo Snorkel Expedition by Cabo Adventures. This full-day excursion departs from Los Cabos and promises to leave you awestruck by the plentiful reefs. 
Rays, turtles, groupers, eels, and thousands of fish are all common sightings on this tour. 
❤️ Why We Love It
Roundtrip transportation from Los Cabos with direct hotel pickup available
A full, nutritious lunch and unlimited beverages provided
A big, reputable tour company
If what you're looking for is tons of variety in your snorkeling experience, choose to book with Cabo Pulmo Beach Resort. Their tours make stops at several of Cabo Pulmo's top snorkel sites including Mermaid Beach, the Sea Lion Colony, and Las Navajas Reef. Plus, they'll make pit stops for some deep-water snorkeling when there are opportunities to swim with Mantas and other impressive species. 
❤️ Why We Love It
The only Cabo Pulmo snorkeling tour with O2 and scuba-certified divers on board every cruise 
Longer tour with multiple stops
Access to isolated beaches
If you want a company that takes a personal approach to tourism, choose Blue Passion Baja. Their three-hour snorkel tours are led by an outgoing and friendly crew and the staff is always up for customizing the experience based on group comfort levels and ages. 
❤️ Why We Love It
The youngest age requirement in the area: A.K.A the best tour to take with kids
Outgoing and fun crew
Private Panga tours for families
Dolphins are a common sight along their route
The Top Diving Tours in Cabo Pulmo
Whether you're a seasoned pro, or you want to do a one-day course for total beginners, these dive guides are sure to put together an epic ocean adventure for you. Yep, you don't need to have a certification to give things a try with Dive Cabo Pulmo! 
If you do have your certification, though, boy do they have a treat for you. You can sign up for a dedicated "safari" dive based on what you want to see. Whether you want to hop in next to jumping mobula rays, compare your size to calving humpbacks and grey whales, or witness massive schools of marin in the "Mexican Sardine Run", these dive safaris are sure to knock some experiences off your bucket list. 
❤️ Why We Love It
Certified and non-certified divers welcome
Dive packages include two dives for the best value
15 years of industry experience
Snacks and water included
Get your PADI certification in Cabo Pulmo: If you're new to the sport and have been considering getting your dive certification, there's literally no better place to do it. You'll take an online theoretical online class in conjunction with a series of pool, shallow, and open-water dives in one of the most diverse marine ecosystems in the world. 
Just imagine filling your dive log with days alongside white tips sharks,  large, schools of yellow snapper, rays, and sea turtles. Throughout your course, you'll visit up to 15 incredible dive spots, each with its own unique seascape and inhabitants. 
❤️ Why We Love It
Bilingual Instructors/guides
Only a 20% deposit is required to reserve a spot, comparable to an average of 50% down 
Partnerships with the local community to provide housing/accommodations for divers
Focus on sustainability and environmental stewardship 
XOC Baja Tours knows how to make the most out of exploring the underwater world. On just one of their Cabo Pulmo tours, you will experience the brilliance of a rehabilitated reef, mackerel tornadoes, and plenty of rare species. 
Perhaps the best thing about this company is that you have the opportunity to combine your Cabo Pulmo dives with other dive trips. This could include "The Window" on Isla Cerrevo where dolphins and giant mantas mingle or a liveaboard excursion to Socorro. A trip to this famous dive spot will take 6 days and feature 18-20 dives.
❤️ Why We Love It
Super knowledgeable and friendly guides
Delicious snacks available- we've heard they've even made ceviche on a secluded beach before!
Easy communication prior to dives, with a Whatsapp chat available to connect with your guide and ask questions
If you want to sink into the depths with a group of laidback scuba enthusiasts- this is your tour company. Their history in the region goes way back and they know their stuff better than just about anyone. The best part? You can schedule yourself for shark-focused dives if you have always wanted to face your fears and get up close to these beautiful (and misunderstood) creatures. 
❤️ Why We Love It
The first dive shop in Cabo Pulmo
Ability to work on more specialized certifications including "Advanced Diver" and "Emergency Response"
Discovery dives for total newbies
Okay, okay, so this isn't a scuba diving tour, but it's a unique take on diving that is ABSOLUTELY worth a place of honor on this list. This half-day crash course in freediving will guide you through breathing regulation and relaxation techniques so you can start exploring the ocean totally unencumbered. 
In just half a day, you'll tackle a theory lesson, one shallow water, and one open water dive. You could then join them on an adventure freedive, which focuses more on sealife than on the sport itself. Who knows, you might even find your new favorite hobby! 
❤️ Why We Love It
10 years of experience in the national park 
Adds some variety to your Cabo Pulmo diving experiences
All equipment included 
Want a unique dive site that's sole focus isn't the wildlife?  El Vencedor is a sunken Mexican fishing boat, sitting at a depth of 45ft along the ocean floor. These remnants are now home to an artificial reef and yes, they are teeming with fish. The engine room and propeller are some of the most exciting dive features and this is also a great spot to practice your underwater photography.
❤️ Why We Love It
Villa accommodations available
Restaurant and bar onsite- perfect for refueling once you've made it back to shore
Adventure dive courses including fish identification and underwater photography
9 other exciting dive sites to choose from
Top Tips for Snorkeling or Scuba Diving in Cabo Pulmo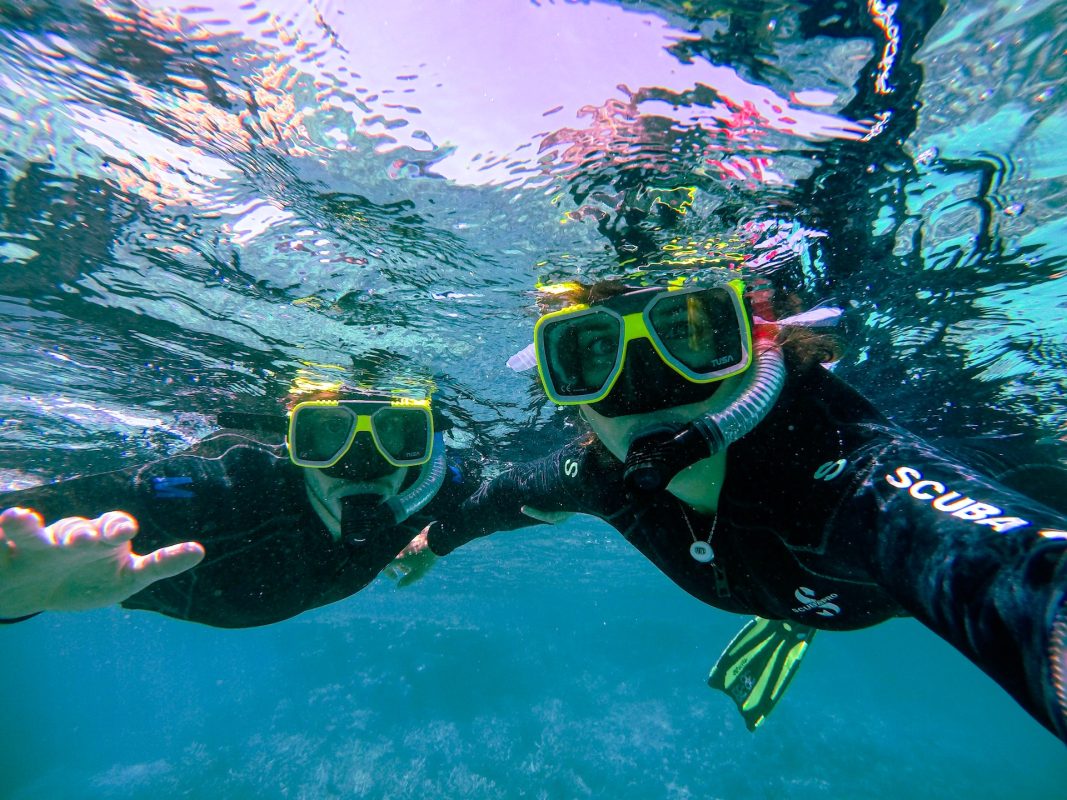 1) Invest in a GoPro, underwater disposable camera, or waterproof casing for your phone.  Ideally, you'll stay present and explore without the need to document every second, but with so many vibrant, unique species around it's only natural that you'll be reaching for a camera so you can freeze the moment in time. How else will you brag to everybody back home? 
2) Book tours ahead of time to avoid disappointment. Whether you are hiring a dive guide or hopping on an offshore boat ride, these can fill up quickly during peak season. Now, there's no shortage of local tour companies so you'll definitely find someone to take you out to explore the "world's aquarium", but if you have your sights set on a specific tour- don't wait. 
3) Don't forget the reef-safe sunscreen! Not only is it essential to ensure that your sunscreen won't harm the local ecosystems, but it's also imperative that you apply it liberally and frequently. You'll be spending long hours in the sun on any snorkeling tour, but you also need to account for the fact that water is reflective, which is the perfect recipe for sunburn. 
4) Bring your own equipment if you have it- especially a snorkel. You certainly don't have to bring your own equipment as tour companies will provide you with fins, masks, and the works (or you can rent them on the beach), BUT it certainly doesn't hurt to have your own. 
Especially in a post-COVID world, it never hurts to avoid the spread of germs and since snorkels fit directly into your mouth, this is something you'll want to make sure is super clean. 
5) Bring cash. No, seriously, bring as much cash as you possibly think you could need throughout your stay. Most businesses in town do not accept card payment and there are ZERO ATMS in Cabo Pulmo. If you don't bring cash, you might be out of luck when you need a snack, a rental, or even admission to the park. 
Cabo Pulmo Snorkeling and Diving FAQ
Do I need to pay for admission to Cabo Pulmo National Marine Park if I've already paid for a snorkel/dive tour?
Yes, an admission bracelet is required for every person who enters the park, and this is especially enforced among dive/snorkel tours. Generally, this is something you will need to pay for and acquire on your own, but some tours might include this in your tour price. If you're worried about doubling up- it never hurts to check.
Do I need to wear a life jacket when snorkeling in Cabo Pulmo?
Yes- floatation devices are required for all swimming in Cabo Pulmo National Park- no matter how strong of a swimmer you are. This policy is strictly enforced and you will risk a fine if you take it off, so it's best just to wear one. If standard-issue orange monstrosities really bother you, you may want to consider bringing your own. 
Do I need SCUBA certification to dive in Cabo Pulmo National Park?
Technically, yes- but there's a workaround. Cabo Pulmo is home to several tour companies that offer condensed beginner dive courses, and I can't think of a better place to learn! You'll need to do a pool dive and a shallow water dive but then you can dive on into the deep alongside your guide. 
When is the best time of year for snorkeling in Cabo Pulmo?
Well, it depends on what you want to see- but also on the weather. You're technically able to snorkel year-round, but the water is always warmest and calmest during the summer months- making it the best choice if you plan to hang around for hours at a time. That said, many argue that the water has the best visibility at the start of fall. 
Is snorkeling in Cabo Pulmo suitable for kids?
Yes, you can totally bring your kids snorkeling in Cabo Pulmo- they will love it! Just be sure to pay attention to each tour company's age restrictions as they may vary. You'll also want to ensure your children are strong swimmers and brush up on ocean safety before arriving.
Do I need to pay for parking at Cabo Pulmo National Marine Park?
No- private parking is considered complimentary as part of your Cabo Pulmo National Marine Park admissions fee.