There are many reasons why you may want to send money to Mexico. Maybe you have family or friends staying abroad or maybe you are trying to send money to yourself. This was the case for me, but first I had to figure out how the best way to send money to Mexico.
The best way to send money to Mexico is by using an online money transfer service or in person using your bank account. Depending on how you send your money, it will be available for pickup within a few minutes to a few days. Fees generally range from free to $19.99 per transaction.
What Is the Best Way to Send Money to Mexico?
1. Send Money Online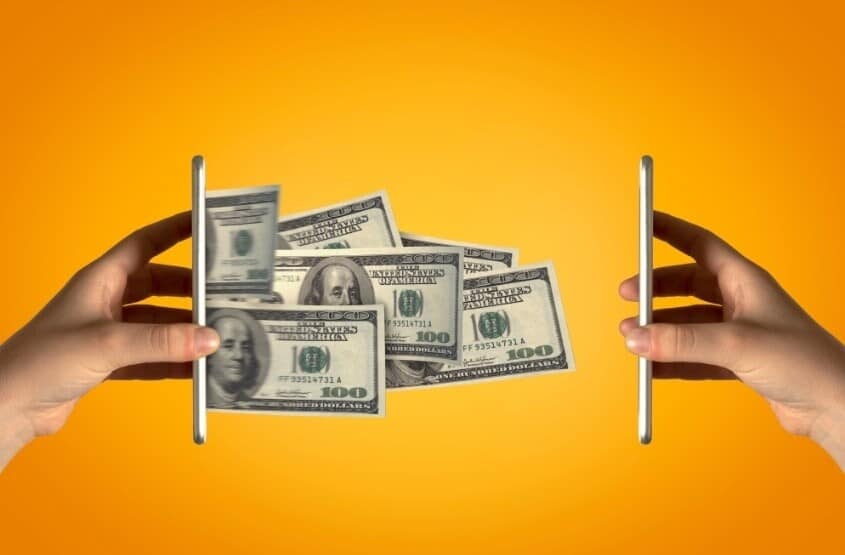 When you are choosing an online money transfer service to send money to Mexico you should consider the fees, transferring limits, and the conversion rate to pesos.
In most cases, online transfer services will allow you to send money to Mexico from multiple sources such as your bank account, debit card, or credit card. Depending on which transfer service you choose, fees will average from $2.99 to $4.99 per transaction. Average transfer times range anywhere from a few minutes when using a debit card, to a few days when using your bank account.
I have sent money to myself and to my wife in Mexico on many different occasions. I have found that the easiest and most secure way to send money online is by using Xoom.com (a PayPal service).
2. Send Money Using Xoom
In my personal experience sending money using Xoom is the most simple and convenient way to send money to Mexico. When sending money via Xoom, you have the option to pick up the cash at multiple locations throughout Mexico such as Elektra, BanCoppel, Banorte, and even Walmart. Let me show you just how easy Xoom is.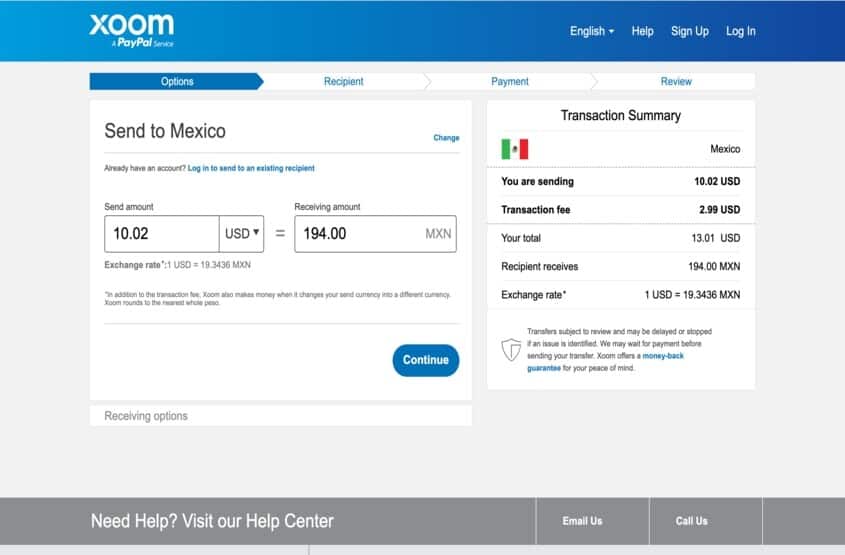 First, choose the desired amount you wish to send, the minimum amount required is 194 MXN ($10.02) The maximum amount is 194,405 MXN ($10,000). When sending money from the U.S. to Mexico, the money is automatically converted into Pesos. Depending on the amount of money you are sending the transaction fee will vary, but it starts at $3.99.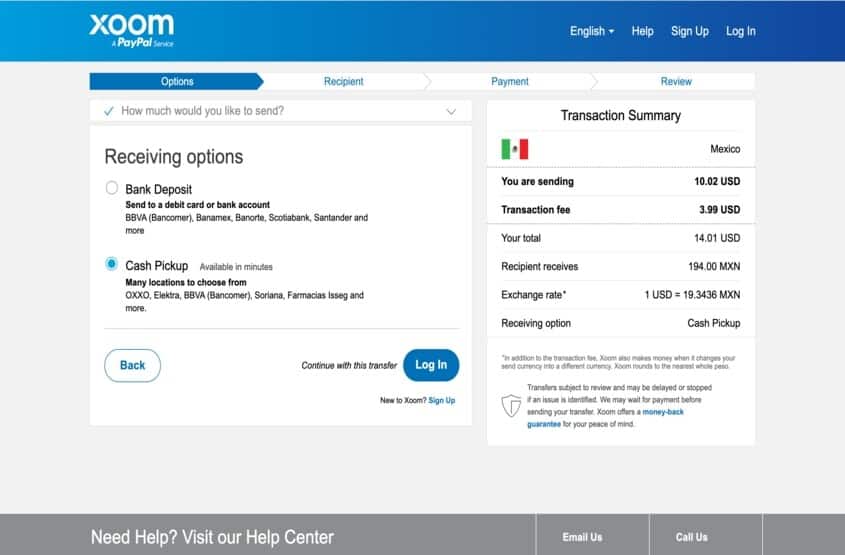 Next, you will need to choose your desired receiving option: Bank Deposit or Cash Pickup.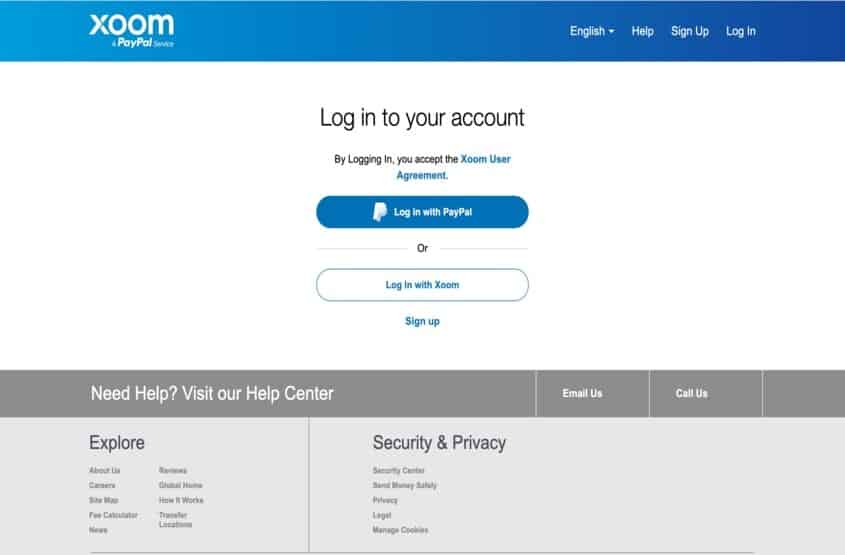 You can create one if you haven't already created a Xoom account. Or use a PayPal account if you have one.
Next, you will select the pickup location of the recipient if you are sending a Cash Pickup. The money will be available within minutes if you transfer using your debit card.
If you send money using your bank account or send money to the recipient's bank account, it will take 1 – 4 days until the money is ready for pickup. If you are sending money to a bank account, you will be directed to enter the recipient's account info on this page.
Note: Each pickup location will have its own recipient limit. Elektra's limit is $55,000 MXN per day in most locations.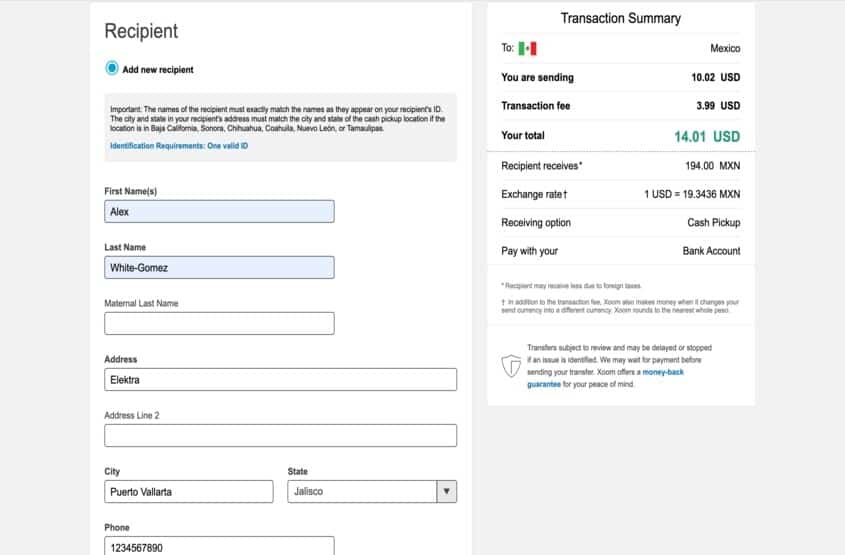 After selecting the pickup location, you will need to enter the recipient's information. Make sure you enter their full legal name as it appears on their ID. If you are sending money to yourself, simply enter your name.
When entering the address, city, and state; you want to enter the address of the pickup location if the location is in Baja California, Sonora, Chihuahua, Coahuila, Nuevo León, or Tamaulipas.
Otherwise, you can use either the pickup location or the address on your ID in other Mexican states. I've always just entered the cash pickup location address, even in Jalisco and it's still considered valid.
If you pick up cash using your Driver's License, you will only be allowed to pick up 9,000 MXN. Make sure to have your passport if you or your recipient are picking up more than 9,000 MXN.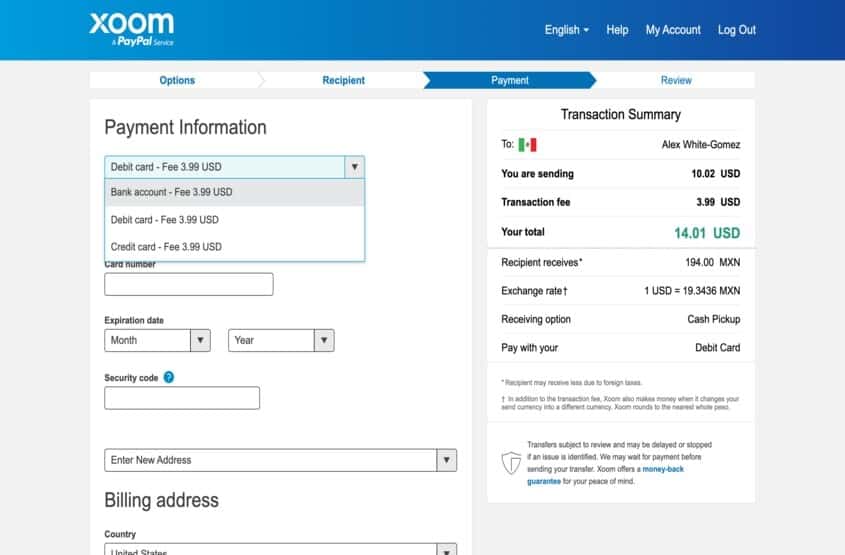 Now for your payment information, you may choose to transfer money from your bank account, debit card, or credit card. When entering the billing address, it should match the address your card is associated with.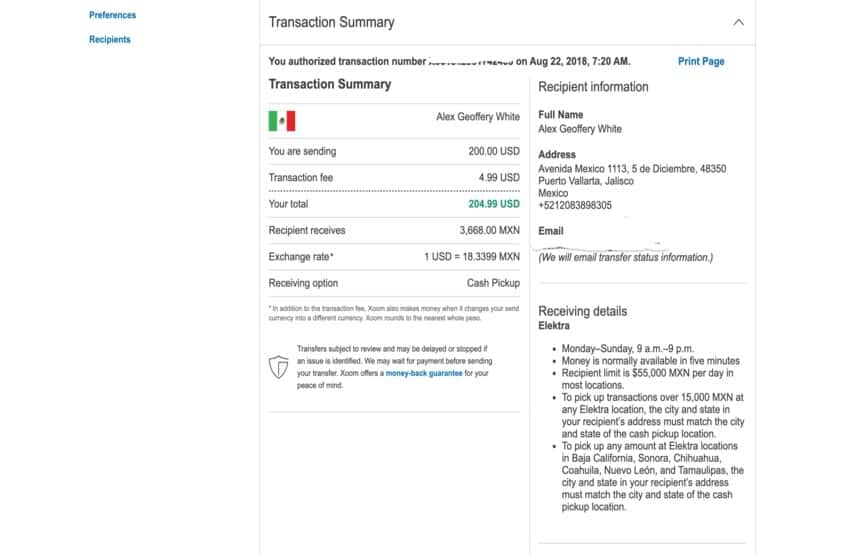 Finally, after you have entered and reviewed your payment info, you can submit the transfer. You will receive a transaction summary which will include all the transfer info. MAKE SURE to give the recipient the authorized transaction number, they will need this number to pick up their cash.
You will receive emails confirming when the money is ready for pickup, as well as when the transfer has been completed and the recipient has received the money.
I almost always use Xoom to convert my money into pesos when I travel to Mexico. I look up an Elektra, or other qualifying locations that are near where I am staying, then I will send the money 2-3 days prior to arriving in Mexico to ensure the money is ready for me to pick up.
How to cancel your Xoom transaction
Go to your 'Track Transaction' page
Go to 'Transactions History' under 'My Transactions'
Choose which transaction you wish to cancel
Select 'Cancel Transaction'
You may cancel any Xoom transfer as long as the cash has not already been picked up or deposited. The amount of time it will take to refund your money will vary depending on the payment type you used.
If you cancel a bank account transfer within 30 minutes of authorizing the transaction, Xoom will refund you within 3 business days. If it has been more than 30 minutes since you approved the transaction, Xoom will refund your money in 5 – 10 business days.
If you cancel a debit or credit card transaction within 30 minutes of authorizing the transaction, Xoom will refund you within 3 business days. If it has been more than 30 minutes since authorization, Xoom will need to confirm that the transaction has not been processed by its partner. If it hasn't been processed, expect to receive your refund within 3 business days.
If you cannot cancel a transaction, you will receive an email stating the transfer has already been completed. If there is no 'Cancel Transaction' link present on the transaction you choose; this is because the transfer is already being processed.
3. Send Money Using WorldRemit.com
If you are looking for another online option besides Xoom, I highly suggest WorldRemit.com. I haven't used WorldRemit as many times as I have used Xoom, the only reason being is Xoom was the first money transfer service I used to transfer money to Mexico, and I was comfortable with them. You know what they say; "If it ain't broke, don't fix it." This would be one exception, however.
I decided to give WorldRemit a try when I traveled to Puerto Vallarta. My first impression is that the site is easy to navigate, and just as simple as Xoom.com.
Actually, WorldRemit was a whole $2.00 cheaper than Xoom. Not only that, but WorldRemit offers different conversion rates when transferring certain amounts of money which is pretty cool. Here is a breakdown of their rates:
Send Amount
Conversion Rate
0.01 – 100 USD
Competitive Rate
(Slightly better than Xoom's)
1 USD = 19.48519 MXN
100.01 – 300 USD
Silver Rate
1 USD = 19.5449 MXN
300.01 or More
Premium Rate
1 USD = 19.60461 MXN
The conversion rate shown was the current rate at the time of writing this article. Conversions rates change daily.
Alright, I'm going to show you how to send your money to Mexico using WorldRemit.com. I'd say it's as simple as using Xoom. I will continue to further test out WorldRemit when I send money to Mexico and report back when I have more experience with them. Overall so far, so good.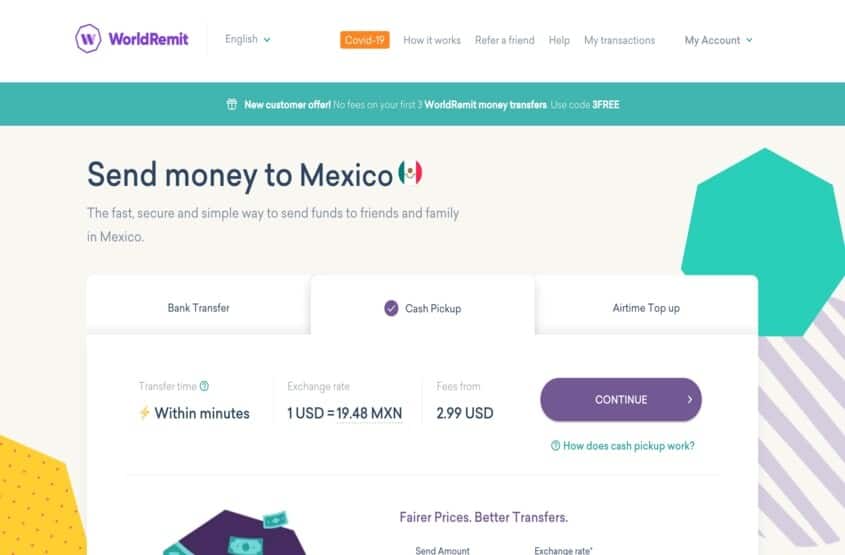 Here we go! First, head to WorldRemit.com and choose how you're going to transfer your money to Mexico. Let's assume you choose "Cash Pickup".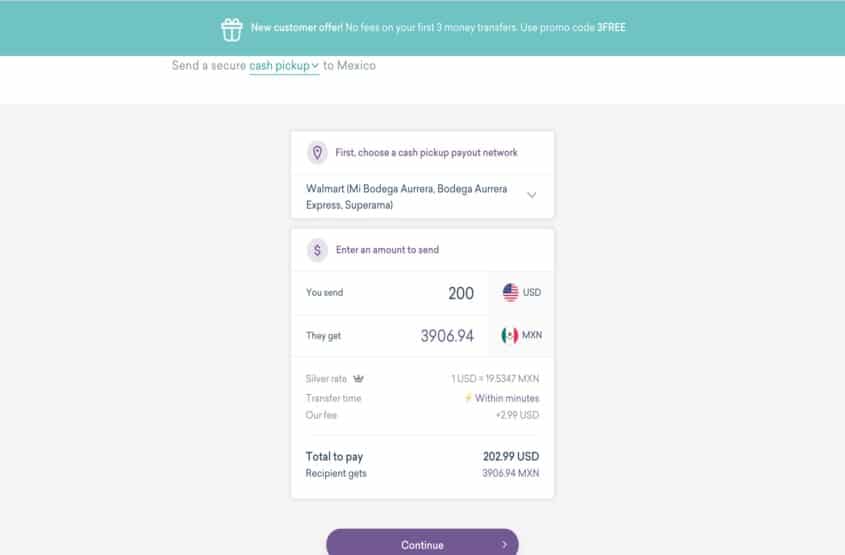 Next, choose your cash pickup payout network (Walmart, Banorte, Elektra, etc). Then, enter how much money you would like to send.
It will show you the converted amount that will be received in pesos, as well as your total for the whole transaction. As you can see above, I sent $200.00 (3906.94 MXN), and my total to pay is $202.99.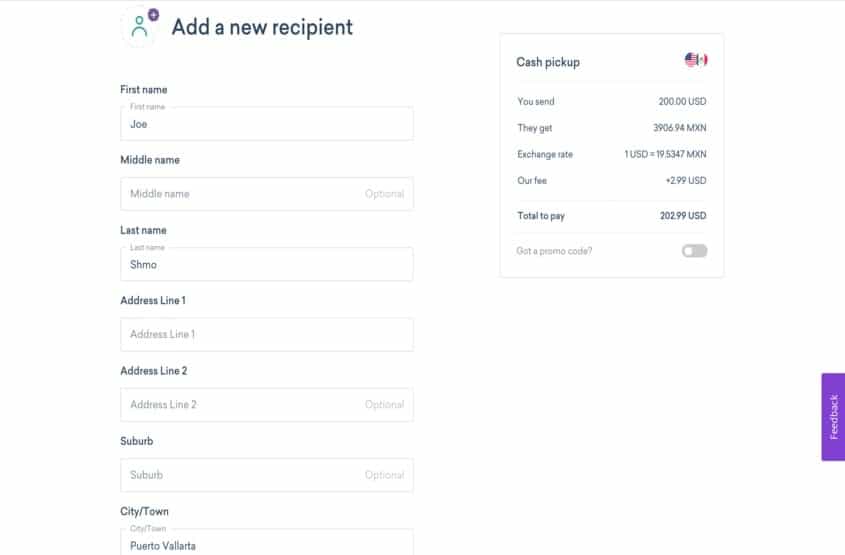 Alright, now you will fill out your recipient information. Not everything needs to be filled in on this page, as you can see some tabs display "Optional".
However, if you don't fill out the basic necessities, you won't be able to continue to the next page. Make sure when filling in the recipient's address that it matches what is on the recipient's ID, they will use this address to confirm that the recipient is who they say they are.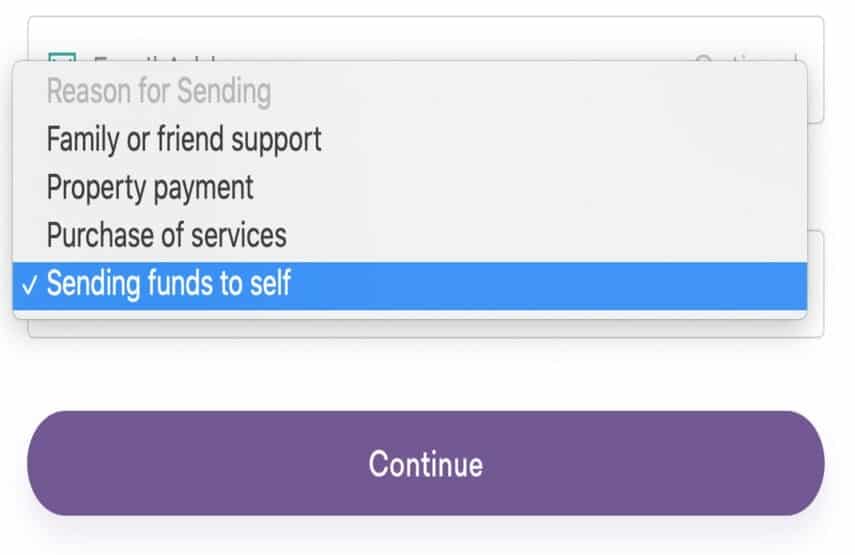 At the bottom of the "Add a new recipient" page, you will have to choose your reason for sending money to Mexico. I always choose "Sending funds to self", or if I'm sending money for my wife I select "Family or friend support." Next, press continue. If all the required information was entered, you will be directed to the next page.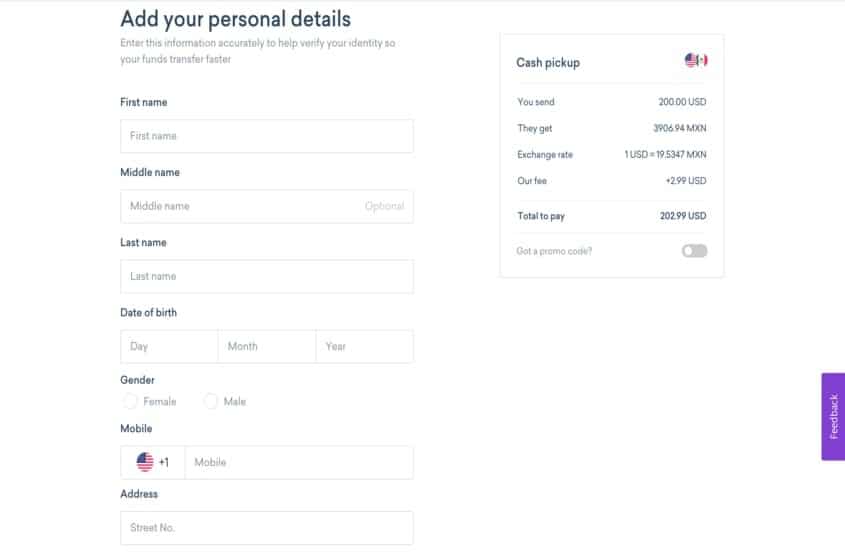 On this page, you will add your personal details. Again, make sure what you enter on this page, matches what is on your ID.
When sending a cash pickup, you may only choose the Debit/Credit Card option.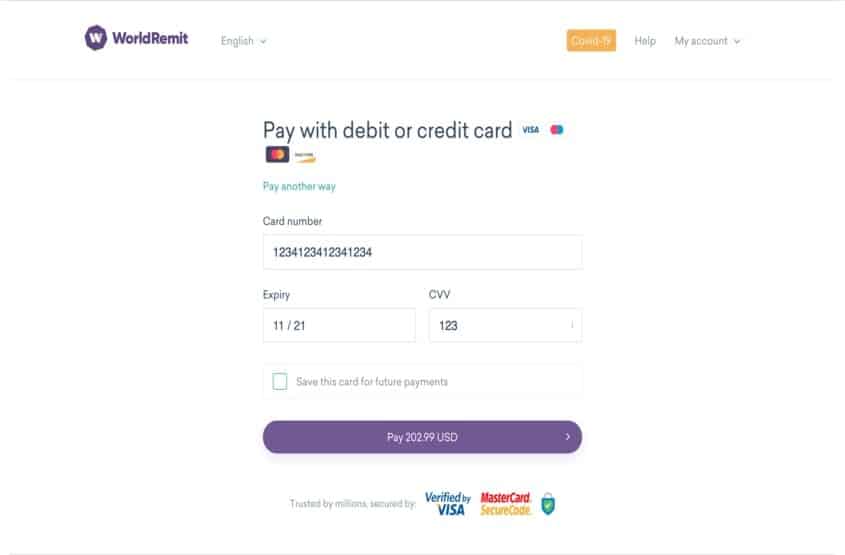 Enter your card information securely on this next page. WorldRemit has implemented a strict verification process to ensure they fully identify their customers and deter criminals.
They are regulated in the UK by the Financial Conduct Authority (FCA). Almost all financial service activities must be authorized by the FCA in the United Kingdom to ensure all parties' safety. If you want more tips on how to stay safe online, check out WorldRemit's tips for staying safe online.
After you have verified your card information is correct, press the "Pay" button to authorize the transaction. After your transaction is submitted, WorldRemit will update you about any activity with your transfer including when it's ready for pickup, and when it has been received by the recipient.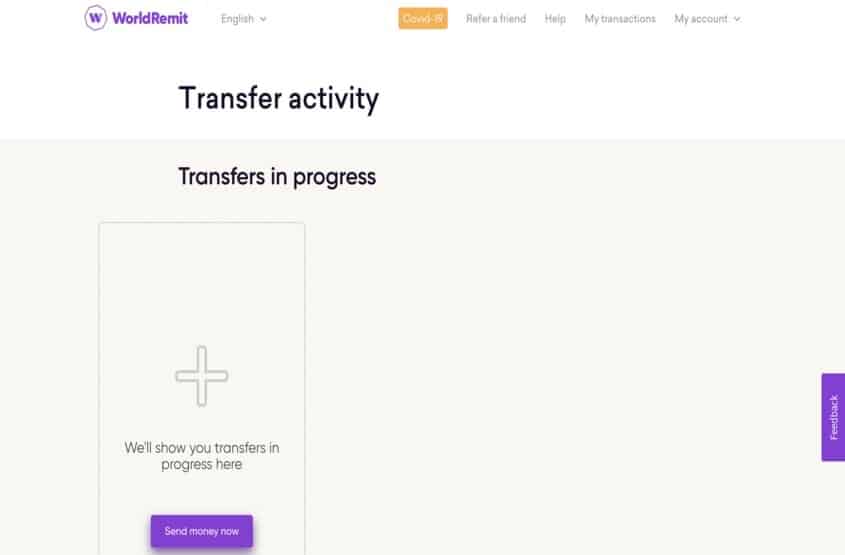 You may also check the current status of any active transfers in your account by going to the "My transactions" tab, located in the upper right corner of the homepage after you sign in to your account.
How Long Does It Take To Receive Money On WorldRemit?
90% of WorldRemit's transactions are authorized in minutes. The amount of time to receive money through WorldRemit will vary depending on where you are sending the money to, and from. However, the average time it takes if sent via Airtime Top-Up (mobile recharge), Mobile Money, or a cash pickup, is instant. Bank transfers generally take 1-2 days to deposit.
4. Send Money To Mexico In Person
If you want to send money to Mexico in person, head to your nearest Moneygram location. Make sure to bring your ID, the recipient's information such as full legal name and address, as well as the amount of money you plan on sending, plus some extra cash to cover the transfer fee.
You may also send cash to someone in Mexico using your phone and fill out the required information ahead of time. Enter the recipient's name and address online, when you are ready to submit the transfer just choose 'cash at location' and choose your nearest location.
Next, visit the location you chose within 24 hours after submitting your transfer online, and make sure to bring your cash and a valid photo ID. Give the store associate your name to complete your transaction. This saves you from having to fill out the MoneyGram form in-store.
The cost to send cash to Mexico from your chosen MoneyGram location starts at $9.99 per transfer. It's a bit more spendy than their $3.99 fee for sending money online using your debit/credit card, or a bank transfer.
I would really only recommend using the in-store transfer option if you don't have internet available, or maybe if you're someone who just doesn't feel comfortable sending money over the internet. Otherwise, I'm always choosing an internet transfer option personally.
There are plenty of ways to transfer money to Mexico. Whether you end up using an internet transfer service, or going in-store and handing someone cash, you can bet that it's going to be one of the easiest things you have done. If you can write a check, this is going to be so easy for you. If you can't write a check; well this is easier so you can do it.
Using a transfer service to send your money to Mexico is a great option as opposed to exchanging your money at a bank, or using an exchange booth at the airport, or even locally in Mexico. You will most likely receive a better conversion rate, and the fees are very inexpensive when sending online. It's so easy, you'd be loco not to send money using one of these quick and convenient options.
How Much Money Can I Send To Mexico Per Month?
There is no limit to how much money you can send to Mexico per month however, each money transfer service will have its own limits you can send, and each pickup location will limit the amount you can receive in a month period. Generally, you can send anywhere from $5,000 to 10,000 per month.
| Money Transfer Service | 24-Hour Limit | 30-Day Limit |
| --- | --- | --- |
| Xoom.com | $2,999 to $50,000 | $6,000 to $60,000 |
| Moneygram | $10,000 | $10,000 (Can send additional funds from a MoneyGram agent location) |
| WorldRemit.com | $9,000 | Varies by sender location and receiving location |
Is It Safe to Send Money To Mexico Online?
If you are hesitant to send money to Mexico using an online service such as Xoom, I understand. My first time sending money to Mexico had me biting my nails. But, if you use a secure and trustworthy online source to send your money, it's one of the safest ways you can go about doing it. Here are some tips to make sure you are sending your money to Mexico as safely as possible.
Only send money to people you know
Only send money for yourself, don't send money for someone else
Only send money for legal purposes
Only fulfill requests from people you know
Make sure you create a secure password for your Xoom account and any other account associated with your financials
I would rather send the money to myself and pick it up, as opposed to using an ATM or currency exchange office in Mexico. If you are standing at an ATM or exchange office, it's pretty obvious that you are there for one reason, to get money. This makes an easy opportunity for crooks to rob or even scam you. I'd much rather walk into Walmart or Elektra where it is less conspicuous, and a large number of people are present.
I'll use Xoom as an example since I know they are trustworthy. Xoom only partners with trusted banks and cash pickup locations. So you know you aren't sending money to some random store where anyone has access to it. They also encrypt all your payment data to ensure your financial data is secure.
Not only is sending your money online safe but it's an inexpensive option. ATMs will usually charge you a flat fee, or a percentage (1-3% of your withdrawal amount) of what you are sending, which can get expensive.
On the other hand, if you plan to send money to Mexico for your next trip there, you will find my article on what the best currency to use in Mexico is.